Working in a hospital or doctor's office doesn't have to be boring when you wear one of the many fashion field lab coats that can be found online. There are various colors and styles to choose from instead of the plain colors that you might be accustomed to while working. They feature the same amenities that you would find with the ordinary coats, such as pockets for all of the supplies that you need while working and comfortable cuffs on the sleeves.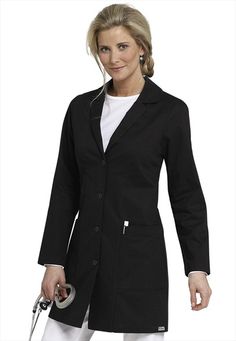 When selecting a lab coat, you want to choose one that has a professional appearance for the employer while giving as much comfort as possible. There are a few things that you want to consider when it comes to the type of coat that you wear while on the job. If you're working with fluids, you might want something that is stain resistant. Wrinkle resistance is also a factor as you might find that you are wearing the same garment for more than one day.
White used to be the ideal color for coats, but that has changed with the desire to have a little more color in the workplace. Colors and patterns are often easier to hide minimal stains that white would show. Patients, especially children, are sometimes more receptive to workers if they are wearing a coat with a design as white is often seen as a sterile color in hospitals and offices.
A full-length coat covers more of the clothing and is ideal for doctors who are relaying a professional appearance. There are typically buttons on the front of the coat for easy removal if necessary. Shorter coats are often worn by nurses and laboratory staff who might not be seen by patients as much as doctors. While they still cover the upper half of the body, the pants or skirt are left exposed. A consultation coat is worn by doctors and staff who are in meetings through the day. They appear more like a normal coat with pockets on the inside instead of on the front. You could also see coats that have a back belt to give a slimmer fit. These are often worn by females who want something a little more feminine while on the job.