Sarees are a refreshing style to wear during weddings because everyone else will wear similar styles such as lehengas and dresses. If you are bombarded with wedding invites this fall, drape yourself in organza sarees. Organza fabric is lightweight, sheer and soft. But the simplicity and the class that this fabric has to offer can be second to none. 
If you are planning to wear organza sarees for fall weddings, do carry a shawl or sweater with you, as battling the chilly breeze while draped in soft and sheer organza fabric is a herculean task.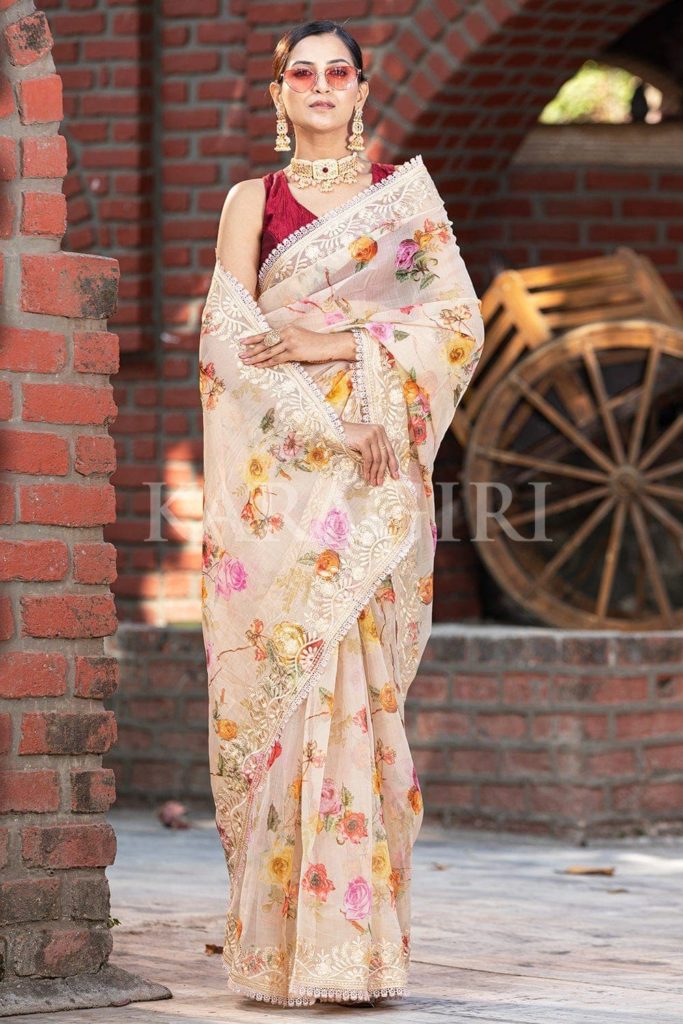 Since most women prefer wearing silk sarees during weddings, you can beg to differ in an organza number. From printed to embroidered to even personalized, you can experiment with your style in multiple ways. With every wedding to attend, you can make waves with your look in your beautiful organza drape.
So, let's check out a couple of stylish ways you can carry organza sarees and channel your inner diva.
Go for soothing colors:
The beauty of organza fabric lies in its softness, which is why soothing colors are the best. A pastel-colored organza saree will set you apart in fall weddings. The richness and simplicity that you will bring to the event in your organza drape will be worth it.
Go for florals:
Floral prints never go out of style, so wearing a floral organza saree for a fall wedding will be your best bet. Nothing can be compared to the beauty of a sheer white organza saree with huge floral prints in pastel shades all over it. You can keep the blouse simple because you don't want to draw away attention from the saree.
Style your blouse differently:
Instead of wearing your blouse as usual, you can opt for a chic style, such as a bandeau top. If you want to turn up to a fall wedding in a bold avatar, a bandeau top or a blouse can be paired with a sheer organza saree. You can highlight your swan-like neck with choker necklaces and matching earrings while pulling your hair back in a low bun, which can be accessorized with white flowers. 
Personalize your saree:
If you really wish that all eyes be on you, choose a personalized organza saree. Seeking inspiration from none other than Kareena Kapoor Khan, you can have your name printed across the pastel-hued organza saree, which can be paired with a sleeveless or strapless blouse. Keep your accessories to a minimum, so they don't steal away the attention from the drape.
Go for a heavy look:
You don't necessarily have to keep your style to a bare minimum. If you want to be jazzed up head to toe for a close one's wedding, you can wear a heavily embroidered organza saree in bright hues and have your hairdo accessorized with flowers.
Style your organza sarees in the above celeb-approved ways to score brownie points this wedding season.