Hola! How are you doing? Winter is at its peak, hope you are spending enough time getting warm sunlight every day, eating nutritious food, and taking care of yourself. Winter is amazing when it comes to food, energy, and productivity but "hair care" is the area on which everyone needs to focus in this season.
We all know how harsh the Winter season can be on our hair, leaving it dry, full of static, and frizzy. The Winter season is the one out of all weathers to take care of our hair the most. Extreme heat or cold can have a negative effect on our hair. It makes our hair dry and dull. Our hair requires the highest pampers, nourishment, and moisturization during this time.
Do not worry, as we have got you covered. We have compiled the top 7 healthy hair tips for Winter.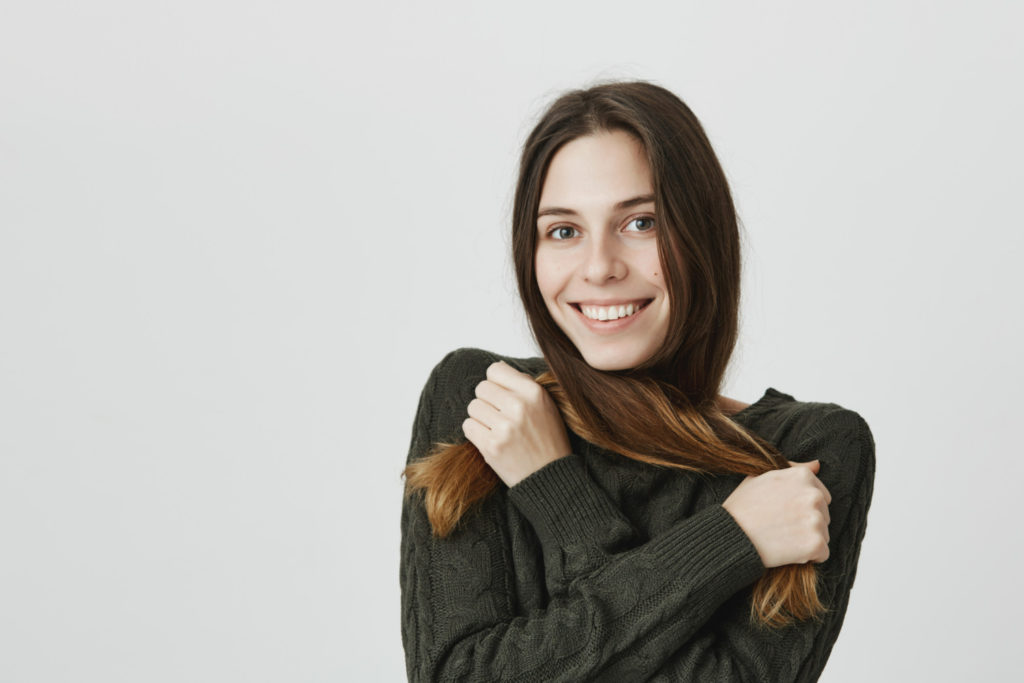 Protect your hair from exposure to extreme temperatures
The most important tip is to save your hair from exposure to cold and chilly winds, snow, and smog. Due to cold and chilly winds and snow, the natural moisture in our hair does not stay sealed. Therefore, it may cause hair breakage.
For this, you may keep your hair in a protective hairstyle, for example, braids and lay loose bun; and keep them tucked inside your jacket, sweater, or scarf. To avoid getting your hair all static, avoid wearing a woolen cap directly to your hair as they are made up of materials like acrylic fabric that can rub on your hair and make them frizzy. Hence, consider wearing a silk cap first and then your woolen caps.
Avoid using hot steamy water on your hair
We all know how relaxing and satisfying it can be for everyone to take steamy showers in winter.
But water at very high temperatures can suck the moisture out of our hair and leave them unnourished. Hence, consider using lukewarm water for hair washing.
Lukewarm is the perfect choice for our hair-washing routine.
Extend your hair-washing period
A lot of shampooing in cold temperatures can strip off the natural oils from our hair. The sebum our hair produces helps keep it conditioned and moisturized; stripping them off may take away our hair's natural shine and luster. Hence, extend your hair washings to 6-7 days.
The winter season allows you to do so because if you are having a bad hair day, you can easily cover it with the help of a hat.
Also, remember to use a hydrating and gentle shampoo like Zequz multi-function shampoo.
Remember to use nourishing oils
Extreme weather conditions are never good for our hair. Hence, an adequate amount of deep hair oiling is necessary to further your hair from damage. Using hair oil before and after washing your hair is vital.
Remember to oil your roots before washing and leave some nourishing oil on your hair ends after washing. Your ends can get dried and cause split ends. Thus it is essential to take extra care of them.
Some of the oils like castor oil, coconut oil, jojoba oil, argan oil, and grapeseed oil will be your top picks.
However, oiling is not the only way to nourish your hair; you may use deep hair conditioning masks. Wearing an avocado hair mask mixed with honey, aloe vera on your hair, and a banana, honey, and yogurt pack can help you with all the solutions.
Ajwain is useful in hair care. I have written an article here, you can read: Advantages of Ajwain Leaves for Hair that everyone must know.
Avoid using heat and plastic combs
When it comes to using heat and styling products on your hair, whether it is the winter or summer season, you must avoid using any heat products. Using hair straighteners and dryers in winter can make your hair strands lifeless. Heat usage on hair indirectly leads to hair fall and breakage. Let your hair air dry itself, and try to minimize the use of heat appliances on your hair.
Invest in good quality wooden combs. Using plastic combs can make your hair full of static energy. In such a situation, it becomes difficult to tame them. Thus, wooden combs can solve half of your problems as they distribute the natural oils evenly to all the parts of your scalp.
Remember; If you use the right hair brush, it would help in good blood circulation in your scalp area too which is also very important.
Hydration from within
Keeping your body hydrated from within is essential. We tend to get less thirsty, so our water intake reduces. Taking in plenty of fluids is very important. An ample amount of water intake and warm fluids like green tea, turmeric milk, and juices are key to a well-hydrated body.
In addition to keeping our body well hydrated, it is vital to take in crucial vitamins and minerals so that there is no lack or deficiency of nutrients to make your hair stronger from within.
Avoid leaving your house with wet hair
People who live in places where it gets icy and snowy. You should avoid leaving your house with wet hair as wet hair strands can freeze in such low temperatures and thus break during brushing due to the damage caused.
You should either gently blow dry your hair on low to medium heat if it is urgent to step out or let it dry naturally.
Remember to cover your hair well before you step out.
Take the Winter season as the weather to give your hair extra care and love. Stay patient with them, and remember to follow the tips.