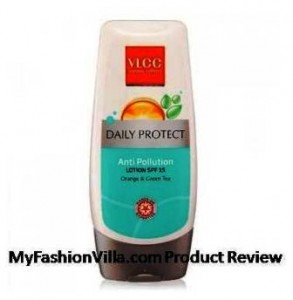 We received few Samples of VLCC Natural Sciences Daily Protect Anti Pollution Lotion SPF 15 for the Trial. We have tried my best to give you 100% genuine review so that you can get exact idea whether to go for this product or not. MyfashionVilla.com always respects their readers' community and we give only genuine product reviews for all readers. This time we choose VLCC Daily Protect Lotion For review as Pollution is everywhere  killing our beautiful skin 😀 then Why not to try something like Anti Pollution Lotion? Ok let's Start Now..
What It Claims:
Enriched with Green Tea, a powerful anti-oxidant which protects skin from damaging effects of pollution & environment stress and Orange Peel Oil which soothes skin and moisturizes naturally. This lotion fights & defends your skin from pollution all through the day. Complete with SPF 15, it also protects your skin from Sun Damage and is best suited for women with an Active Lifestyle.
How to Apply: Apply on your face and neck. Wait for a minute before using make-up.
Purpose: This Lotion from VLCC fights against pollution having Orange & Green Tea Extracts and SPF 15 too.
Price: 79 Rs
Quality: 100ml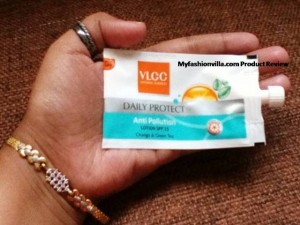 My Take on VLCC Natural Sciences Daily Protect Anti Pollution Lotion SPF 15
I am using this VLCC Anti Pollution Lotion SPF 15 since 15 days. After 15 Days today I am giving you my review whatever I am feeling today about this VLCC product. First of all let me tell you my skin type. I am having dry skin especially in winter season. I find this VLCC Anti Pollution Lotion SPF 15 very light for my Dry Skin. It is Nonsticky so after 2-3 hours of application, my skin starts feeling etching due to Dryness, so I have to apply it again.
Moreover its main purpose is to fights against pollution, which I feel it did so so.
Likes:
If you have oily skin, even in winter Go for it. This VLCC Natural Science Daily Protect Anti Pollution Lotion SPF 15 may work for you.
I like its mild Orange fruit smell.
Its price is quite economic. 79 INR for 100 ml is quite cheaper than other similar range of products.
It is easily available in stores as well as online.
May be in summer this Nonsticky lotion will work for me too as it is having mild fruity cool smell identical for summer days.
Dislikes:
If you have Dry skin like me, don't go for it in winter otherwise you will find your face skin more dry.
As it is quite a light lotion, reapplication is required after every 4 hours.
I can't see major effect on what it claims to fight against pollution.
Over All..
2/5
(P.s May be in Summer, if I will give this lotion one more try, I may give it 2.5 to 2.75 because I believe that this lotion will work well for Dry Skin people too in summer)
Kindly Let us Know your Feedback about this product review post on: Facebook.com/myfashionvilla Your feedbacks are precious to us 🙂
xoxoxo all beautiful readers.. 🙂 🙂 🙂