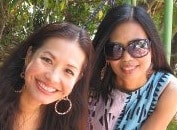 Wannapa and Wannalak Khamjit  are the co-owners of Thonghattha Co.,ltd. They are Wholesaler of Unique fashion accessories. Every pieces of their creation is wounded by a little Silk Threads and that too just by hands no machinery used. They  love to create craft and they think that creating something beautiful and wearing something unique make people confident.
Interview of the Co-owners:
Q. How the idea of Fashion Accessories retailing came into your mind?
Ans: When we were young, we wished to sell something different in department store. So we started sewing the fabric bags for the student to keep the fashion accessories. Since we had to study hard we stopped that craft work. After hard crisis of Thailand economics, everything became expensive. We had to save money and so we made sandals to produce and  sell the handmade sandals. Our sandal collection was very good welcome as we got consignment from a five star hotel. Most of the buyers  are high-end users and some of them import our collection to sell in their store.
Q. How is the scope of designer Jewelery business in your country?
Ans:  We accept that Thailand  has absolutely different scope. At  present the new generation is really very crazy for designer Jewelery . Because of huge demand of  fashion Jewelery,  designer project s are increasing and good support  is given by the fashion department and  organization.
Q. What are your future plans in terms of expansion of your business?
Ans: Our future plan is to have our own store in few countries or have the good contact with the boutique shop owners so that we can sell our collection worldwide. We believe our collection is unique , making the buyer happy to wear different fashion accessories. We wish to expand our business with good quality not just big company. We may work as small group but the production of quality However, we wish to have someone to give us the good opportunities to present our product out of thailand
Q. What is the specialty of your jewelery ?
Ans: The speciality is a little silk thread. We found that there are so many people who try to copy our collection,  in particular chinese labour but they cannot because the labour have to be very patient and take very long time to wind the silk thread smoothly, tightly that too with no machinery. Since our collection is of silk thread we always have new updated color for the user to enjoy mix and match each item with their clothing .