Hello all..! It is almost steaming in Ahmedabad and what is better to beat the summer than a classy and elegant kurti? Well, I am always bit towards the western style of clothing but this time, I too have become fond of beautiful Indian kurtis with a touch of western as well as traditional style. Kurtis earlier were meant to be worn only with either "salwar" or "churidar" but now the versatility of kurti knows no bounds! Kurtis these days can be teamed up with leggings, jeggings, salwar, jeans, palazzos, long skirts, dhoti harem etc. Looking into the wardrobe, kurtis are the only attire which can be worn with "any kind of" lowers.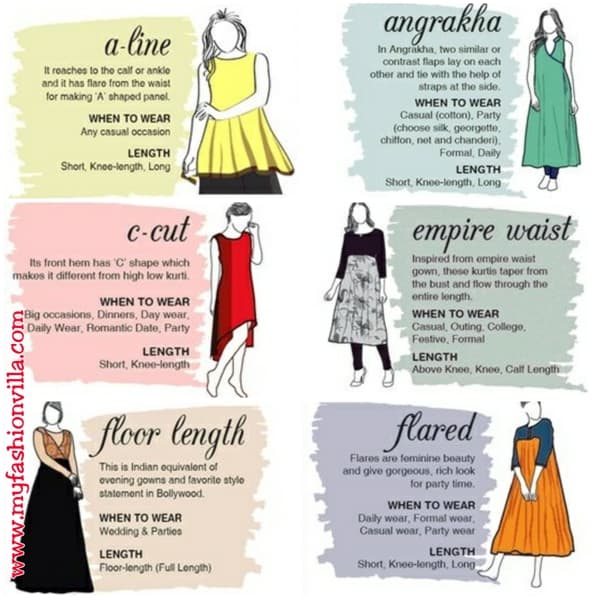 So, let us have a look at Top 30 Must Have Kurti designs. All Wardrobe Staples for you.
kurti designs for every woman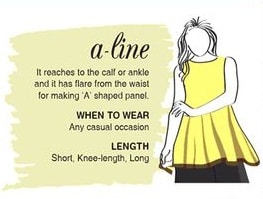 A-Line Kurti

This type o kurti has a shape of "A" alphabet if you observe its boundaries. It goes a bit wide from the waist and even wider around thighs and knees. It generally suits slim/average bodied girls with medium wide shoulders. Girls with wider shoulders should avoid this kurti.

Anarkali


Anarkali style has been ruling the kurti fashion from 2015 and is still stealing the hearts. This kurti has great frill which makes it elegant and comfortable. The ladies with average bust can try this. It is also perfect for those who have a bit heavier belly. It is available in knee and ankle length. Net anarkalis give a royal touch to your look.

angrakha

Angrakha


This falls in purely traditional style. It has an overlapping cloth at the bust area with straps which are tied on the other side. The kurti goes below the knees and is generally teamed up with churidar or leggings. Ladies with wider shoulders can try this.

Asymmetric 

An amazing design that gives you taller and slimmer look. As the name says, its pattern differs at both (left and right or front and back) the sides. It can give you a unique look at your office or college. This kurti can be worn by slim/average and even healthier ladies. Ladies with heavier bust can definitely try this!

C-Cut:

It goes with "C" shape at the bottom as it gets wider. You can easily recognize if it is up in the front and goes longer at the bottom gradually. Team it up with leggings, churidar or jeans and you're ready! Make a hair bun, wear a chunky bracelet with C-Cut kurtiJ

Color Block 

It is a regular kurti with different colored (square/rectangle) pieces of cloth. It gives a vibrant touch and a classy look. Pair it with plain palazzo or leggings. Finish the look by wearing sunglasses and a wristwatch.

denim

Denim

The denim kurti is a fashion statement itself. You can wear it in office, casual meet or at hangout. Pair the denim kurti with black leggings or palazzo. If you choose to wear a short denim kurti then you can even wear a black or white Patiala salwar with it to give "indo-western" look. Wear ballerina shoes or casual white sneakers to complete the look!

Dhoti Style


Dhoti is very a common garment for us. And dhoti-style kurti is something really new. This kurti has a dhoti-style loop type pattern which makes it really stunning and attractive. Ladies with pear shaped (broader waist and heavy thighs) body can rock dhoti style kurti. Wear high heels with dhoti style kurti.

Double Layered

This type of kurti has one extra layer of fabric below the actual kurti. The combination of varied colors can give out a mesmerizing look. With collar and sleeve borders it can turn the heads! Best is to team this up with leggings and a pair of flip-flops.

Empire Waist 

We all know about empire style gown. This kurti is inspired from empire gown. It has a normal bust area but starts flowing from there and goes till the end. It reaches below knees. Don't get confused between empire and Anarkali kurti. The only difference is that Anarkali kurti has a lot of frill whereas empire waist kurti has a minimum frill. Empire waist kurti can be worn with leggings. These would look better without a dupatta.

Flared

As the name suggests, it has a lot of frill and wideness at the end. It starts from begging of the chest and reaches (till) below knees. It gives a feminine look and is best for party wear. Short women should try to avoid this kurti as it enhances the width of the figure.

Floor Length 

It is such a royal style statement. This kurti has a regular chest fitting but it gets loose as it flows down the body. It reaches till floor and has a great (really great) frill. It suits every body type generally. Pair up long dangling earrings and do a hair bun, you're ready!

High-Low

Just as an up-down one, it has its front part shorter while back is longer. It doesn't create a circle or tail but stays quite leveled. This is currently favorite kurti style of teenage girls. It looks gorgeous with jeans and printed leggings.

Indo-Western 

It is a mixture of Indian and western style. It looks basically traditional but with few qualities like net shoulders and center cut, it defines modern clothing style. Even backless kurtis are popular these days! Style an "indo-western" kurti with jeans or a Patiala salwar.

jacket style

Jacket Style

kurti teamed up with the contrasting jacket is all you need this season! A sleeveless jacket, when worn upon a plain kurti, adds a touch of professionalism and decency. If you want to wear it casually then wear salwar with it. To get "work" look, wear plain and sober leggings. Ladies having smaller waist can surely wear this!

Kaftan Style


We have many times worn kaftan tops casually with jeans and shorts. And here are kaftan kurtis to become our next favorite! They have extra fabric at sides of our body which ultimately connects to our sleeves. It looks stunning when worn with ripped jeans or narrow pants. Women having heavy belly should avoid it.

Long Straight

Enhancing one's height, it falls on your body exceptionally well. Long straight kurtis can be worn with "any kind of lowers" like, palazzo, jeans, leggings, long skirts and for an experiment "denim shorts" too! It defines your body shape. Small stud earrings and a high ponytail can rock your look!

Overlay 

If you want to get a look of designer kurtis, overlay style is for you. In this style, the original kurti is overlapped by an extra flowing fabric (from waist) which is generally "see-through". It may or may not contain slits. It is mostly worn at occasions and parties. Our Bollywood divas too are fan of this style!

Pakistani

A long, baggy and regular (or A-line) shaped kurtis with full sleeves and high neck are referred as Pakistani Kurtis. This are worn with parallel bottoms and a beautiful scarf is also paired up. It is perfect for rectangle shaped body.

Pintuck 

Don't be surprised to see this name. It is all common with everyone. This kurti has small elegant buttons on the front part and are usually pinned with fabric loops. This is quite old but great style if you want to wear with jeans to your college.

Princess-Cut

Princess Cut kurtis have contrasting (or same) colored border which starts from the sides of the bust area and goes straight till the end. It accentuates the feminine curves. This is great for short ladiesJ

Printed 

This style is like "too old" and "too common" these days but the various prints like, floral, checkered, geometrical, puppets and natural are ruling the fashion world. You should at least have 2 printed kurtis in your wardrobe!

Reversible

Quite fun and interesting these kurtis are! These kurtis are tailored in such a way that you can wear it at both the sides i.e. front and back. The colors differ but the neckline and sleeves remain the same. This is the best one to purchase when you're short of clothes and need to save money as well;)

Shirt Style 

This kurti has all the attributes of a shirt except length and a bit of fitting. It has collar, pockets, center button line. It usually has shorter cuts at the sides. You can rock a shirt style kurti by wearing a pair of leggings and casual sneakers. And if the kurti is short then try a regular plain salwar.

slit

Slits

The most sensational and popular kurti style is "multiple slits". Might have seen Anushka Sharma wearing Red slit kurti with light blue ripped jeans in "the break-up song". So, what are you waiting for? Just go and grab a "multiple slit" kurti and rock your college fest!

Tail Cut 

Just as C-cut, this kurti is shorter in front and longer at the back side. It doesn't create a 'C' shape; instead, it flows in waves creating a "tail" like shape at the back. The best way to wear this is without any dupatta. Just wear a pair of printed/plain leggings and a pair of wedges. Short/tall/average ladies can wear this tail kurti.

tiered

Tiered

Tiered kurti has different layers of colors starting from lower bust area till knees (or below). It gives a volume to normal body frame hence it is best for skinny/very slim girls. It looks best if sleeveless and worn with churidar. You can add a net dupatta to slay the look!

Trail Cut


Trail cut kurti is the one you can wear for parties, hangouts and even at festivals. It has a "C" cut at both (front and back) sides leaving a tail shape at the sides. Girls with thicker legs should avoid this kurti.

Tulip

Just like a Tulip flower, it has extra layers of fabric at the end with an up-down finish in a circular shape. Its unique flower-like shape gives it a "special" look. It goes till ankle at the back and is just below knees in front with layers. Healthier women should avoid this style because it would further increase the width of the body. Tall/average heighted ladies can definitely try this out!

Strap Style:

This kurti looks really cute on every lady. It has straps on the shoulders, perfect for summers. If you want to flaunt your arms and shoulders then go for this incredibly gorgeous one! This is personally my favorite <3
Also Not to miss that when you opt for ethnic wear online check their size chart and choose your size wisely. Always select clothes as per your body shape because the clothes are tailored keeping in mind the general body shape. And every garment that you see models wearing would not always be perfect for your body too.
Secondly, choose the color wisely. To make it easier, relate the colors to the season. For summers, you can wear light green, blue, pink, yellow and orange. For autumn you can select dark blue, purple, brown, mauve, cream and of course red. In winters you can go for black, dark green, gray, chocolate brown, white and maroon.
So, this was our list of "Top 30 Must Have Kurti Designs: Wardrobe Staples", do share your opinions on this list, we always love to hear from you <3
Keep Shining! Keep Rocking!
HUGS!!!!!!!
Save