What are sneakers and what are they made up of?
Sneakers are a type of shoes which were designed for everyday wear. Originally they were worn during some physical training such as running, working out or playing a sport. But slowly and gradually the design got modified and now we can notice people wearing sneakers at various occasions.
Generally sneakers are made up of three elements (materials) which are rubber, leather and plastic. Mostly the sole is made up of rubber to provide good grip and flexibility.
Sneakers for Men
Types of sneakers          
At present there's an endless variety in sneakers. Few are for casual wear, few for party wear, few as sportswear and many more. Listing them on the basis of style we get the below information:
Low-tops or oxfords do not cover the ankle.
Mid-cut sneakers are in-between high-tops and low-tops.
Sneaker boots extend to the calf.
Slip-ons like low-tops/oxfords do not cover the ankle and don't have laces.
Low-top CVO (Circular Vamp Oxford) like low-tops do not cover the ankle but unlike low-tops have a vamp in a circular form and typically 4 to 5 eyelets.
High-top CVO (Circular Vamp Oxford) like high-tops cover the ankle and also have a circular vamp.
Choosing sneakers according to different looks
Casual look
Going for a casual day-out you need to choose the sneakers carefully. The pair should neither be too funky nor too sober. Select a stylish yet simple pair. The colors should be evergreen ones which would compliment most of your casual outfits. Don't pick up eye-catchy colors unless you're a participant of some "fancy dress competition". Colors can be denim blue, black n white, brown and gray.  Don't choose a leather pair because it would not serve as a casual shoe moreover the comfort level would be very less..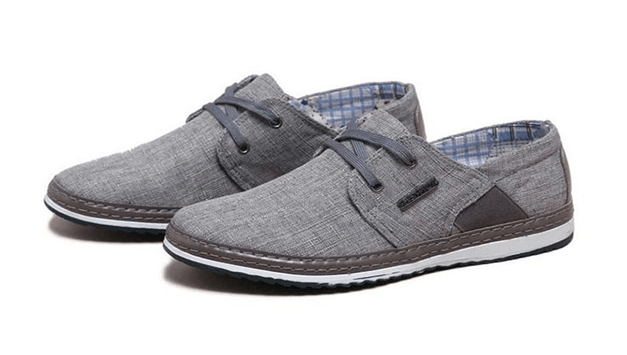 Sporty look
For a perfect sporty look nothing can be better than flexible sneakers. Running, exercising or playing any sport, you can easily pick up a sport shoe. Keep the criteria like flexibility, material, grip, quality and durability on the top of list. Color should be the last criterion for selecting a sport sneaker. Adidas, Nike and Puma are well known brands which provide good quality.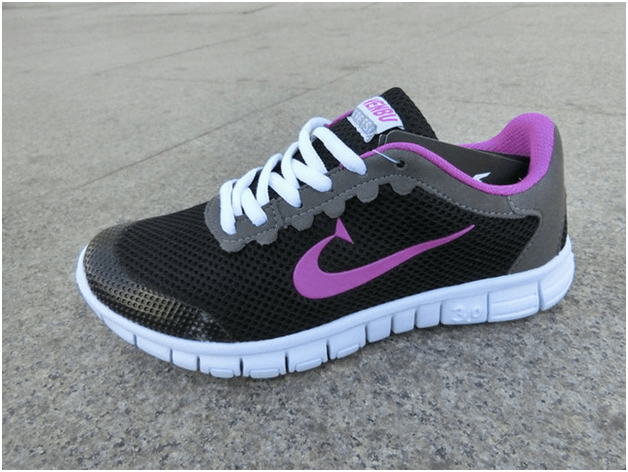 Party look
Want to dress up for a party night? It's easiest with sneakers. Grab the funkiest and most colorful pair. The pair should be high-top one, which would cover the ankle. Pick up the shoe with attractive prints and coloring laces. LED sneakers are best for a party look because they have tiny lights at the bottom line of sneaker. Nike and Adidas party sneakers would rock it!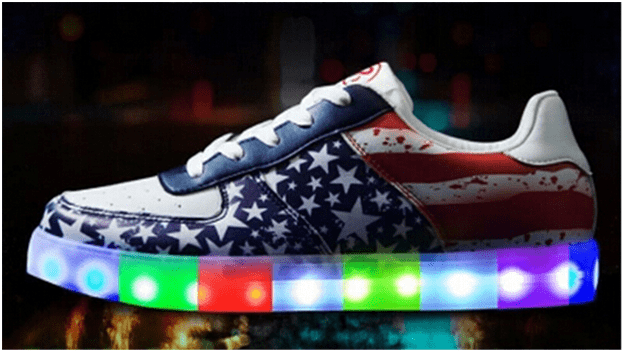 Routine/home footwear
For a routine look you need to get the highly comfortable shoes. At home you can wear whatever you want such as slippers, cushioned loafers and etc. Don't pick up white colored sneakers for daily wear because they would turn into "throw away" condition soon. So, for this you can go with boat-line loafers, they would provide you maximum comfort.
What to team up with sneakers?
Sneakers are a way easy to team up with your favorite clothes. Unlike formal or other stylish footwear, these aren't difficult to match with your outfit. More creative you are, the more unique you look!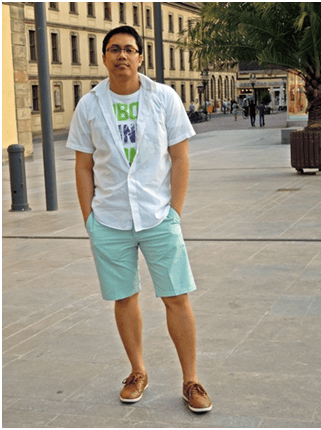 You can wear a t-shirt, a pair of chinos/jeans with sneakers. Track pants, balloon pants, skinny jeans also work cool with sneakers. Other than this Capri, shorts can also be worn with low-top sneakers.
When you choose to wear a shirt with sneakers, never tuck the shirt in! Always keep it untucked. If you wear a low-top/slip-ons ones then do roll your jeans up.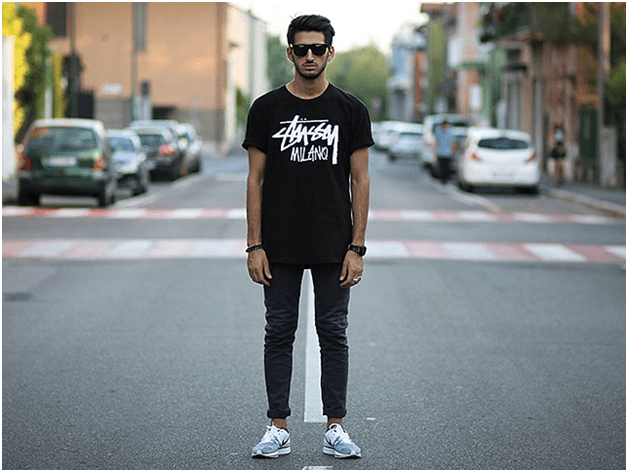 If you're wondering whether your jacket would go with your sneakers or not then the answer is big YES! Jacket always compliments sneakers. And if it's a leather one then it's like "icing on cake". Blazers rock with sneakers provided that they should be purely informal!
 Do's:
Roll up your trousers most of the time you wear sneakers.
Always wear ankle-socks with sneakers (so that it isn't visible easily).
Try to choose sneakers with rubber and cushioned soles for better comfort and durability.
 Don'ts:
Never wear sneakers with formal outfits.
Never wear sneakers for your job interviews unless you're a fashion model.
Never wear visible socks with casual and party sneakers.
Never wear sneakers and jeans of the same color unless the jeans are rolled up.
Never wear sneakers with ethnic outfit. Never!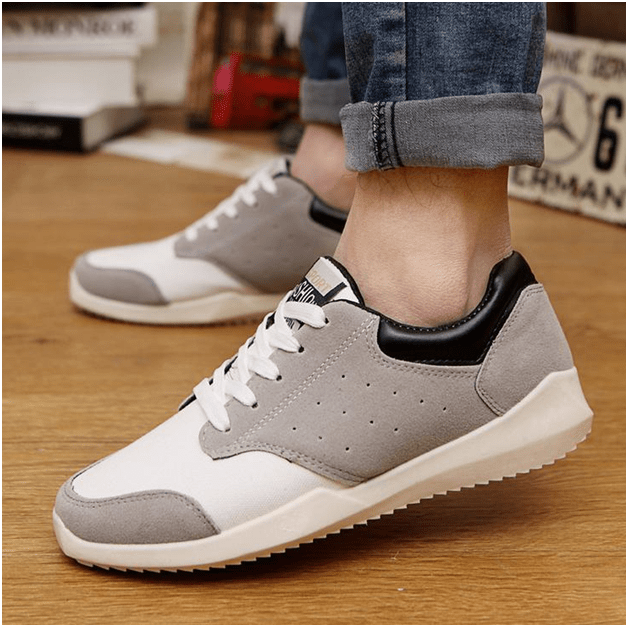 Maintenance 
We get so disappointed when our favourite pair of shoes gets dirty or damaged. So, for your special shoes, special care is to be taken.
Clean your daily shoes weekly or every 3 days as required. Don't scrub them hard otherwise they would get damaged easily.
Few cleaning hacks
Odor
Want to remove odor from your sneakers? Put a used tea bag inside it for around 8-9 hours and finally the smell would be gone!
For this you can also try putting some baking soda inside the shoes for 8 hours and bingo! No odor!
Stains
Got heavy stains on sneakers? No worries, make vinegar and water solution and gently clean the stains.
Try nail paint remover to clean the oily stains.
You can also try toothpaste. Put a little amount of toothpaste on dirty area and gently rub with a toothbrush.
Well known brands   
Adidas, Air Jordan, Asics, Brooks, Converse, DC, Dunlop, Ethletic, Feiyue, Fila, K-Swiss, Keds, Lescon, Macbeth, Merrell, Mizuno, New Balance, Nike, Onitsuka Tiger, PF Flyers, Pro-Keds, Puma, Reebok, Skechers and Vans.
This is my first post on MyFashionVilla.com hope you enjoyed. There are more posts coming soon, Stay Tuned..
Hugs!