Two days back, I received an email from FDCI about their new Campaign, and that email is titled "Invitation to join FDCI #SixYardsOf Campaign" and I loved the idea and concept of this campaign immediately. I want to share what #SixYardsof Saree means to me! enjoy this post peeps… If you love saree as much as I love it, you need to do one thing. After reading the post, please share your views in the comment box below and tell me what #SixYardsof Saree means to you!

Let me share what is the campaign #SixYardsOf all about
"The Fashion Design Council of India is celebrating Women's Day by kickstarting a special social media campaign related to India's biggest brand, the saree. For today's woman, the six-yarder is as much about individuality and empowerment as it is of motherhood and tradition. We are inviting you to tell us what the saree means to you by posting a picture of yourself/your mother/wife/sister/ partner/ muse/daughter in a saree and naming the emotion the saree evokes in you.

For example: #sixyardsof love, or # sixyardsof history, #sixyardsof dreams, #sixyardsof drama, #sixyardsof self-expression, #sixyardsof magic). Please tag #lmifw and @thefdci in every post. "

Email from FDCI
How Powerful..!! I firmly believe whatever you wear, it must give you some kind of joy!! Saree is that power dressing for me. It gives me joy! Ummm.. I would say, something beyond joy! I feel confident..!! I feel beautiful.. !! I feel I am more expressive when I wear saree. Saree is true 'me,' and it does magic to me!
So, I keep it this way, #SixYardsOf Magic!
This saree is very special to me. I wanted to have one black and gold saree for a long time. I had the fabric and fabric's feel in my mind, and with that, I saw many sarees in various flea markets, exhibitions, and showrooms! I wasn't satisfied. No saree was matched to that saree, I had in my mind. Finally, I got it 🙂
I purchased this saree five months back and wore it twice. Let me share some of the pictures from the recent time when I wore it.
Details About the Saree
Fabric: Soft Art Silk
Color: Black & Gold
Purchased From: Roopkala Ahmedabad
Priced: 3200
Now Enjoy Clicks.. hope you like them 🙂 let me know in comment section or you can message me on Instagram.
#SixYardsOf Magic!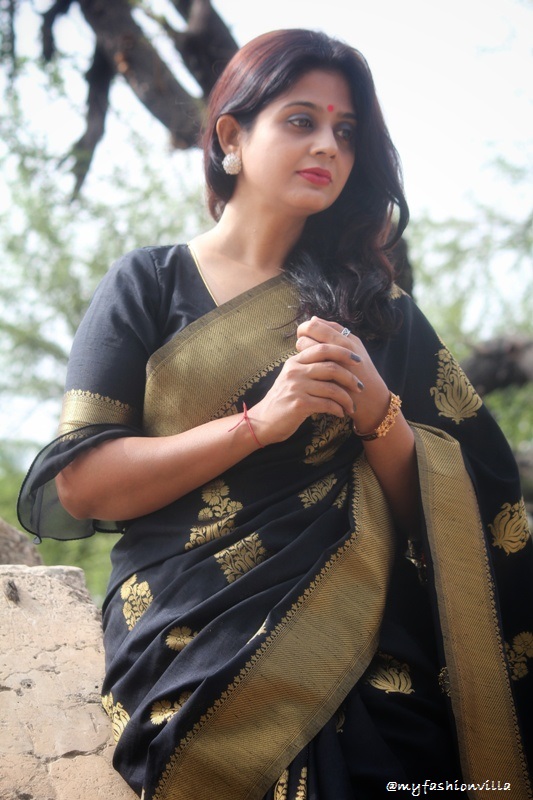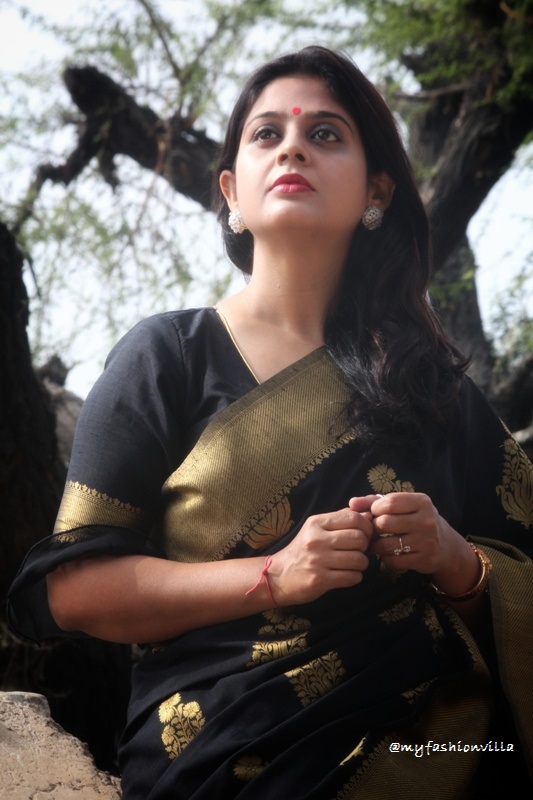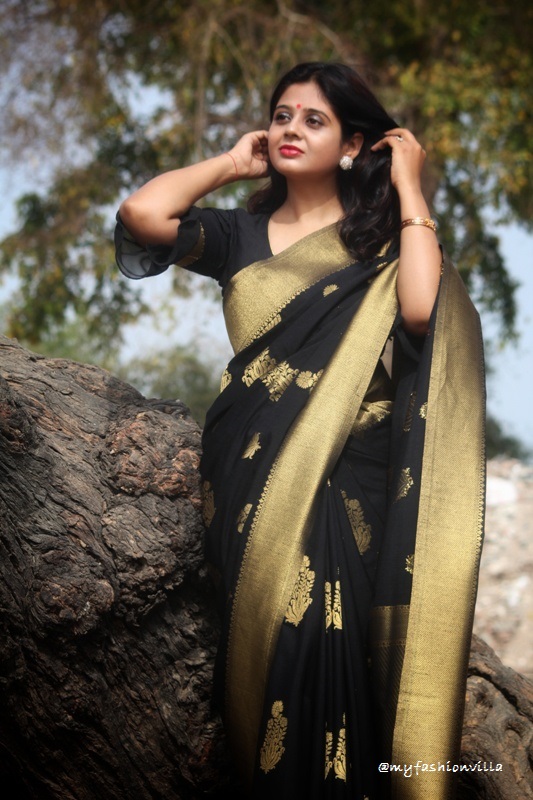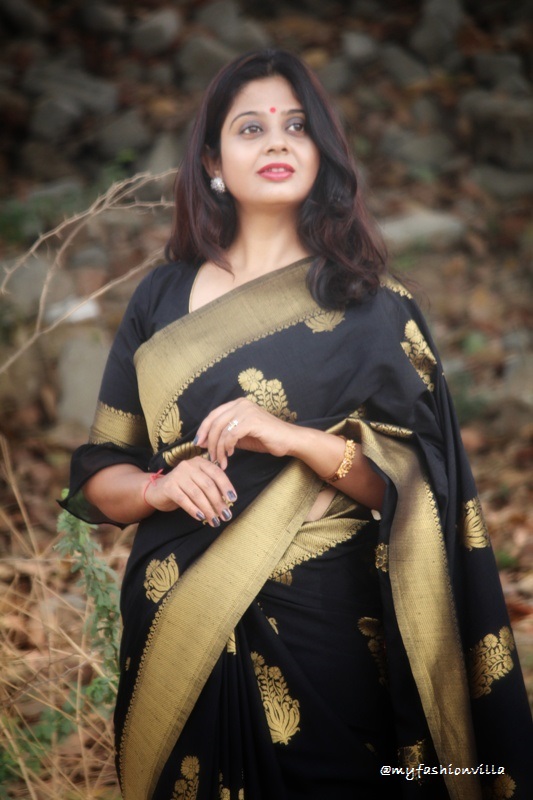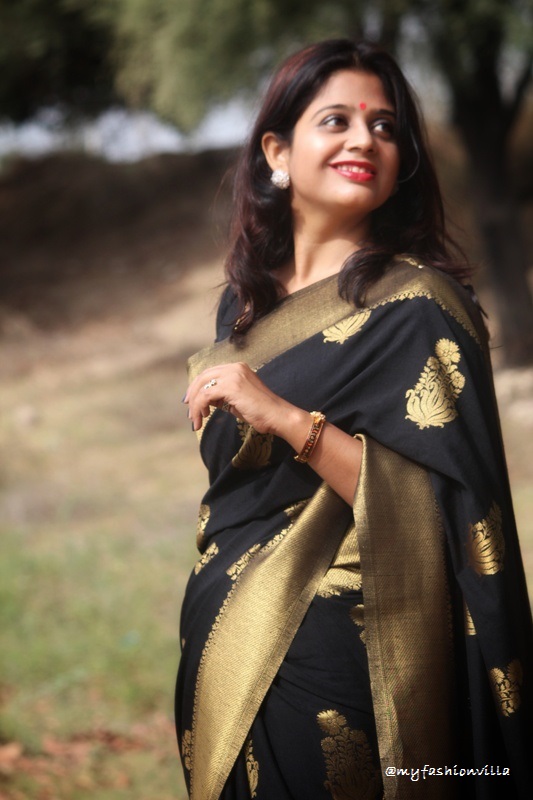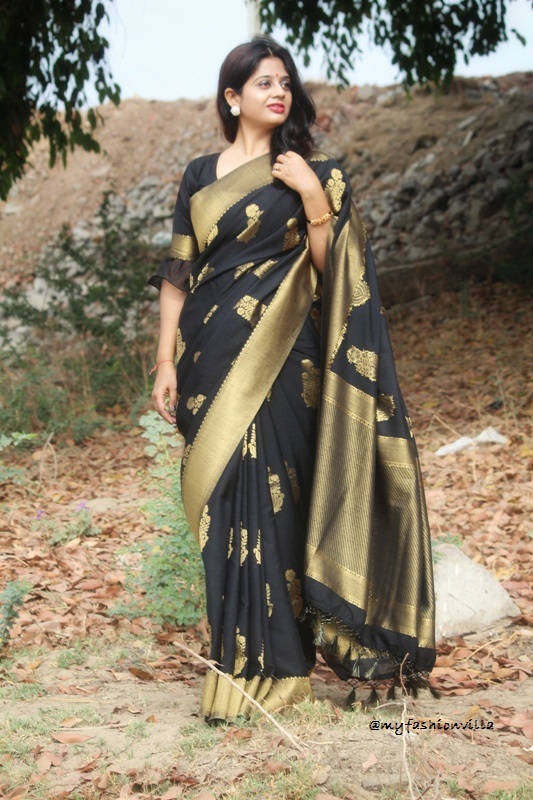 You may Also Like to Check, This OOTD Post from Diwali
That's All for Today 🙂 I have a question for all of you. Sometimes I like to do posts like this! Would you like to see such posts on myFashionVilla.com with Outfit Details, Some Tips, Styling, and Clicks? Let me know.
This will help me to understand what you want to see on MyFashionVilla.com Ultimately it is your space 🙂
Also If You Want to See More Pictures from This Shoot..
Follow me on Instagram
Love n Hugs!