Back injury is a common symptom in 8 out of 10 adults. It causes discomfort during sleep and saps your day's energy. Good bedding is an easy solution for an acute and painful back injury. It not only cures the illness but also prevents further worsening of the problem. Purchasing good bedding is a matter of high concern related to the choice of brand and its reliability. Here are 4 tips on how to avoid a back injury by purchasing good bedding.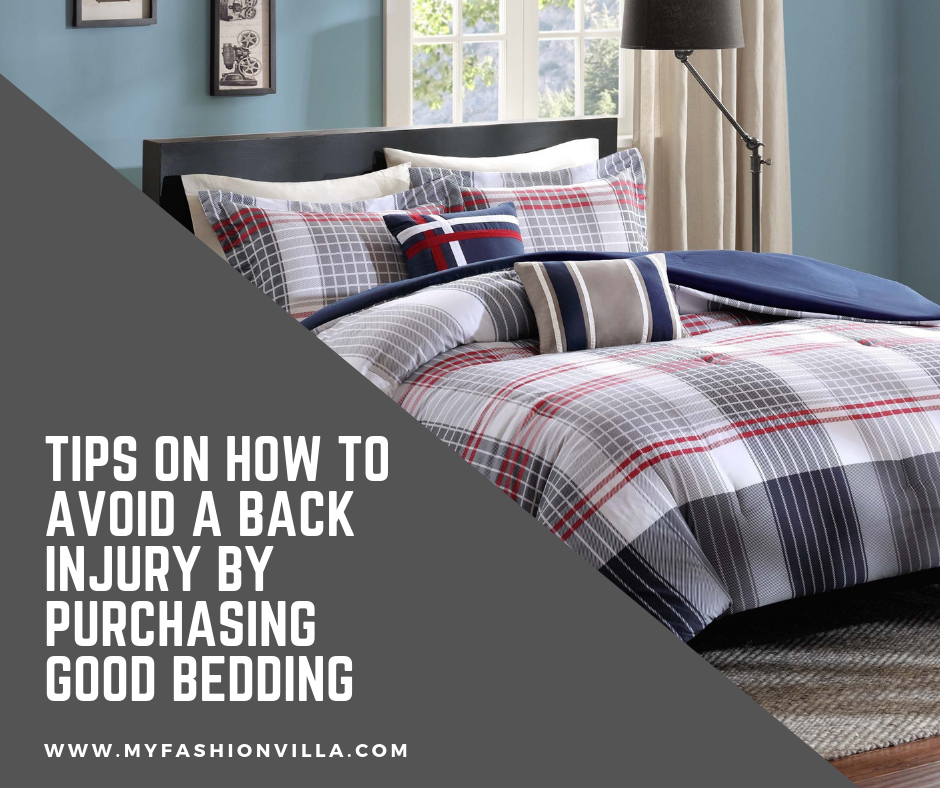 1. Memory foam
A memory foam-type or a gel layered mattress, provide support where it is needed and allow for adjustment to the body where required.This type of mattress contours to you, cushioning you while supporting your body evenly over the surface to prevent pressure points. A high quantity of materials derived from plants, are manufactured in a facilitywith zero-emissions makes this mattress unique. Memory foam allows good air circulation within the mattress and this makes the material highly responsive.
2. Firmness depending on sleeping positions
The ideal mattress to avoid back injury is something that is not too soft and not too hard, to minimize stress on your cervical, thoracic, and lumbar spine. A mattress with medium firmnessis perfect for a back-sleeper. It offers enough support to the spine. A mattress with just the right amount of softness is necessary for people who like to sleep on their side, to cushion the shoulders and hips.People who like to sleep on their stomach require a firmer mattress in order to keep them afloat. Spring mattress is used worldwide for daily use. According to some people, it causes back injury. But it is a vague idea. The only matter of concern is the comfort level if it is ideal for an individual and gives a good-night-sleep, its perfect.
3. Bed designs
As far as purchasing blankets are concerned there are two key areas which require focus:
•The Dimensions: It is essential that the mattress is 5–8 inches longer than the height of the person who is to use the mattress.A proper mattress has exactly the right amount of width that facilitates the hands to stretch freely on either side without coming in contact with the other person
•The upholstery Layer:The upholstery Layer of the mattress is responsible for providing comfort and cushioning to the person sitting or lying on the mattress.
Wooden bed designs with an optimum height from the floor to reduce back injury as it allows the sleeper to get up easily from his bed after a night's sleep.
4. Temperature neutrality
Some people are hot-sleepers. For deep sleep, you want fewer stimuli. If your mattress is too hot, it wakes you up. If it's too cold, it wakes you up too. So a temperature neutral mattress is always a good choice to prevent back injury and for a good sleep. Make sure along with temperature, the mattress aligns with your spine for you to sleep like a baby.
Back pain is one of the most common reasons for a night of disturbed sleep. Avoid any back injury by choosing the right bedding option for yourself. In case the pain persists, consult a doctor.