It was June 2013 when I got my Pregnancy News. Gradually I put on some weight and after the second trimester ended, all those branded cloths in my closet went in the separate bags for giveaway! And I realized how much shopping I did in the past years and some dresses I hardly worn and now they were not fitting me at all 🙁 I realised, I burned thousands of money buying all those branded high end fashion cloths. Then with a baby coming to our life, fulfilling his requirement and our own family requirement together, I got a big lesson of "Budgeting" but thankfully I mastered it now. Earlier I was feeling so proud to call myself a shopaholic girl but I was totally wrong 🙁 if you overspend many time and want to learn an art of budget shopping, this post is for you. Stay with me.

Shopaholic Girl to a Frugal Shopper – How things changed for me?
The art of staying in budget; depends on one thing that I learned and mastered that is; To understand Needs and Wants in life.
To Begin With Let me elaborate "Need Vs Want"
What is Need?
Need is something that you need anyhow. Something that is required to have in your closet or life. Things which increases the utility of other things. Things which you use or wear frequently. Things that helps in improving your lifestyle.
A carrycot for my child was a need.
A matching laggings for a DressKurta is a Need.
Having a phone with a good camera was a Need for me, so that I can click pictures for blog.
A good quality running shoes are Need for me, because running and walking are must things.
What is Want?
Wants are Wishes. Things which you want to add in your closet or collection. Things that you think, you will wear some day. Things that you purchase without intention. Things which you purchase as an option to something..!!
Having a Diamond Studs to match my Diamond necklace is a Want.
A latest launch Dior or Elizabeth Arden lipstick are want for me.
An Anita Dongre, Purvi Doshi or Anju Modi Lehenga or Saree are want for me.
Having a walk-in closet in my bedroom is a want for me
Then What is the Actual Difference?
Need -> Non Skip-able Items.
Wants -> Skip-able Items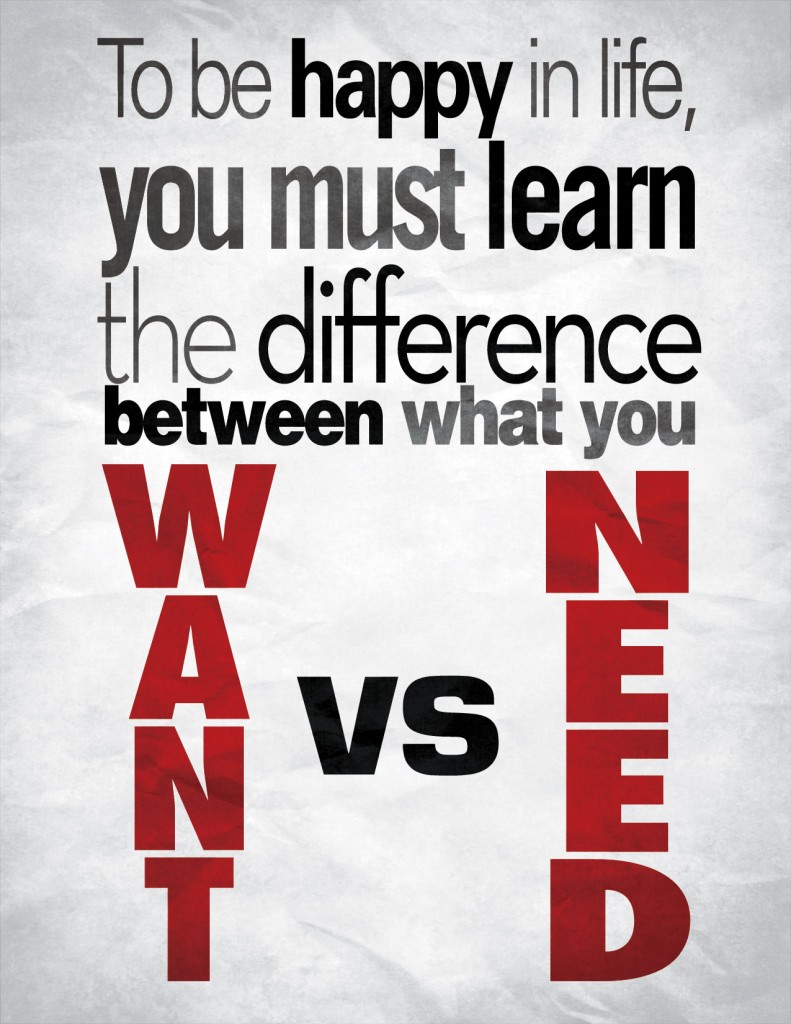 Let me give you example.
Someday I dream about purchasing a Nars Lipstick and Too Faced Eye Shadow Palette, Tom Ford Shoes, D&G Sunglasses etc. All these are wants for me because I like those products. Though; if I will not own them in near future, there will not be a huge difference in my life or I will not miss anything. If I be honest with myself I can skip these items and settle with more needed items.
Now Having a Red and a Pink Lipstick in my vanity is a Need. Similarly a good natural eyeshadow palette, a warm pair of winter shoes and a spacious tote bags are need for me. Because, those are must have for me and I think I cannot skip having them.
Nars Lipsticks are priced 1600-2000 Rs in India. And Maybelline, Loreal Paris, Oriflame, Avon, Iba Halal Care, Lotus etc brands offer Red and Pink Lipsticks too; Priced for Rs 500 Approx. Now, these drugstore brands offer poor quality products? Absolutely Not. Then, I can get L'oreal Or Maybelline Lipsick instead of Dior or Nars or Too Faced, if I am getting a similar shade? Absolutely Yes. Should I try for other Makeup Dupes? Absolutely Yes. Why not? That way I will save some money! And this way I can fulfil my need and skip my want. Makes Sense?
Now Some of you would say, This is a Compromise! Well.. I was thinking about the same. But then I had an idea.
If we calculate the difference..
High End makeup Brand Lipstick 2000 Rs Approx
Minus
A Drugstore Makeup Brad Lipstick for 500 Rs Approx
The difference comes 1500 Rs.
Now with that immediate saving, I started fulfilling other needs of mine. That way, with the same budget i decided for purchasing one thing, I started fulfilling more needs. Again I am not saying to settle with cheap products; I too understand that it's not about the money all the time. But make a sincere effort. Just ask yourself, Is it a Want or a Need? If it is a Want, Can you Skip it? And try to get something that you really need? If the answer comes Yes, go for it. As simple as that.
To fulfil all my needs, I do online shopping. After a little deep research and price comparison, I realised that some online shopping websites offer really good products at affordable prices. Some of my favourite websites to purchase stuff online are, Amazon, Jabong, Myntra, Flipkart, StalkBuyLove, Nykaa, Koovs, Lenskart, nuteez.com, YourDesignerWear.com, planetsuperheroes.com, Manjubaa.com etc. Along with online shopping, I also use coupons and cashback facility most of the time. I utilize Myntra coupons, Jabong, Amazon and Lenskart Coupons that we can get from other related portals and they work most of the time. If you want to master the art of shopping, this post would help you as well.
Master the Art of Online Shopping: Your Ultimate Online Shopping Guide
Hope you Enjoyed Reading this Post. My mumma Always says, a habit of small small savings would benefit you in long run! Do give it try and Need Vs Wants funda works 😀 really.