It has been long since we last discussed sarees, right? Well, we missed that too! No more missing! We are back with another post for saree lovers. We all use social media for various purposes. While being on social media, we find engaging and creative content. The creative content makes us want to know more about the particular creator. And while we were on social media, we found 10 jaw-dropping saree influencers who have broken all the boundaries of Saree Styling. These saree influencers inspire others to drape sarees in bold ways. What did we love about them? You are soon to find out!
See the Best Saree Influencers Who Have Changed The Way We Look At Sarees!
Let's Start….
Isha- @desidrapes
Isha supports sustainability. Her sarees are unique and perfect for mother-nature! she promotes this for a better environment. And, she also educates people about the advantages of sustainable fashion via her sessions.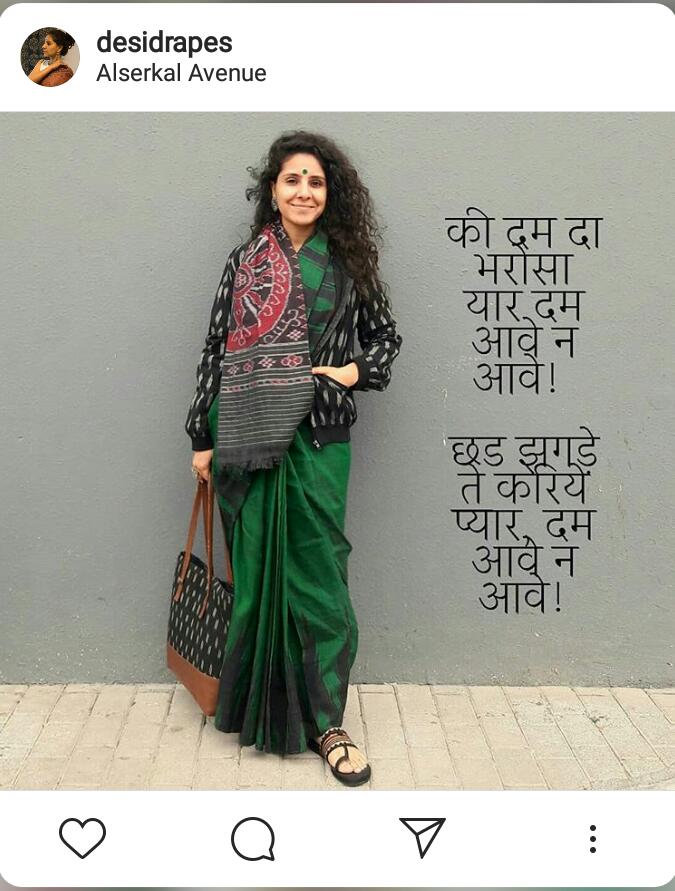 Check her Instagram- https://www.instagram.com/desidrapes/
Vijayalaxmi Chhabra- @vijayalaxmichhabra
Vijayalaxmi is Fond of evergreen sarees and creates brilliant styling looks with her ideas. You get to know so much about Odisha sarees, Banarasi Sarees and many more. Her informative cultural touch to the drapes gives a sense of sophistication.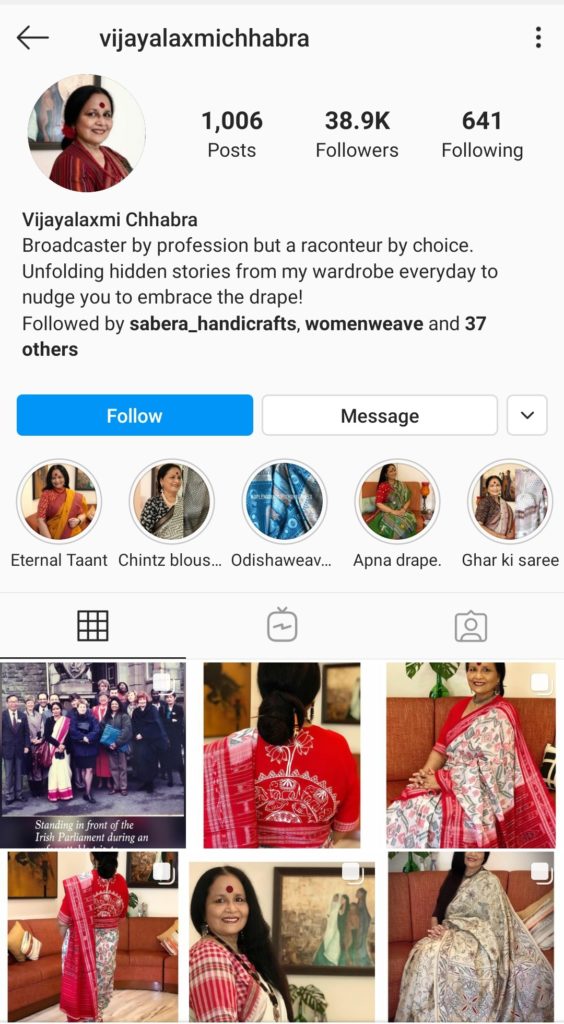 Check her Instagram-
https://www.instagram.com/vijayalaxmichhabra/
Ashwini Narayan- @winnynarayan
A professional creative saree influencer who waves the unbelievable patterns and styles. Her unconventional looks would make you fetch your saree and a belt, to create one of a kind look!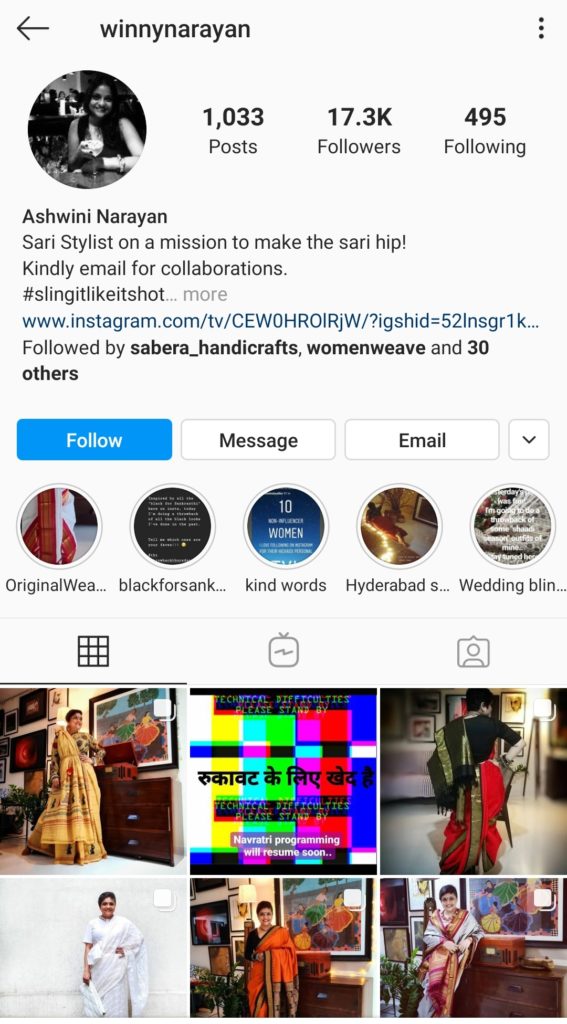 Check her Instagram-
https://www.instagram.com/winnynarayan/?igshid=mwekyj9r82ik
Vini- @sareespeak
Vini is a travel and saree lover. So, she decided to combine both. You can see her vacation and travelling photos, where she has draped beautiful simple sarees. She keeps her saree look minimal. Hence, you're going love her photos<3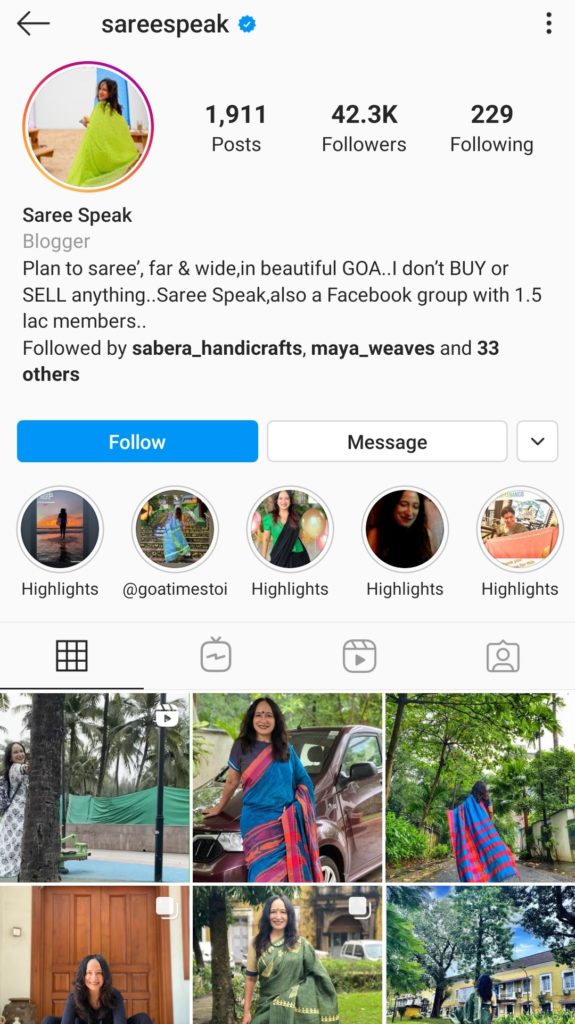 Check her Instagram-
https://www.instagram.com/sareespeak/
Dr Rushika- @life_in_a_saree
Doctor by profession and saree influencer by passion;D She flaunts her purely handloom sarees with conventional blouses. She wears saree every day to work. And it is easy to admit that she carries her style effortlessly! The subtleness in her look is an example of simplicity.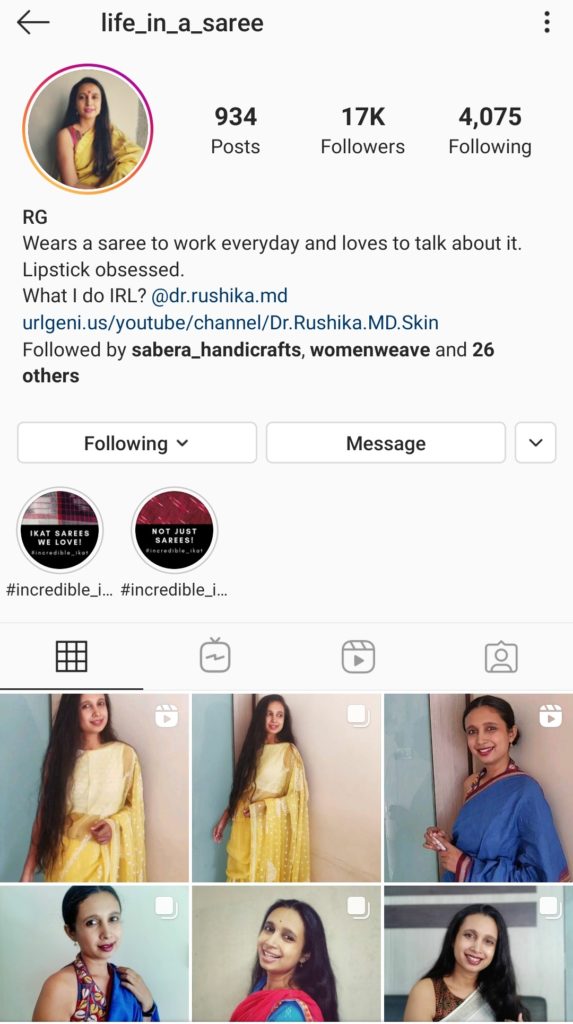 Check her Instagram-
https://www.instagram.com/life_in_a_saree/
Sumitra Selvaraj- @sareesandstories
Sumitra blends her stories and sarees into beautiful masterpieces. Have you ever found a story combined with a saree? No, we had not either. Until we found Sumitra's account. If you read her captions, on pictures of her uniquely styled drapes, you'll too be moved by her stories!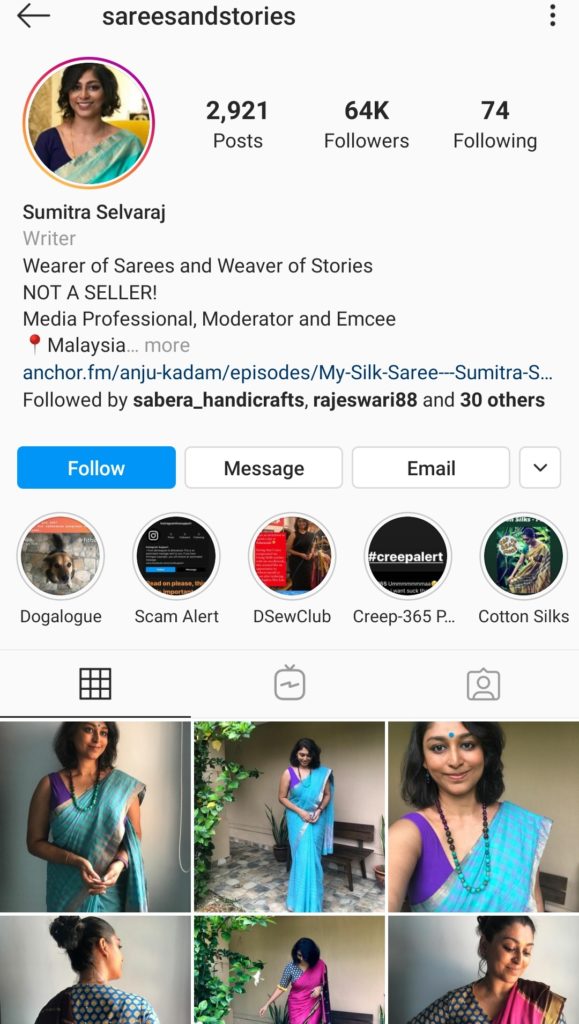 Check her Instagram-
https://www.instagram.com/sareesandstories/
Seema- @seemaskt
We have another handloom lover in the house! Seema drapes the handloom sarees with her unique styling ideas. She styles a simple saree with a long white jacket and making it a statement outfit. Isn't it beautiful? You'll get to know a lot about handloom sarees and inspiration to style them in your way.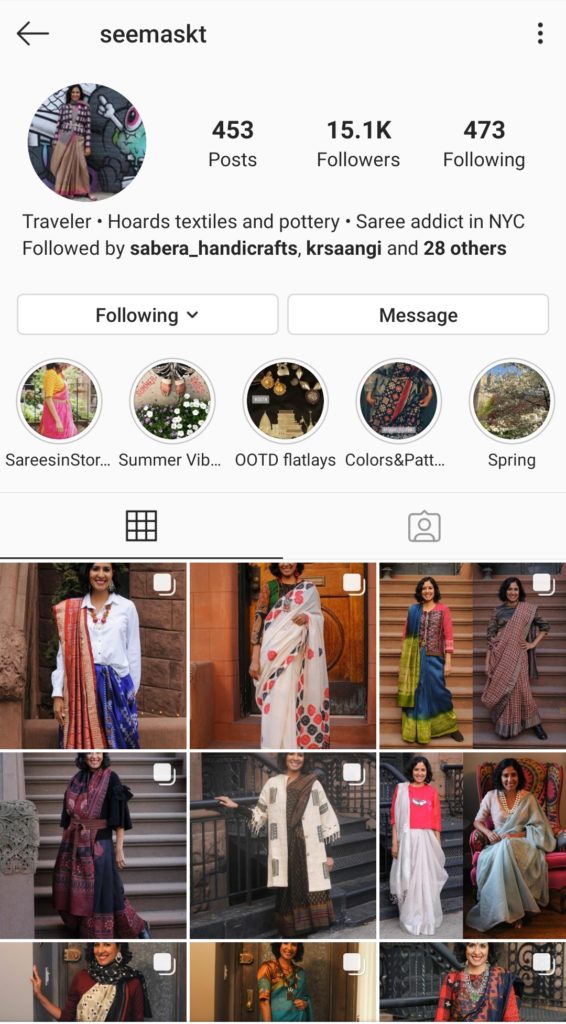 Check her Instagram-
https://instagram.com/seemaskt?igshid=w3mnhpwodc7t
Sonya- @bit_desiriented
A lady who wears saree with t-shirts and looks better than models, wow! She has a personal collection of these nine-yard beauties! She styles sarees with leather jackets, bomber jackets, shirts and whatnot. Let's not leave out her subtle saree looks, which are equally aesthetic!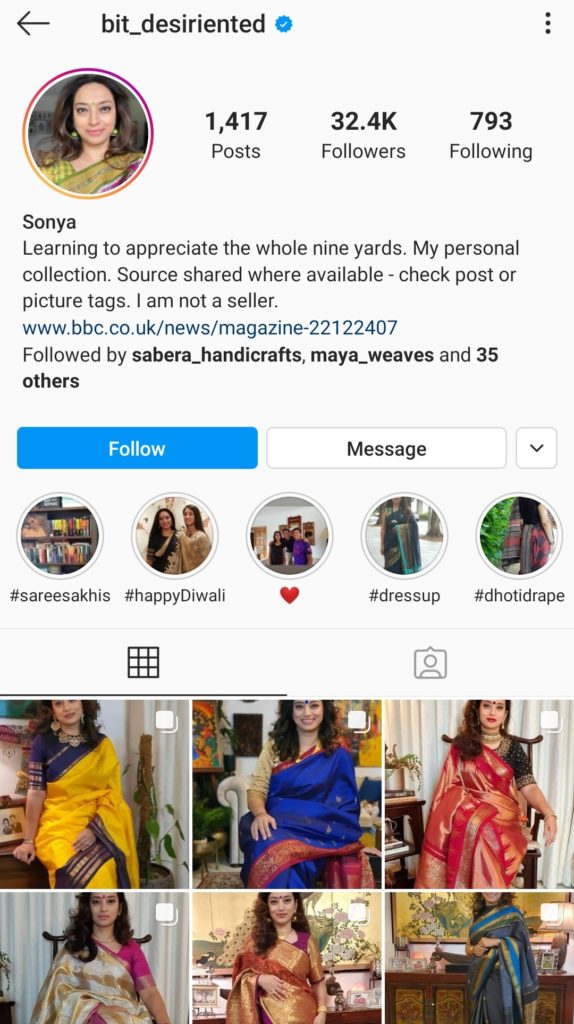 Check her Instagram-
https://www.instagram.com/bit_desiriented/
Shayoni- @mywingedeyes
We are so impressed by her drapes! Not only she rocks the saree draping game, but she also nails the blouse and blouse designs incredibly. You can see the perfectly captured motifs and embroidery on the back of her blouses. So, get some blouse styling tips and ideas from her looks, ASAP <3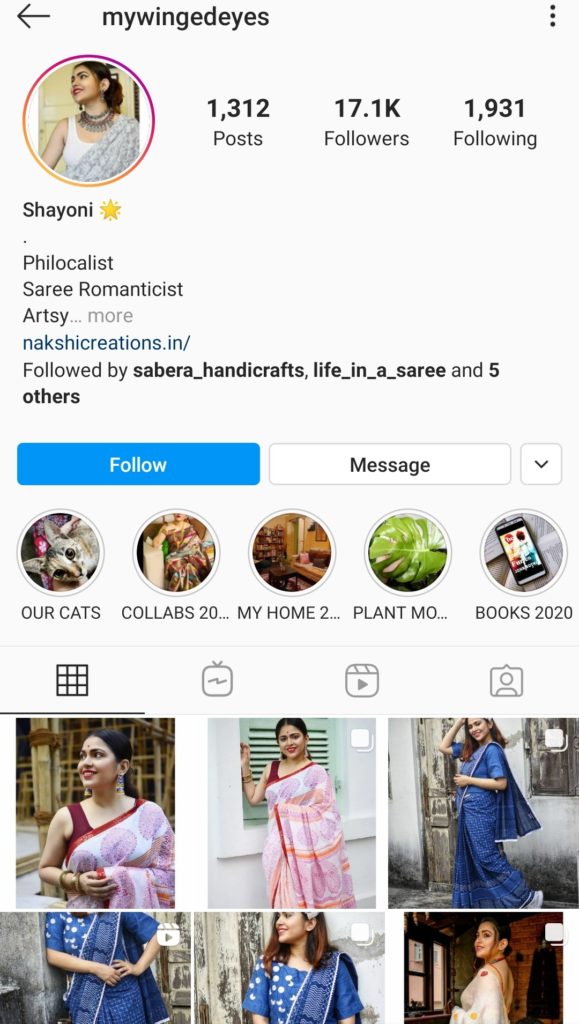 Check her Instagram-
https://instagram.com/mywingedeyes?igshid=y0jkz5iws9eb
Mamta Sharma Das- @ thebohobaalika
Mamta is known for her artsy choice of sarees and styling them in an off-beat way. She highly encourages the hand-painted, hand-made motifs and patterns by artisans. Especially the patterns on her sarees are mind-blowing. Her cutest sheer pink sarees and polka prints are our favourites!
Mamta also has her garment and decor store. In the store, the garments and other products are hand-painted that showcase the raw art.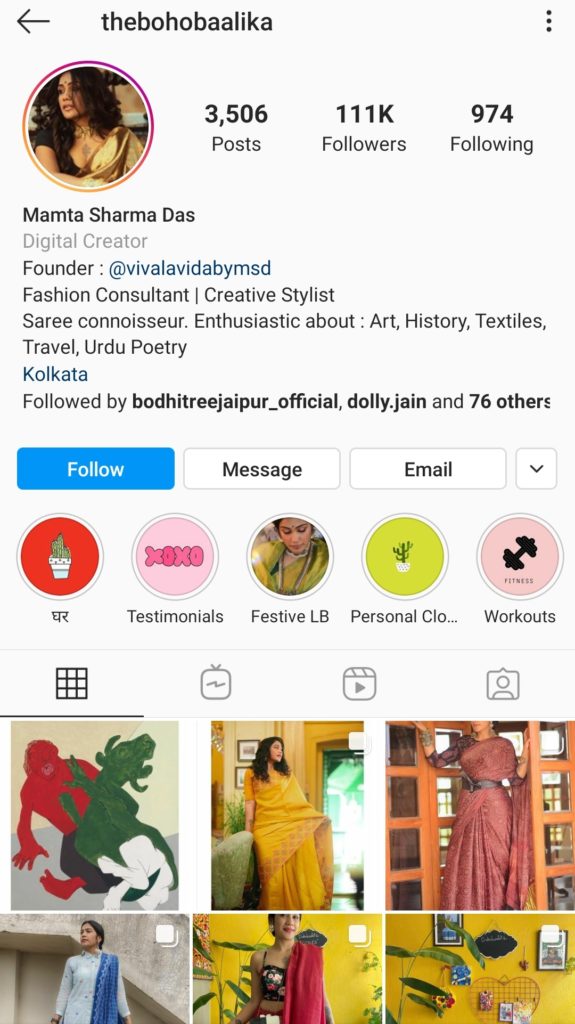 Check her Instagram-
https://www.instagram.com/thebohobaalika/
You must have become a fan of these saree influencers. Starting from the basic saree look to the fanciest drape, these artists have been successful in creating lovable and catchy ideas. If you read the comments on their posts, you will find that we are not their only fans.
A fashion influencer or stylist should understand the tastes, and needs of his or her audience. She or he should then blend them with creative ideas; while being fearless about the judgemental norms of the society. This will make their audience love them!
So, our task was till here. From here on, it is your wish to check their content. We hope you'll like them too!
We will be back soon with another post here. Till then, stay safe. And, don't forget to sanitize your hands regularly 😀
HUGSSS!!!