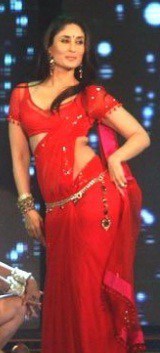 What Kareena Kapoor or Katrina Kaif wears matters a lot when it comes to dressing up, isn't it? A very important attraction for women is Bollywood, when it comes to sarees. Saree has become a globally acclaimed outfit since the last few years.Sarees have become elements of fashion as well as simplicity. Celeb craze has led to more desire for wearing sarees as an endeavor to follow their favorite television or movie stars. Daily television soaps also influence the rising demand of latest and trendy sarees.
The latest color in fashion nowadays for Gen Next women is purple which looks very pretty and feminine. Awe striking Banarasi sarees will be the most popular for the 2011 nuptial ceremonies. Wearing these sarees is like a wish coming true for any to-be-wed-bride.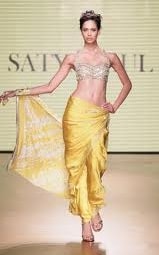 The lustre of Banarasi sarees attracts every woman and makes every woman look gorgeous and stunning. Other colors which will be most appreciated during the year include violet, mauve, black, dark bottle green, dark royal blue, dark maroon and pink. Georgette sarees will be widely liked by all classes of women, along with Net sarees. These sarees make the ladies look slimmer and delicate. Heavy embroidery work usually makes this fabric look more stylish and sensuous. Long sleeved as well as bikini tops will be the styles for blouses this year. In a nutshell, women will be able to flaunt sensuous yet subtle sarees this year.
If you are fond of sarees which looks unique and trendy then, you should check satya paul sarees and sabyasachi sarees collection.
And we can't forget the latest trend in sarees that Karina Kapoor wears in Ra.One, She looks super hot, isn't she?
Let us know, what is your type of favorite saree?