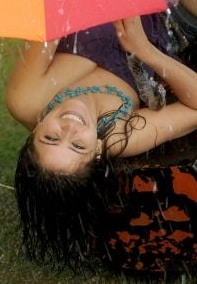 Monsoon Hair care tips are really important to be followed. As this is the season when the atmosphere is sticky due to humidity in climate. Generally people don't think about hairs much but for healthy hairs a regular hair care routine is must.  Many of  look for useful tips which can help us to get beautiful, silky, and soft hairs in monsoon. You can try these following tips to get rid of tangled, sticky and messy hairs.
Monsoon Hair care tips
Wash your hair regularly, if possible daily and massage scalp properly to keep dandruff and other hair problems away.
 Keep Hairstyle short & simple.
Doesn't use hairsprays and gels as they can stick to scalp resulting dandruff.
Take hair Spa once in a week or go for Hot oil treatment to keep hair problem free.
Try to keep hair dry as much as possible. If you have long hairs and you are working then keep a turkey towel and portable hairdryer with you always as.
Don't keep your hairs wet  for long time and do not tie them when they are wet.
We are sure these quick hair care tips will help you to look prettier in this season. Enjoy this Monsoon season at fullest.