Recently on 30th October 2011, an American singer Stefani Joanne Angelina Germanotta, better known by her stage name – Lady Gaga, performed in New Delhi at the Formula 1 after-party on Sunday.Lady Gaga came first time to India for such concert and show. Many celebrities including Shahrukh Khan joined her. This pop diva is also known for her eccentric outfits, head gears, accessories and bold appearance. She always spotted in hot news for her own bold style and talent.
As always, this time too everyone was gossiping about her appearance in Formula 1 Closing Party concert and show. But after all she is Lady Gaga!! How is it possible that she wear something usual!!
She is known for her bold attire experiments in fashion world. This time to perform in India, she wore something Indian with her bold fashion touch.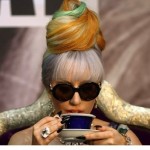 She chose Delhi based famous designer Tarun Tahiliani's dress to wear for the Formula 1 Closing Party show. She hinted her outfit would be a 'hybrid of my vision and the Indian vision' before her gig at the after-party of the Indian Formula One.
Lady Gaga, who choose cream number with Swarovski crystals for her performance. She teamed the shiny dress with flowy blonde hair. She did cover up – albeit in a PVC-style skirt that wrapped around her thighs.
She entertain everyone in her own style. She also said that, "I have waited for a lifetime to perform in India."
At show, later She then whipped off her veil and took to the piano for one song. At the concert, Lady Gaga matched her piano notes to the Indian sitar and offered fusion music to her Indian fans.