Are you wondering how to get access to that lovely designer dress or know about the top travel destination, where to get information about exotic luxury hotels and elegant home decor?? Wonder no more!! Luxe Café has brought everything you need to know about Luxury lifestyle right at your fingertips.
We all know how difficult it is to keep up with the changing trends, especially if you do not reside in one of the metro cities of India. Information about the global luxury living, fine dining, exotic travelling and much more is only limited to certain area. Gauging this gap , Luxe Café focuses on bringing about a virtual platform wherein all the Elite class, luxury enthusiasts and brand-conscious buyers will share the lifestyle choices ranging from Travel, technology, fashion, apparel, food and lot more.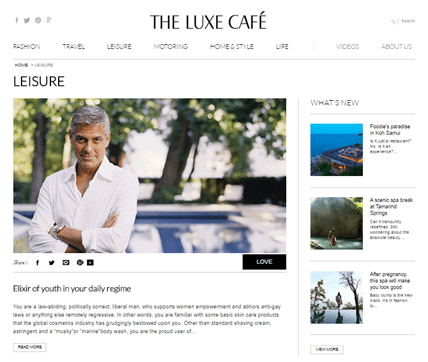 Luxurious living is a privilege that only the elite class residing in the Tier-I cities of India get. But not anymore!! Luxe Café brings global luxury lifestyle and fine living for all the Tier II & Tier III cities of India.
One portal that brings together experienced writers, artists, design specialists, fashion consultants, stylists, Industry experts who come together to directly assist readers on the conscious consumer choices to be made while sharing their best experiences with the readers. All of those Luxe conscious people who wanted to get first-hand information on premium luxury brands & those who never had a convenient access to luxury and brand information will now get everything they need to know about Luxe living sitting in the comfort of their home.
It no longer matters whether you are living in Mumbai, Matheran or Melbourne. Your outreach to finely curated, international singular luxury living experience is made super easy with the advent of Luxe Café. Apart from Brand consciousness, first in itself, Luxe Café has brought about an evolution of "Luxe Consciousness" in India. Luxe Café is not only a portal for the Luxe conscious, but also provides a great platform for all the luxury brands, the Luxe elite and the brand conscious customers to come together. Now you can not only avail information on the best trends in the fashion industry or the best place to dine & wine, but also directly indulge into the luxury living by coming in direct contact of various high-end luxury brands which are otherwise unavailable to you locally.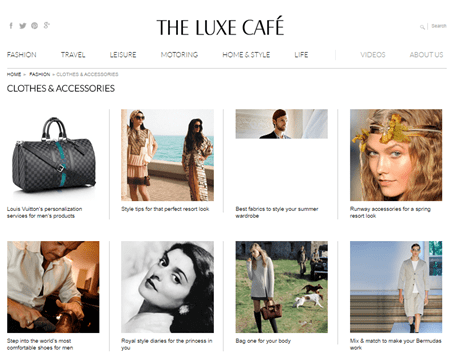 Luxury is no more privileged. It is for all those who have the courage to look beyond the obvious and seek out the finer details is what Luxe Café believes. Bringing about an evolutionary change in the luxury living, Luxe Café will be catering to all those with a dream! A dream for those passionate enough to curate an interesting experience, exotic lifestyle, amazing storytelling from the world of Luxury.
Some of the best names in the industry will be joining Luxe Café readers to help them with fulfilling their dream, few amongst those aesthetes are HH Maharaja Gaj Singh, Rosita Missoni – founder of the Italian fashion house Missoni, Malav Shroff -boating tycoon, Dinaz Madhukar – President of DLF Emporio, Riccardo Bestetti – creator of bespoke Italian men's  shoes. Becoming a part of this Luxe Consciousness evolution in India would certainly bring a sense of elevation and sole satisfaction for those who are passionate about quality living, and for that mate Luxe living!

So now you know the end destination for your dream luxurious life! 
Visit The www.theluxecafe.com Now! 
Hope This Article will help you 🙂 Let me know in comments..
Hugs!!