As the wedding season just started, we are bringing something beneficial to our 'to be the bride.' What's the latest trend in bridal jewellery this season? We also talked with some renowned Jewellery Designers and Bridal Jewellery Sellers & Curators to tell us about the Latest Bridal Jewellery Trends they are observing through the pieces they are designing and selling. Scroll down to know what's trending.
Bridal jewellery is something people invest with very caution. One time investment and forever designs of jewellery is a hard combination to find. What type of jewellery do you prefer for your wedding? Gold, Silver, Platinum or Diamond? Also, these days, we are seeing Copper Based Imitation jewellery booming in the Market. There are some designers and sellers who design outstanding pieces with Glass Kundan, Polki, and high-quality pearls as good looking as you see, real Kundan and Jadau Jewellery.
We talked with Shili of Mortantra, Curators of Bespoke Bridal jewellery. People love the jewellery by Mortantra especially the brides of this modern era. We asked Shaili, What are the latest Bridal jewellery Trends you are observing?

Brides these days are more into layers, choosing two smaller sets and layering them together instead of going for a bigger piece. This helps them use the Jewellery pieces later too in smaller events. Brides now a days aren't afraid to experiment in colors. With a Red Lehenga usual contrast was always a green but pastel pink, blue and mint also is seen in a lot these days. Meenakari, pastel shades are in this season, Says Shili from Mortantra
Latest Bridal Jewellery Trends for the Modern Bride
Gold Bridal Jewelley
Antique Gold Jewellery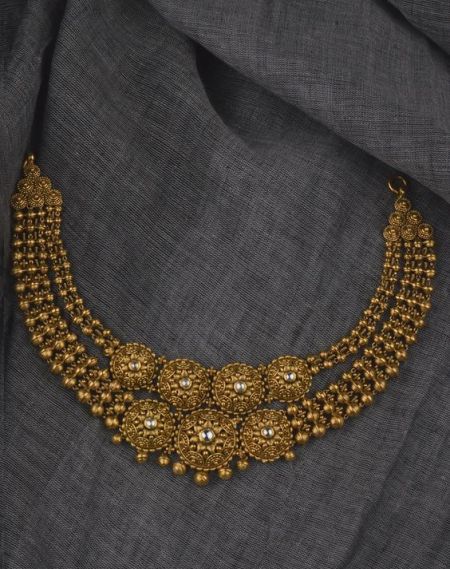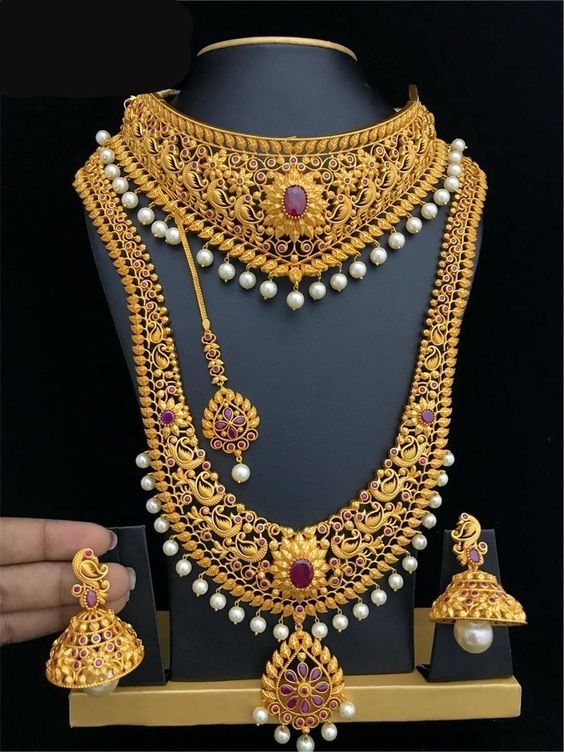 Antique Jewellery pieces are sporadic to find in the markets. Ancient royal families usually carry these types of jewellery. Antique pieces have their unique beauty and classical fashion designs.
Temple Jewellery
Temple Jewellery is the type of jewellery which is worn by the god and goddesses idol in the temples of India. And later the designs are inspired by the designs of cravings of temples itself. Temple jewellery was famous only In South India before, but now it is trending and comes under the category of most beautiful jewellery designs across India.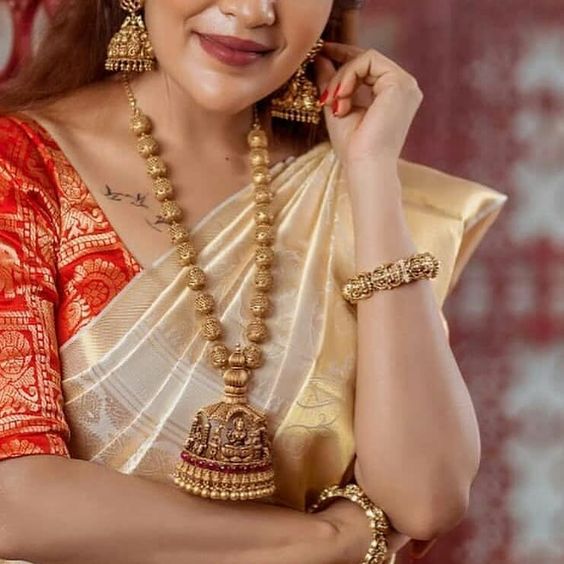 Filigree Jewellery
Filigree is a delicate kind of jewellery metalwork, usually of gold and silver, made with tiny beads or twisted threads, or both in combination, soldered together or to the surface of an object of the same metal and arranged in artistic motifs.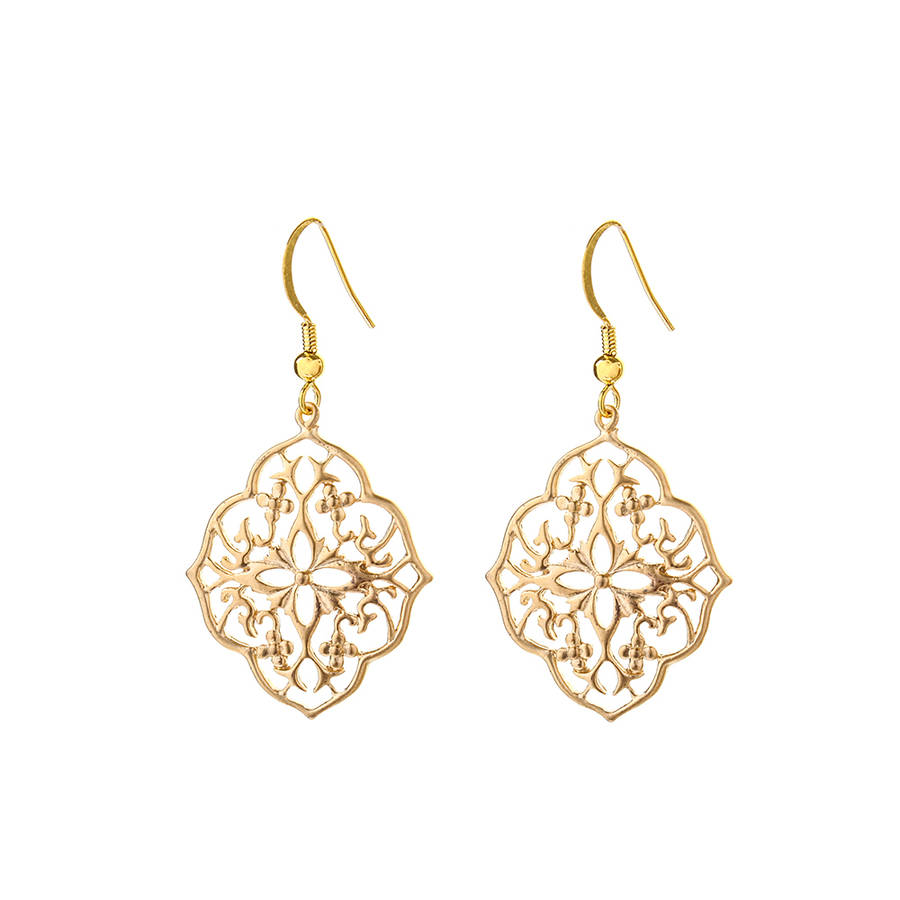 Rose Gold Jewellery
Rose gold jewellery is in trend from the last 4-5 years. Rose gold jewellery is a good option for those who don't like heavy gold jewellery. And more likely to have silver jewellery, but Silver jewellery is not that much in trend for weddings. Nowadays many designers make beautiful delicate designs in Rose gold.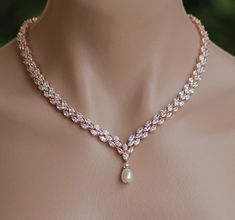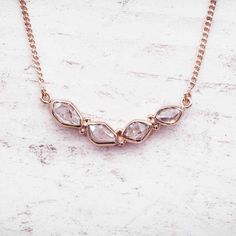 Silver Bridal jewellery
Silver jewellery is not usually preferable on the wedding day in India. But it is an excellent choice for pre-wedding celebrations, Engagement & Bridal Trousseau. Silver jewellery for weddings is available in combination with diamonds, gemstones, meenakari & pearls, which gives Royal feel to the bride.
You will also like to check: HOW TO STORE 92.5 STERLING SILVER JEWELLERY PIECES?
We talked with Alpa Agarwal, owner of Missori Silver who keeps exclusive silver jewellery at their store in Ahmedabad. You can get Art Inspired Silver Jewellery, Statement Pieces, Double tone Jewellery, Antique Designs and a lot more.
We asked her When it comes to Silver, What kind of Silver Jewellery Brides should buy this season?
The foremost in my pick for bridal trousseau is a South India Guttapusalu Necklace and other Temple jewelry with traditional motifs of God-Godesses, flora and fauna. Another must have is semi precious stone studded earrings, rings and bracelets in contemporary designs, to team up with evening party wear dresses" – Said Alpa from Missori

If you don't know what is "Guttapusalu Necklace", check the first image below. Alpa kindly sent these images from her collection at Missori Silver.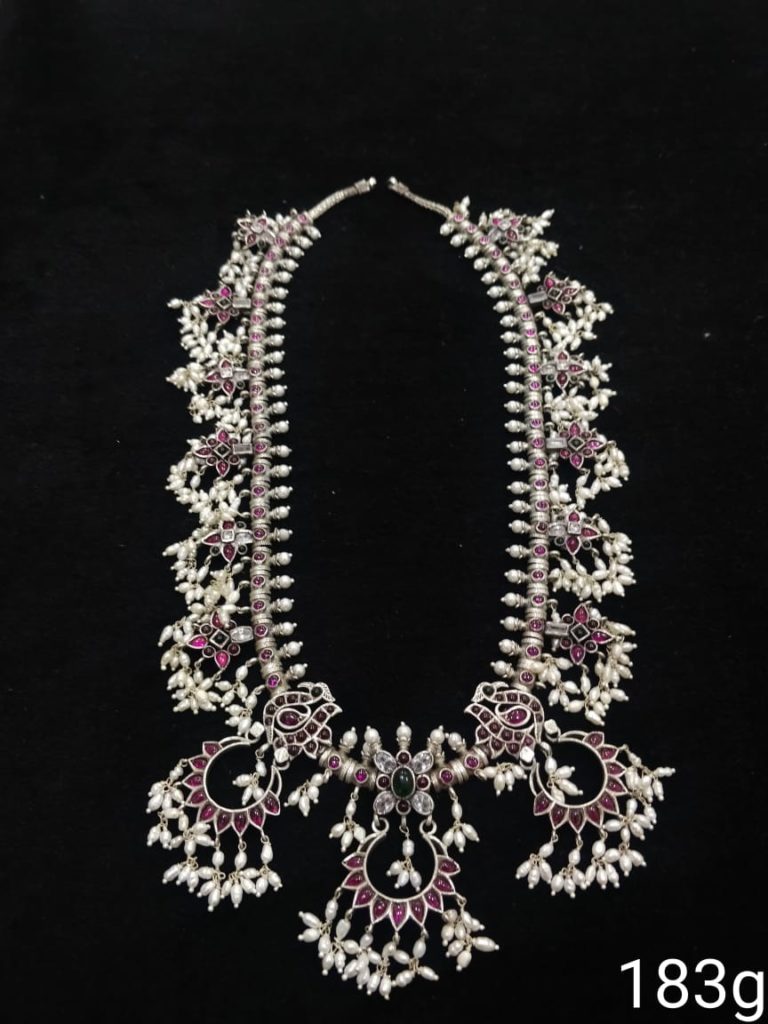 Afghani Jewellery
This jewellery is currently in trend for regular wear. But they are also trending in bridal jewellery. After influence from lots of historical Bollywood movies, Afghani jewellery is in the spotlight now.
Tribal Jewellery
Tribal inspired jewellery is the hottest trend these days. Colors and geometric designs of tribal jewellery are making a statement in the jewellery industry.
Double Tone Jewellery
Silver, Rose gold and very similar to it – dual tone jewellery are also in trend. It is made up of silver but has designs in gold and silver color.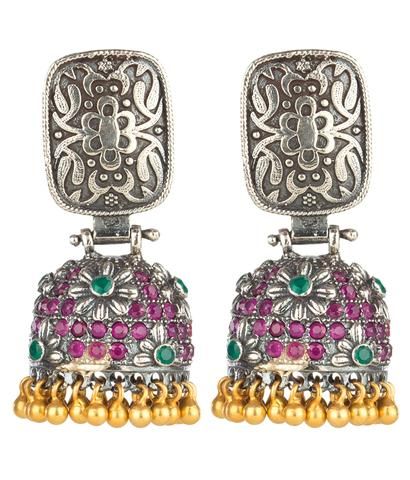 Platinum Jewellery
Platinum is forever classic. Platinum is also called 'white gold.' It is expensive than Gold Jewellery. Again Platinum jewellery is not usually preferred for wedding day's accessories but mostly gives a classic and elegant look at pre-wedding celebrations like Mehndi & Sangeet.
The platinum band is trendy for engagement ceremony, in which there are craving initials of name or full name of couples on their rings/bracelets. It is also a good option for gifting.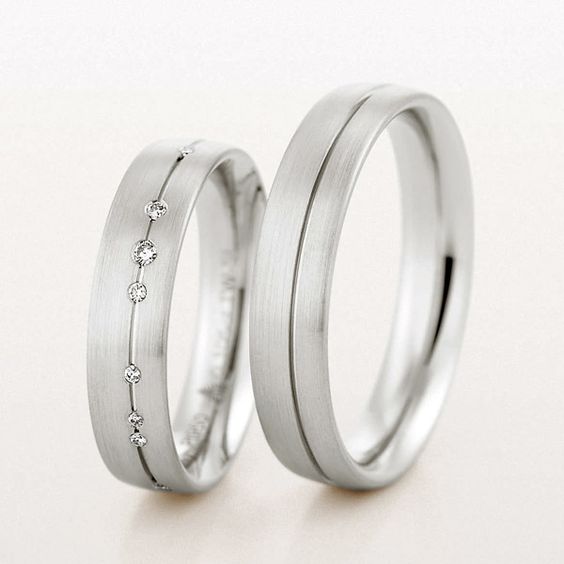 Diamond Jewellery
There is a different category of people who love to wear diamond jewellery on their wedding day. Diamond jewellery is also highly expensive. Diamond jewellery in uncut diamond design is fashionable these days. Love for diamond jewellery stays forever. Diamond bridal jewellery designs mostly in a combination of peals or colored gemstones.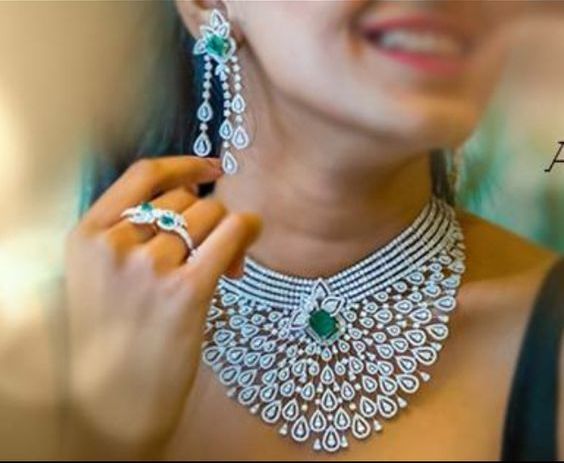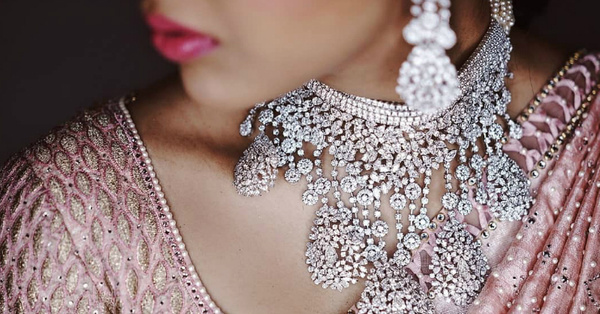 Kundan & Polki – Jadau Jewellery
These jewellery designs are having the uniqueness of their own.
Kundan, also known as Bikaneri or Jaipuri jewellery, is a popular variation, wherein enameling with vivid colours and designs is on the reverse, while the Kundan setting is in the front. The city of Jaipur in Rajasthan has traditionally been the center for Kundan jewellery in India.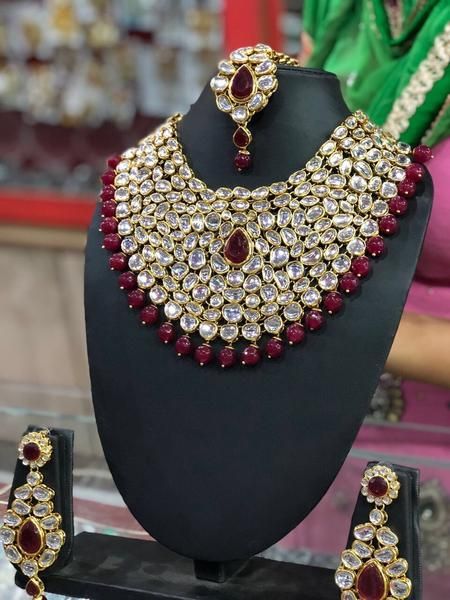 Polki jewellery is made up of rough, natural, uncut diamonds. It is also much shinier and much more expensive than Kundan jewellery. As you may know, Kundan is made up of glass stone (glass polki). However, Jadau is very wrongly misinterpreted, and people think it is a form of jewellery but it is not. Interestingly, it is a technique used in making Kundan and Polki jewellery. So while Kundan and Polki are stones, Jadau is a technique used to make Kundan/Polki jewellery.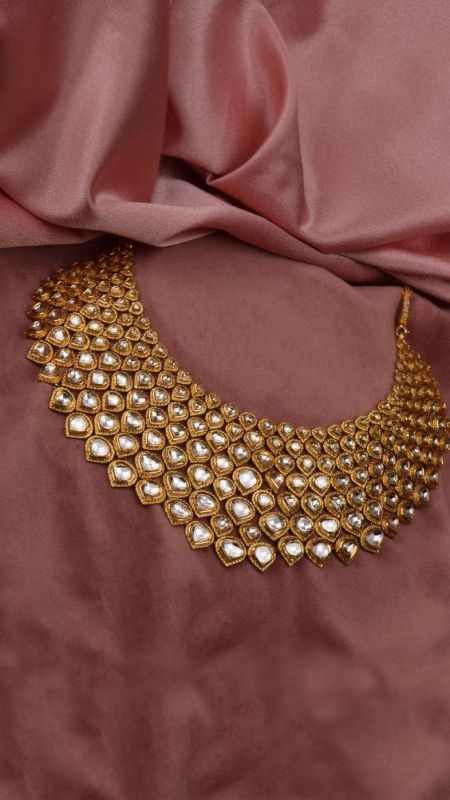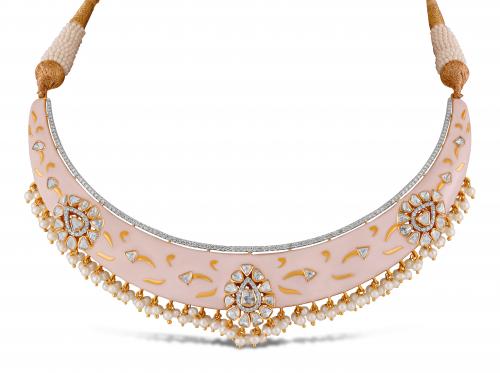 Pearls & Gemstones
Pearls and gemstones are the elements which are fixed in jewellery pieces to make unique designs. Pearls are precious; Gemstones are readily available. Natural stones (crystals) are invaluable. Natural stones are not famous for bridal jewellery, especially. But pearl and gemstones are highly demanding. Colorful gemstones give a color matching look with the outfit-color. If you are not interested in so many colours, then pearls with silver or platinum or diamonds give you the best option to choose.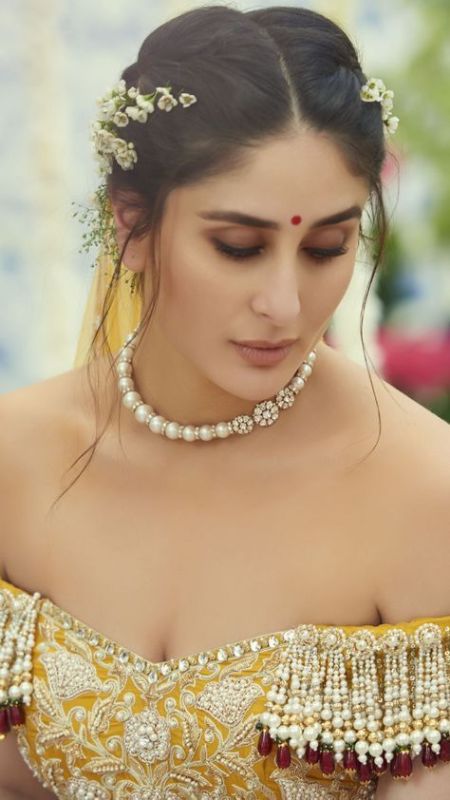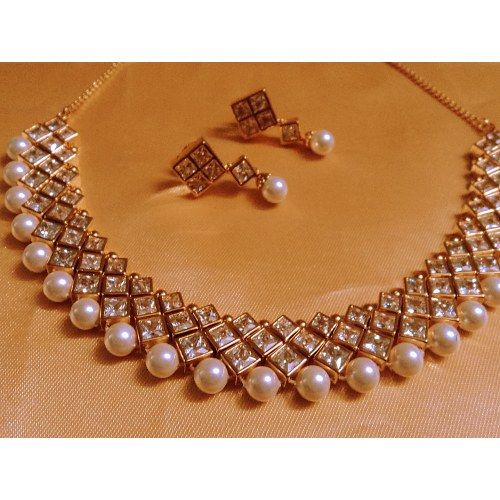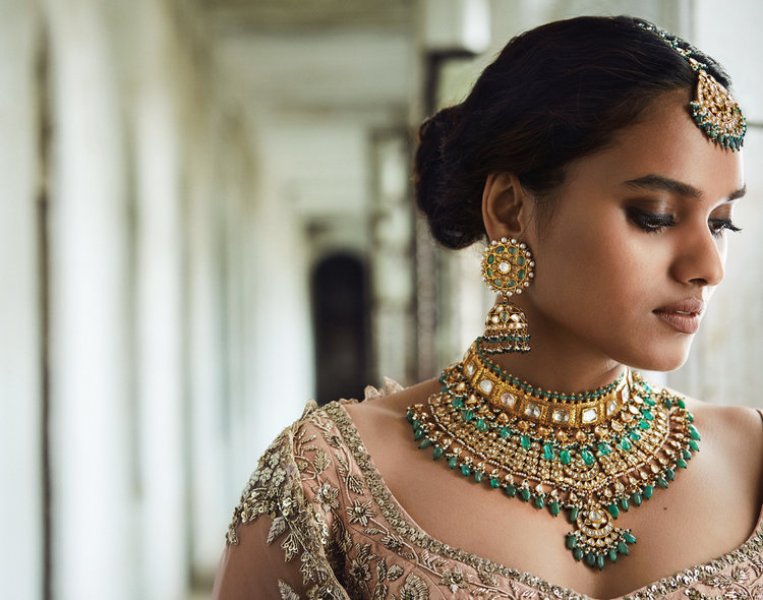 Before we conclude on Bridal Jewellery Trends, we need to tell you something important that Ojasvita Mahendru from ORNAMAS mentioned about the latest Bridal Jewellery Trends.
A lot of emerging and established designers have introduced their range of bridal wear which does not burn your pocket so yes this season we will see a lot of bridal jewellery set in metal alloy or silver with Swarovski elements / Zirconia or semi precious stones . The price of gold as dated on 13th August 2019 has shot up hence only a handful number brides will opt for Polki Jadau set 18-22K Gold.

The unconventional modern Indian contemporary bride loves to experiment and will opt of a choker layered with one or two Rani Haars to complete the look . The bride can go for three entirely different looks for for of her function with different styles of jewellery.

For a lot of other events like cocktail and sangeet , brides will opt for dressy headbands that are doing extremely well this season instead of going for the classic Maangtikka . It adds the look and the feel of a tiara giving it a modern look as compared to a classic Maangtikka which should be saved for the D-day.
Needless to say ORNAMAS is a popular name, offers a unique style of jewellery. Many celebrities we spotted wearing jewellery pieces by ORNAMAS as they have some unconventional pieces, part of their jewellery collection that the modern bride would definitely like to check.
Top 10 Bridal Jewellery Ornaments
Mangtika / Matha Patti
The first thing to wear from the top is Mangtikka or Mathapatti. Matha Patti is something which covers the whole forehead with a delicate or heavy piece of jewellery. And the Mangtikka is just a single piece of jewelry which should be worn at the center of the forehead. Muslim wears it on one side also.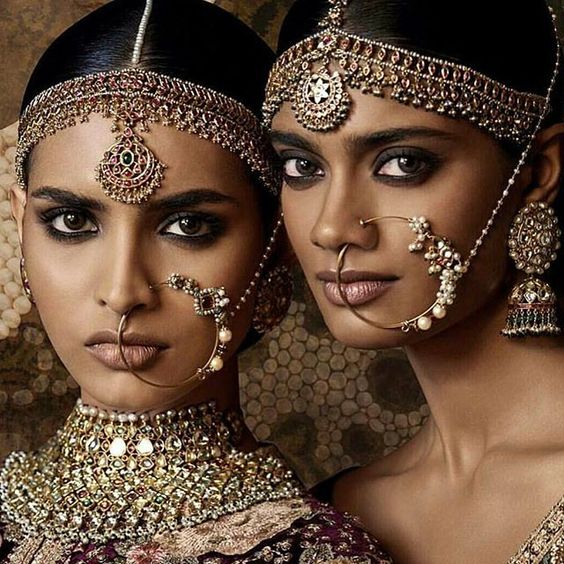 Cocktail Ring
A cocktail ring is an oversized ring with a large center stone and a lot of tiny stones surrounding it. When cocktail rings emerged as a fashion statement, they were typically worn by women in cocktail parties, from there it gets the name "cocktail Rings". However, now Cocktail Rings are part of every bride's wedding trousseau.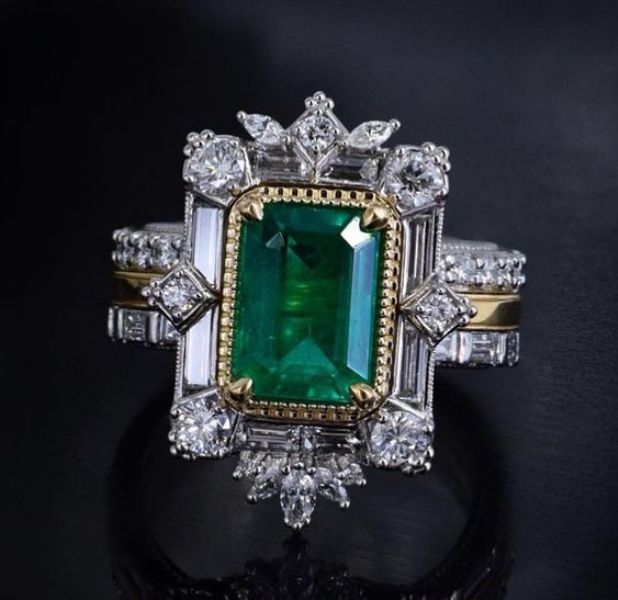 Nosering
Nose ring is an essential thing while wedding. Especially oversized Nose ring, its designs are available in Kundan, Diamond & Gold mainly.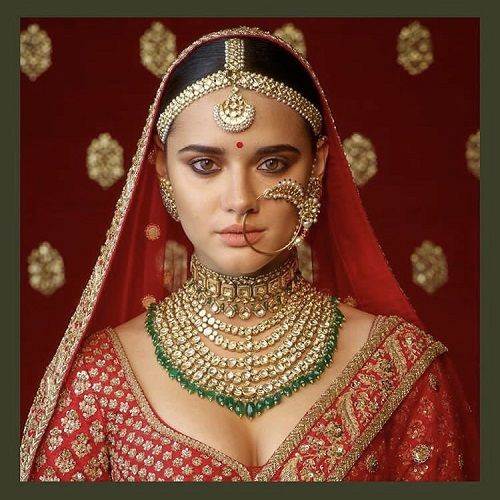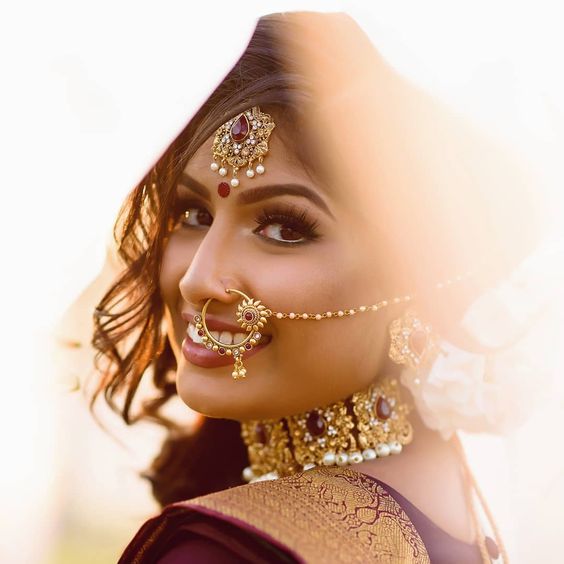 Earrings
Earrings for bride come along with the necklace match. But Pattern of the earrings is available in a variety. Trending these days are Chandbalis. Jumkas are all-time favorite earring pattern. These are available in Gold, Diamond along with pearls and gemstone. They may have jadau designs.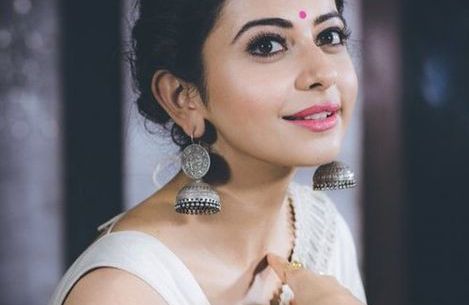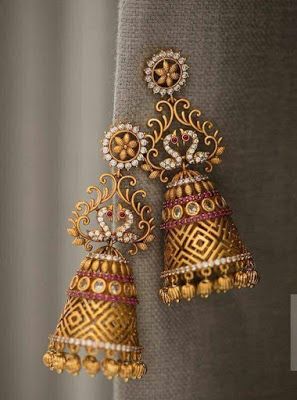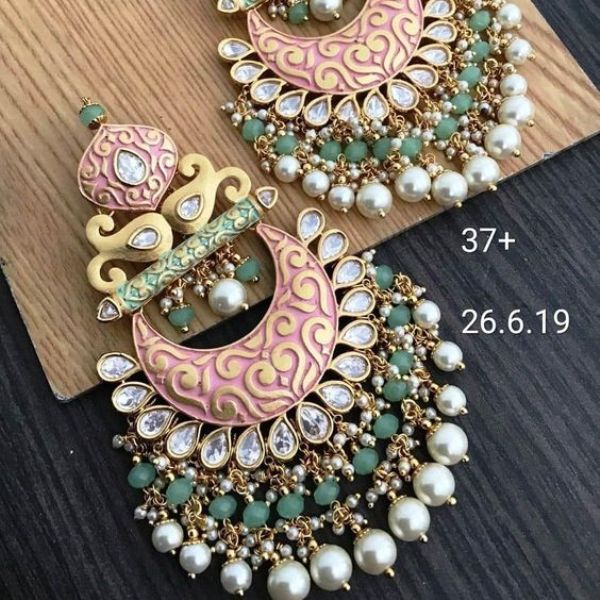 Choker
Highly in trends from around five years. Gives such a unique look when you wear a choker. They are trending in Gold, Diamond, Pearl, Afghan Designs. Bollywood celebrity Deepika Padukone makes a statement look with chokers.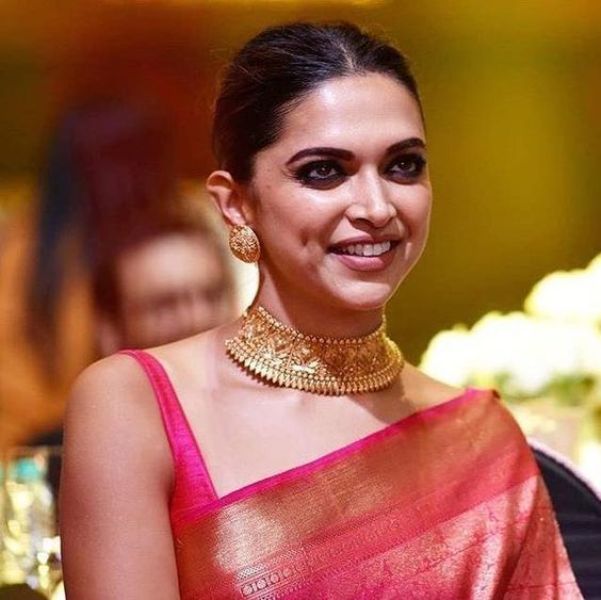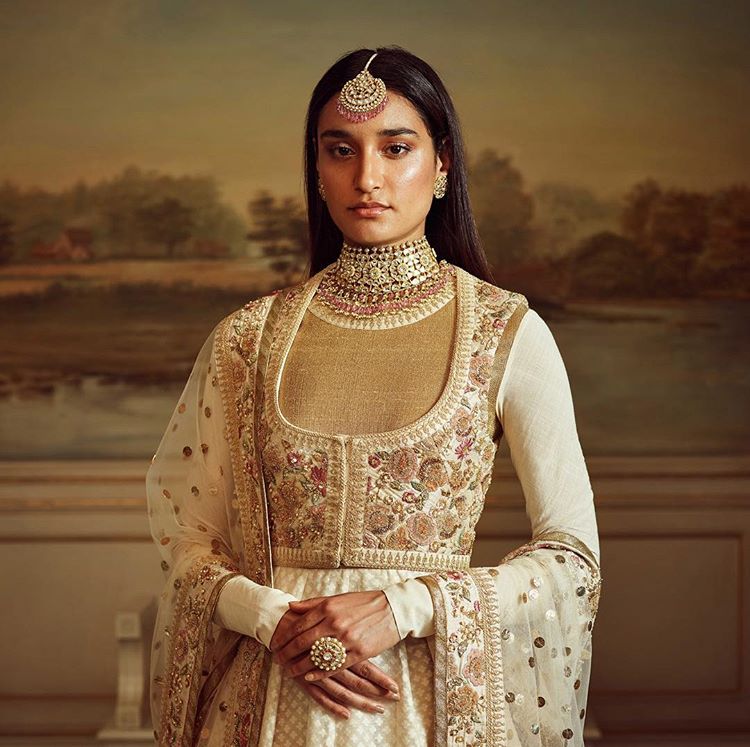 Necklace
Necklace comes under must wear jewellery. Indian Brides prefer Necklace in Gold, Diamond, Kundan, Polki, Jadau, Afghan patterns. Whereas Non-Indian Brides usually prefer Silver or Platinum And Diamond necklace.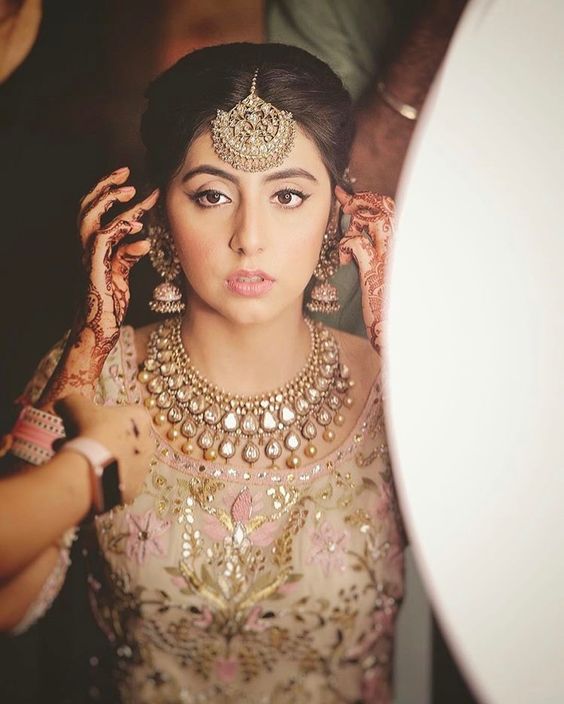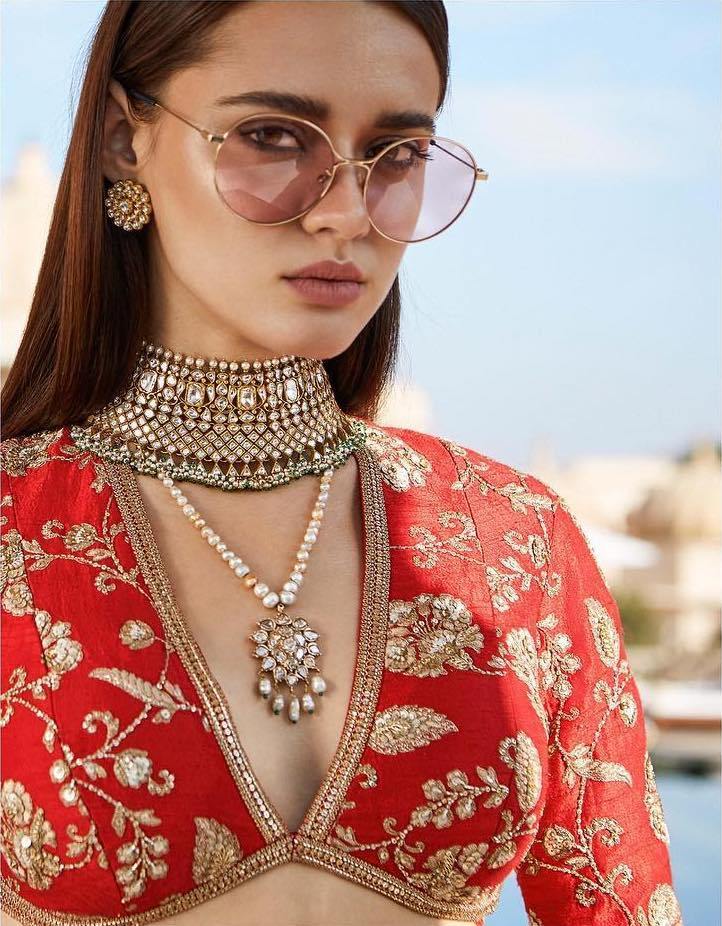 Long necklace
Culture of long necklace comes from South India. South Indian brides wear heavy Gold Jewellery including all mang tikka, nose ring, earring, necklace, long necklace, Baju band, bangles, Kamar band. Temple jewellery comes from south Indian culture only but now we observed this trend getting popular all over India.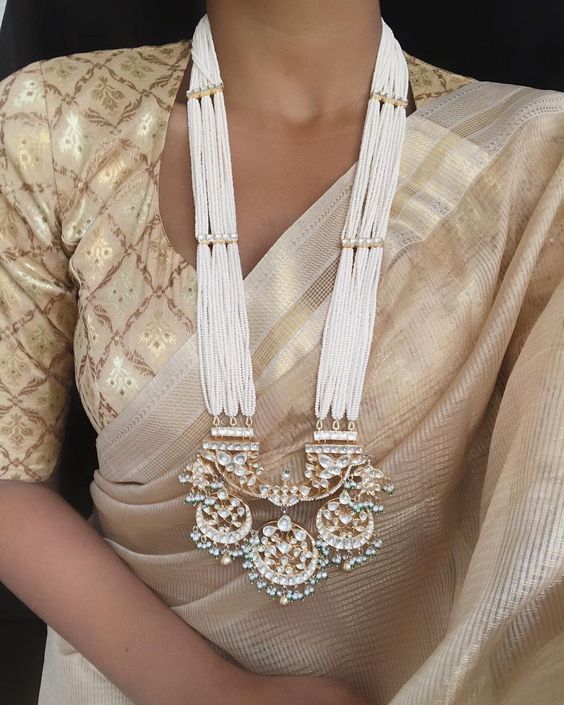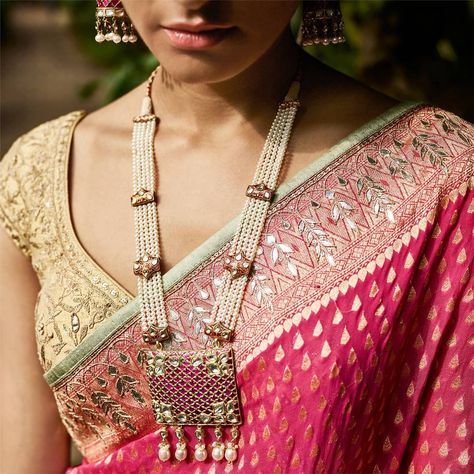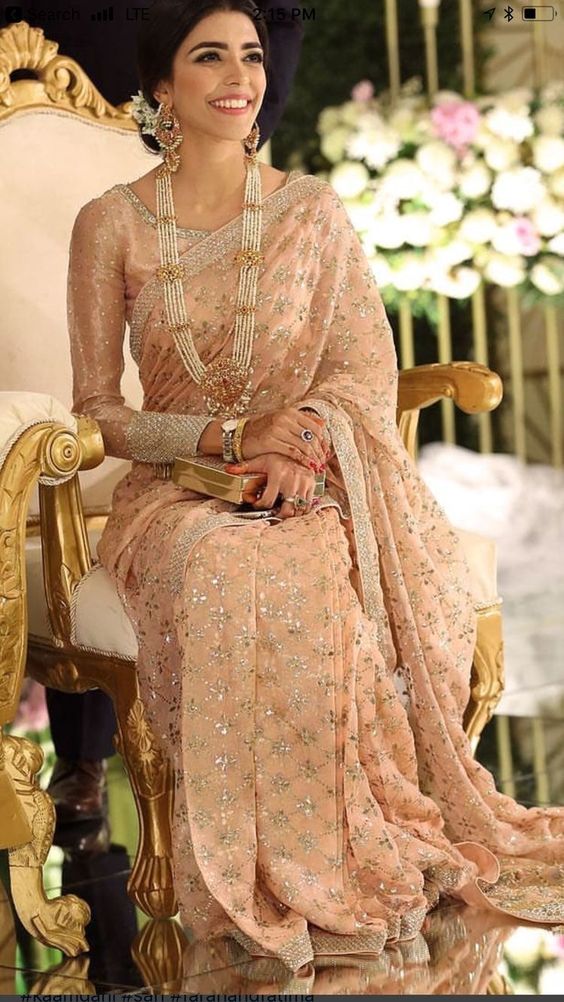 Bajuband
Earlier, wearing Bajubandh on a wedding day was limited to Rajasthan and Some Parts of South India only. But now, we see its everywhere.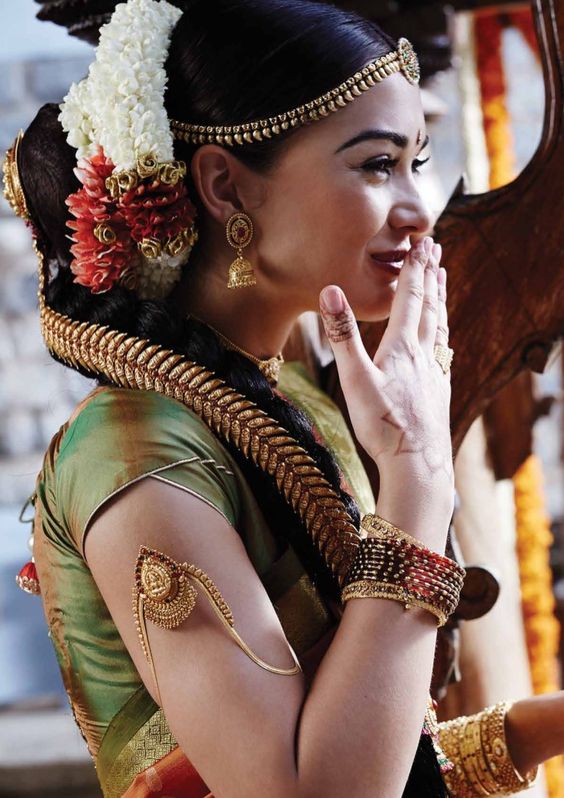 Bangles/Kadas
Bangles and kadas have some fantastic designs. Bangles are small in width whereas kadas are broad. Gold, Diamond, Kundan, Jadau kadas gives statement look.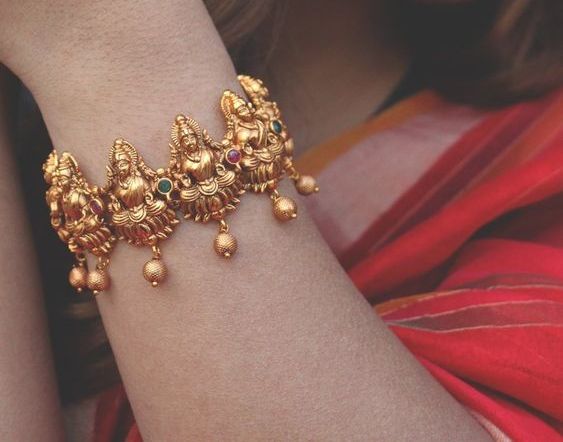 Kamarband/Waist belt
Indian brides, uniquely south Indian brides have a culture to wear Kamar band or waistbelt.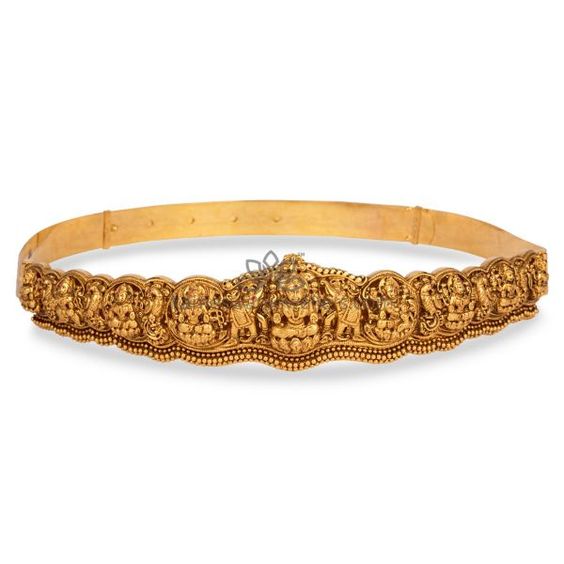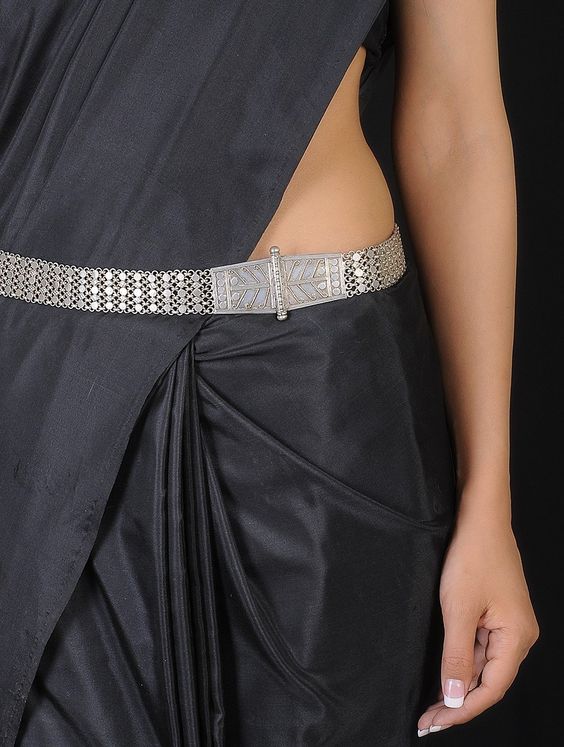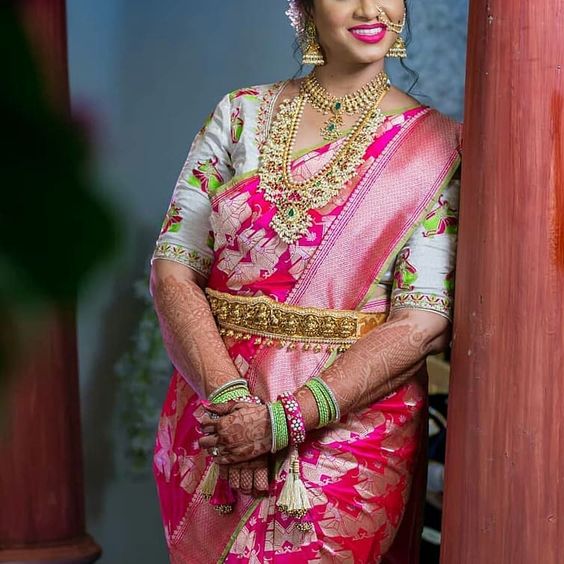 Payal
Payal to enhance the beauty of feet. Payal is always made up in Silver material. They may have golden layering over it.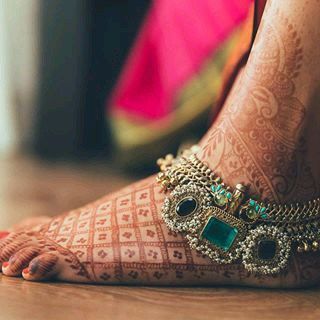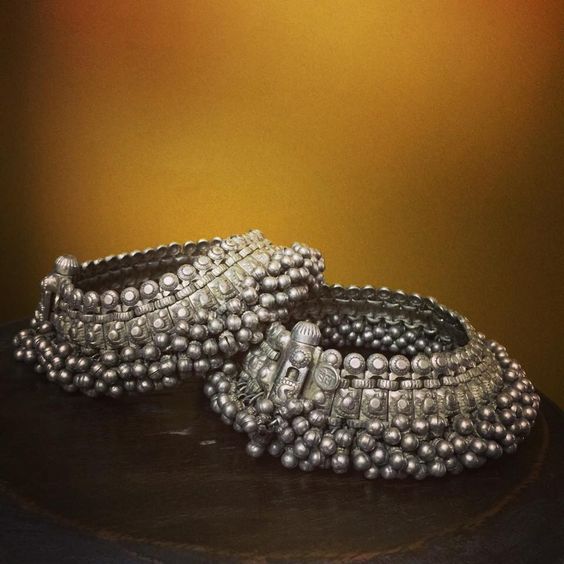 All other Images are from Pinterest
Hope you find this post interesting while browsing Latest Bridal Jewellery Trends with Top 10 Bridal Jewellery pieces every bride must-have.
Let us know your views in the comment box below or write us an email at [email protected] If you have any suggestion or a query to ask, feel free to connect with us
Until Next Time..
Hugs…