So many of you watched my Instagram stories and asked me about, Dot And Key Vitamin C Serum which I am using for last one month. I started using it before I went to India Couture Week. I have continued using this Vitamin C Serum part of my nighttime skincare routine and today after a month of using it, I am ready to share my experience and results about this serum.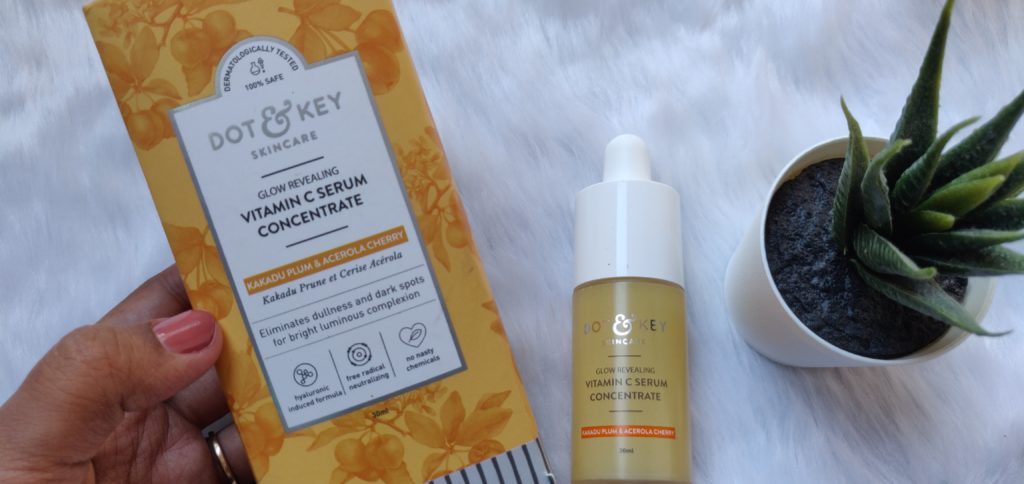 Before I tell you more about this serum by Dot & Key, let me tell you about this brand and what they believe in and how are their products made.
Dot And Key Products are
Full of love, Free of Toxins
The best of Nature & Science
They believe in details. Most overlooked parts of the body deserve as much attention as the face
Safe, Toxic-Free Skincare
Products are made with Natural Botanicals
And of course all, of their products are cruelty-free, parabens free, sulphates free, phthalates free. Now coming to the Dot And Key Vitamin C Serum, let's see what they say, packaging, formula and my experience of using it.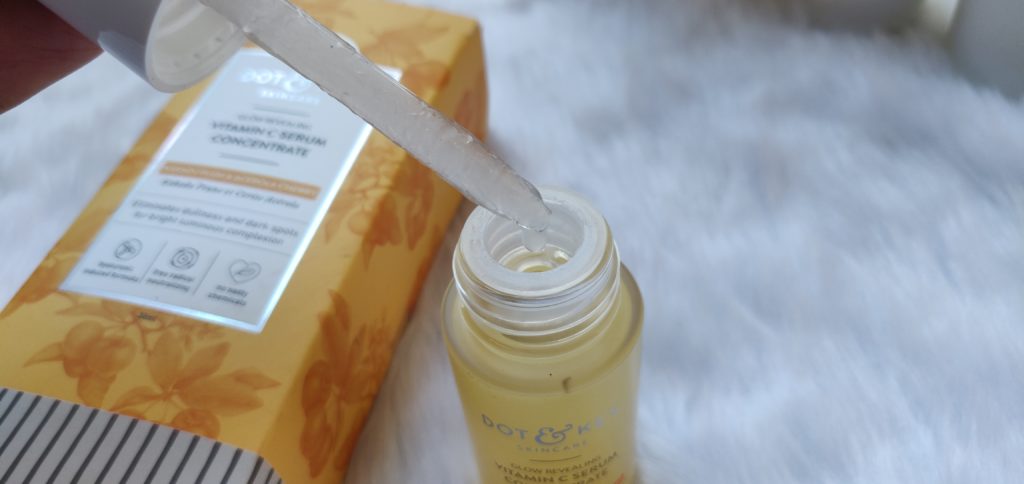 Dot And Key Vitamin C Serum Packaging
The product comes in a Yellow Cardboard packaging with prints of berries over it. The box contains all the information about the product, including key ingredients, product description, USP, quantity, application, manufacturing date, pricing, etc.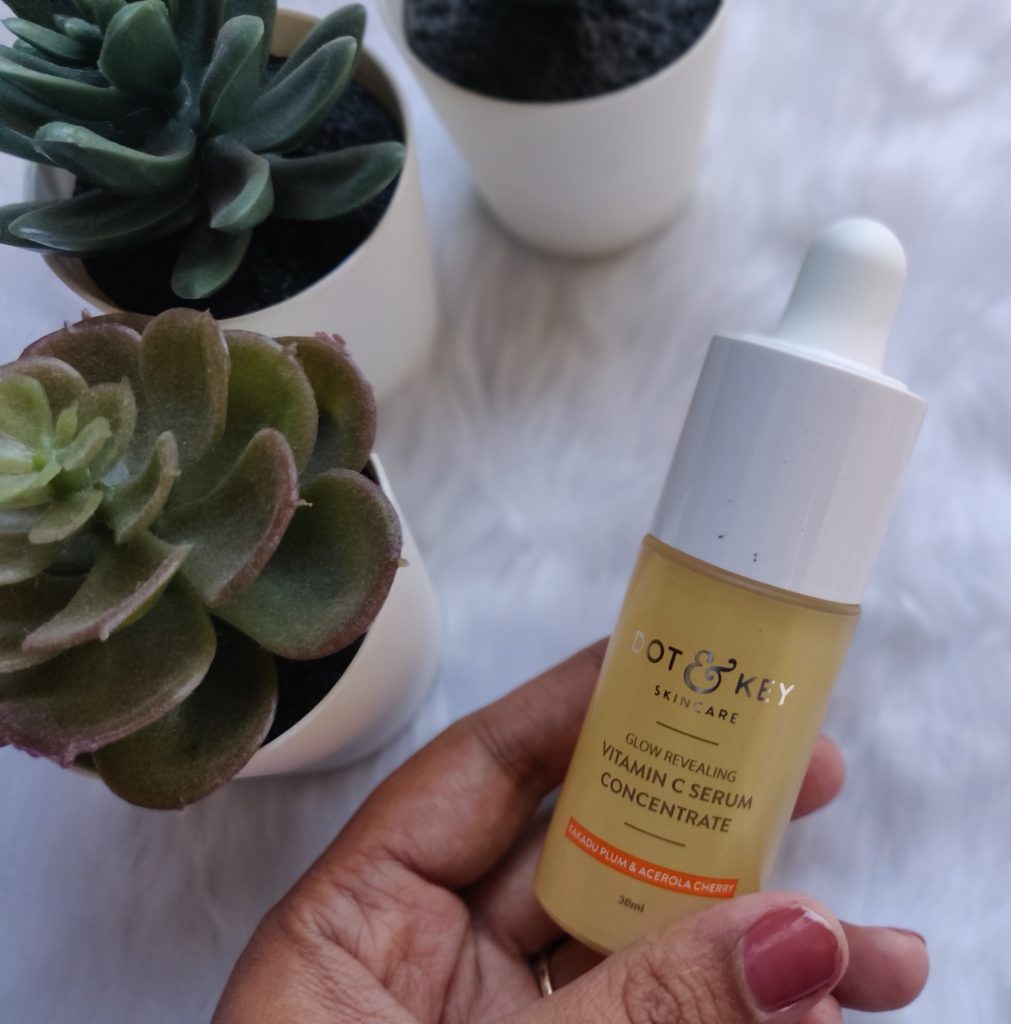 Inside the box, you get a plastic bottle with a dropper cap. The bottle and its dropper are of good quality and quite sturdy. Overall packaging is travel-friendly (I have traveled with it the entire week). Also, you can see, how much quantity of serum is left from outside.
What do they say about the Glow Revealing Vitamin C Concentrate Serum?
This serum is power-packed with antioxidant-rich, KAKADU PLUM & ACEROLA CHERRY to correct skin, dullness, pigmentation & premature aging. Visibly enhances skin brightness and luminosity. It eliminates dullness and dark spots for a bright luminous complexion.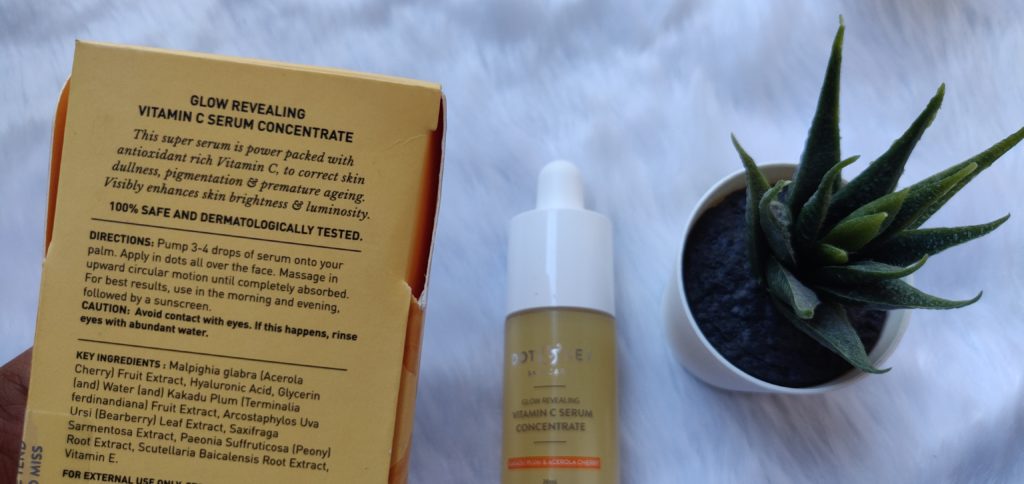 Dot And Key Vitamin C Serum Formula
Vitamin C + Hyaluronic acid Formula
Free Radical Neutralizing
No Nasty Chemicals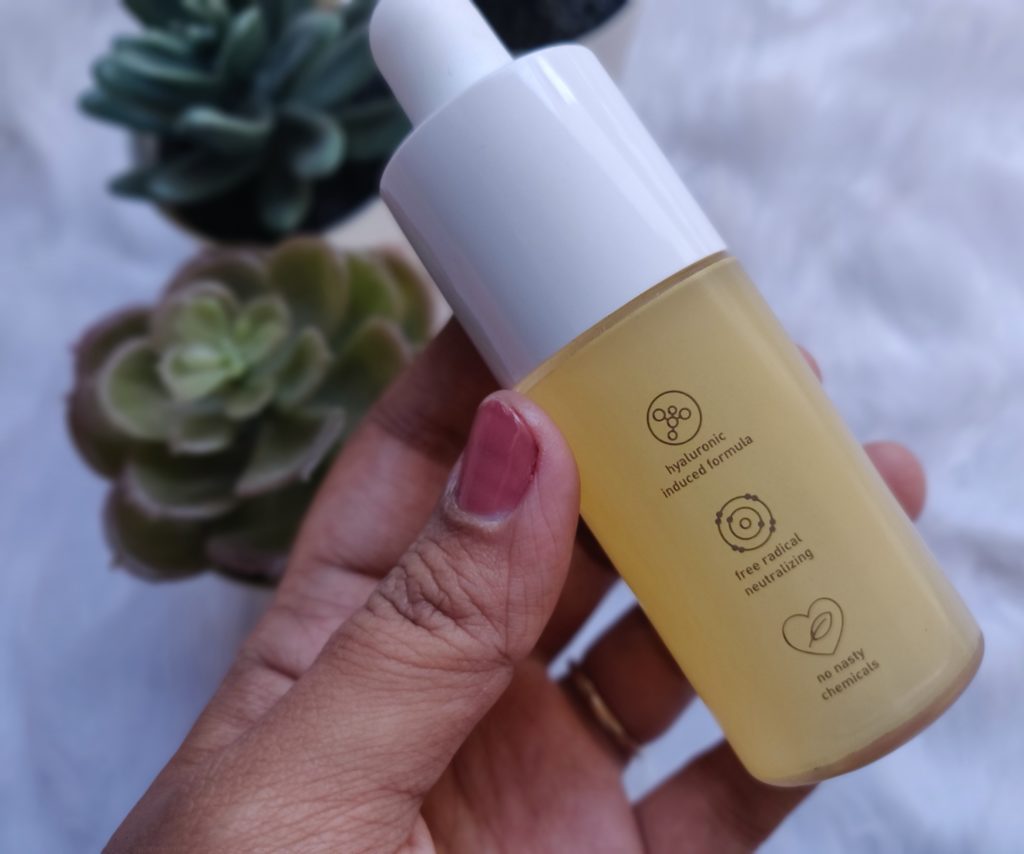 My experience and review of Glow Revealing Vitamin C Concentrate Serum by Dot and Key
I started using Dot and Key Glow Revealing Vitamin C Concentrate Serum almost a month ago part of my nighttime skincare routine. Every day I apply this over my clean face after I wash my face and apply toner. The consistency of this serum is quite watery, thus you need to be careful while applying it through the dropper. However, after 2-3 applications, you know how to use the dropper efficiently to get the right amount of the product. For my face and neck, I need around 4-5 drops total and I apply it with my fingertips to massage it over my skin. Though the product gets absorbed very quickly, hardly 5-6 seconds.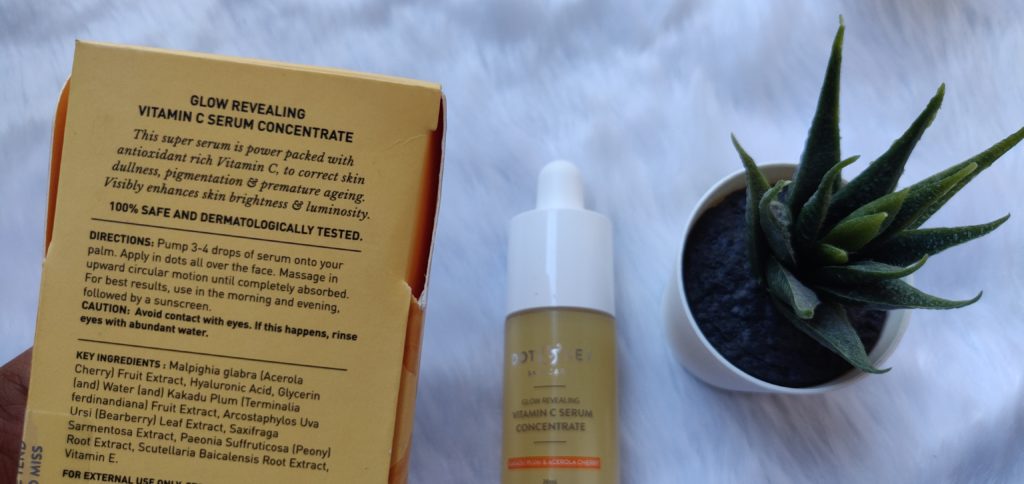 Fragrance: It has a really mild & pleasant fragrance. I would not categorize it as a very streaky fragrance, but mild and quite appealing, I would say. Honestly, I am really picky when it comes to the fragrances in skincare products. Most of the time I prefer to pick fragrance free products or I make sure to have a mild fragrance. This one is really good. And I love sleeping with this fragrance 😛
Results:
I have used it for more than 30 days and now I am sharing my review.
Changes which I noticed in the first 15-20 days:
I started seeing results after 2-3 days of using it. The biggest change which I have noticed on my skin is, my skin looks really hydrated and supple throughout the day. Those dry patches are gone. I can't see any dark spots fading in just 20 days, but it has surely improved the texture of my skin. Also, earlier I used to get a few breakouts every 10-15 days. But after using it, no breakouts.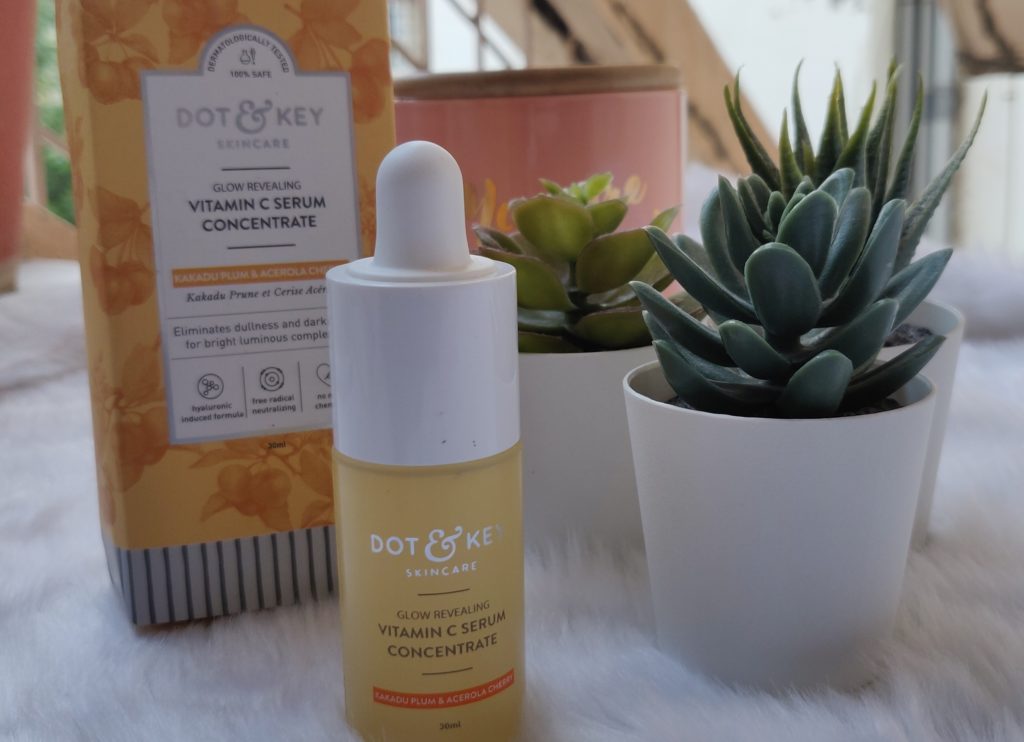 Changes I Noticed after 20 Days:
Everything that I mentioned above continued with healthier looking skin 🙂 Yes, this Vitamin C Serum Works on dullness & pigmentation as it claims. It has enhanced skin brightness and luminosity too, and I am absolutely loving it.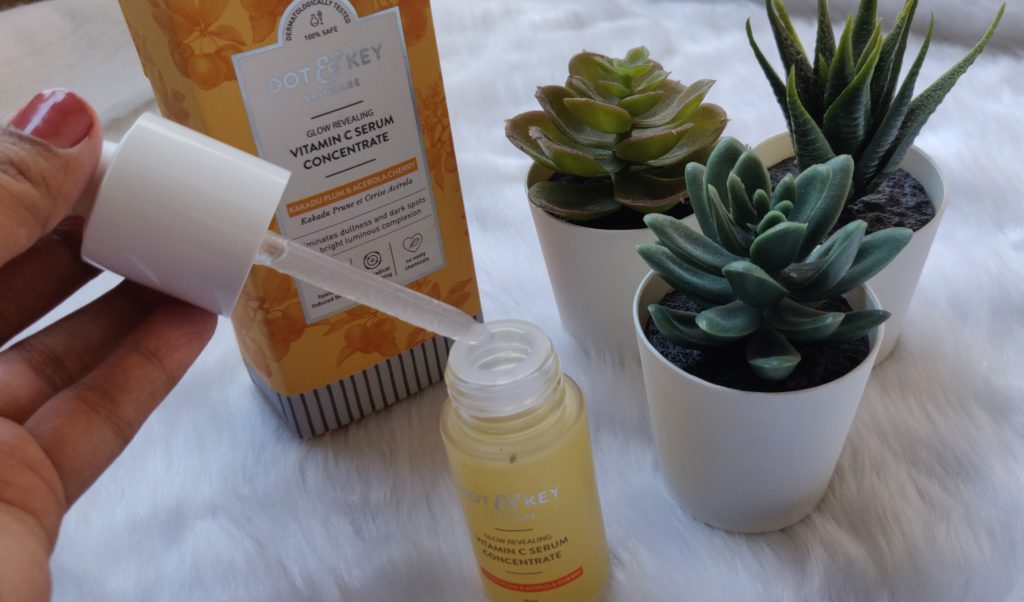 Quantity: 30 ml
Available on: Amazon, Flipkart, Nykaa
Final Words:
Dot And Key Glow Revealing Vitamin C Serum Concentrate is effective?
If you are looking for a Vitamin C Serum with hyaluronic acid formula, Go for it. It is safe, suitable for all skin types, rich in ingredients, made from natural botanicals, not loaded with toxic chemicals, yet very effective for Pigmentation, Premature Aging, Dark Spots, Dull Skin, Free Radicals, and Dehydrated Skin. Go for it 🙂
Just make sure you use it for a month, every day to see these results.
You may also like to check: MISS CLAIRE CHUBBY LIPSTICK 39 REVIEW
Hope this review helps you. If you have any queries regarding the product or anything you would like to discuss, comment below or mail us at [email protected]
Love n Light….
xoxo