I heard great reviews of La Roche Posay products. I have seen, many renowned beauty bloggers have recommended La Roche Posay products, especially La Roche Posay Thermal Water, La Roche Posay Effaclar and La Roche Posay Sun Screen Spray. Finally I got chance to try La Roche Posay Thermal Water when I saw it on Nykaa and It was showing, 80% Discount! And I was like whaaaaatt?? Yeah! It was available for Rs 138 only and I was like, Obviously I can't miss this deal. So, I purchased one and started using it immediately it got delivered.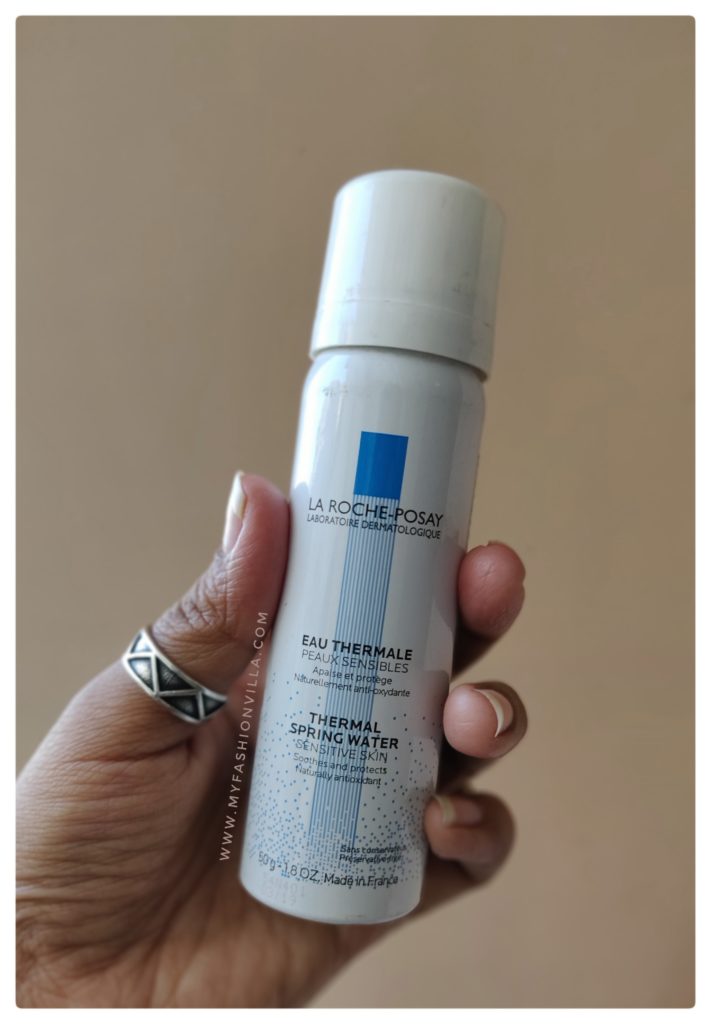 So, What is La Roche Posay Thermal Spring Water?
La Roche Posay Thermal Spring Water is a unique combination of mineral salts and trace elements has been scientifically demonstrated for its soothing properties. It Contains a high concentration of Selenium, a powerful natural antioxidant. Ii is loaded with Mineral-rich micro-droplets which provide immediate, intense soothing.
How to use La Roche Posay Thermal Spring Water?
One can use it as a Facial Toner or as a Face Mist. It provides instant cooling soothing and hydration to skin. I use it as a facial toner, just after I clean my face with a foaming cleanser.
Packaging:
La Roche Posay Thermal Spring Water comes in a White cylindrical metal bottle with all the details mentioned over it. All the details about the product is mentioned over the bottle including, the quantity 50ml (18 Oz), Made in France with all the ingredients mentioned clearly over the bottle itself. I will not say, the packaging is glamorous, its pretty simple but, it's very compact and travel friendly bottle. So while travelling, if you don't want to carry your toner and cotton (too much ya!!) La Roche Posay Thermal Water would be the perfect product to carry! You just need to spray it. Nothing much required.
My Review of La Roche Posay Thermal Spring Water
Before I share my review, let me tell you about my skin type and other details. I live in Ahmedabad, weather is dry here. It is winter right now, so sweating is not an issue as well. And I have got dry skin, not sensitive and I don't get acne as well.
How I use it?
Before using  La Roche Posay Thermal Spring Water, I clean my face with a Foaming Cleanser. Immediately after that, I spray La Roche Posay Thermal Spring Water over my entire face including neck. I spray it from 8-10 inches of distance, while keeping my eyes closed. Once done, I pat off the excess product without rubbing it. I wait for a minute to get it absorbed and then I apply my face mousturizer.
Now talking about results part, I feel La Roche Posay Thermal Water is a great product if you are looking for hydration! Now because I have got Dry skin, my skin always loves products which provides hydration. So, La Roche Posay Thermal water works great for me. I also feel, it balances the PH level and provides instant soothing and relaxation.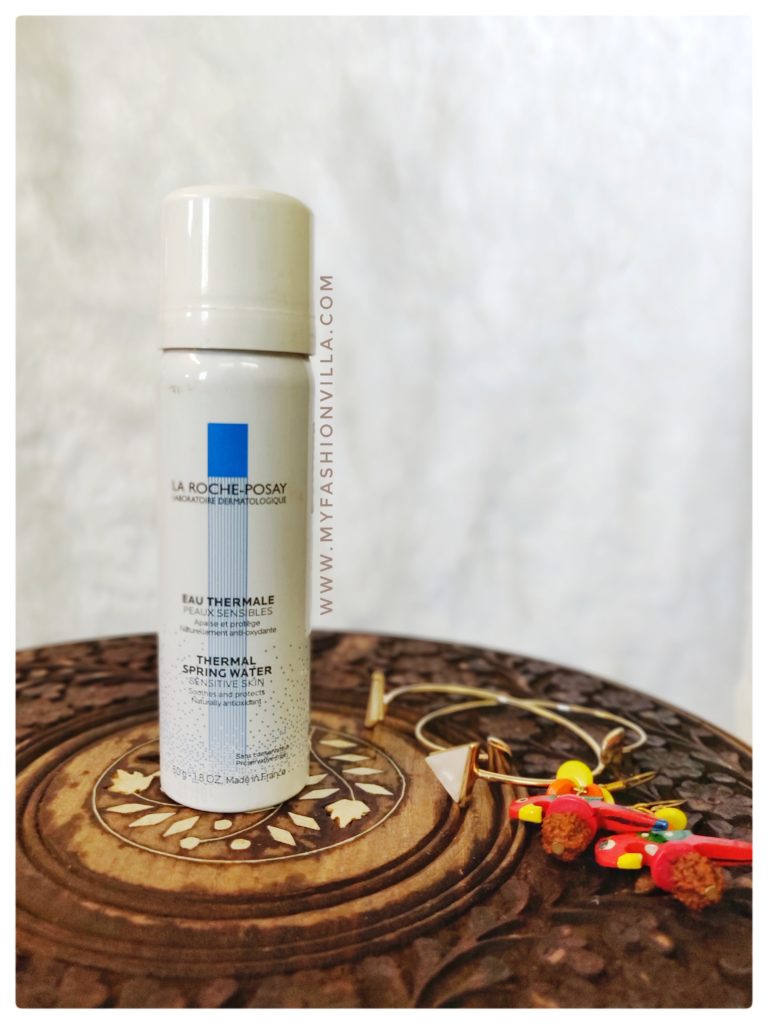 I don't have skin irritation or acne over my face so I can't comment on that, but the reviews I read online, they say it helps in acne and skin irritation too. Someone also mentioned that it helps to cure skin burning and inflammation too.
For me, If it offers Hydration and balances the PH level, It's a Winning Product, surely. So I personally love it and find it very effective.
You Will Also Like to Read: HOW TO GET HEALTHY GLOWING SKIN? 7 DEADLY SINS TO AVOID
Will I Repurchase It?
Yes I will. I will repurchase it for my travel days so that I don't need to carry the toner bottle and cotton along. Last time, I was carrying a toner bottle during my trip to Mumbai and the bottle got leaked and it was a horrible situation for me! So, for travel, using La Roche Posay Thermal Spring Water would be great because it is great for skin, compact size, fits well in my handbag and it's travel friendly.
Now I got it for Rs 138 this time but I am sure, it is not available for less than 500 bucks normally. Now if I consider that price, I feel, it would be an expensive product for day to day use. So I like to keep this product for my travel days only.
Plus Points:
Rich in Selenium
Suitable for All Skin Types
Suitable for Sensitive Skin, Dermatologist Tested
Fragrance Free
Paraban Free, Oil Free, SLS Free
Great Anti-Oxidant
Re-balances the Ph Level, Feels Great on Face
Cooling & soothing Effect
travel friendly sturdy packaging
Minus Points:
Availability in India. Many Portals Sell it for the Higher Price.
Hope You find the review of La Roche Posay Thermal Spring Water helpful. If you want to give it try, you can check it here online for the price and availability.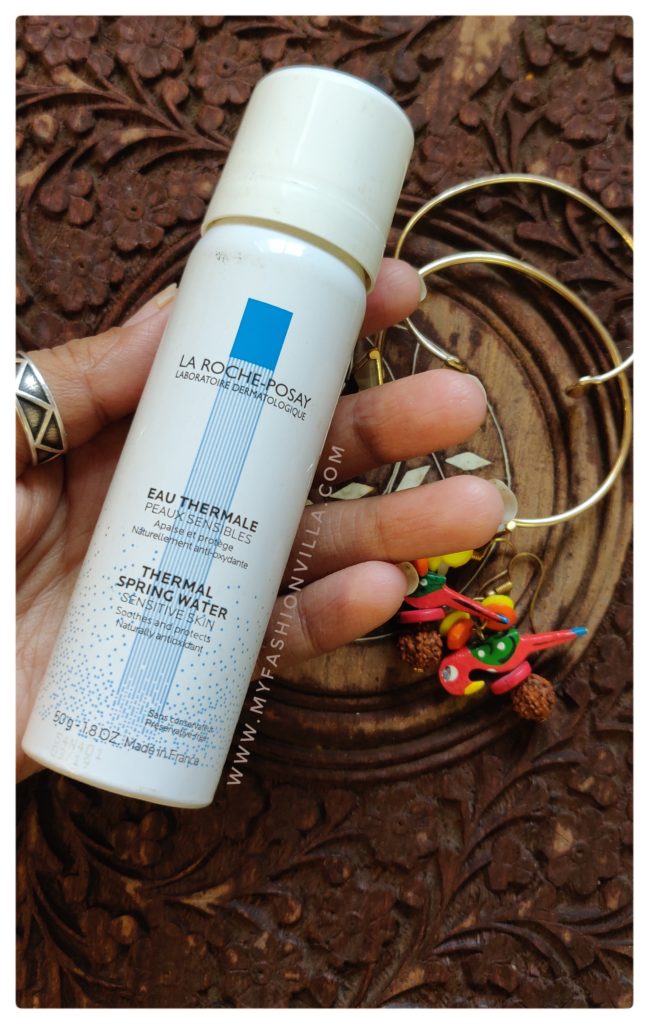 Hugs!
xo