How many nail paints do you own? I know, you might not be able to count. Even I don't know how "many" I own. Talking about nail paints, I have observed that for a couple of years, nail art has become really creative and necessary. Gone are those days, when we used to carry plain nails.
We have become more active towards the running Nail Art Designs. We want to carry attractive nails to the Parties, Festivals, etc. People are even trying theme based Easy Nail Art Designs like Flower Nail Art, Spring Nail Designs, Summer Nail Art and what not!
Recently I even came across Uttarayan inspired nail art design! Isn't that really unique? And now, not only Manicure Designs, but Pedicure Designs are also important. The toe nail art has become new favourite of the people. There are numerous Toe Nail Designs that you can try at different occasions and for various themes!
Here are top 20+ Nail Art For Toes that you will love
French Tip Nails Designs– The most basic and stylish one is to be the french tip nails. As this is popular in Manicure Design, it is also popular for Pedicure Designs.  You can even count this as nail Art Design For Short Nails. There is just a thin stripe on the tip of the nail, usually of different color than the base color.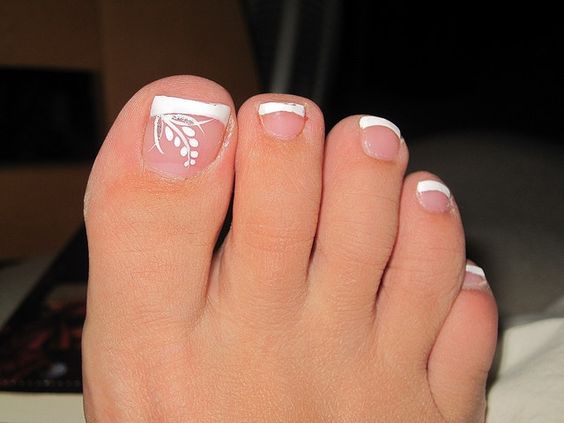 Glitter Nail Art– Glitter has all the love! We can't imagine our Nail Paint Collection without a Glitter Nail Paint in it! There are some really fantastic glitter nail art designs that you can try very easily at home. You can draw patterns, use powder glitter and many more stuff to play with pedi!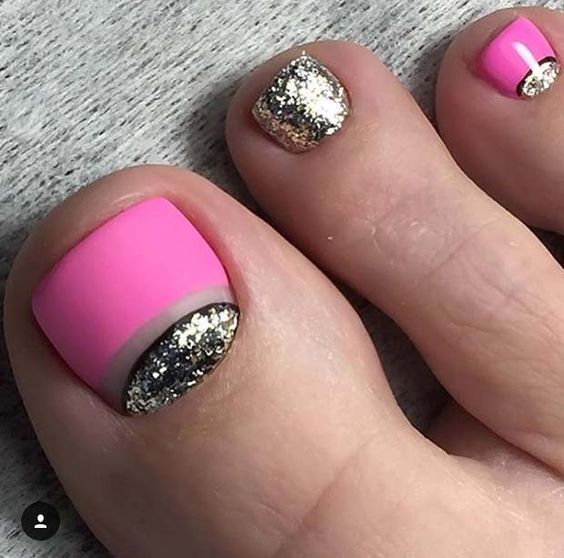 Checkered Nail Art– You might have tried the Checkered Nail Art for your fingernails. Now, it is time to try on Toe Nails. All you need here is patience and attention. Draw it carefully and then fill the boxes neatly or you can use Nail Art Stamp for the same if you are not good at drawing.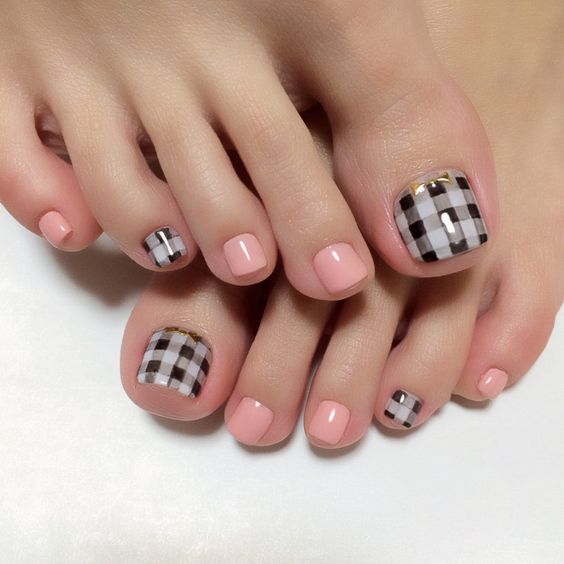 Stripes Nail Art– Well, talking about Geometric Patterns, the stripes are simplest. You can keep the base color lighter and draw the vertical/ horizontal stripes with a dark shade. Here, keep the finish glossy, because the stripes look more attractive than in matte finish.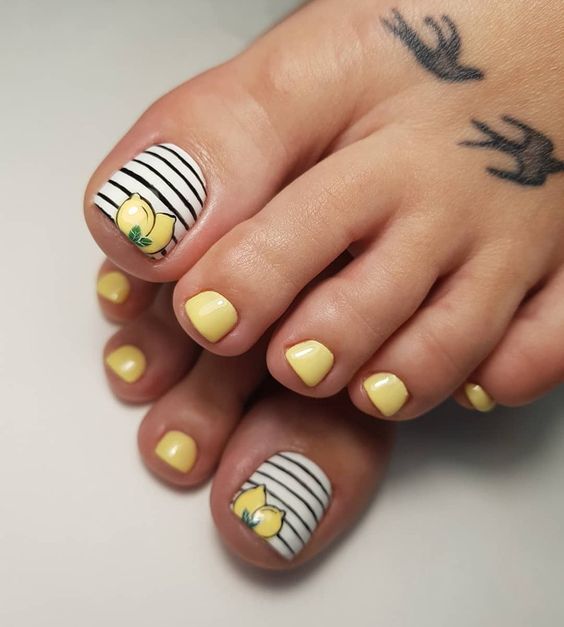 Polka Nail Art– Polka Nail Art is inspired from the Polka Dots on fabric. There are big, colored dots on a plain colored base. Apply a neon colored base, then pick a toothpick, dip it in black nail paint, stamp it on the nails. And, you're done! You can try some offbeat color combinations here!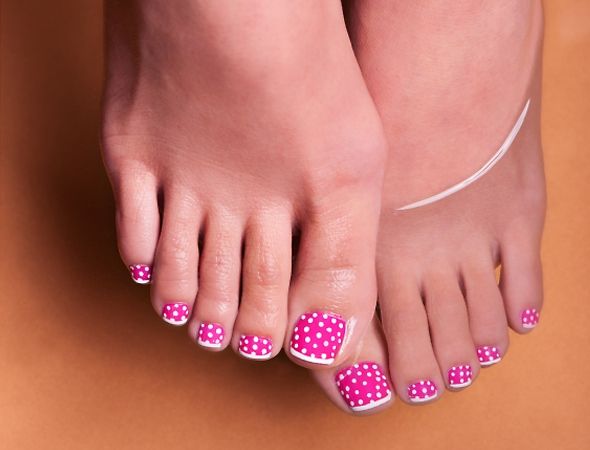 Leopard Nails– The running Trend Of Instagarm is Leopard Nails. The Leopard Print is created on nails, using Light Brown, Dark Brown, Black And Golden Nail Paint. You just need to have either the stamp or the fine brushes to draw the Leopard Print. Lastly, apply a Glossy /Matte Top Coat. Your Toe Nail Art is ready!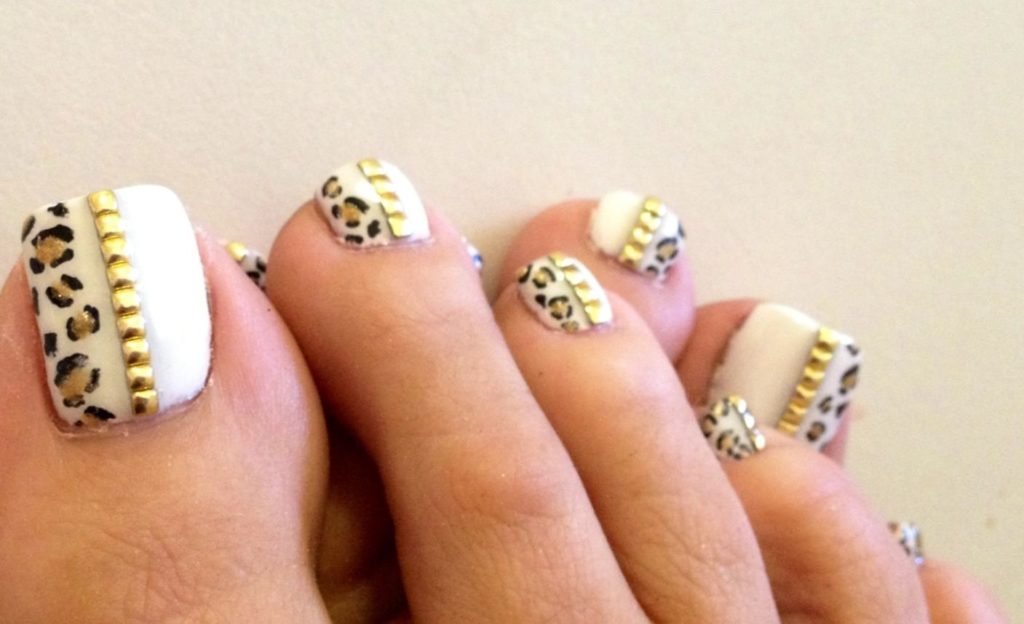 Stamp Nail Art – Stamping Nail Art has been used for a couple of months in India. There is a stamp, a plate with carved patterns/designs and a scarper. You just need to apply paint on the pattern you want, scrap off the excess paint, put stamp on design, then roll it on the nail. Easy, isn't it? You can even put more than one design on single nail<3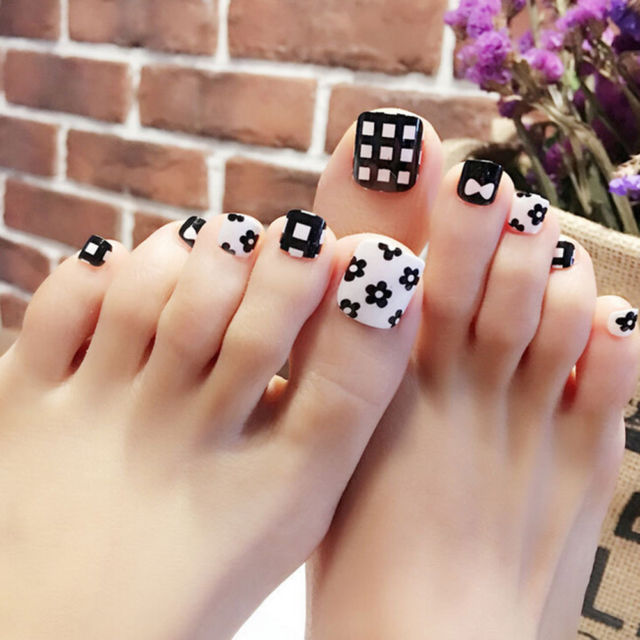 Acrylic Toe Nails– Acrylic Nails are nothing but what we simply call Fake Nails. The Fake Toe Nails are attached to the surface of our Original Nails and then shaped. The same thing can be done with Toe Nails as well. First, they Buff the Original Nails, so that they become neat and slimmer. Then the Acrylic Toe Nails are glued. Afterwards the Nail Art Design is done on the Fake Nails.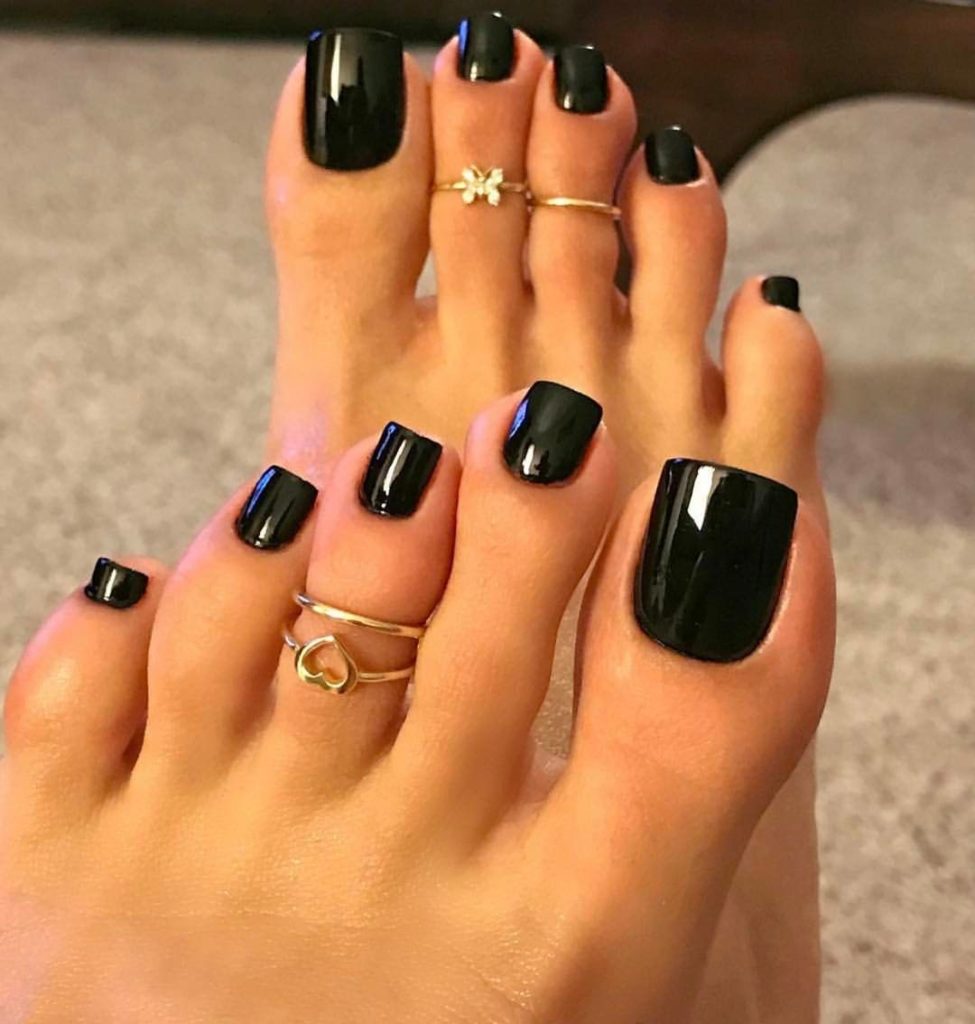 Multicolor Nail Art– As I said, just one Nail Color is so monotonous. So, let's try something that is filled with different colors. You can paint Stripes or Dots of different colors on one nail or you can draw Patterns, Shapes etc. I personally like painting each nail with different color.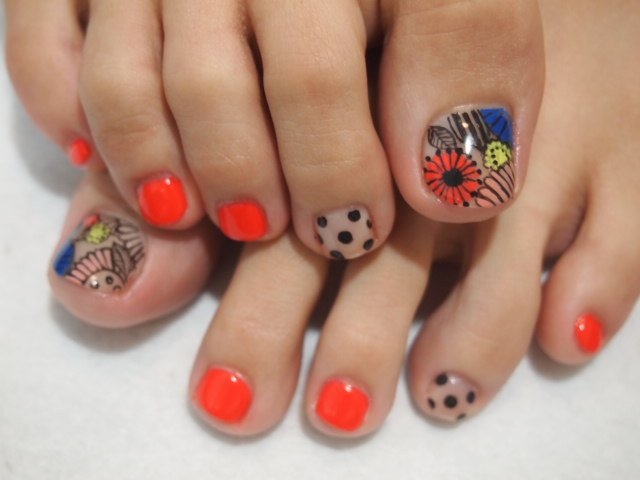 Marble Nail Art– The Marble Nail art has a definite process that must be followed to get perfect results.
Easy Water Marble Nail Art Process:
First, take a bowl of water, put the drop of one nail paint.
Just in center of first drop, put another color. Repeat this 2-3 times more.
Now, with toothpick, draw lines in that colorful circle.
Let it dry, then pick that circle up with a pair of tweezers, it will be in sticker form. And paste it on your nails.
Cut out extra part and finally apply top coat on the nails<3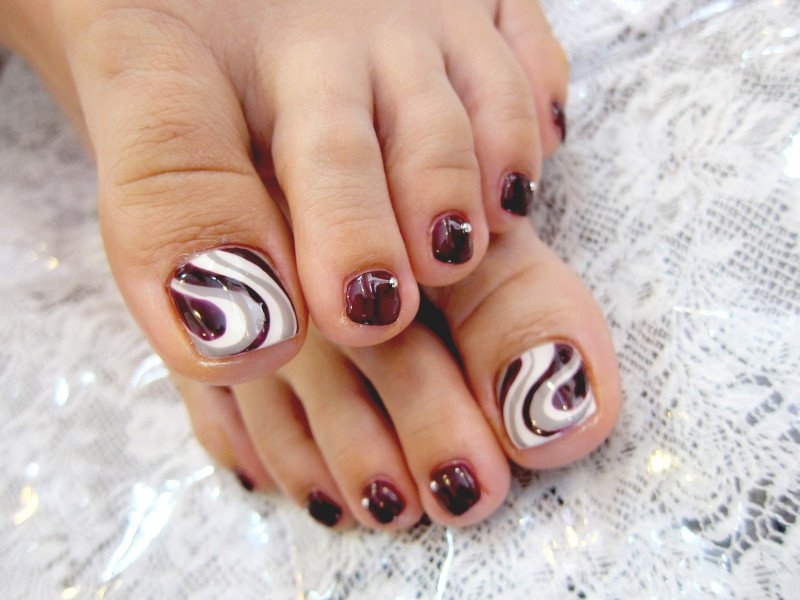 Ombre Nail Art– These days, Ombre Nail Art is very popular when it comes to makeup. There are Ombre Nails, Ombre Lips, Ombre Eyeshadow and what not! Just like Finger Nails, you can even attempt Ombre Toe Nails. Take a sponge, put two colors (or three) in sequence, then dab it on the nail. Lastly, apply Matte Top Coat!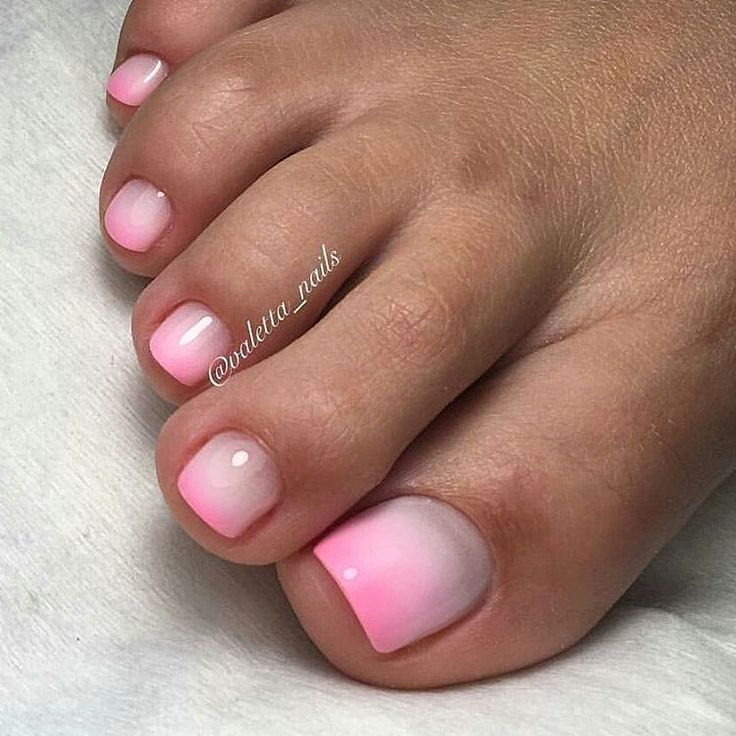 Mickey Mouse Nail Art– I personally have tried this one, and believe me, it looks damn cute!! For easiest Mickey Mouse Nail Art, you can draw its ears, tail or the big bow that Mini Mouse used to wear. You can even do a Polka Design with red, white and black to represent the theme. And your Disney Toe Nails are ready!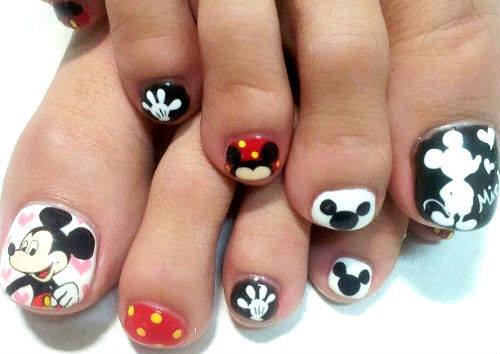 Spring Toe Nail Design– Here, you need to play with some Light Tones And Flowers. The colors like Turquoise Blue, Fresh Green, Nude, Off White, Yellow, Baby Pink, Orange can be used. The flowers look really amazing in spring nail design  theme.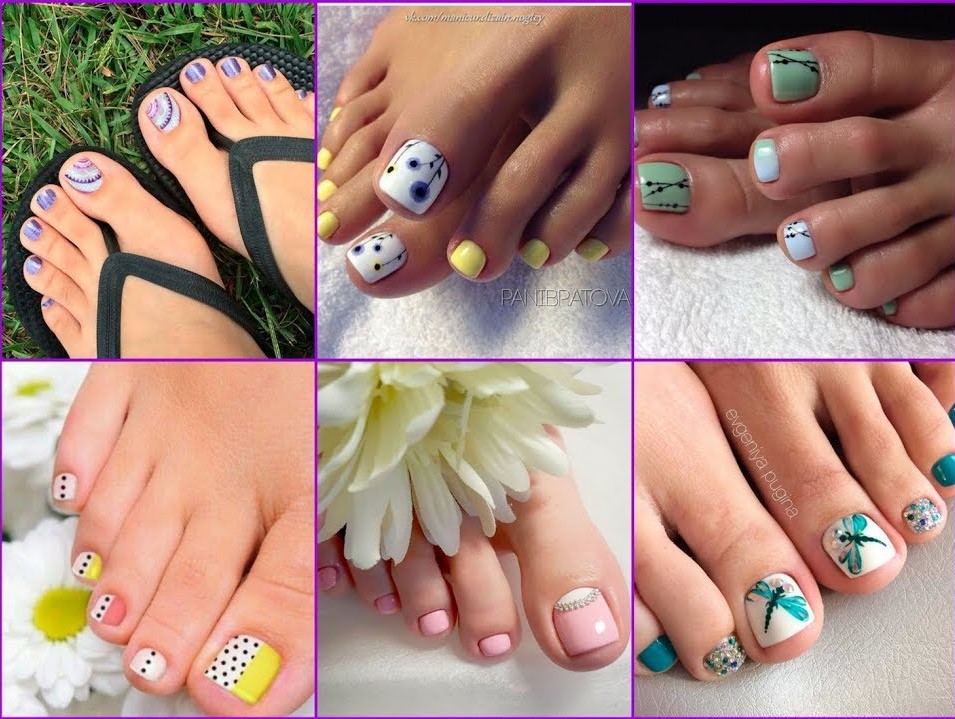 Festive Nails- I find this really interesting and cute. So many people come up with Creative Festive Nails. Talking about indian festivals, you can try Diwali Nail Art with glitter, or party nails with embellishments.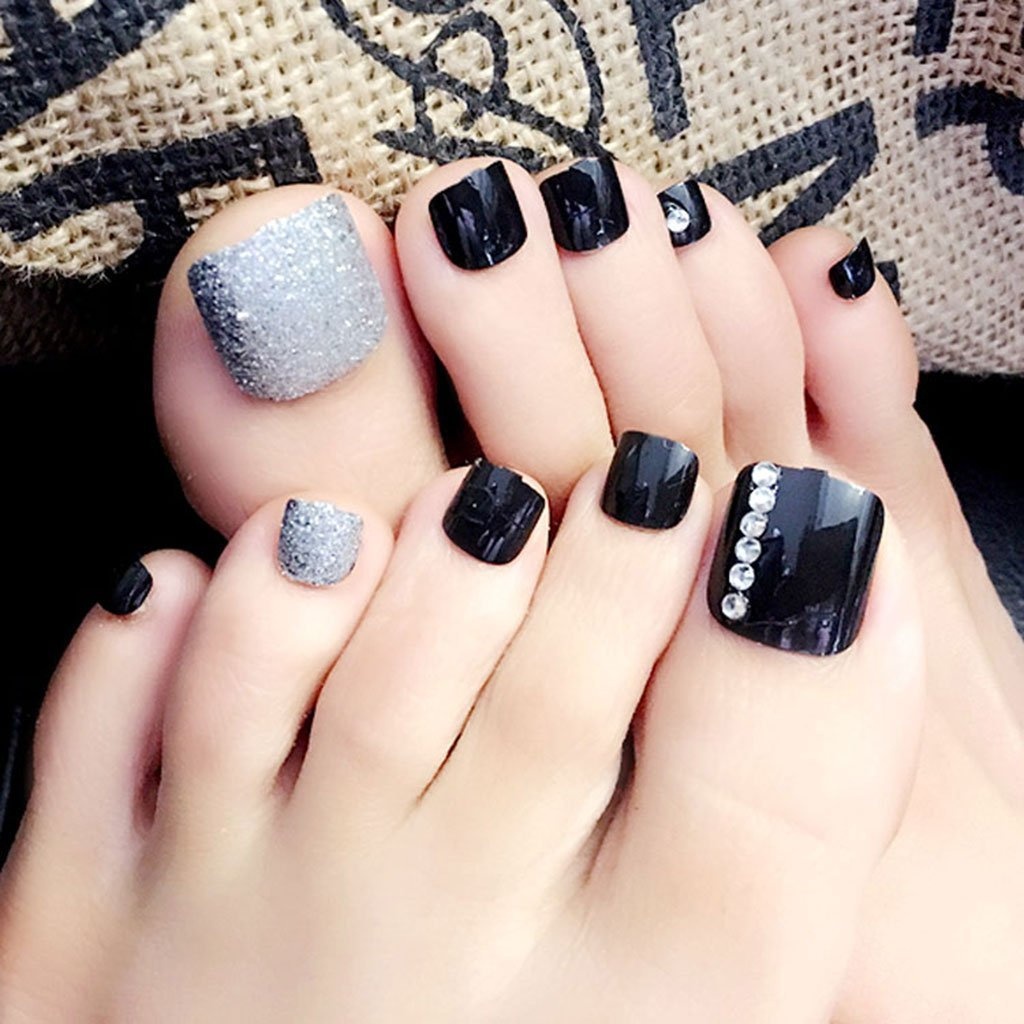 Nude Nail Art– Nude Nail Paints work great for Finger Nails as well as for the Toe Nails. The Nude Nail Art can be done on Toe Nails by combining it with some glitter, white or black nail color.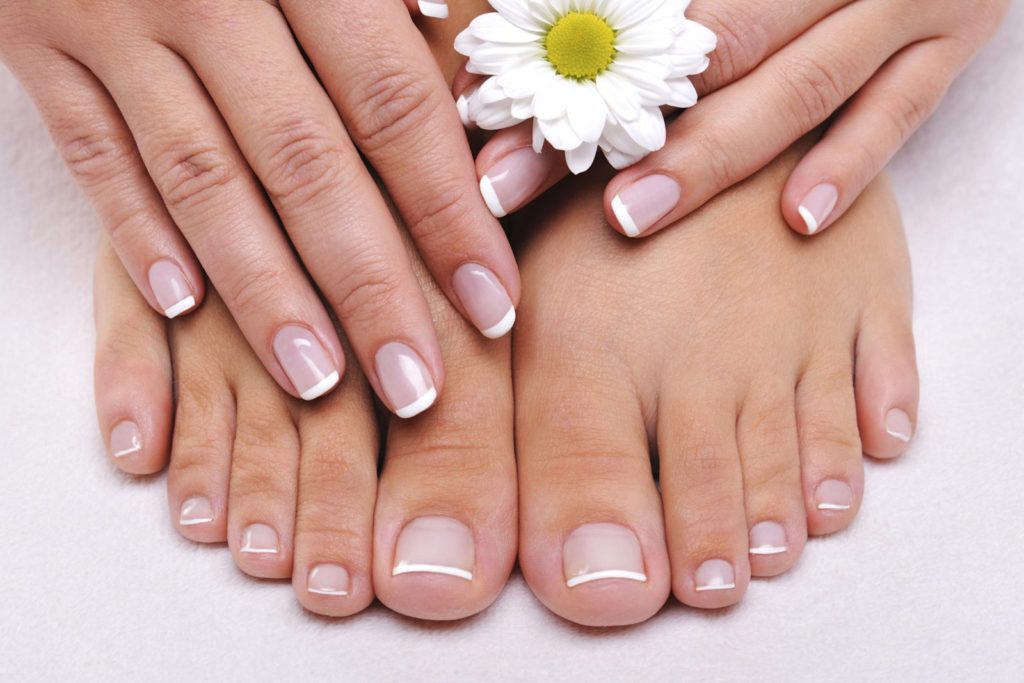 Matte Finish Nails– Untill now, we have been trying Matte Nail Art just with manicure. Now, let's also try it with the Toe Nails this time! If you have Matte Nail Polish, then apply it and apply the Transparent Nail Paint on just the tip to make it Glossy French Tip. Or, you can just keep Simple Matte Nails.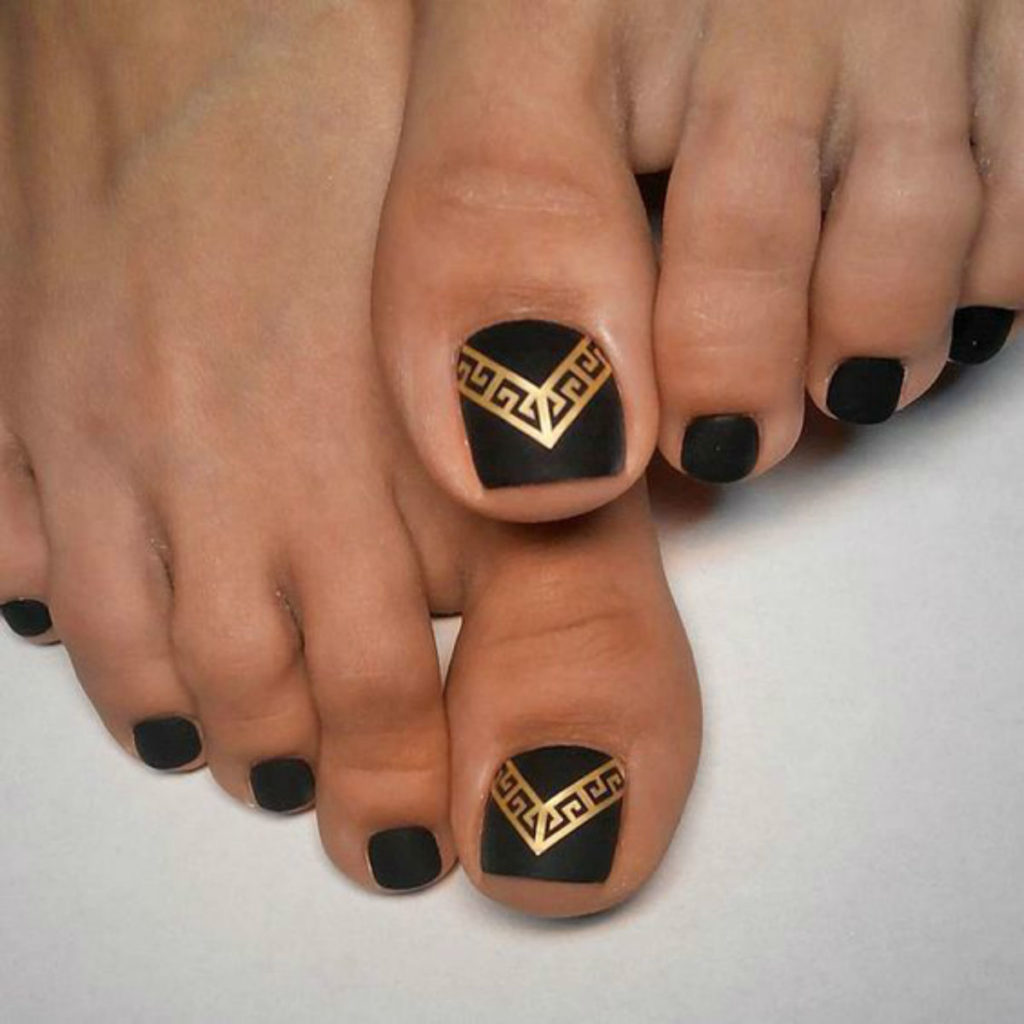 Red Nail Art Designs– Red is Universal Color for makeup. Nothing can go wrong with Red! So, try these cute and quirky Red Nail Art Designs on your Toes to become the talk of the town;)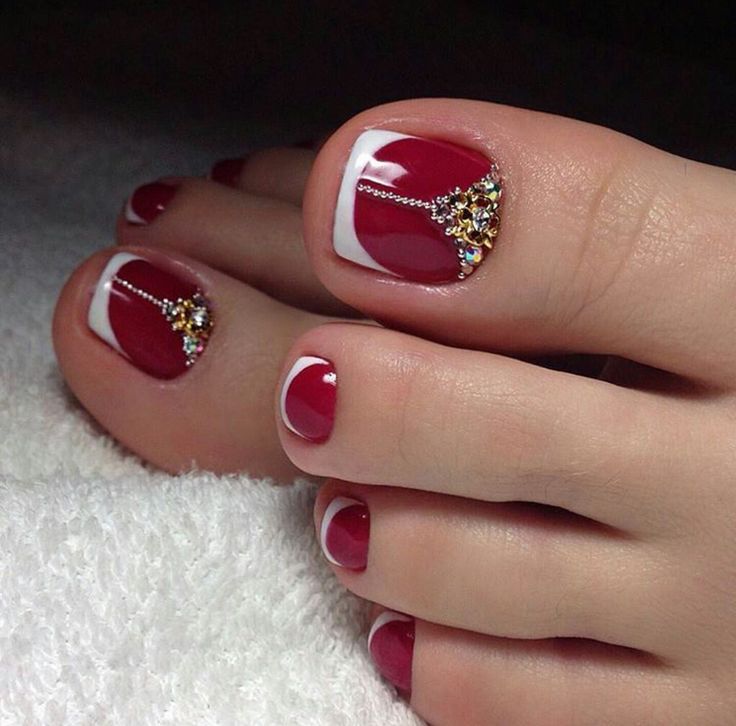 Indian Nail Art– Talking about Nail Art, I couldn't skip this one at all! Particularly in Indian Nail Art, we focus more on Curvy Designs and Some Motifs. It can have Red, Golden, Yellow, Black colors. Try this Indian Nail Art on your Toes for a Wedding or any Festival.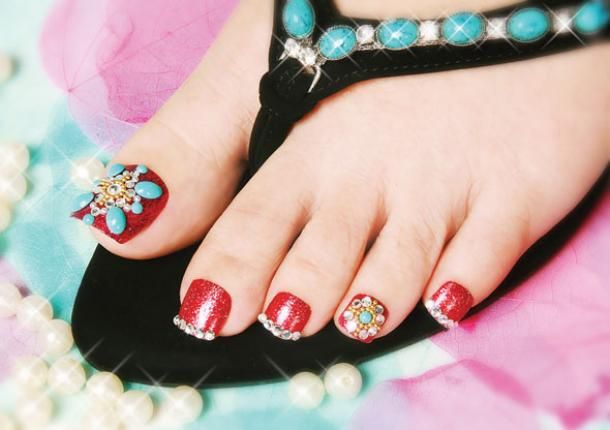 Bridal Nails (Toe) – Bridal makeover in India is very Colorful, Shiny and Bright. We don't include dark or dull colors. Mainly red and golden or silver combination looks perfect for the Bridal Nails. So doing Nail Art with finger nails, don't forget your Toe Nails this time!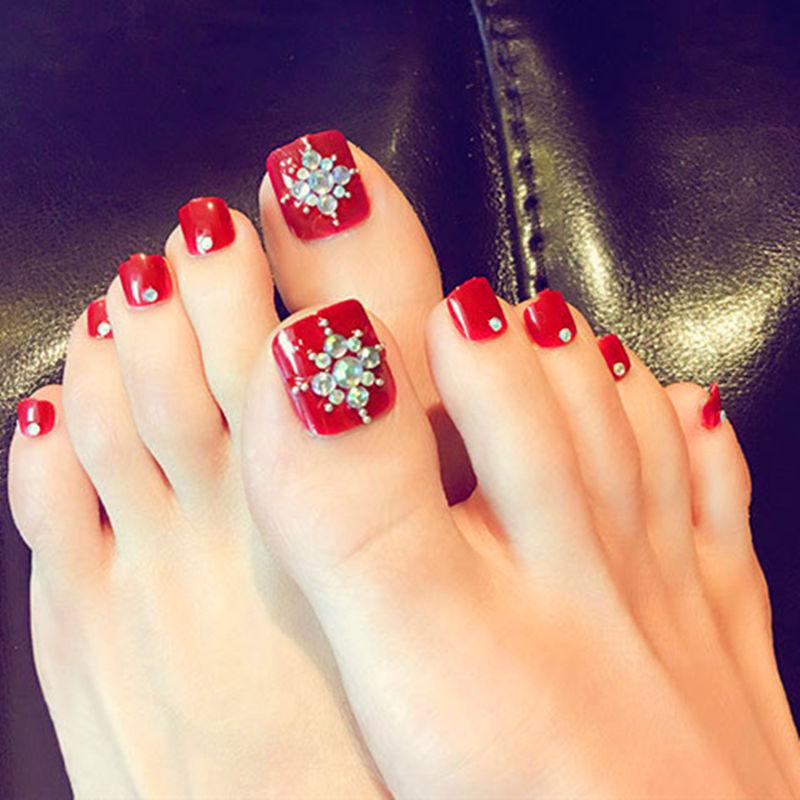 Henna Nail Art– Let's get extra with Indian Festive Themes by doing Henna Nail Art. Even I didn't know about such a theme, only recently I came across this. So, as you do normal Henna on your hands, similarly, try those designs on your Toe Nails too with a little hint of colors!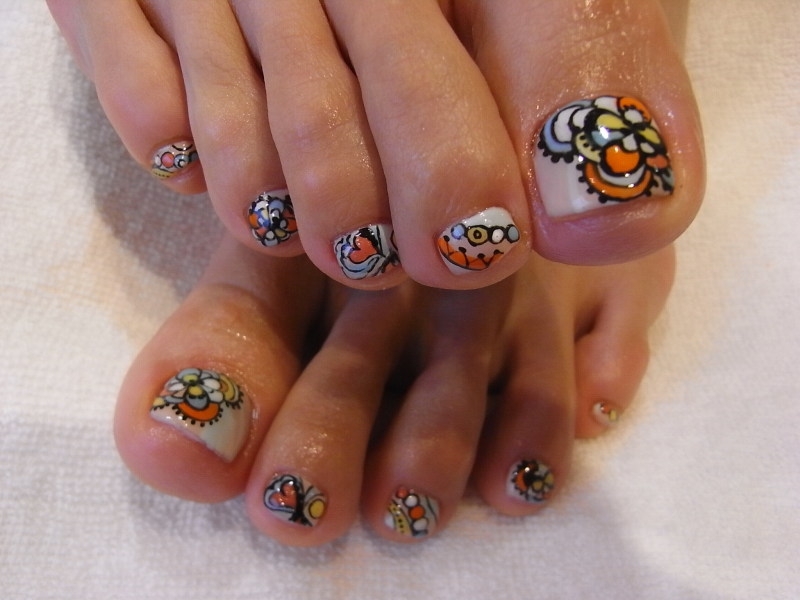 Christmas Toenails– Christmas Nail Art looks really fancy and cheerful. There are already hundred Christmas Nail Art as well as Toe Nail Designs available. The simple rule here is to use Red, Silver, Golden, White, Green and Black colors.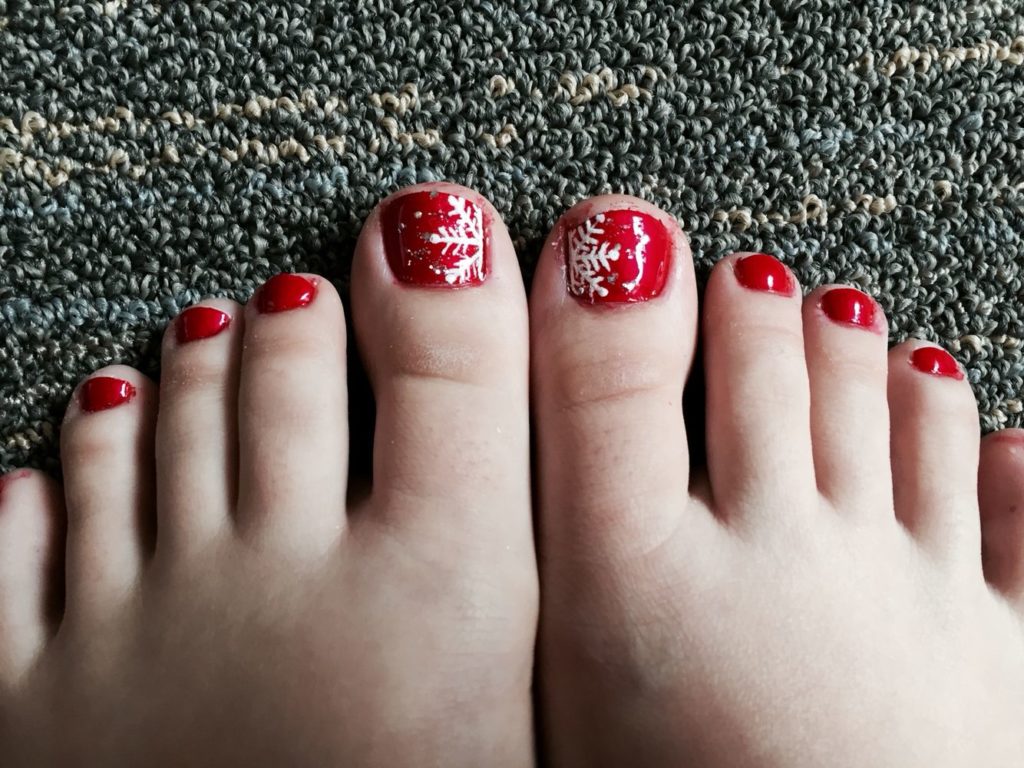 Summer Toe Nail Designs– There are special colors for Summer theme like, White, Light Green, Blue, Pink, and Yellow. By using this set of colors, you can do various Summer Toe Nail Designs. You can do beach theme, balloons theme, ice- cream theme and many more.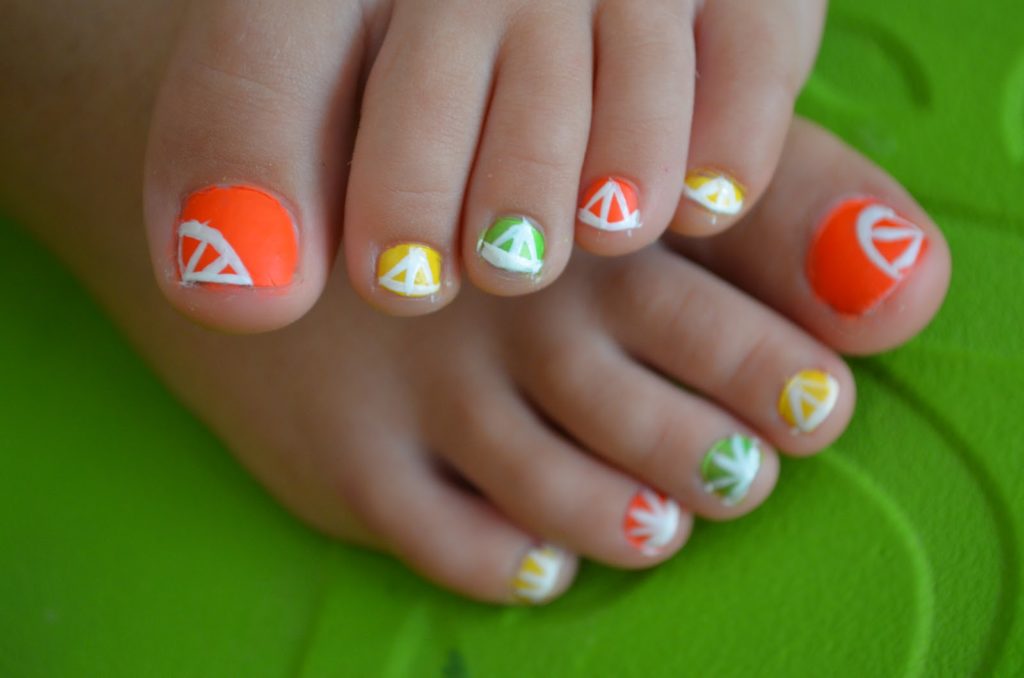 Snowman Nail Art– While looking for Christmas Nail Art, I found this Snowman Nail Art which was overloaded with cuteness<3 This one is really Easy Nail Art Design, which you can do even if you are a beginner. Draw  a Snowman by putting two big white dots, and little two dots of black nail paint as eyes. Put some little white dots around as snow.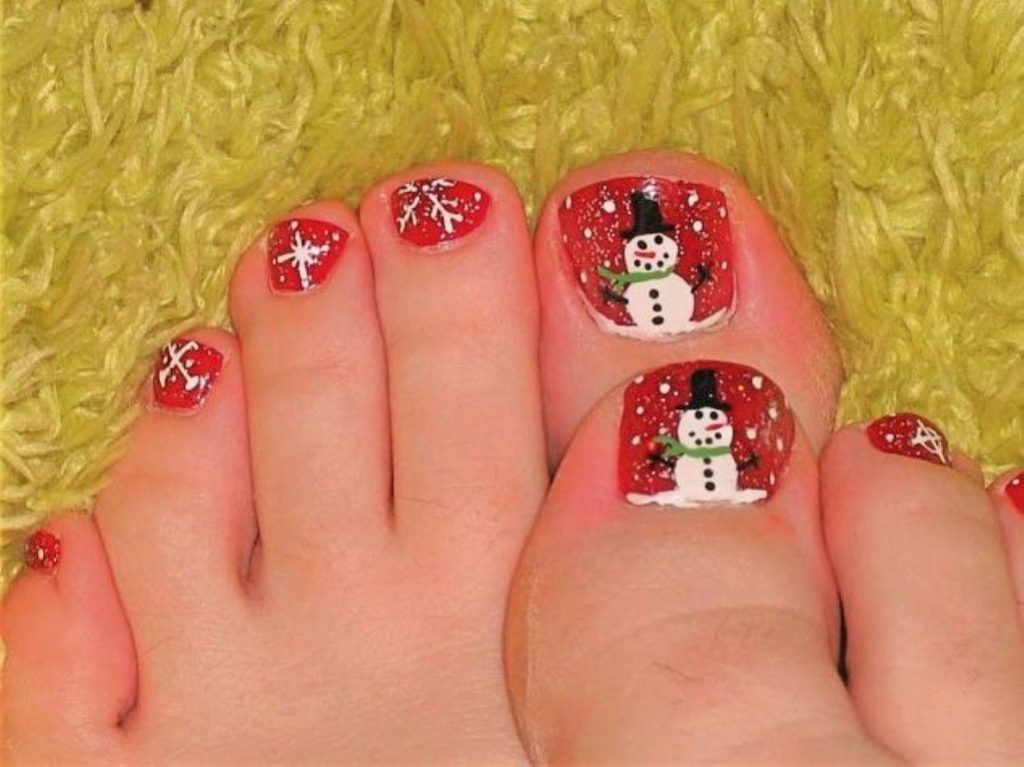 Sticker Nail Art– Well, this is a superb idea for those who are beginners at Nail Art. There are plenty of Nail Art Stickers present in the market which you can get at very reasonable rates. All you have to do is, paste those stickers on the nails and apply a Top Coat to seal it! And voila! Your pro-looking Nail Art is ready!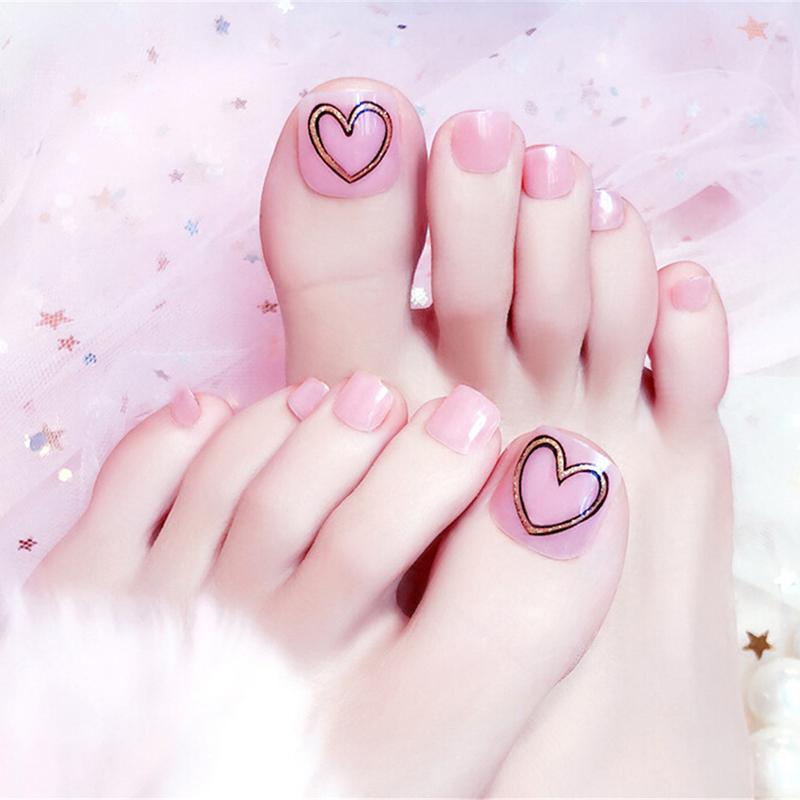 I feel, I can't anymore stop myself from trying these Toe Nail Art Ideas asap! These have covered so many themes like, Parties, Festive, Seasons, Occasions and much more. Doesn't matter if you're an expert or a fresher at this, you will love doing this Toe Nail Art once you get a grip!
So, get inspired, do experiments and get creative with your Toe Nail Designs!
Hope this post inspired you!!
HUGS!!!