Hello Pretties.. Last week, one of my school friend got engaged and I got invitation too. I know her from my school days, but we hardly meet! I guess in last 6 years, we met twice only. So, I realized that it is not the occasion I dolled up with heavy dress and makeup. And I thought to keep it minimal and not wear something heavy. But of course, dressing should be as per the occasion always; that is what I believe. So I decided to wear a black Anarkali dress that I have. And decided to play with accessories and good subtle makeup 🙂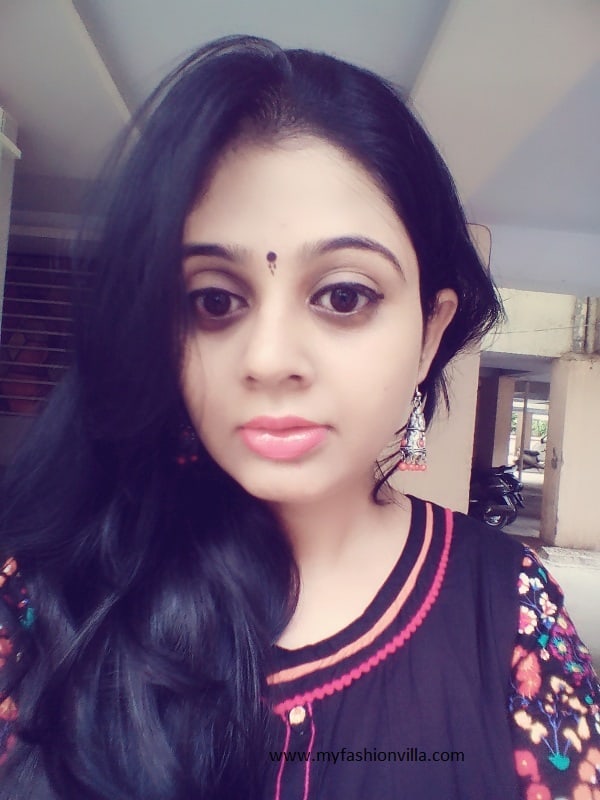 For the makeup, I was thinking about using products which give medium coverage. What better than Oriflame The One Range? I have tried almost all products of this range, so decided to do makeup with Oriflame The One Range Only.
Now Let's come to the main part, Makeup. The products I used for face were Oriflame The One Foundation and Oriflame Illuskin Powder. For Eyes, I kept it minimal. I have applied, Oriflame The One Cream Eye shadow in Shade Rose Gold, A Eye Liner Stylo and Mascara. On my cheeks, I applied Oriflame The One Duo Blush, which comes with highlighter as well. On my nails, I was wearing Oriflame The One Long Wear Nail Polish. On my lips I decided to wear Oriflame The One Color Unlimited Lipstick in the shade Mocha Intensity. I don't know, Why I have not tried this lipstick before?? I have first apply this last week, and now I am loving it 😀 I guess I will do a separate review for this gorgeous shade 🙂
All Products Displayed in Below Image!
Tips To Dress and Makeup for Other's Wedding and Engagement Party:
A very dear friend, Vandana and regular reader of MyFashionVilla asked me to write about this, I still remember. So Here are some points from my end that How to get ready for others wedding or engagement party.
The only thumb rule to follow about makeup is Do not overdo. If you feel, you can skip some makeup steps, skip them 🙂 Do not wear jazzy eye shadows, wear natural shades. Do not highlight too much, rather just go with blush. And Contour?? No Need.
Accessories? Again, Keep it Simple 😉 Yet Elegant.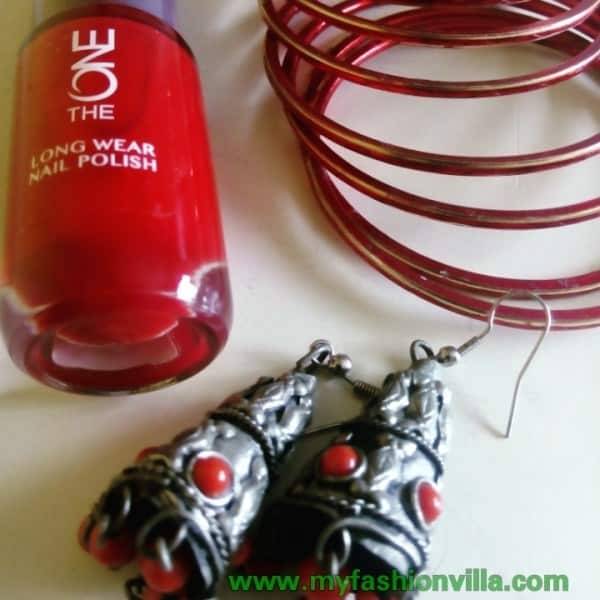 When you are attending engagement or wedding function of a person, who is not a close family member or your best friend, let's say, Your Boss invited you to his daughter's wedding!!! Or you neighbor invited you on an engagement party!! or when you are going with your husband at his business delegate's wedding!! No need to Overdress as well, right?? You don't need to be talk of the town. So keep it minimal. Here I am not saying you should go under dressed. No!! but you can play with 1-2 elements at a time. Like wear a heavy dress and keep makeup minimum. Or Go moderate with everything. That is what I decided to go with this time. A decent Anarkali, A good base and not so chunky makeup and basic Indian accessories, like Bindi, Bangles and Silver Zumka! That's It!
Here is My Look Through Multiple Images. What do you think?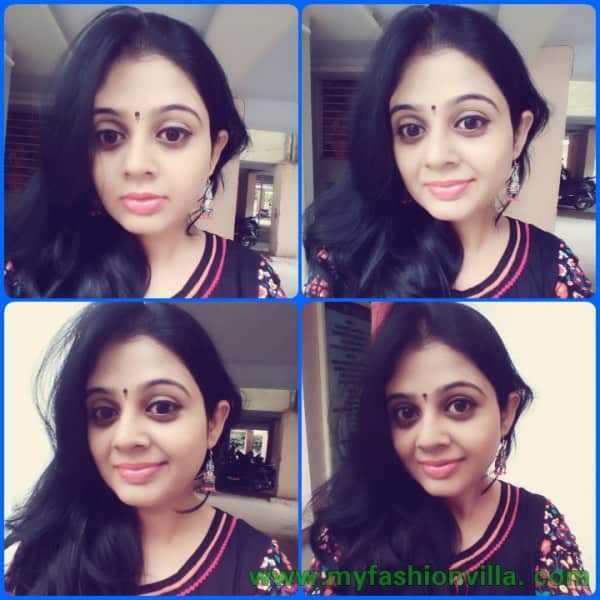 P.S. Last time when I posted my picture wearing Bindi, many of you said, it suits me, so I decided to try Bindi again as a part of my look.
 What Do You Think? What do you prefer wearing on such engagement and wedding functions? Any tips that you want to share with all of us? Go on.. girls.. 🙂