Hey guys!! Something very sweet I stumbled upon yesterday!! And I can't stop to share with all of you. Do you know Kunal Khemmu tweeted about the romantic gift idea sometime back? No? See Kunal's Tweet Below.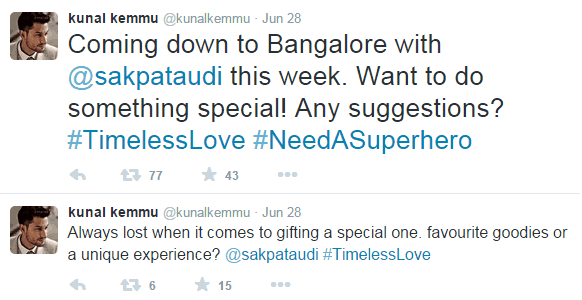 Let me tell you complete story. On June 28th, Kunal Khemmu Tweeted and asked for some good gift ideas, He wanted to do something special for His love; Soha. And then I saw this Video yesterday!
How Sweeett!!
Helios – the Watch Store, the premium watch retail chain by Titan Company, approached Kunal with this amazing idea. Helios hosted one of its kind event in Bangalore. The premium watch retailer Helios helped Kunal  and an enthusiastic audience surprised too when they saw a drone that delivered the surprise present to Soha, as a second drone captured the elated celebrity couple's romantic moments along with the audience's reactions. She was stunned to see a gift come out of the air. Wow!!! How cute :-*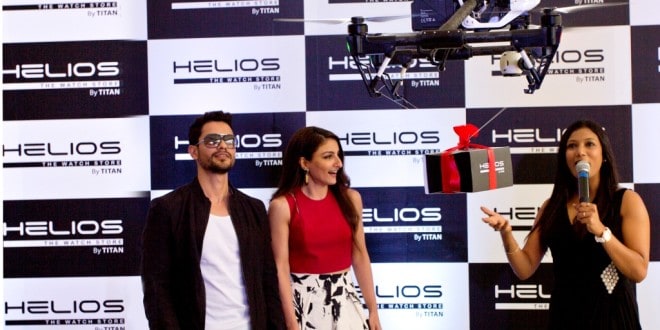 And Soha's reaction? She was brimming with delight and completely surprised by Kunal's romantic gesture. She said, Kunal is a Romantic Guy but this was not expected. She added that, i thought it is just a short trip to Bangalore but actually it turned about a big surprise by Kunal and Helios. She loved it.
See Kunal's Tweet Post Event !!

Aaaahhh I love it too. Such a cute pair they make! and Kudos to Helios for coming with such a great idea for #TimelessLove  and Helios came one step further!
Helios Announced!! "So if you are looking at surprising your loved ones, head to the nearest Helios store and avail up to 50% off on over 25 international brands during their End of Season Sale"
Such a Sweet Gesture to Express Love, Isn't It? <3