Hello, lovely people! Hope y'all enjoyed reading our recent posts 🙂 Today we are talking about "Featherbrows" the latest trend we observed in makeup industry.  We all know, makeup is an art, and the one who is skilled in this art is called a makeup artist.  And an art is driven by creativity. Many makeup artists try creative ways to give birth to something unique and "never seen before" trend. A few months back the art of contouring became popular, and then face highlighting and now we have featherbrows!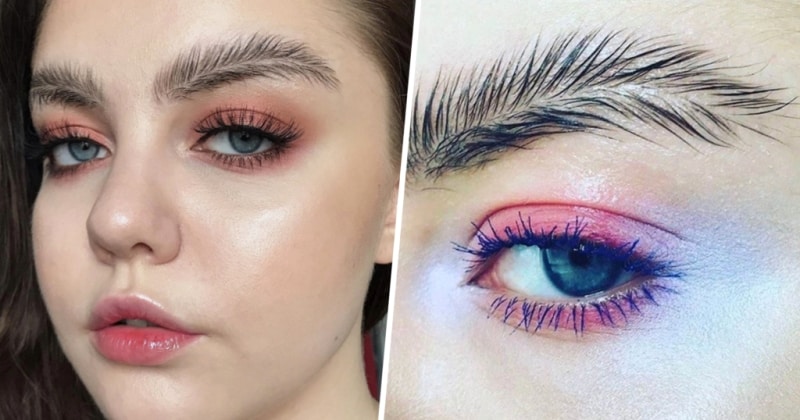 Who started "featherbrow" trend?
Yeah, you read that right! Featherbrows- this trend was started by a makeup artist who revealed her look of featherbrows on her Instagram account. She is Stella Sironen, a 19-year-old makeup artist from Finland. She and her friend accidentally came up with this "featherbrow" idea and found it insane initially. Then they actually tried it and it worked!
Soon, it went viral and became Instagram makeup sensation. Her "featherbrow" post reached approximately 51,000 likes.
What is Featherbrows?
First of all, let me inform you that "feathered Brow" and "featherbrow" are two "different" things. Feathered brow means to enhance the brow outlines and taper the hair to make them look dark, natural and fuller. Whereas "featherbrow" is a style in which the eyebrow is given a shape similar to that of a regular feather. First, some wax is applied on the bows in order to part them evenly and easily. The eyebrow is then divided into two parts (as the two parts of a feather) by a thin line (gap) and then the brow hairs are drawn in an outward direction.
What are the reactions to "featherbrows" trend?
Well, every new invention has its supporters and opponents. Many people reacted to this "featherbrow" trend in a positive way while few just laughed at. Many find it a creative trend and at the same time, few are trolling it way too much! Few even found it spooky. Few commented saying that is a "bizarre" thing.
Where and when is this look suitable to carry?
This trend is a creative idea for runway fashion or haute couture events, however not good enough for routine makeup. I guess women every day wouldn't spend their precious time in applying wax/glue over their brows and tapering them again and again to get "featherbrow" look. well, for makeup artists, it is their daily task.
We're still looking for further reactions and opinions. So, this was a small post about current makeup sensation-"featherbrow". We know many you would be already aware of this if not, then, you're now 😉
Hope you found this post interesting! Make sure to comment about your opinions for "featherbrows"!
Stay tuned for upcoming lovely posts, till then, stay happy and gorgeous!
Love y'all<3<3
HUGS!!!!!!!!!
Save