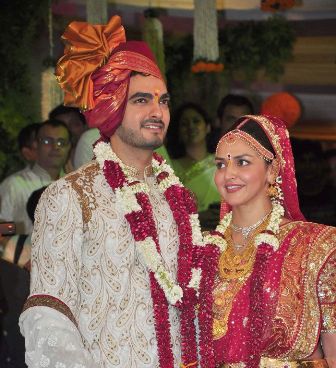 Esha Deol; daughter of Hema Malini and Dharmendra, tied the knot with Bharat Takhtani. Many B'town celebrities attended Esha Deol's Wedding which includes Amitabh Bachchan, Abhishek Bachchan, Manoj Kumar, Vinod Khanna, Vyjayanthimala, Ramesh Sippy, Fardeen Khan, Poonam Sinha, Madhoo, Anu Malik, designer Neeta Lulla, Nishka Lulla, Rani Mukharji, Abhay Deol and Many more. Check Esha Deol Marriage Pictures Here..
As Esha Deol and Bharat Takhtani are devotees of Lord Krishna and Radha, they chose ISKON temple as wedding venue, both Hema Malini and Dharmedra were seen welcoming guest. We noted absence of Boby Deol and Sunnu Deol at Wedding of Esha Deol!! Why so?? God Knows..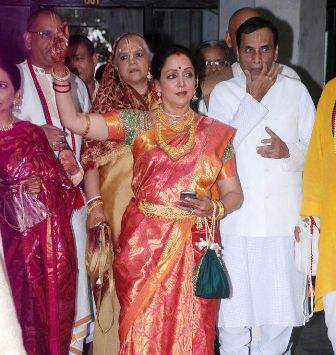 Anyways, Esha Deol the bride of the day was looking heavenly beautiful in gorgeous Red saree designed by Neeta Lulla. It was typical South Indian Style Wedding and So We Felt… Oh My Gold!! We love all those Gold jewellery pieces wore by Esha Deol and Hema Malini, very classic south Indian style Temple Jewelry it was, especially that kamarband! Look at the Picture below..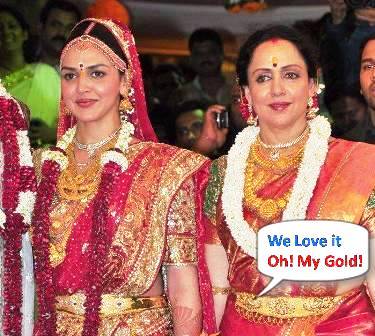 With Many Celebrities, there was someone there; attracting everyone with her Dressing, Jewellery, Makeup and everything she was wearing was up to the mark for the Occasion! She was none other than Nita Ambani. We Love her totally for her look at Esha Deol's marriage! She was wearing very elegant silk saree draped in Gujarati Style, perfect matching jewellery for the occasion; coral red nail pain was looking attractive with her decent traditional clutch in her hand. In short Perfect look, 100/100 🙂 🙂 🙂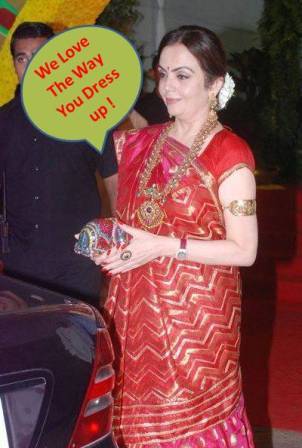 And you will be surpri..se.. !! but we found few wedding-look disasters too, but that requires separate post. So we are going to make dedicated post on that soon..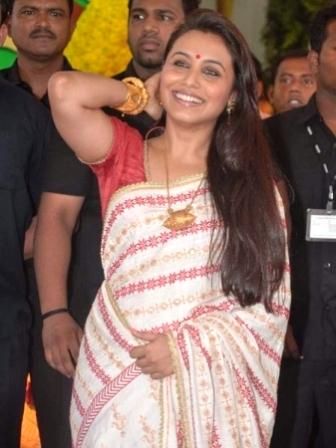 Hope You enjoyed this post; Keep Visiting us for more interesting news and updates…
Tille Then…
Keep stylish and Be Happy 🙂
Always- Love..
xoxo