Hello lovely people; I am Back home and starting my routine life. I have already posted the first post about last 15 beautiful days i spent travelling. Today i am reviewing the product which literally saved me from harsh sun during my holidays! It is ElishaCoy Premium Gold Mineral BB Cream SPF45 PA+++. I was wearing it every single day and can't wait to share my review today.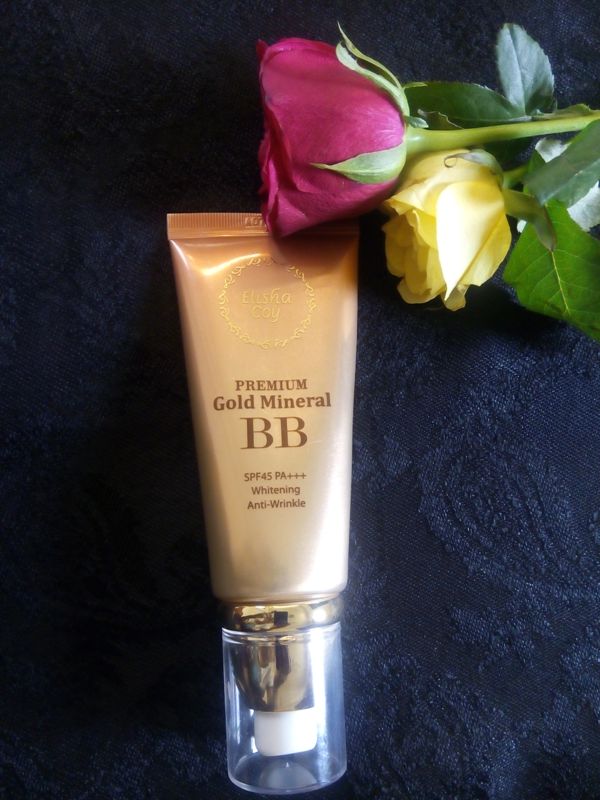 ElishaCoy Premium Gold Mineral BB Cream SPF45 PA+++
Quantity: 50ml
Price: 1099 Rs
Available on: Shop CJ (www.ShopCJ.com)
About ElishaCoy Premium Gold Mineral SPF45 PA+++ BB cream
Here is what is mentioned on the packaging.
* Nutrition-rich caviar, royal jelly extract & mineral rich deep sea water make your skin glossy
* Gold ingredients, Camellia Japonica Flower Extract and Trehalose care for skin trouble, and make your skin moist.
* marine collagen and amino acid complex  make your skin elastic by caring for the wrinkles and approved whitening ingredients make your skin splendid
* this product is a low irritating BB cream that does not contain organic UV absorbing agent that may irritate your skin, but contains ECOCERT Awarded organic lavender extract and organic Camomile extract.
The BB Cream comes with 7 Benefits – WHITENING + ANTI-WRINKLE (FIGHTS AGEING) + GIVES CLEAR SKIN + WATER PROOF + SUN BLOCK SPF 45 PA+++ WHICH IS REALLY HIGH & GOOD FOR INDIA + PORE TIGHTENING + MOISTURIZING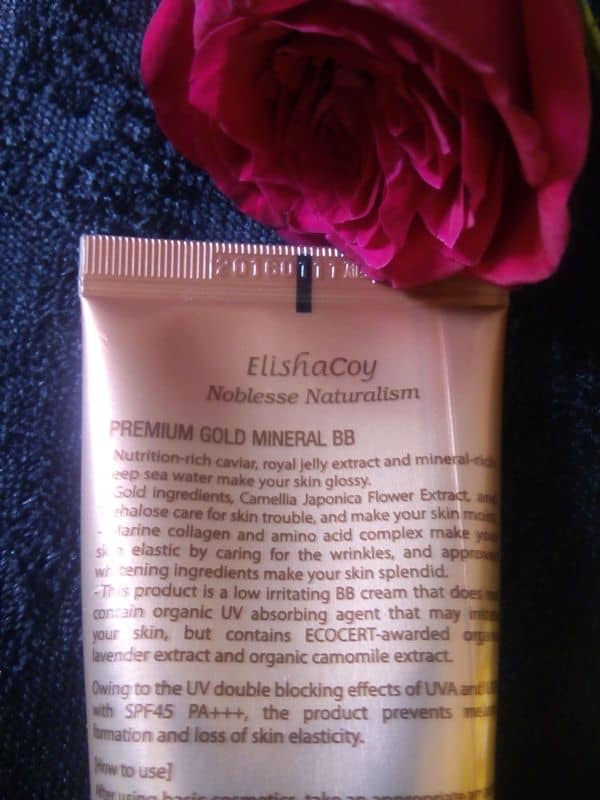 What is special?
Owing to the UV double blocking effect of UVA and UVB with SPF 45 PA+++, the product prevents melanin formulation and loss of elasticity.
How to use?
After using basic cosmetics, take an appropriate amount of the cream and apply it spreading evenly up the skin texture and then absorb it by padding gentaly.
ElishaCoy Premium Gold Mineral BB Cream SPF45 PA+++ Review
Packaging: The ElishaCoy BB cream comes in a sturdy golden tube packaging; but guess what? This tube comes with a Pump Dispenser!! And there is a transparent cape over the pump nozzle. The packaging is really attractive and very rich itself.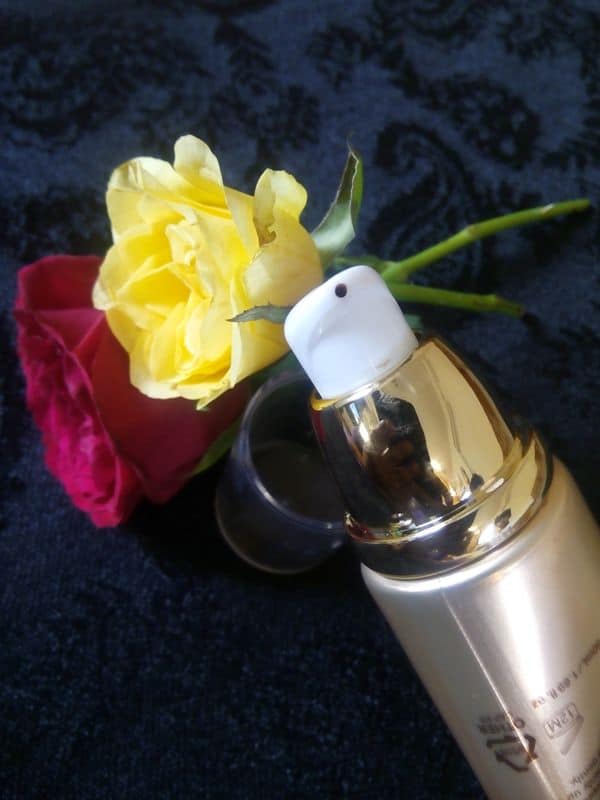 Texture: the texture of this BB cream is on thicker side. When i tried it for the first time, i took little more quantity and had trouble blending over my skin. Then gradually i understood that, for one time use you just need to take pea size amount only, not more than 5ml.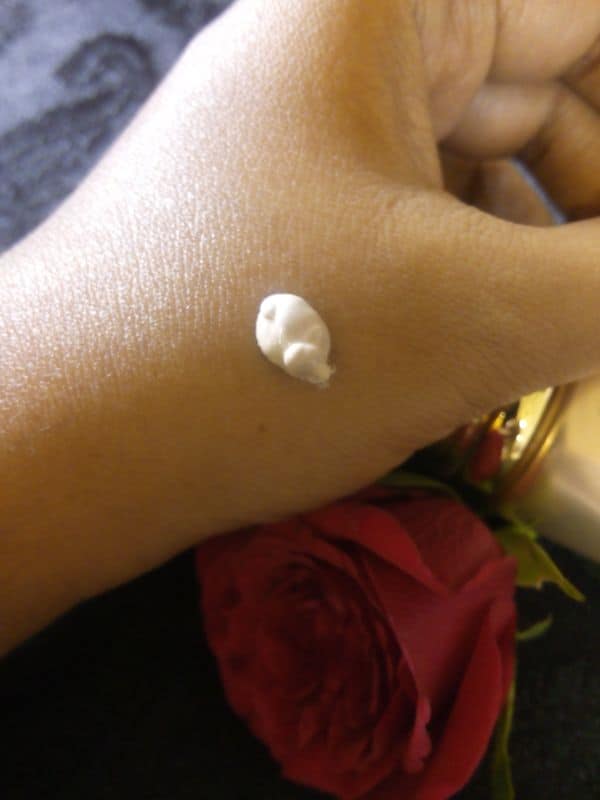 It worked?
Let me tell you; i am not a huge fan of BB creams. The reason, i have tried several popular BB creams before but none of them impressed me. May be, i couldn't find the right shade for me. When i saw ElishaCoy BB cream, initially i was afraid to take it with me on holidays, but two things i noticed and decided to try. First, ElishaCoy is a Korean Brand and we all vouch for Korean Skincare brands & second thing, it has SPF 45 UVA UVB PA+++ which is quite promising when i was supposed to witness harsh sun on different hill stations in Kashmir. But let me tell you, day by day i am falling in love with this cream.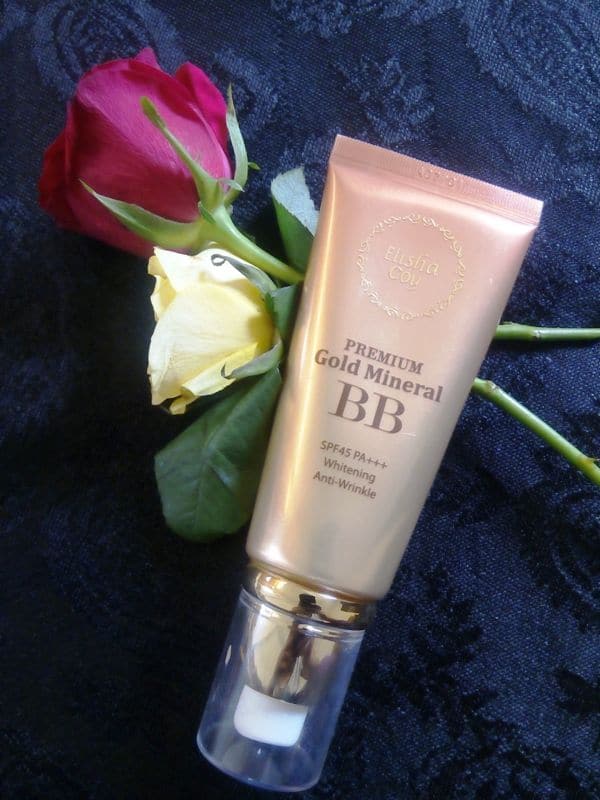 I have worn ElishaCoy BB cream every single day and it saved me from harsh sun in last 15 days. The SPF 45 worked really well. When you apply this BB cream, it gives medium coverage and you see the glowy skin at the end. However, you need to blend it well. Most of people got tanning at the end of trip but i can't see any tanning on my face. Even it has high SPF and thick texture, it did not gave me break out 🙂 overall, i love this BB cream and i will continue using it. Here is me, wearing this BB cream (no other makeup on my face).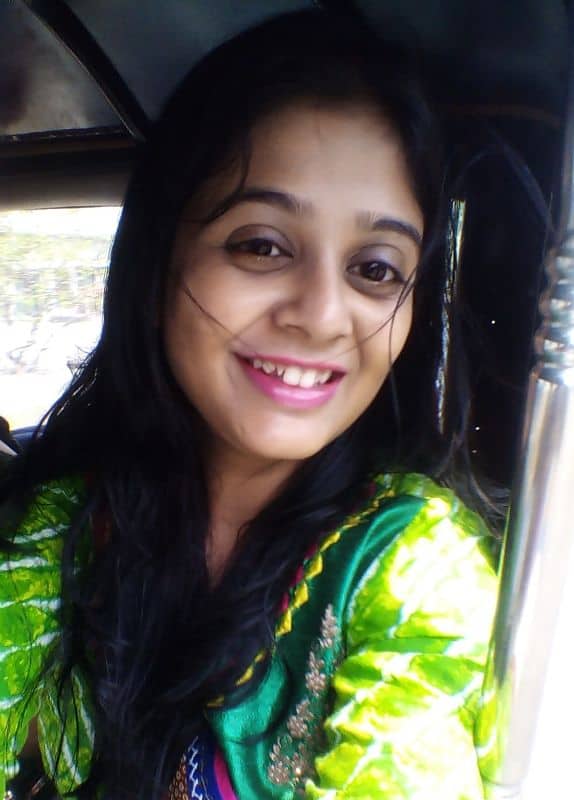 Application Tip:
I am using facial oil with this BB cream. So every time i wear this BB cream, i add 2 drops of facial oil to it. This helps in easy blending and gives dewy effect. You can take any facial oil or even 2 drops of almond oil would do.
For evenly blending, try applying it through makeup sponge of beauty blender. It will be easier to apply and there will be no white patches at the end.
Final thoughts: Finally I have found right BB Cream for me 🙂 I am happy. If you are looking for good BB cream, give it try. I am sure it will not disappoint you. Also, some of you may find price on a higher side but you just need one drop of it. It will easily last for long time.