Hello Pretties.. how are you all keeping? I am suppa happy to share another video with you today. It is all about e.l.f products that I got from USA. I always like to try new makeup brands but sadly all those brands are really expensive in India. If you purchase them online, you need to pay twice or sometimes thrice the actual price which is too much and I don't prefer to do that !! I mean I can not ay 500 Rs for 100 Rs product because there is no Money Tree grown in my backyard 😛
I got following products for my self. Sorry for little dull picture, the weather is too cloudy here !
e.l.f. Cosmetics Beauty Haul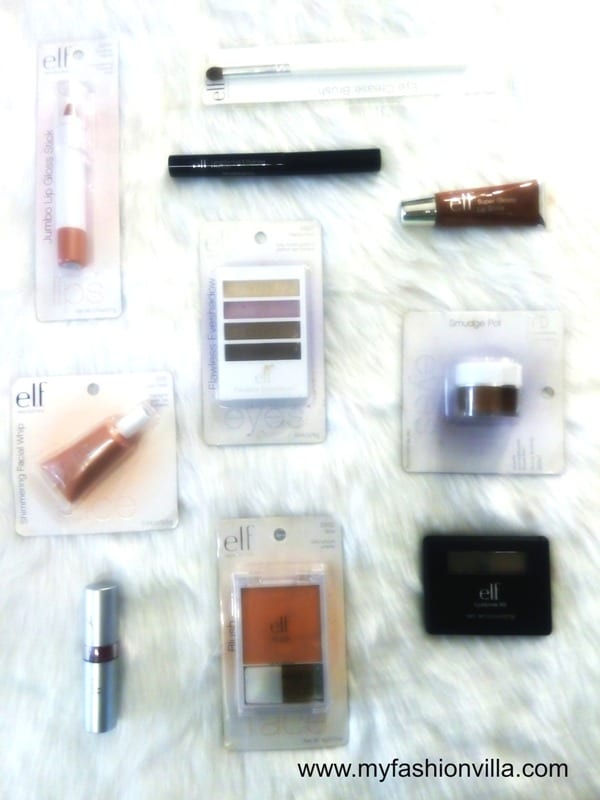 Further, I decided to get some products from USA through my friend Soha. She picked up all the products on behalf of me and through one friend; she sent me parcel here in India; and I decided to do a Video about what I picked up and a quick impression kind of a video.
Here is the Video:
e.l.f. Cosmetics Beauty Haul
I am talking about below products in This Video:
e.l.f. Lengthening & Defining Mascara
e.l.f. Silky Smooth Powder Blush in Shade – 23102 Glow
e.l.f. Jumbo Lip Gloss Stick (Long Wearing Tinted Lip Color) in Shade – 22142 Summer Nights
e.l.f. Shimmering Facial Whip; Highlights Eyes, Lips & Cheeks in Shade – 1205 Lilac Petel
e.l.f Smooth & Long Lasting Coverage Lipsting in Shade – 7706 Posh
e.l.f. Flawless Eyeshadow Easy 4 Step Guide to Perfect Eye Makeup in Shade – 21627 Happy Hour
el.f. Eye Crease Brush – 1823
e.l.f. Long Lasting Eye Shadow & Eye Liner Smudge Pot in Shade – 21696 Brownie Points
e.l.f. Super Glossy Lip Shine in Shade – 2804 Iced Latte
e.l.f. Eyebrow Kit in SHade – 81302 Medium
I would like to do dedicated reviews of above products? which one I try and review first? Let me know…
Hugs!