Review of Dot & Key Collagen Restorative Time Reverse Retinol Serum – Those were the days when I was quite irregular with my Skincare Routine. I used to believe that "Whatever we apply over the skin to prevent aging cannot give results for long term" I was wrong!! Of course you cannot stop aging. However, with right skin care products, appropriate regime and good lifestyle you can definitely delay aging and get a healthy glowly skin for coming years. As a blogger, I have tried hundreds of products and some of them changed the entire skincare game for me.
Dot & Key is one such skin care brand which makes exceptionally amazing products, and I am so grateful that I discovered this brand. The biggest reason why I love Dot & Key products is, they do not use any nasty chemicals.  
Dot & Key Collagen Restorative Time Reverse Retinol Serum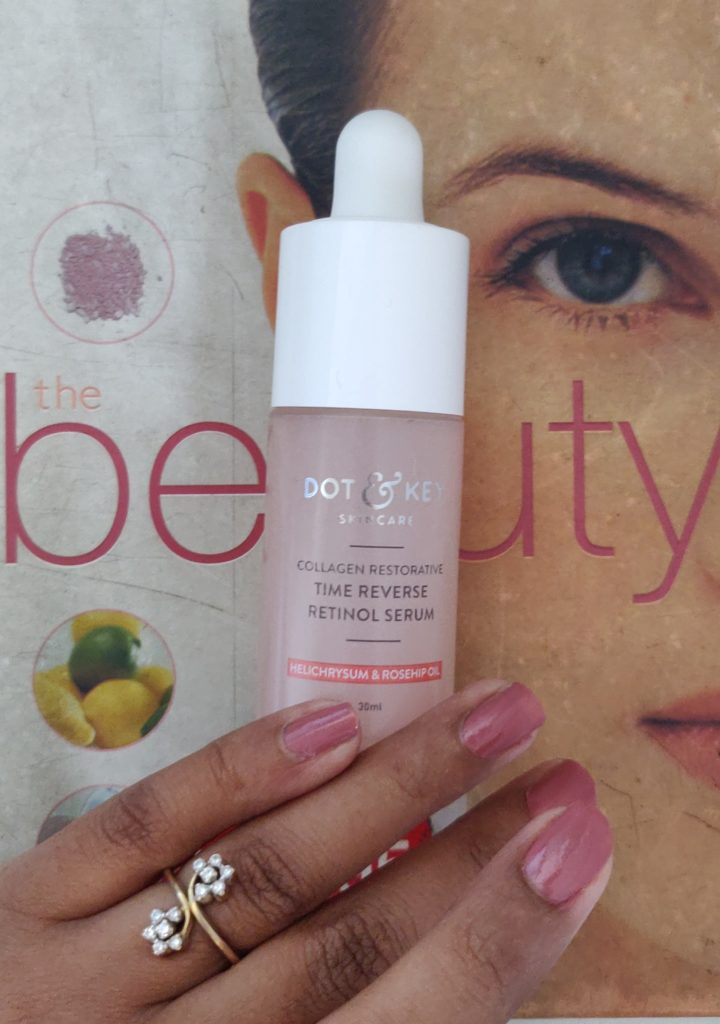 Today I am reviewing Dot & Key Collagen Restorative Time Reverse Retinol Serum which is an anti aging serum, recommended for the people at the age 28 years and above. The star ingredient of this Serum is "Retinol" which is a Vitamin A derivative, mostly used in Anti-Aging Products concentrated to work on Wrinkles and Fine Lines. Now, I don't have too much wrinkles & fine lines, but yes, I have smile lines around my mouth and wrinkles near the corner of my eyes!
Did Dot & Key Retinol Serum worked on fine lines and wrinkles?
Before I share the review, let's understand skin aging and why you need anti aging products with Retinol and other anti aging ingredients.
Due to harsh sunlight, dust, pollution and ultraviolet radiations, by late 20s, the cell renewing process gets slower, which affects skin elasticity majorly and you start seeing wrinkles and fine lines. Also, you notice your facial skin going down as your skin is not tight enough to stay up and due to the gravity force, it starts moving down. These are the aging signs when you need a good anti aging skin care regime, especially night time regime as in the night time, your skin repairs!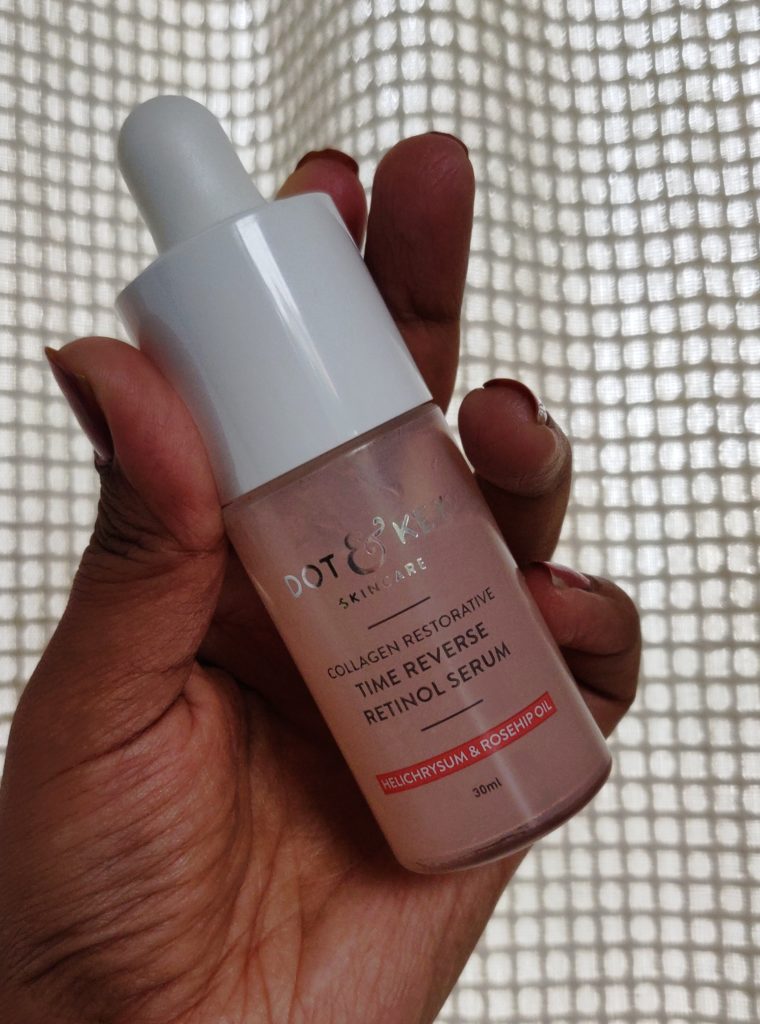 Dot & Key Retinol Serum promises a three-pronged action on the key signs of cellular slowdown!
Reducing fine lines
Fading dark spots an
Enhancing skin's elasticity
You will also like to read: How to get Healthy Glowing Skin? 7 Deadly Sins to Avoid
My review of Dot & Key Collagen Restorative Time Reverse Retinol Serum
I started using Dot & Key Retinol Serum, one and half months back. I use it as part of my night time skincare routine, applying it after washed clean face. It comes in a plastic bottle with a dropper cap over it. A quite sturdy, travel friendly packaging.
It has a mild fragrance, not too strong which is perfect. The consistency of the serum is quite runny! I use the dropper to take the right amount and apply it all over my face with small dots. I give a good massage for 15-20 seconds while applying this serum. Due to monsoon and high humidity, sometimes I do not apply night cream after that. I just apply this serum and eye cream and keep it overnight.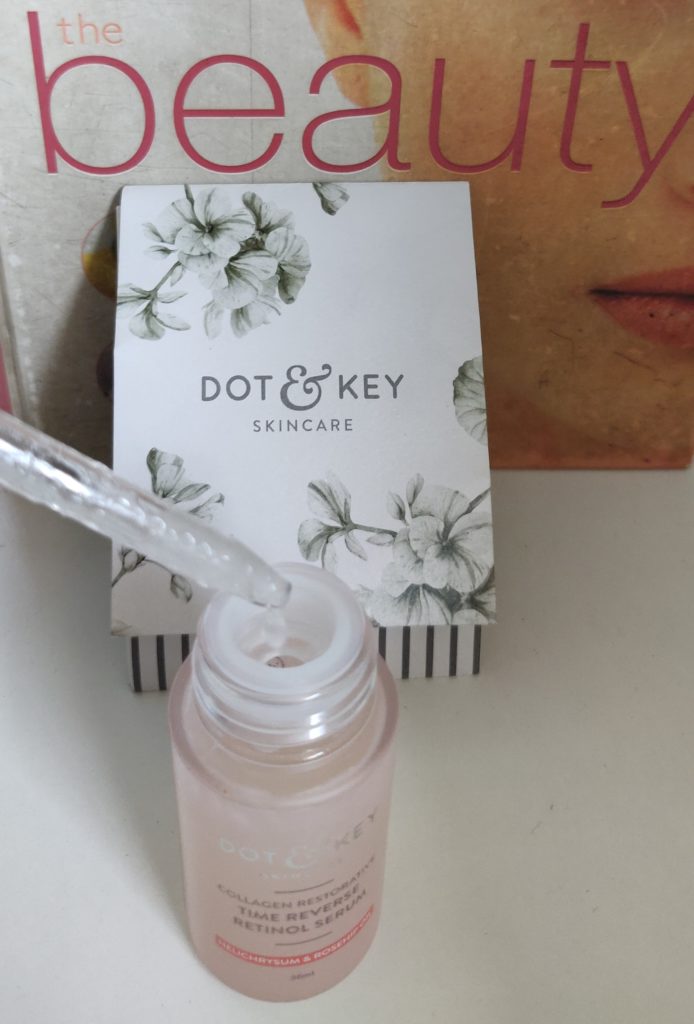 Dot & Key Retinol Serum Results
Now coming to the result part! For the week I didn't notice any visible results on my face, but then I noticed minor changes over my smile lines. Now, after a month and half, I can see visible results on my smile lines as well as wrinkles around my eyes. For the skin elasticity, I think I need to use it for a few more months. So, yes, it works as it claims, no doubt about it.
Also, I want to mention the price point as well. The other anti aging face serums which are designed for skin elasticity & wrinkles and have good reviews are quite pricy. Compared to those serums, this serum is totally worth the price.
You would also like to Read: Dot And Key Glow Revealing Vitamin C Serum Concentrate Review
To summarize!
Dot And Key products are free of any nasty chemicals and made from best of nature and science. They use safe ingredients and completely cruelty free.
If you are 28 years and above and looking for a face serum to work on fine lines, wrinkles and skin elasticity, go for it. It works and gets the big thumps up from me.