Who doesn't love denim? Denim jeans have been ruling our hearts since decades. Well, denim is treated as a really huge clothing sector. It has uncountable types, sub-types, shades, techniques, and fittings. Denim is such a fabric which can be worn in any season, occasion after selecting the right one for so. Now the question is: denim in summer? YES! In summer too we can rock the denim look by choosing a pair of jeans (light weight) with a cotton blend. These days, teaming and matching the jeans has become even easier, all you need to do is invest in few 'must have jeans' and garnish them with your creativity!

So, let us first understand few terminologies for different types of denim jeans for men and then we will talk about latest denim jeans trends for year 2017-2018, how to style ripped jeans because that is the hottest trend these days and then we have some useful tips on styling denim jeans in a right way. Enjoy this guide to the fullest.
Categorization of Denim Jeans as per Washes
Raw Jeans: As the name says, these are not treated with rinsing or washing. They have most of the proportion of dye retained in them. You should wash them after 70-80 wears.
Rinse Wash: Rinsing is a common process that we all know. In rinse wash, 90% of the residual dye (except original indigo dye) is washed off from the jeans making it wearable and less-bleeding.
Mid Wash: In this process, the original indigo color is removed making it bit lighter blue with some hints of a darker
Light Wash: This wash gives us the lightest tone of blue jeans. The process of rinse and mid wash is repeated here to get this "sky blue" tone.
Acid Wash: The denim is treated with some chlorine, pumice stones to give a sharp dotted ombre tone.
Cloud Wash: Quite popular these days, cloud wash is nothing but a "cloudy" combination of blue and white. It has vague patterns and shades all over the jeans.
Bleach: Encountered with strong bleach, the denim loses its color becoming white in a particular It has irregular white creases and shades on the jeans.
Black and Grey Wash: Black (not exact black) jeans have been everyone's favorite. To create a simple and classy look, nothing is better than black jeans. For special occasions, you should not miss 'gray' jeans.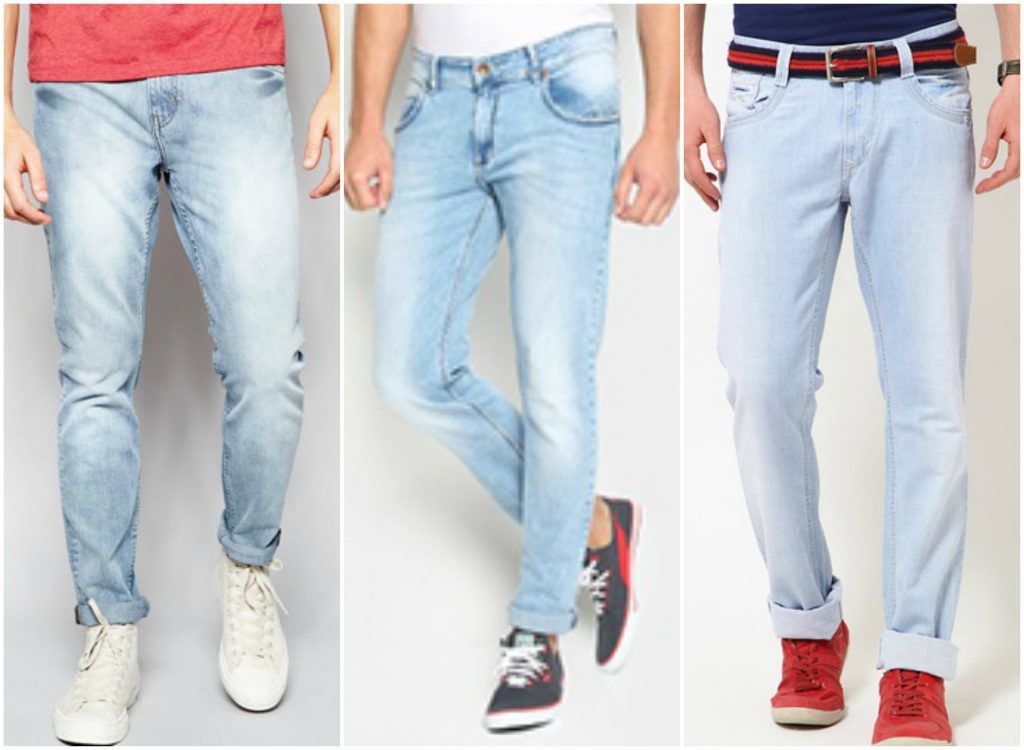 Denim Jeans as per Fittings
Regular: For, office, party, and for rest. These jeans can be fit for all occasions. These have a "regular" fit i.e. neither too fit nor too loose.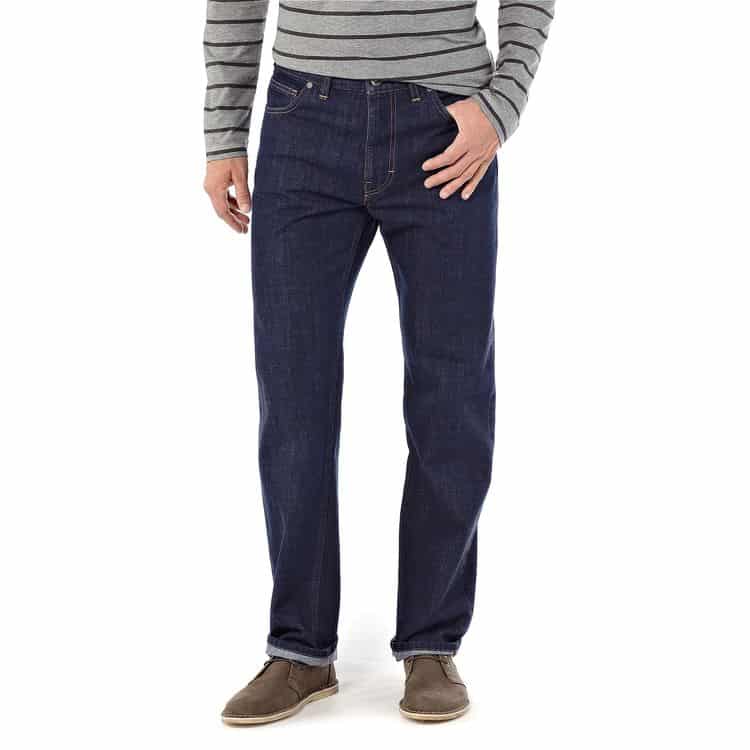 Slim Fit: Slim fit is mostly worn to work or at the party. These have a "slim" looking fit. It is slimmer than "regular". They are always a good choice for date night also. Read it here: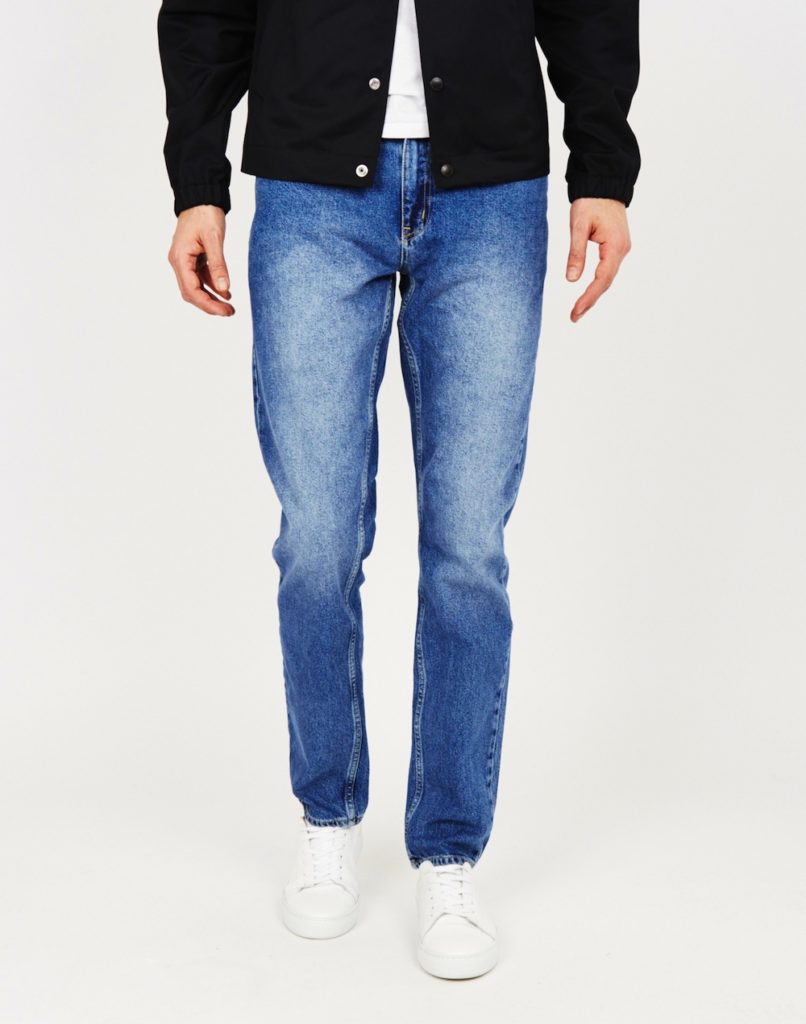 Skinny: Extremely skin hugging jeans are named "skinny jeans". Healthy and over-slim men should avoid this.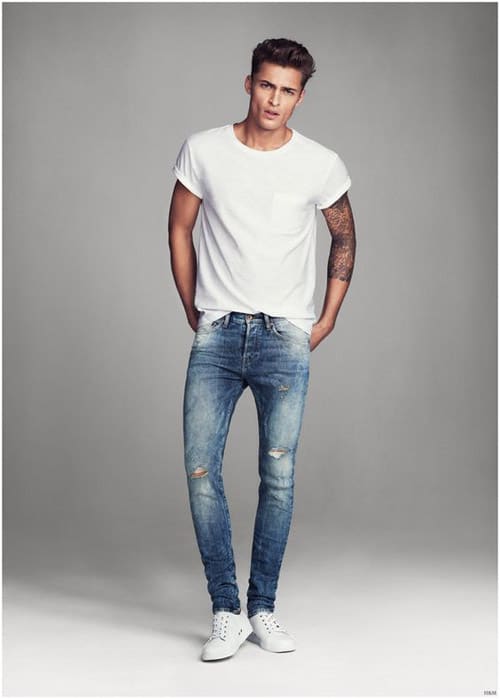 Comfort: When you want to relax or want to stroll in the streets comfortably then "comfort fit" is best for you. It is bit looser than "regular" fit.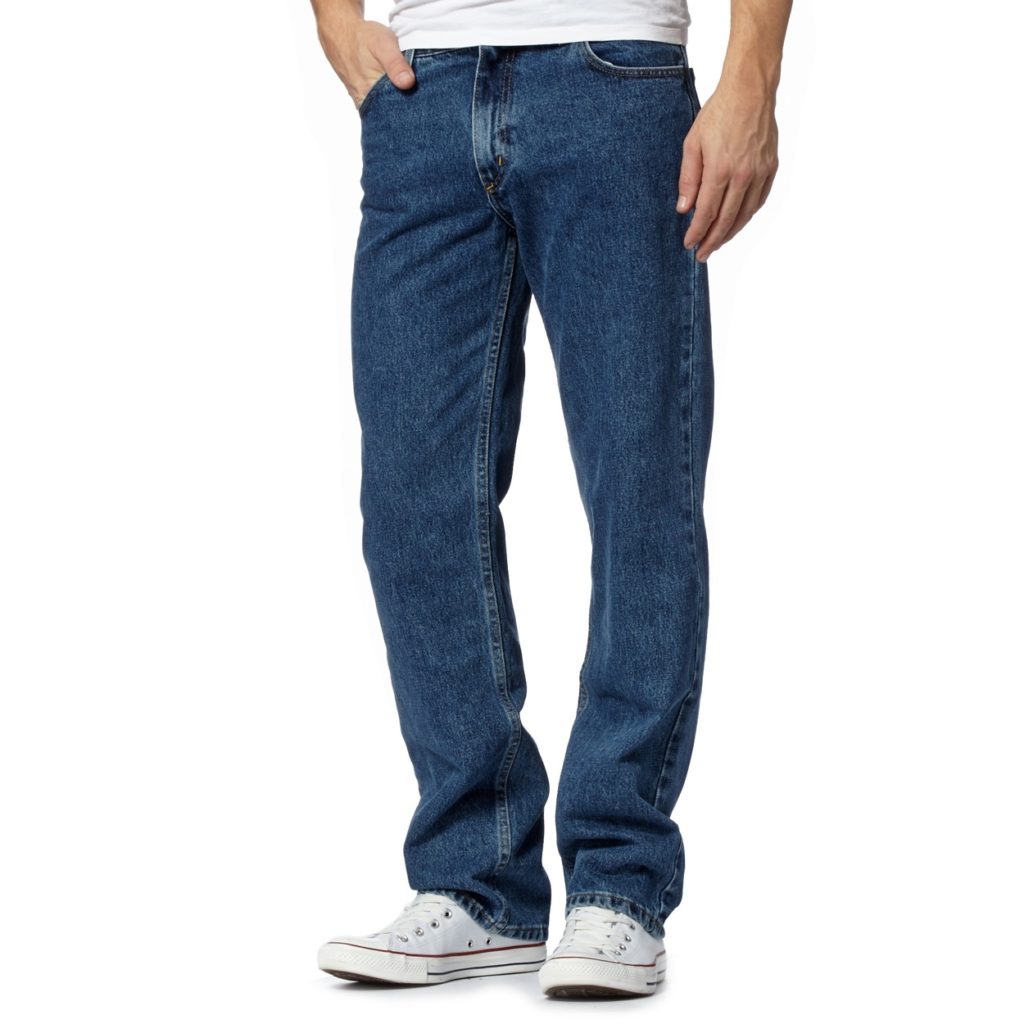 However, this list is endless with many other "sub-types" like the high waist, low waist, balloon, cargo, ankle, narrow, bootleg, bell-bottoms and etc.
Now we will move ahead with the ultimate list of Latest Trends for Men's Denim Jeans for 2017-18
The craze of Loose: Though previous months have been ruled by skinny jeans, the comfort jeans never get a "NO". And as per the current trends, loose jeans are gaining a huge popularity among the public as well as the celebrities. The reason being the comfort it provides plus the style statement it carries.
To set a "loose jeans" look, roll it once at the hem, pair it up with a plain round/collar neck Tee and a Jacket (optional)
Keep it Light: To be simple is to be sexy! The light colored jeans can't be missed out by us! These simple sky blue jeans can be worn anywhere (except at work). These light colored jeans can have hints of various washes.
Team these jeans with printed/plain/Asymmetric Tee or white colored crispy shirt. Wear casual sneakers to complete the look!
Note: never wear shiny/glittery shirts with light colored jeans.
The Rips: You already own a pair of ripped jeans, right? If no, then go and grab it soon! Talking about the ripped/distressed jeans, they have been an "evergreen" trend in the fashion industry. Remember to go with minimum rips otherwise, you'll end becoming the joke of the day 😉
For a party, hangout or evening relax at home, you can have ripped jeans on!
Note: Don't choose jeans which has rips at the "upper thigh" area. They should be below knees, at knees, and till mid thigh.
How to style ripped jeans?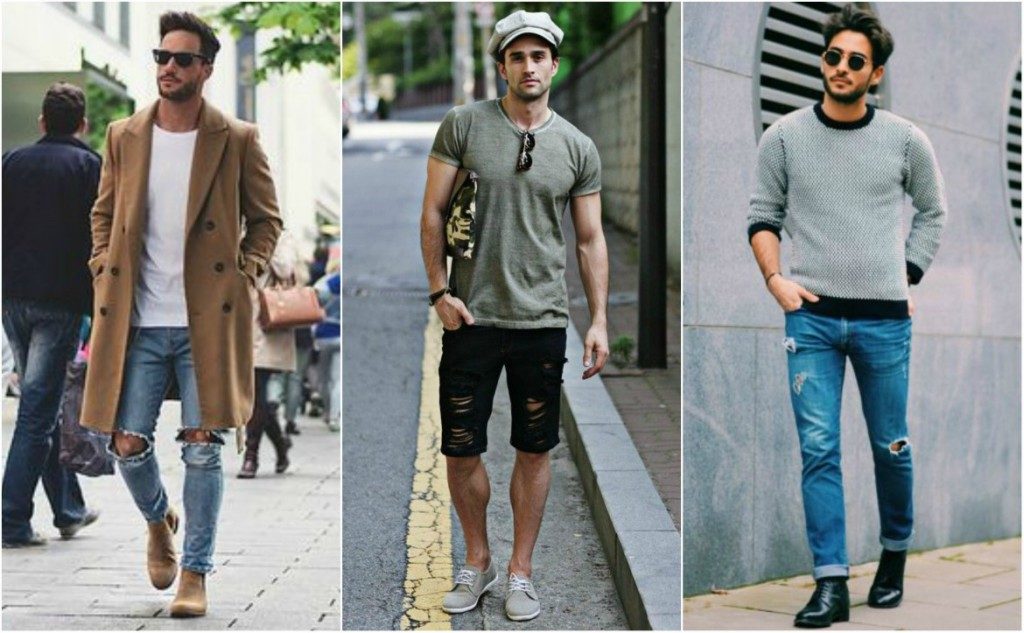 Patch it Up: Umm, everyone of us remembers the way our moms used to stitch those torn shirts by sewing a piece of another cloth on it. So, this is called patchwork. Many designers are inspired by this old technique of sewing. Hence, they came up with these patched jeans on which you would find different colors of patches (mostly black and checkered). These jeans are mostly available in "regular" fit but you can get a slim fit one too. Pair up a simple tee and a knee length shrug with patched jeans to rock the look 🙂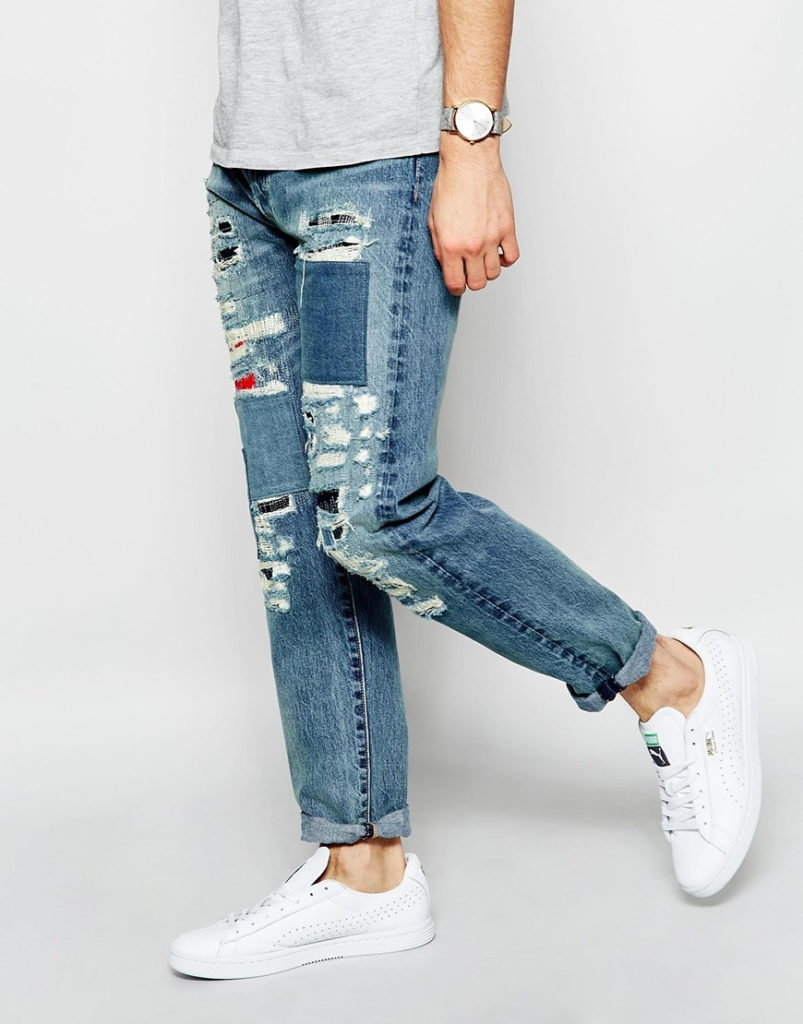 Plain Style: Confused, as to which jeans to pick today? Go for a plain pair. Nothing is safer than wearing a plain pair of jeans either to your work or to a casual hangout. When you don't feel to carry a bold or funky look, put on a classic pair of plain dark blue/black jeans, round neck tee or shirt, and brown casual loafers.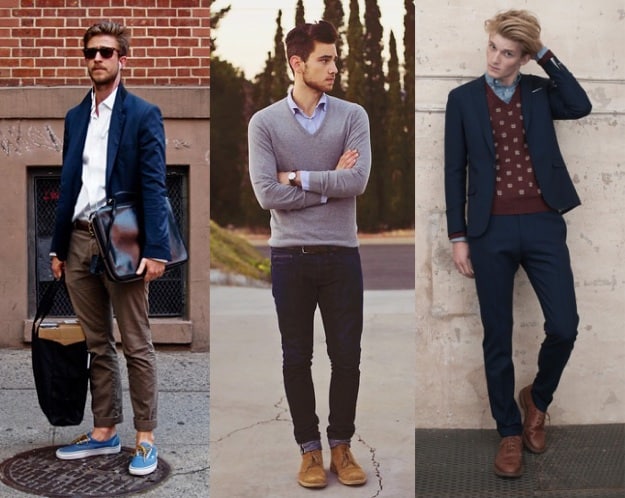 Extra Decoration: By "Extra Decoration" I am refereeing to the "embroidery and tiny details" on the jeans. This vintage fashion has come again to find a place in our wardrobes. Many people consider this trend to be "feminine", but no! It is equally stylish for her and him. Further, you can even get these customized as per your creative style. Team up a black/white tee with embroidered jeans and embroidered denim jacket (optional).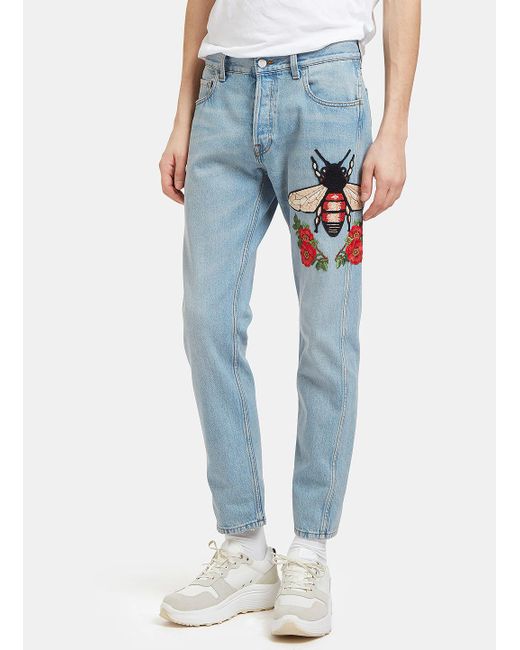 Few tips to remember while wearing jeans
Never wear total black jeans with a black/cream colored shirt.
Do roll up your jeans if you plan to wear "low-top" sneakers with them.
Blue denim shirt looks gorgeous with plain black slim fit/skinny jeans.
You can wear skinny jeans but don't make it frequent because this trend is almost gone from the list!
Don't wear comfort jeans with boots!
Jeans are actually not meant to be washed after every wear. Wash them after 10-15 wears, this would increase its durability.
Right shoes with denim will take this game to the next level. Try sneakers with Denim Jeans if you have not tried yet and thank me later 😉
So, this was list of "Latest Trends for Men's Denim Jeans for 2017-18"
Hope you would like it!
Stay tuned for lovely upcoming posts!
Love Y'all!!
HUGS!!