Hello, divas! How are you all doing? Monsoon is here! I hope you are enjoying the rain with your favorite hot beverages and food. I love monsoon but the only thing I hate is, the humidity and dirty roads. Lots of sweating happens through out the day and after I come back home from collage and attending classes in the evening, I feel dirty and straight away find an urge to take a good bath. That's me everyday in the evening 😛 For these problems, I find Shower Gels a kind of solution. The shower gel is nothing but a gel (form of) soap which is much softer and gentle on the skin.  Many a time's people mistake shower gel to be for short life. But the truth is, shower gel lasts longer than ordinary bar soap because it is used in quite lesser quantity. Shower gels are good for those who have delicate and sensitive skin which can't handle the harshness of a bar soap. Okay, so today I am going to talk about "Nykaa Shower Gel-French Lavender" which I got from Hetal ma'am a few days back 🙂
Currently, there is 20% Discount Available on This Nykaa Shower Gel
[su_button url="https://clnk.in/gTfg" target="blank" size="8″ center="yes" rel="nofollow" title="Nykaa Shower Gel"]Check Price Online[/su_button]
About the Brand
Initially, Nykaa was an E-commerce website only which sold products of various well-known brands. I have purchased from this portal many times in past and I do that regularly in current time as well. Recently (in 2016) it started its own (private labeled) products in bath and body care category. Now when I am drafting this post, Nykaa has their own makeup products as well.
Recently I got my hands on Nykaa French Lavender Shower Gel. Reviewing the same today. If you love trying new shower gels like I do, Read the complete review below.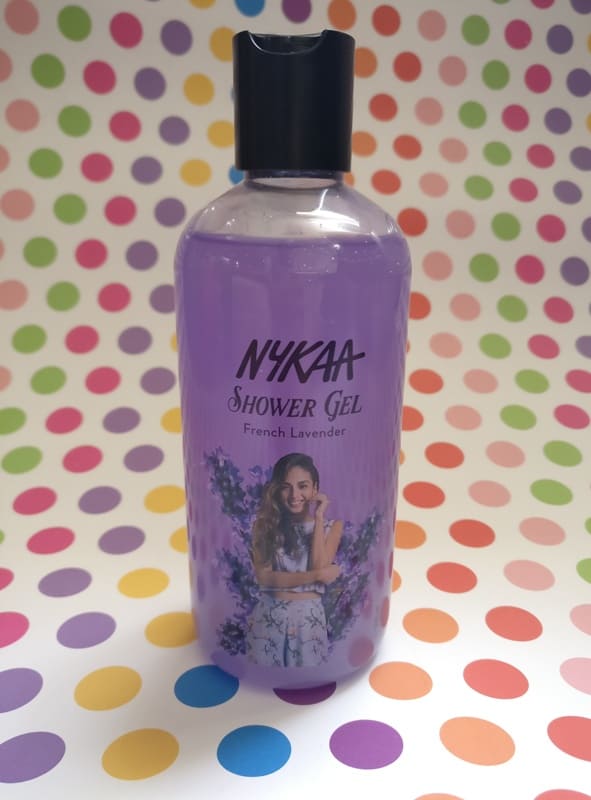 About the Product..
Nykaa Shower Gel
Nykaa Shower Gel-French Lavender comes in a medium-large size transparent plastic bottle. It has "press-n-pop" cap to release the gel from the bottle. The brand name and fragrance (type) is mentioned at the front part of the bottle and other details of application, ingredients, and directions are specified at back side of it. Its weight is 300ml and price is 450 rs. The texture of the gel is quite smooth and it is little runny. It looks light purple in color when in the bottle but seems totally transparent when used. Though I feel, Packaging could have been still better!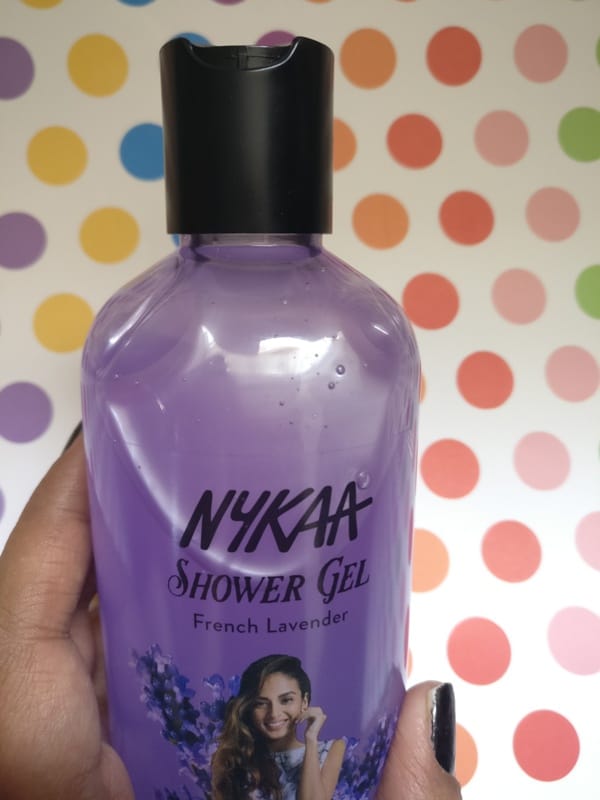 Nykaa Shower Gel French Lavender Review
I have been using "Nykaa Shower Gel-French Lavender" for the past a week and more and I am ready to share the results with you. As I said, while using the gel, it appears transparent with the fragrance of lavender. You just need a "coin" size or bit more quantity of gel. Initially, I used the gel with help of loofah (bath puff) but then I realized that it can be used without loofah too. It indeed washes the dirt and sweat away. It gives you the feeling of freshness. Gel produces a good amount of foam. While rubbing, it feels gentle. The fragrance of lavender is experienced while rubbing it over the body but afterward it vanishes away. As soon as you rinse off the foam and gel, you get a soft, cleansed and fresh skin. After a long tiring day, this shower gel would give you an instant freshness. The limitations I faced with this product are, the fragrance of shower gel is lost as soon as you rinse it off and size of the bottle is bit large which makes it "less travel-friendly". Also, the fragrance is good but it is an artificial fragrance, not exactly how Lavender Fragrance smells.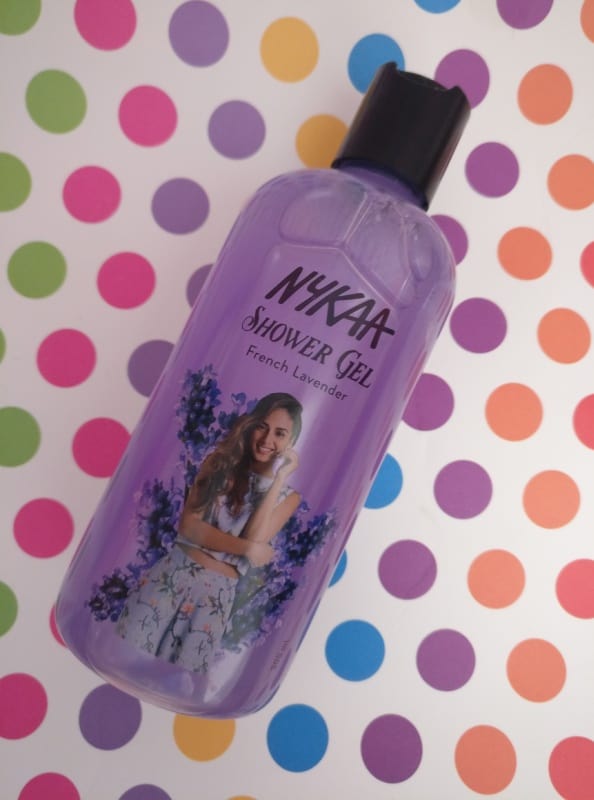 To summarize this…
Thumbs up 🙂
Soft and mild/gentle on skin
Removes dirt, oil, and sweat
Fresh fragrance of lavender
Easy to use
Very small quantity (coin size) needed for 1-time
Easily available
Long shelf life(36 months)
Thumbs Down 🙁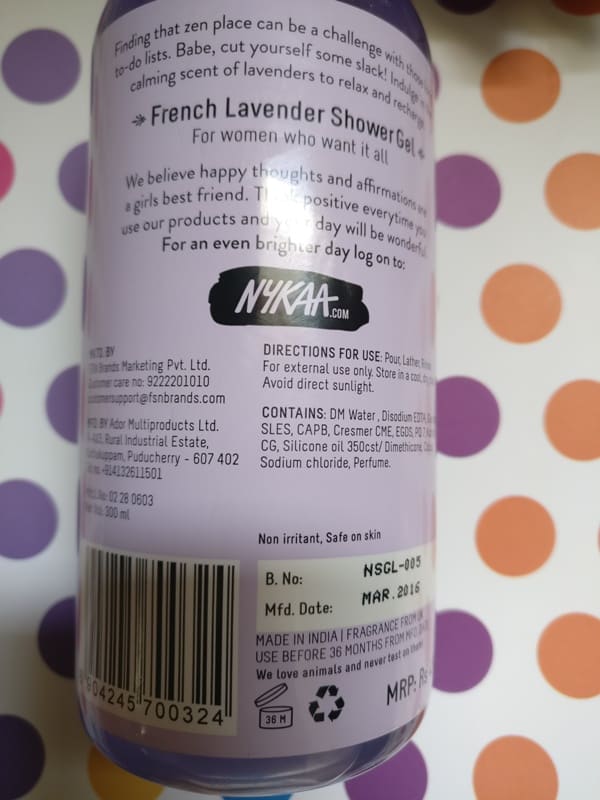 I felt that product couldn't provide the satisfaction equal to the money spent on it i.e. 450rs for 1 unit(300ml)
"less travel-friendly"
The fragrance doesn't last long
Artificial fragrance
It contains SLES, which is considered a slightly toxic ingredient but commonly used in Shampoos and Shower Gels. If you have developed any skin allergy in past or suffering from Skin Irritation frequently, we suggest not to go with Products loaded with SELS. Otherwise for normal conditions it is fine to use
[su_button url="https://clnk.in/gTfg" target="blank" size="8″ center="yes" rel="nofollow" title="Nykaa Shower Gel"]Check Price Online[/su_button]
If You want to know more about SLS and SLES, Here is a good reference to understand properties and use of these two ingredients in various cosmetic products:
https://realizebeauty.wordpress.com/2009/02/24/sodium-laureth-sulphate-whats-the-fuss-about/
So, if you ask me, I would give it 3 out of 5.
This was my opinion for "Nykaa Shower Gel-French Lavender", do share your views in the comment section below! And stay tuned for upcoming exciting posts!
Love you all!!
Keep smiling!
Hugs!!!!!!!!!!
I have reviewed and talked about some other Shower Gels and Body Washes Here!
https://myfashionvilla.com/2014/04/08/natures-co-peach-cream-body-wash-review/
https://myfashionvilla.com/2014/06/25/kronokare-provencal-lavender-travel-kit-review/
https://myfashionvilla.com/2013/12/31/december-empties-skincare-body-care-fragrance-empties-mine/