♣ Nail art contest: Here is the golden chance for all the creative nail artist. Your passion for nail art can make you nail artist of the month in our fashion site.
♣ Detail of contest: We are running this contest in our official fan page of facebook : http://on.fb.me/iS95yX . Contestants are most welcome with their innovative nail art designs.
♣ Steps of participation:
1) Like our facebook fan page: http://on.fb.me/iS95yX
2) Post your best design
3) Ask the fans and your friends to vote/comment on your design.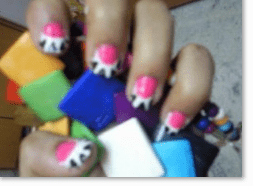 ♣ Duration: This contest will start from 9th July, so contestants are requested to submit their designs before the last date.
♣ How will we decide winners? : The design which get maximum comments in our facebook fan page will be announced as winner.
♣ Benefit to winners: We will be selecting 3 Winners and these winners will get many benefits, they are as follows:
1) Winners will be highlighted in our site as nail artist of the months
2) We will promote their art by posting their work profile and images.
3) We will also highlight your video so as to explore your art and youtube channel in international platform.
Good Luck!! To know the results of the Contest, Follow us on facebook and twitter. For any further query, please leave a comment or mail us at [email protected]