Hi I am Richa Khedkar a fashion freak girl. Recently I got to know about the fashion site MY FASHION VILLA.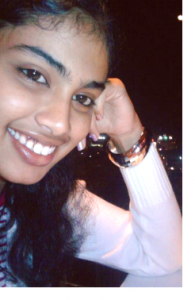 I really liked it and so i am very eager to give all the readers some tips regarding beautiful and glowing skin, because I think all trendy outfits look cool when your skin is shiny and glowing. Before that the tips I would like to introduce myself. Two years back I was the person who was least concern about my weight, skin and fashion. Slowly n gradually I started noticing girls of my age and I felt that even I should take care for skin and beauty for smart look. So decided to discuss this with my mom. Her skincare tips helped me to show off my beautiful new face and slim body. By walking on her paths I was truly amazed as now am just like other pretty girls. Her very first lesson for glowing skin and healthy body was yoga. I reduced around 10kgs in 6 months. Along with yoga she taught me some homely beauty tips which costs nothing but you get the fantastic result. I would love to share all those tips with the reader of My Fashion Villa.
We all know that today's biggest problem is pollution and because of it our skin faces a constant barrage of chemicals every day. Pollution affects skin badly, all harsh chemical formulated products results to the imbalanced skin. Some simple Ayurvedic home remedies can help you to get a clear , healthy and glowing skin with fair complexion. Using these natural ways, one can stay beautiful for a long period without suffering from the side effects of the chemicals.
Few Skin Friendly Foods

• Avocado
• Green Tea
• Tomatoes
• Salmon Fish
• Eggs
• Pomegranate
• Walnuts
• Legume Beans
• Blueberries
• Flax seeds
• Low fat yogurt
There are few important Habits which should be taken care of, for getting Glowing Skin.
Below mentioned are few utmost important habits that one would need to inculcate in the daily routine life to get a smooth, flawless glowing skin.
• Cleanse the skin at least twice a day with a mild cleanser.
• Complete body exercise shows up an attractive healthy glow on face
• Have a good night's sleep for at least eight hours at night.
• Expose skin to sunlight for at least 15 mins a day that too without any UV protection.
• Drink loads to water, i.e. 10-12 glasses a day.
Hope all this helps you too.