The word 'fashion' reflects the images of glamour and glitz. Fashion designing is one of the most exciting career options in today's world. Specially in our country where textile and garment industry plays vital role in economy , fashion designing can be interesting career option for youth today.Fashion Design can be divided into three main segments : Garment designing, Leather designing, Accessory & Jewelry designing. The following are fashion courses which are mostly opted by students globally:
Fashion Designing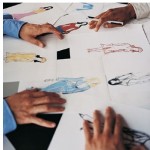 ► Accessory & Jewelry Designing
► Fashion Stylist
► Textile design and Technology
► Fashion Merchandising
► Footwear Design & Technology
► Fashion Journalism
► Fashion Marketing and Management
The fashion institutes enhance the ability to transform designing ideas into garments and accessories and it also provides knowledge of the fashion industry and current trends in market. Students are introduced to the basic skills of construction in pattern drafting ,sewing, tailoring, and draping in this way they provide solid foundation in the fundamentals of apparel designing. While in the merchandising segment use of colors, textiles, and design to create visual merchandising are taught. In this business courses are added so that students can taught about how to develop, analyze and implement the effective sales strategies. All these knowledge help students to enter in the fashion industry successfully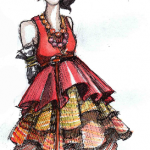 However we all know that India is a land of many colors, so the scope of fashion designing jobs in India is unlimited. Dressing well and fashionably has become need of every individual so demand of fashion garments is increasing day by day. For providing end-to-end solutions to their clients garment companies are hiring people in a variety of jobs, ranging from Fashion designers, textile designers, models, retailers, buyers, fashion writers and merchandisers . So after the completion of fashion courses one can work as junior designer, management trainee, patter grader, visual merchandiser or assistant merchandise buyer. Now a days there are many fashion designing jobs available in global market. The starting salary may vary from 10,000 to 50,000 while it completely depends upon the educational qualification,experience, creativity, knowledge & skill of an individual.
Apart from fashion jobs one can also opt to fashion business in which one can open boutique , introduce own fashion label or fashion brand. By this one can earn money that too without searching any job, as in this competitive market jobs are very insecure. New designers can get perfect platform and can keep themselves updated with latest fashion by participating in fashion shows and fashion weeks. The new and emerging designers can showcase their creativity and talent in front of an audience and can attract buyers too.
In spite of all above, one cannot forget that these courses are having very high social status in society. The only thing is one has to devote and sacrifice time & energy for getting name & fame in this fashion industry . The fashion industry satisfies both the creative fancies and the materialistic needs of the people and it also promises glamour, fame, success and high pay packages to the talented and creative people.