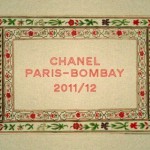 Chanel is the exclusive fashion brand worldwide having millions of brand lovers. It is founded by the legend fashion designer late Coco Chanel. You don't know Coco Chanel Yet? Ok.. You must know about her if you are Fashionista like us! Check her Wikipedia Profile here: Coco Chanel
Today Chanel Fashion house lead by karl Lagerfeld , Chanel Fashion Designer Head. He guides Chanel Brand Worldwide.
Recently there was Fashion Show from Chanel: Paris Bombay Pre Fall 2011/12. "Dawat" was the theme and the setup was awesome. The whole Fashion show was inspired by India and Indian Traditions. Chanel included beautiful pearls, diamonds to design accessories. They included Chiffon, brocade, Zari, Embroidery, Zardosi in their designed garments.  All of them are master pieces.
OMG! OMG! OMG! 😀
Loke at those chunky attractive lovely pieces below.. !!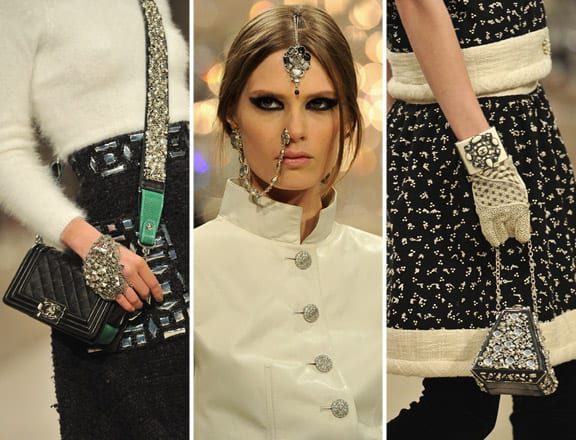 For the makeup they created "Smokey Eye Makeup" with dark khol to give Indian girl look. Chanel makeup artists used Golden Eye Shadow which represents the festival of Light Diwali. They use Golden Nail Paints to show the glamor of Traditional Indian Wear. The main attraction of Chanel Bombay Paris were big attractive "Mang Tikas", "Nath" (Large Nose Rings), Traditional cluches and Exclusive neck pieces. Now I am a huge fan of Chanel Too. 🙂 and I know, after watching below fashion show Video, you will be aagree with me..
If you have missed that Fashion show, watch it with us here on MyfashionVilla.com Youtube Channel. Check Below…
Click Here For The Video of  Chanel Bombay Paris Fashion Week Video
Freda Pinto and Sonam Kapoor the hot fashion cheek girls from bollywood attended Chanel Paris Bombay Pre Fall 2011/12 Fashion Show. They both are great fans of Chanel fashion brand like us 😉
Hope you like this post 😉
Keep in touch through Facebook and Say us Hi… on Facebook.com/myfashionvilla
and Ya! Get ready for Myfashionvilla.com First Giveaway coming soon.. xoxo