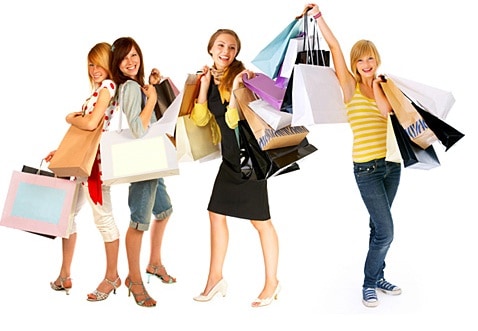 Shopping is like treasure hunt for girls. Girls just love to indulge in shopping. In fact girls are big shopping freak .Up to date clothes, fabrics , dresses and fashion accessories are the apple of girls eye. Girls always keep their eye on new collection and all trendy things in market. Some girls go to many shops for buying all the beautiful and creative items though all this suck their bank account dry  but still they love shopping. Shopping is the only thing on earth which can pep up female's mood. It's certainly an energy booster during weekends and the energy keeps up for the following week too after a good doze of shopping.
Shopping Tips and Tricks:
To make your shopping more lucrative and mouth watering just go through fashion magazines like Femina, Vougue, Elle and etc, you will come to know about the current trend in market.
Always read the experts views in magazines and newspapers as their views add the perfect pinch of salt
A shopping list should be made, cash/credit cards should be there in purse and carry shoulder bag to keep hands free for shopping.
Go to different places and compare their prices before buying anything.
Big stores and malls have fixed price but always do bargaining while buying from small shops, stalls and street vendors . Always do bargaining with a smile and you will be  surely rewarded.
If you are buying clothes, buy whatever you like and what is comfortable, don't copy anyone blindly.
Before buying clothes always try them properly. Walk, sit, bend and check that are they flexible?  Are the seams pulling properly? Are the zippers, show buttons are functioning properly?
Care tags of outfits should always be checked so that you can understand the laundry concerns.
Don't always go for big brands buy whatever catches your eyes and pocket.
Hope these shopping tips and tricks help you out girls….Happy shopping from MyFahsionVilla.