Hoof! It is getting pretty chilled everywhere in India now. These cruel winds are just not letting us come out of our blankets! And not being a morning person feels pretty good now! 😉 However, almost everyone has to wake up early and rush to their work no matter how cold it is outside. In this rush, sometimes we forget to take care of our skin which is also getting affected by the change in season. The molecules in air suck all the moisture away from our skin leaving it all dry and rough. This is why we need some best moisturizers for winter which work well for our skin for a longer duration.
While talking to people we have found that many people keep searching for best moisturizer in Winter, Good moisturizer for women in Winter, moisturizers for men and same for various skin types. So, making it easier for all Men and Women out there, we have prepared a short list of "Best Moisturizers for Men and Women in Winters". This list contains Face moisturizers for winter and Body Lotions for Winter as well. Check the list as per your requirement.
Best moisturizers for winter in India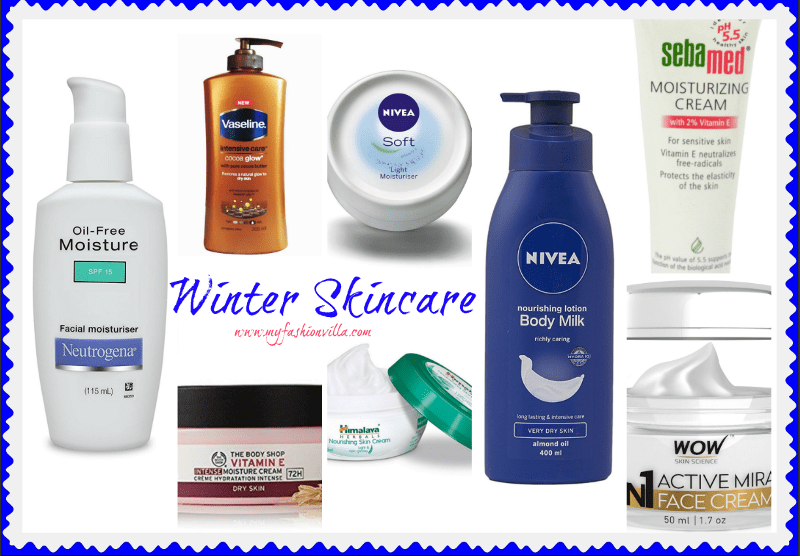 Palmer's Cocoa Butter Formula
This one is current favourite of mine. It is loaded with Cocoa Butter and comes with a Pump Dispenser Packing. Now the best part is, the consistency of Cream is not so thin and runny. It is really thick, creamy unlike other body lotions. It moisturises skin for long time, ingredients are amazing. It is very effective. Highly Recommended for Winter Season especially if you have dry skin. I am totally loving it these days. P.S. Palmer's products are amazing. One of my favourite body care brand it is.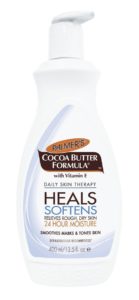 Vaseline Intensive Care Cocoa Glow
Vaseline is really popular for its skin care products particularly among "best moisturizers". The Vaseline Intensive Care lotion is available in 3 types i.e., Aloe Fresh, Cocoa Glow and regular. It has good penetrating and staying power. I have tried the Cocoa Glow one. Which you can check here..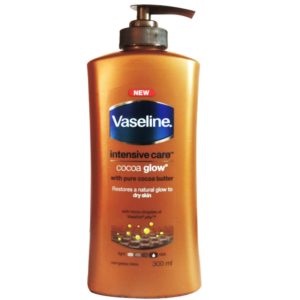 Nivea Soft Cream
For easy and handy moisturizing skin regime, Nivea Soft Cream is among the best moisturizers for winter season. It is really soft and has fluffy-creamy texture. It leaves the skin moisturized and supple. It provides the moisture for almost 12-18 Hrs. This is available in small travel friendly packaging too 🙂

Himalaya Herbals Nourishing Skin Cream
With an amazing beauty and skin care range, Himalaya also assures us the natural touch. It has anti-bacterial and anti-fungal properties. It gets absorbed quickly. Plus, it is not at all greasy. It takes care of all the skin types perfectly.

WOW 10 in 1 Active Miracle Day Cream
WOW 10 in 1 Active Miracle Day Cream comes with SPF 15 PA++. It is Infused Shea & Cocoa Butter. Enriched with Hydrolysed Collagen, Vitamin E, C & B5. This facial moisturizer from WOW is totally free of Harmful Sulphates, Parabens, Mineral Oils, Peg, Propylene Glycol, Polysorbate And Synthetic Fragrances. Compare to other brands and companies, It is a new Company, However it has got amazing reviews overall for the quality products they deliver.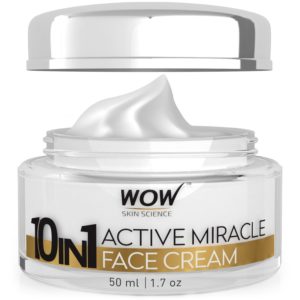 L'Oréal Paris Hydrafresh Anti-Oxidant Aqua Balm Moisturizing Cream
For those who require freshness along with moisture, this is the best face Moisturizing Cream for them. It has plenty of hydration and moisture. This cream hydrates and protects the dry skin smoothly. It has deep nourishing power with a touch of freshness. L'Oréal Paris Hydrafresh Anti-Oxidant Aqua Balm Moisturizing Cream is one of the Best moisturizer for men as well.

Lotus Herbals White Glow Skin Whitening And Brightening Hand and Body Lotion SPF-25
When it comes to beauty creams, one can't miss out Lotus Herbals. Lotus Herbals White Glow Skin Whitening And Brightening Hand and Body Lotion gives an effective care for the winters. As, few people complain about the darker skin tone in winters, this body lotion offers SPF 25 to fight the sunrays. With all the organic ingredients it makes your skin soft and supple. It works as one of the best body moisturizers for winters.

VLCC Honey Moisturizer
Many of might have used some skin care product from VLCC. It has an excellent quality and performance. I have previously used its Sunscreen which was quiet impressive! The key factor of VLCC is, it keeps the lotions light weight. Honey is the major ingredient which helps our skin being soft and nourished in winters. It is a water based moisturizer and contains almond, jojoba oil.

Neutrogena Oil Free Moisturizer
I have oily skin type, and it is really tough to find the correct moisturizer for winters. People like me are always in searching for Moisturizer for oily skin. Yes, because not every moisturizer fits for oily skin. Neutrogena Deep Clean Oil-Free Moisture is a facial moisturizer comes with SPF15. It moisturizes your skin, without making it greasy or oily. It gives perfect softness maintaining the right texture.

Jolen Honey & Almond Lotion
Though this is a winter cream, it does a great job as a body moisturizer. It is enriched with vitamin A, D and E. Quick penetrating and non-greasy formula. Helps in hydrating the skin and makes it appear soft and glowing! The key ingredients are – jojoba oil, Wheatgerm oil and Shea butter. Available in Twin Pack as well on Amazon.

Clean & Clear Oil Free Moisturizer
Here, mentioning the effective Moisturizers for acne prone skin is also very important. Using a random moisturizer for acne prone skin can result in skin issues. Well, here we have Clean & Clear Oil Free moisturizer which doesn't clog the pores. It controls the amount of oil produced while keeping the skin moisturised. Also, it has salicylic acid which helps preventing further acnes/pimples. Good face moisturizer for oily acne prone skin in Winter.

Nivea Nourishing Lotion Body Milk Richly Caring for Very Dry Skin
Chilled winters? Nivea got our backs!. This Body lotion is suitable for all the skin types. It gives your perfect moisture and protection from the harsh climate. Nivea is really reliable and effective brand when it comes to proper skin care and this version is perfect for those who have got really dry skin in Winter, It goes gentle on your skin.

Seba Med Moisturising Cream
This is the moisturizer for sensitive and acne prone skin. As I mentioned above, one should use the skin products as per their sin types, this one is specially for the sensitive-acne prone skin. Sensitive skin reacts to the products really quick, so before using any skin care product, we always suggest to ask your doctor about it. Seba Med Moisturising Cream is free from oils and emulsifiers. It contains pathenol which reduces acne scars and barbadensis which soothes the irritated skin.

The Body Shop Vitamin E Moisture Cream
There has been an attractive range of shower gels and many more body care products. All the "The Body Shop" products are made using the natural ingredients. This moisturizing cream also, is very natural and effective for dry and rough skin. It has thick consistency and is enriched with Vitamin E. For extremely dry skin, you can try the Body Shop Vitamin E Intense Moisture Cream. It is really good natural moisturizer for dry skin. The product is available at TBS Stores and Online too. Check the prices and shop accordingly.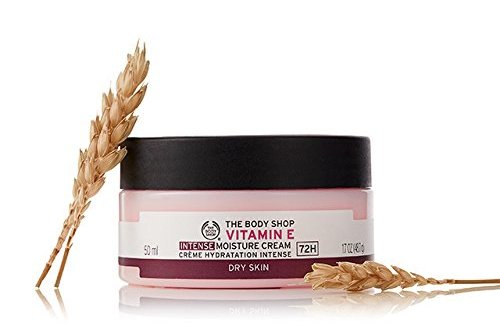 Some Natural Moisturizers For Winter 
As I have made this list for winter moisturization care, these all products can be used as face moisturizer, body moisturizer, winter cream. Besides this, there are many natural ingredients which can be used as "natural moisturizers":
Honey- it heals up the cracks and tightens up the skin with intense moisture.
Coconut Oil- provides the deep nourishment.
Castor Oil- it provides good warmth to the skin
Shea Butter- softens and heals the skin.
So, this was our "Best moisturizers for Men and Women in Winters Available in India" list. The list contains face moisturizers as well as body moisturizers. I hope you people found it helpful, and yeah don't forget to tell us your favorite moisturizer in the comments below!
We'll come back with new rocking post soon!
Till then, stay moisturized ;P
HUGSSSS!!!!