Hi Girls.. Happy New Year 🙂 I can't believe the Diwali time is already over! Time really flies and I feel festivals should never end because festivals means holidays for professional work and all day Fun. This Diwali I had so much fun with family. We took a short trip to Palitana and rest of the days; we decorated our home, visited friends and relatives. With all these I did not miss trying new products. I am suppa happy that I have utilized Diwali time to try so many new products I got. And I am ready with reviews.
To start with, I am reviewing BBLUNT perfect balance shampoo and conditioner today. I am sure you all are aware of this popular brand already. Renowned Hair professionals trust BBLUNT for its quality, ingredients and staying power. If it is a Fashion Week, Movies, any Celebrity event you will definitely find BBLUNT hair products there. With lots of expectation,
I started using BBLUNT shampoo 3 months back. Its the 4th month already. So how is it? Worth? Read my review.
Here is the Picture I shared 12 weeks back on Instagram on the day I started using BBLUNT Perfect Balance range. So lets get started.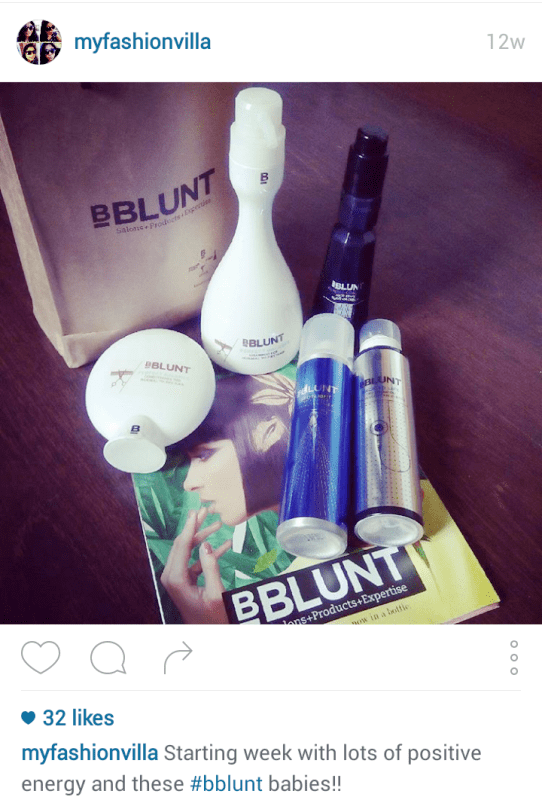 About BBLUNT
It all started in Year 1994 when the founder Adhuna Akhtar decided to stay in Mumbai only to follow her desire and taking hair stayling as a career and persue the same as profession. She founded first salon in Mumbai in year 1998 and since then, she never turned back. She has styled dozens of stars in 50+ movies. She has done hair styling in reputed fashion weeks, fashion events, magazine shoots and celebrity events. Now BBLUNT by Adhuna Akhtar is a renowned brand in hair styling industry.
So, that is breif about BBLUNT. And now moving to the review.
BBLUNT Perfect Balance Shampoo
Hair Type: For normal to dry hair
Quantity: 400ml
Price: Rs 500
Available: Here
Packaging: a very unique, cute and quite different packaging. I am in love with this shampoo bottle. When I hold this shampoo bottle in my hand from its middle part, I feel like I am holding a trophy that I won somewhere 😀 OK kidding but it is really really.. Lovely. And comes with a pump dispenser.
Texture: The texture is like a liquid cream which is not that runny. The shampoo looks pearly white.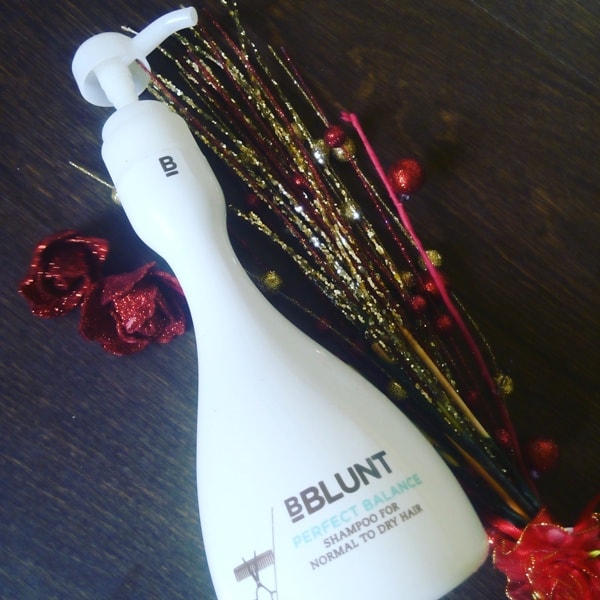 My experience: For long hair I have to take 4 pumps to cover the scalp and length throughout. Though one wash is enough even I am washing hair with oil. I don't need to go for second wash, which shows how effective it is. It is a 400ml bottle and I am using it for 3 months already. And along with me hubby too use the same shampoo and he does shampoo every day. It is 4th month and I am still left with some more shampoo. So for the price of Rs 500 I don't think so, the shampoo is pricy as little quantity goes for single wash. Totally worth for the price. The shampoo lathers well, and cleans hair properly. After the wash, I feel smooth hair and at least for 3 days I don't get that greasy effect which is the best part about this shampoo. After using more than 3 months, I feel the smooth and shinier hair. Love it very much.
BBLUNT Perfect Balance Conditioner
Hair Type: For normal to dry hair
Quantity: 200ml
Price: Rs 375
Available: Here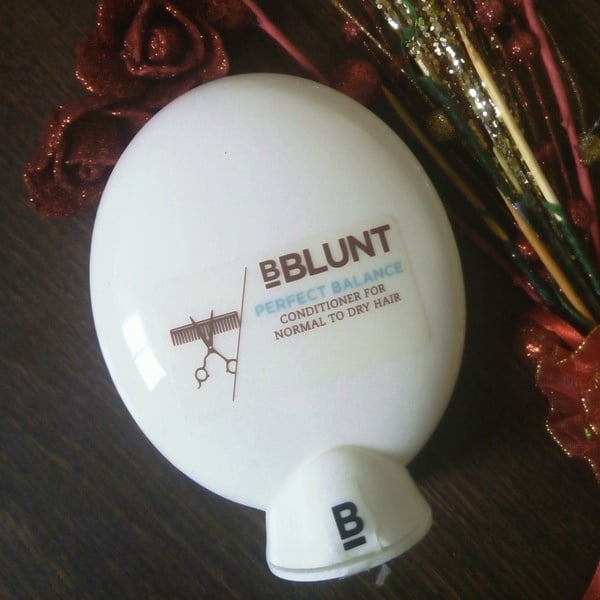 Packaging: again the cute little packaging is so attractive.  It fits in palm itself and its totally adorable. Unlike shampoo, conditioner bottle has a flip cap opening. You squeeze the bottle from the bottom part and cream like conditioner comes out.
My experience: I would not stretch it further but would like to keep it short and simple. It does its job perfectly. What else we expect? For 2-3 days I get soft, silky manageable hair.
Do I Recommend BBLUNT Perfect Balance Shampoo and Conditioner?
Yup. Totally Absolutely. You will love it.
So that was today's post. Hope you enjoyed reading.
Until next post..
Hugs and Lots of Love