Dangling hoops, a sparkling ring or a dazzling necklace, diamonds always manage to steal our hearts. Don't you agree girls? Some things we simply don't have any control of. And our love for these beautiful rocks is one of them. What to do? They just make us go weak in the knees.
Take A Note- Keep These in Mind Before Buying the Dazzling Rocks On the Internet! Check this guide for Shopping Diamond Jewellery Online.
Our busy schedules leave us with little time to shop at brick and mortar jewellery stores. But when we are in love, we are in love, right?  And we ought to make time for the loved ones. So ladies, ditch the brick and mortar outlets for the online options. If online jewellery shopping is a cause of worry for you, then we have some serious advice, to help you out. So just sit back and relax! This is here where we tell you the five tips of buying diamond jewellery online.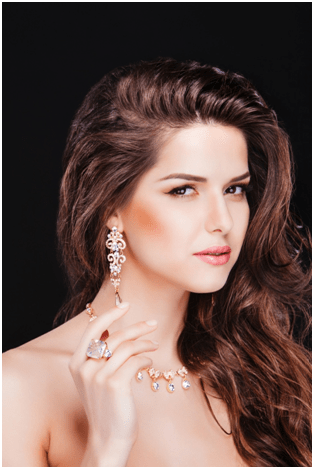 Learn about the 4Cs
Learning the 4cs are a must before you decide to own a rock. Colour, Cut, Clarity and Carat Weight are 4 Cs, jewellery connoisseurs swear by. The 4Cs of diamonds come together to determine their overall quality. As price depends on the quality, it's better to know the 4Cs and figure out whether you are making a smart purchase or not. Weighed in Carats, diamonds have wooed many with their Clarity. Inclusions and blemishes determine the clarity of these dazzlers. Diamonds are graded on the GIA clarity scale, from being flawless to being included.
Another remarkable attribute of diamonds is its Colour that ranges from colourless to light yellow or brown. The variation in colour not only influences the price of these beloved rocks but also adds to their allure. While colourless diamonds are highly valued for their rare availability, coloured diamonds are in demand for their aura.
Take care of cuts
Another attribute of diamonds is the Cut that adds to their brightness. While round diamonds are preferred since ages, many variations have emerged over time. Princess cut, emerald cut and cushion-cut diamonds are not only more appealing in terms of sheen but also appear bigger than they actually are.
Ask only for certified diamonds
Certifications are to diamonds what trustworthiness is to relationships. A diamond that is unauthentic not only financially but also cheats you emotionally. So, why not go for certified diamond jewellery? Whether you buy diamond jewellery online or offline, ask for the certification of the rock.
If not certified by any recognized authority like GIA, GSI, IGI or HRD, the rock is worth giving a miss.
Check if diamonds are BIS hallmarked
The secret to a secure purchase of diamond jewellery lies in BIS hallmark inscription. Just like your silver and gold ornaments, the diamond jewellery also needs to be hallmarked for grading standards. BIS has established the Indian Standard (IS) for grading through which every polished diamond is required to go before adorning your appearance. Further, with the BIS hallmark, the buyers can be assured of carat, cut, colour and clarity.
Know your seller
Your endeavours to understand diamonds will be in vain if you fail to know your seller. A reliable seller ensures stress-free diamond jewellery shopping with secured transactions and customer-friendly return policy. With the jewellery world making a move from the brick-and-mortar setup to the digital platforms, you now have a plethora of options to buy diamond jewellery online. From the 'try at home' service to quality certification, online platforms like CaratLane.com help buyers to shop for diamond jewellery with confidence.
An excitement in itself, the idea of buying diamond jewellery needs no special occasion. These happy moments help you discover your true worth, which is as precious as these diamonds.