Hola! How you all doing? Busy with Diwali preparations? I just can't believe!  Diwali is just around the corner! Seems like.. the year 2017 is not in the mood of walking! It is just running and rushing  😀 Anyways.. coming to the blog post for today, one of my friends recently got married and he was thinking to get inked along with her fiancée. They were thinking to have a couple tattoo during their honeymoon itself. I loved the idea of getting a Tattoo at the honeymoon destination itself to make the trip memorable for the lifetime.
How I Decided to write the post on Couple Tattoo Design Ideas?
So we were brainstorming Couple Tattoo Design Ideas and we searched for them online. We found the right one, but I thought this is something that a lot of us are looking for these days and I thought to write about it, so that it can help others too 🙂 and guess what.. while finding the best Couple Tattoo design, we almost checked everything online and now I have a great couple tattoo ideas gallery for you!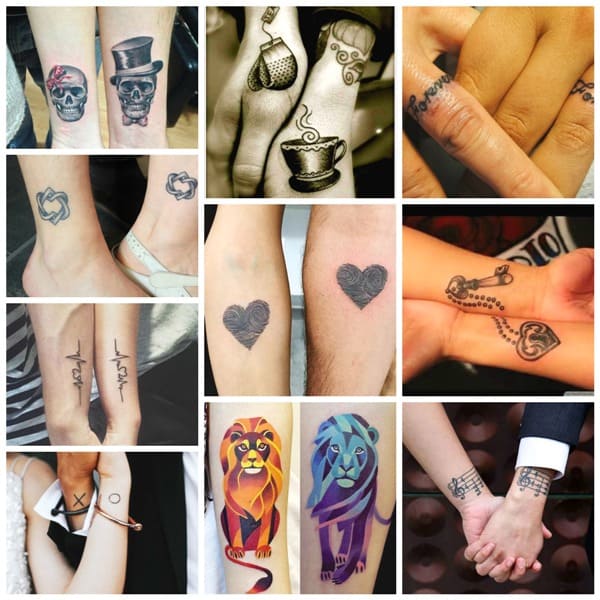 So this is going to be an interesting post with lots of innovative and creative couple tattoo design ideas. Though this is going to be a lengthy post and I promise a good read! Before we starlet'sets understand…
What are Most Popular Tattoo Types?
It is difficult to categorize tattoos to make one single list of Tattoo Types because Tattoo is an art and it has an amazing history behind it. Tattoo art is so popular these days and it is present everywhere. However, Tattoo style changes from place to place and it is a great way to tell your story! Who you are and what you believe in!
Most Popular Tattoo Types are
Traditional Tattoo Designs
Neo-traditional Tattoos
Dotted
Japanese
Black and grey (most popular)
Realistic Tattoos
New school Tattoos
Old school Tattoos
Watercolor Tattoos
Swallow Tattoo Tattoos
Tribal Tattoos
Geometric Tattoos
Script Tattoos
Besides this, there are many other types and sub-types of tattoos, which we can cover in next post may be! But in this post, we are going to talk about Couple Tattoo Design Ideas and I have tried to build a Couple Tattoo Idea Gallery for you, which you can access on Pinterest later on.
So here we have, Top 30 Latest Couple Tattoo Design Ideas which are most popular and trending in the year 2017-2018.
We all know, Love is all about being with each other, loving and creating memories together. It is great that many people decide to express their love and commitment through some permanent special marks on their bodies. Tattooing is one the best way to express love to your beloved one! So, below are the most popular and trendy Couple tattoo design ideas.
Top 30 Best Matching Couple Tattoo Ideas
Date Tattoos (numerical)
The dates (related to first meet, wedding anniversary, etc)  can be tattooed on wrists, fingers, ankles, collar bones, and upper arm. This can be in regular digits or roman numbers. For boys, Roman numeral tattoos on arm look amazing and if you are a girl and want to flaunt your waistline, get a roman numeral tattoo on your waist. It will look sexy!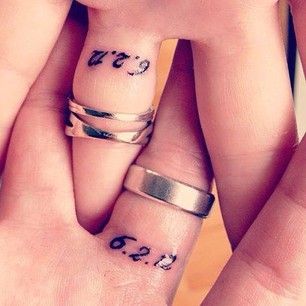 Cartoon Tattoos
This kind of tattoo is best for those who love tiny cute cartoons.  This can be black n white or colorful. If you both are fond of Cartoons and have one character in common that you love, go for a cute Cartoon Tattoo. Couples who like to  chase each other just for fun can really connect with the tattoo of "Tom & Jerry"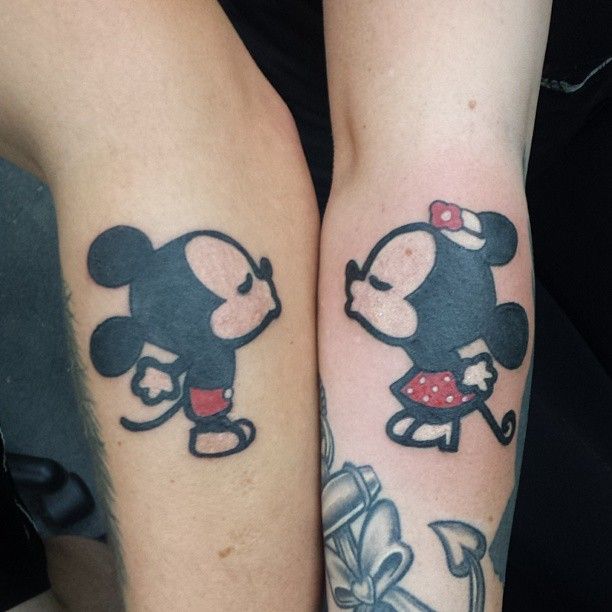 Heartbeat Tattoos for Couple
The waves of the heartbeat of the beloved are tattooed on wrists or fingers. In some cases, the line is extended and a heart shape is drawn at the end.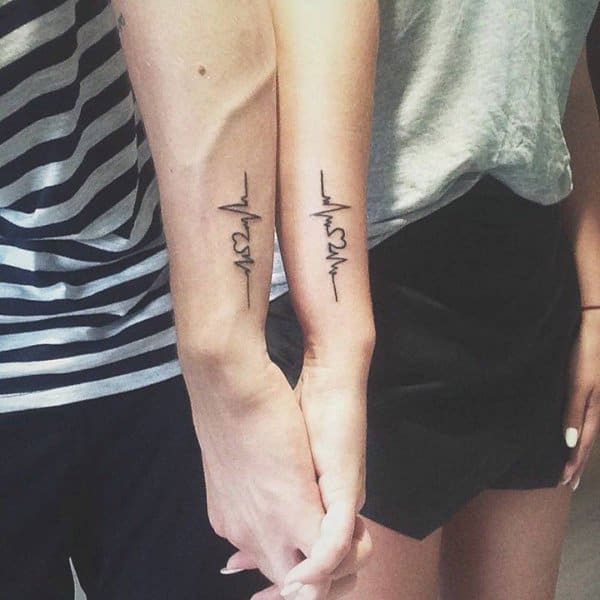 The skull
This is very strong and expressive style. The little black colored skull  (male and female) is tattooed on the wrists, finger, hands, and back of the couple.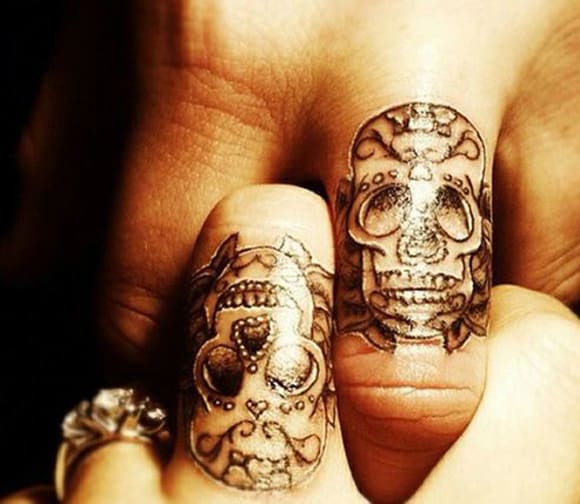 Couple Tattoos King And Queen
This is probably the most popular style these days. The tattoo can be of a crown (king and queen), sometimes It can be in form of "lion and a lioness". For those who love Minimalist Tattoos, it can be simply  "K & Q"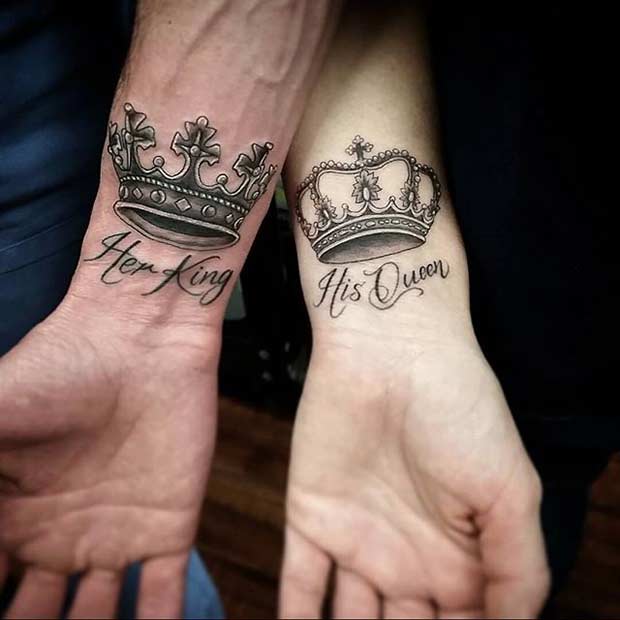 Love Birds Tattoo
Many times Love Birds Tattoo are made in the form of "free-flying birds" which symbolize two people love each other, yet understands the meaning of freedom, gives space to each other being free spirit always. These days couple tattoos sayings something significant about couples are most popular.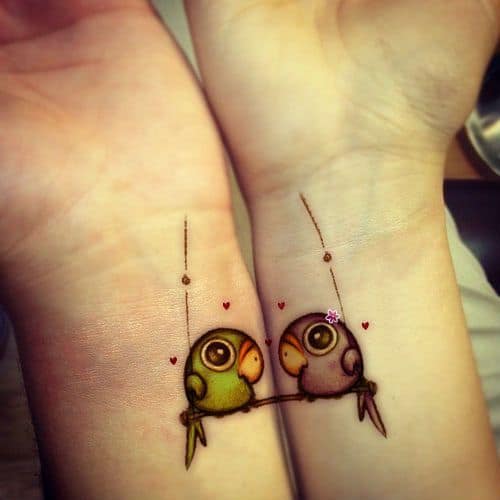 Small Lock And Key Tattoos
Couple Tattoos in small size are more popular. If you are looking for small size couple tattoo design idea, Small Lock And Key Tattoo is a  great option. "The lock" is tattooed on one partner's hand, finger or wrist and "a key" is tattooed on another partner's hand, finger or wrist. For a touch of creativity, a shape of the heart is given to the lock.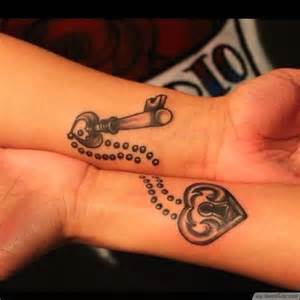 Matching Heart Tattoos For Couples In Love
This is the simplest yet noticeable tattoo. The size of the tattoo can vary but most pe of the time people prefer to go for the small tattoo design. It can be on finger, hand, wrist, neck or back. Often, to make it for trendy,  here is a good idea for matching couple tattoo. Half heart inked on male and completing half heart will be inked on the female, so that when the couple is holding hands, the tattoo (heart) seems to be complete.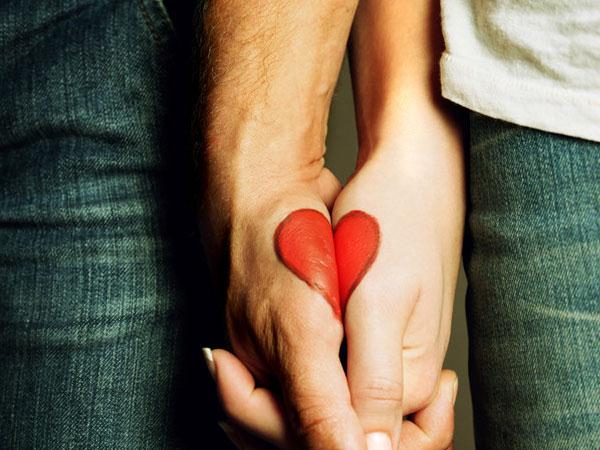 Watercolour Tattoos
This is a style of tattooing in which, many attractive colors are used.  The tattoo is drawn in such way that it looks like a watercolor painting. Watercolor tattoos are more famous in the west part of the world.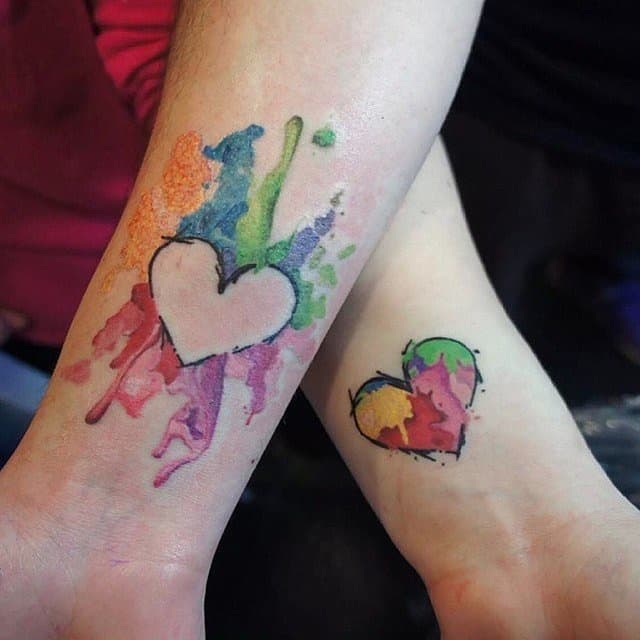 Matching Tattoo Idea with Anchors
As the name suggests, the anchors are tattooed on the wrists, hands, fingers or on the backs of the couple. To signify female partner,  the anchor is decorated with a tiny pretty red/pink/blue colored bow.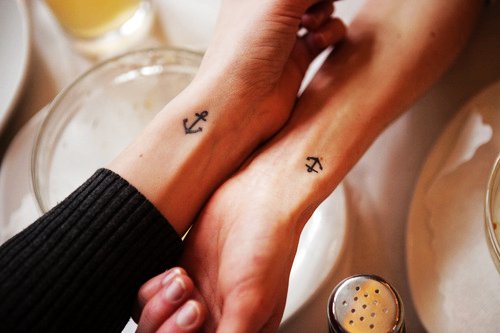 This Version of Tattoo with Anchor is quite famousm says; "Be the One to Guide me but Never Hold me Down" 🙂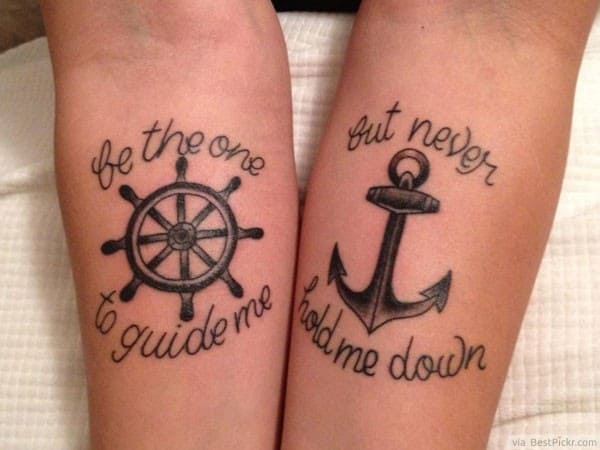 Sleeve Tattoos for Couples
Usually, Sleeve Tattoos cover the entire arm. Those couples who love getting inked and have tried tattoos before may go for Sleeve  Tattoos. However, it requires courage to go for sleeve tattoos. If not sleeve ones then some couples like to go for Big Tattoos leg or back of the body. These can be of different/incomplete designs.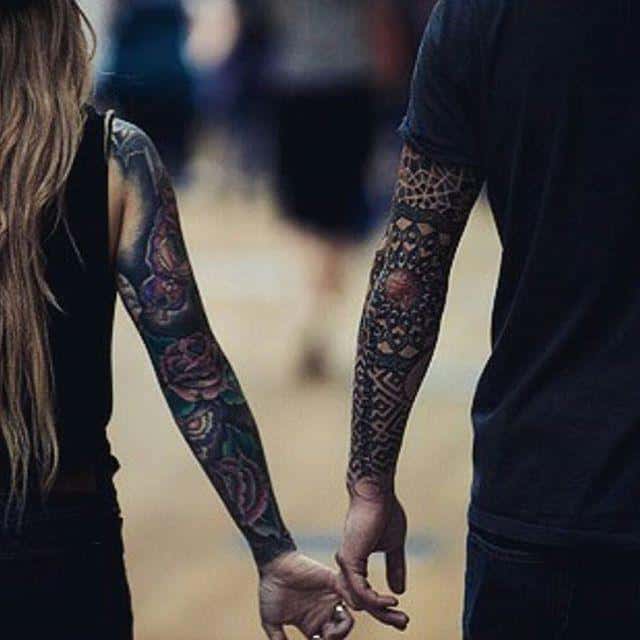 Puzzle Tattoos for Couples
Heard of the jigsaw puzzle? Yes, this is in the same way.  One piece is tattooed on the body of a partner while another piece is tattooed on other one's body. This can be in various shapes, themes.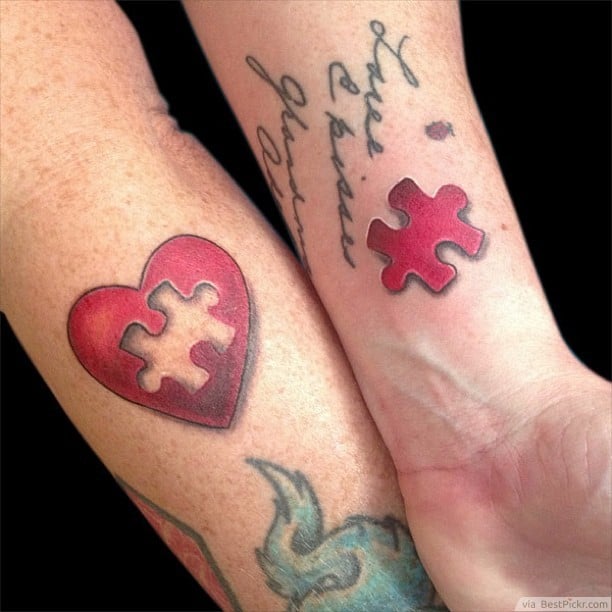 Coloured Designs
This type of tattoos look like watercolor ones but are a bit different. The color is in the complete form rather being splashed or painted. The defined outline is drawn at the boundaries of the tattoo.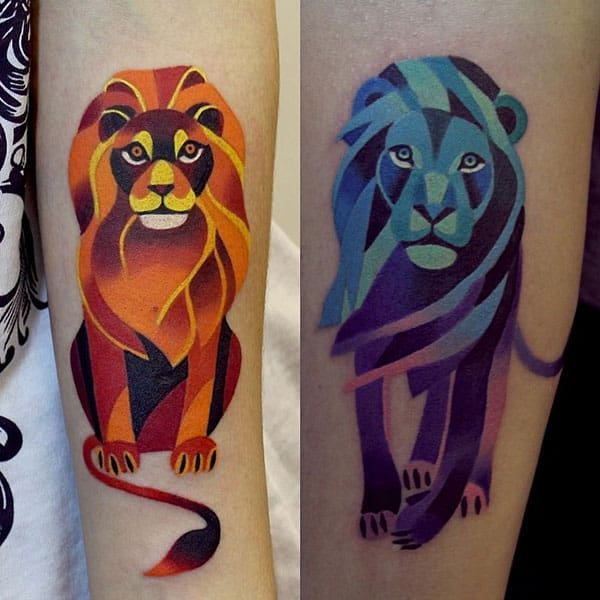 Thread Tattoo Designs
One more great tattoo design idea for those couples who want to have a  matching tattoo. A long thread is drawn on the body of one partner and its extended  (another half) part is drawn on the body of another partner so that when they both stand together or they hold hands, the thread (of love) seems complete.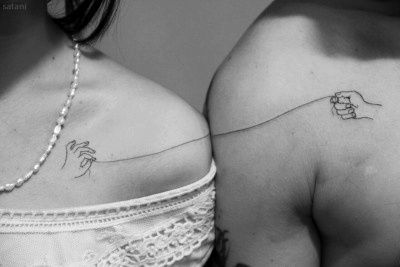 Couple Tattoos Quotes
Matching tattoos for couples with powerful quotes are in trend these days, Different love quotes are tattooed on the body parts. These can be the one-liner or bigger ones.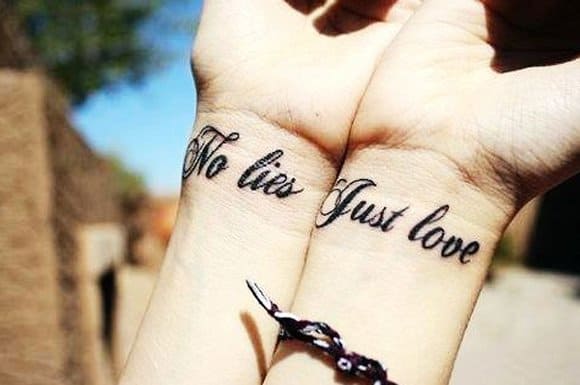 Ring Finger Tattoos For Couples
In this style, unique symbols, dates are tattooed on the ring finger. So when you're not wearing your rings, your tattoo can say everything!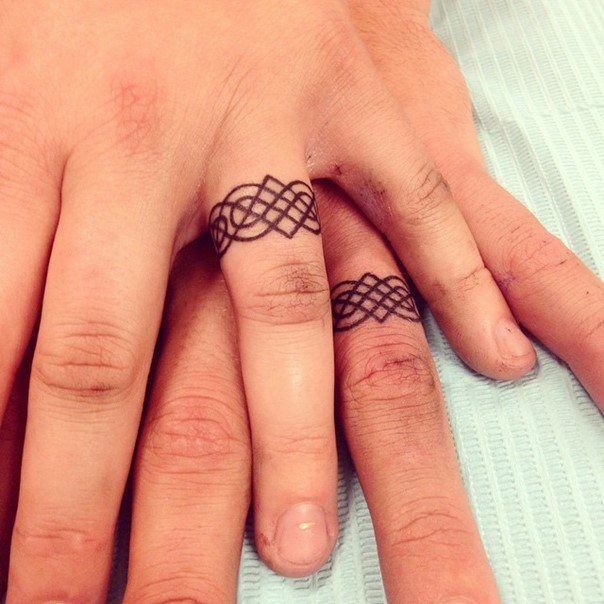 Infinity Tattoo Design for Couples
This is nothing but drawing an infinite (infinity) symbol  (i.e. horizontal 8) on the wrists, fingers or on the neck. Infinity Tattoo for Couples symbolizes infinite love. Some people also like to write " Love to infinity and beyond"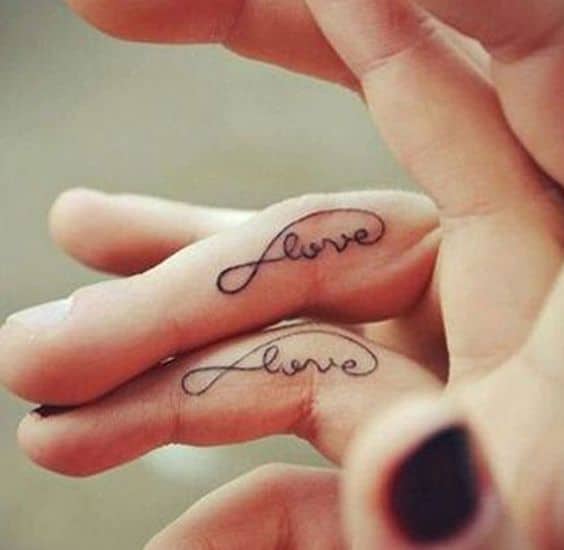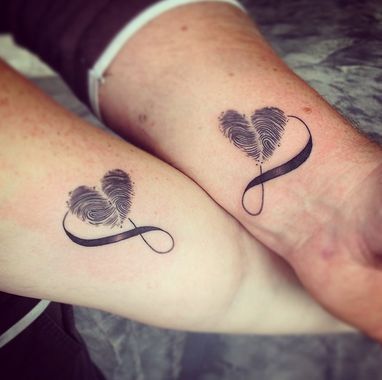 Fingerprint Heart Tattoo
Fingerprint heart tattoos are so much in the trend and look very creative.  In this style, the fingerprints of both the partners are merged and a  heart shape is given to it. This looks pretty deep and creative.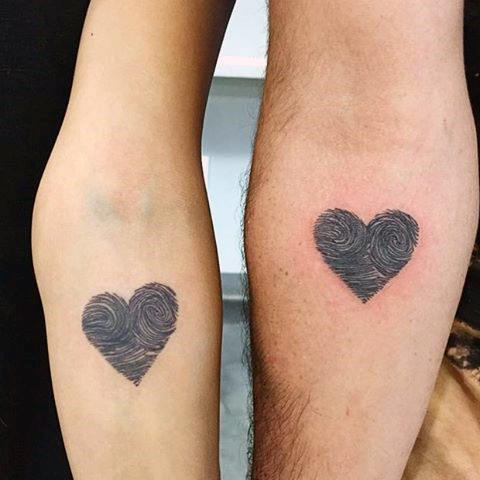 Classic Roses
Roses signify love, trust, and happiness. So, when going for floral tattoo art,  one can safely opt. for roses.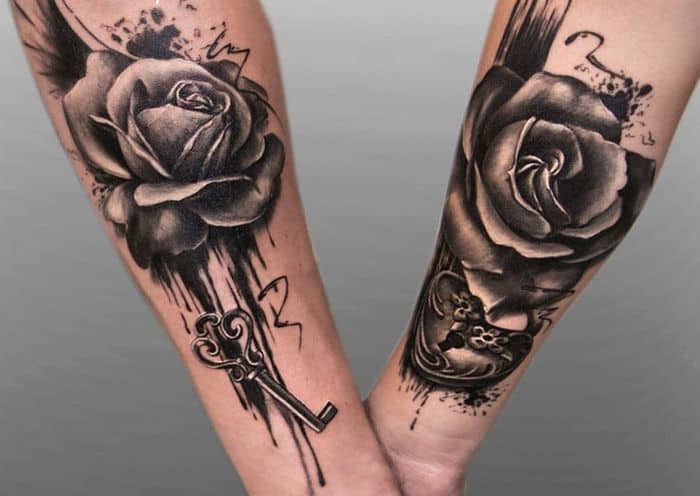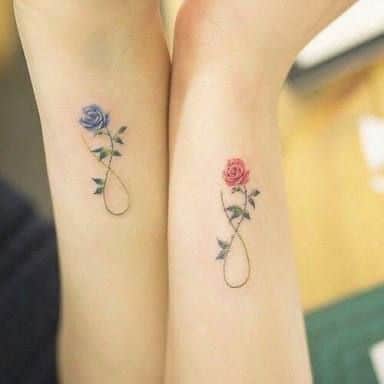 Mr. and Mrs. Tattoos
This style of Tattoo is more popular among those who have  "just married". If you are a recently married couple and planning for your honeymoon, You can get Mr. and Mrs. Tattoos during your honeymoon itself to make your trip even more memorable. There is no limit of the color, style or font.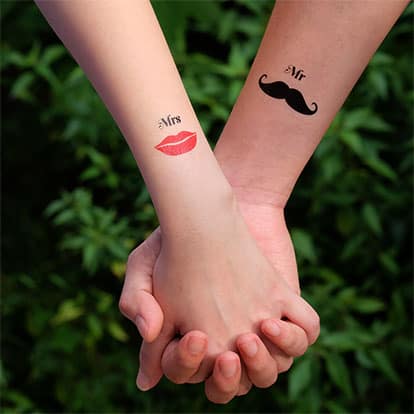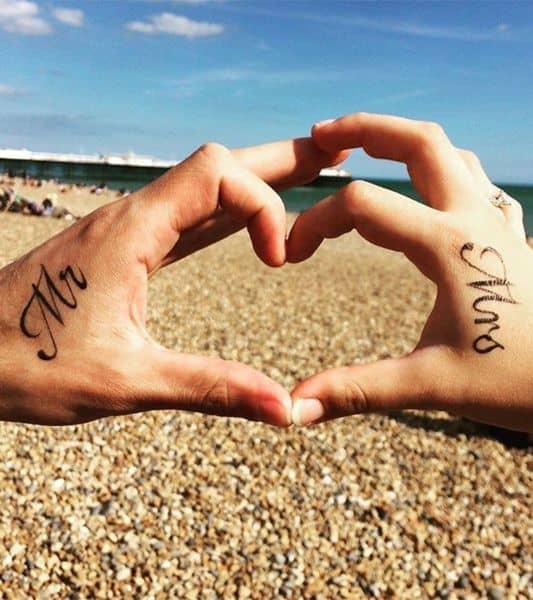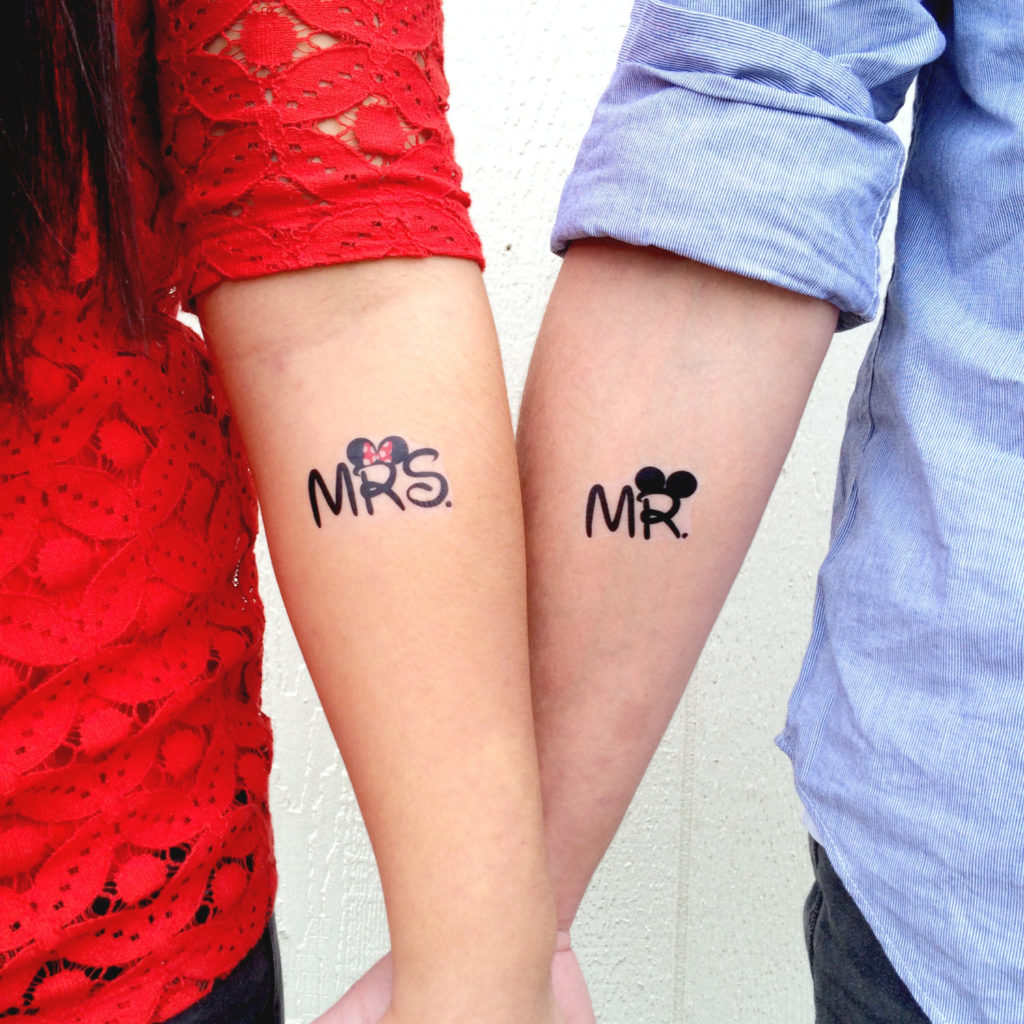 Wings Tattoo Design
Wings symbolize freedom. Couples believe in Freedom the most get  Wings on their back, wrist, waistline or even on legs.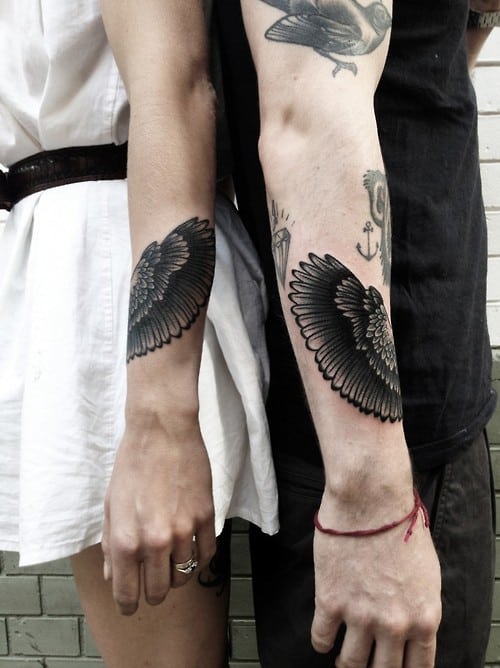 Minimalist Tattoos of Common Interests
Let's say, both of them love traveling then they may go for a Tattoo of "Compass". If they both love music, They may go for a Tattoo with some "music notes"! Minimalist Tattoos of Common Interest of  Couple symbolizes togetherness.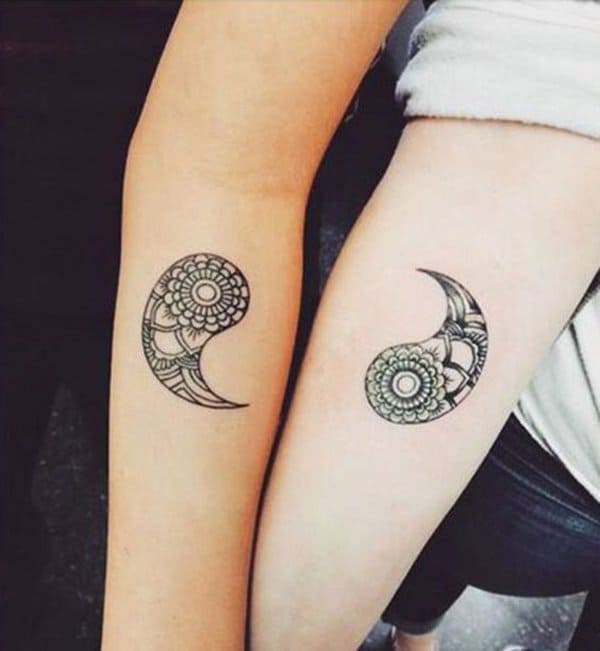 The Angel and Guardian
As the name says, the quote "I am his angel" is tattooed on female partner and "her guardian" is tattooed on the male partner. This signifies the feeling of protection and care.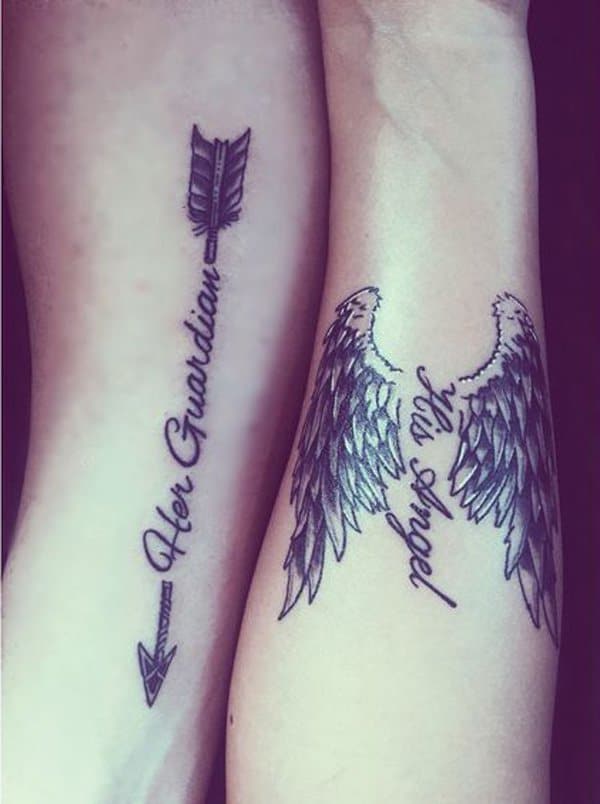 The White Ink Tattoos
yeah, I know this sounds a bit weird, like why "white ink?"  Is it going to be visible? Well, that's all about personal choice. Here, while tattooing,  white ink is used. It actually is not visible at first glance but would be noticeable if looked at carefully.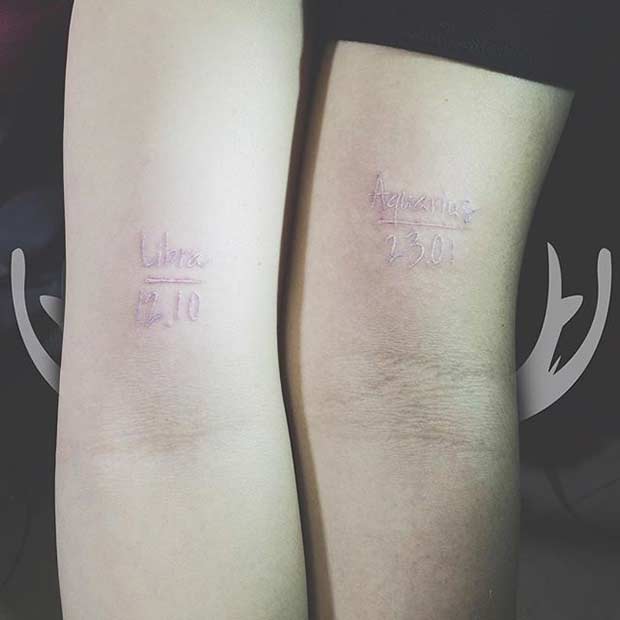 X-O Tattoos
This tattoo is very popular among those who want to go for a small tattoo design. It is popular but not boring. For the couple who are looking for minimal and simple designs can go for this one!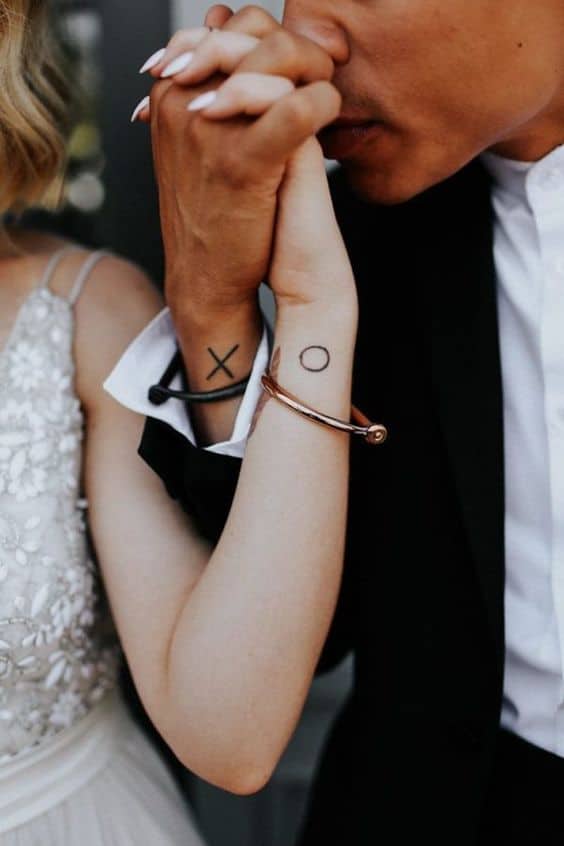 Couple Name Tattoos
It is quite simple, the names of opposite partner is tattooed along with different patterns and shapes. This can be in "Hindi" language as well and it looks really unique and catchy 😉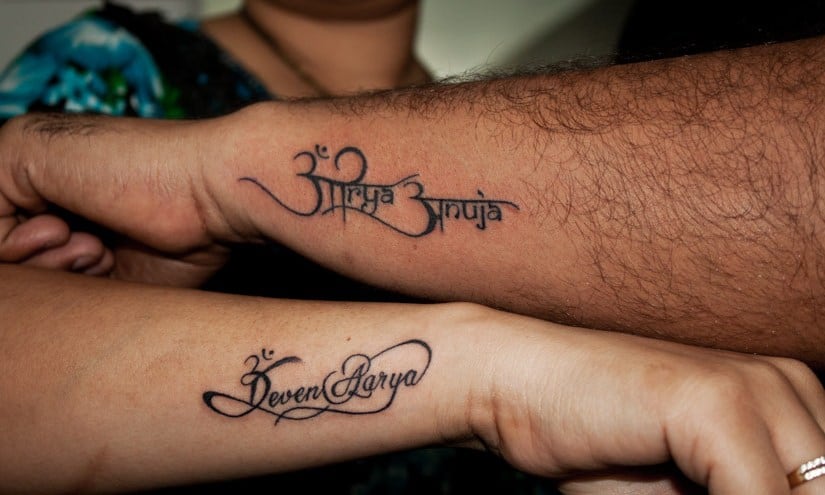 Identical Tattoo Designs
Here, both the partners go for exactly same tattoos (same color,  size, font or style). However, in some cases, the design differs a bit.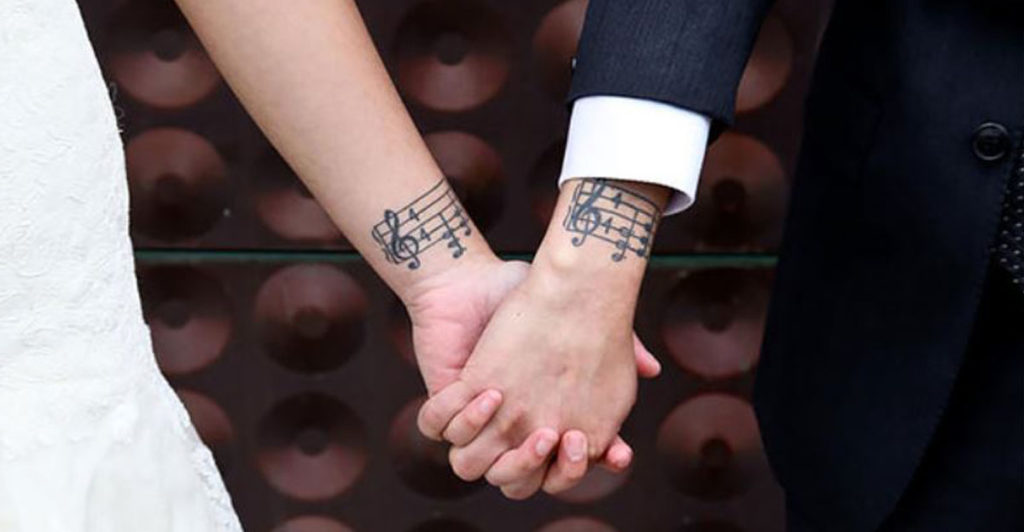 The Sun and Moon Tattoo for Couples
The universal objects are taken as the subject of a tattoo. Many varieties can be seen in this kind of tattoos. The most popular ones are 'The Sun" on male's body and "The Moon" on the female body.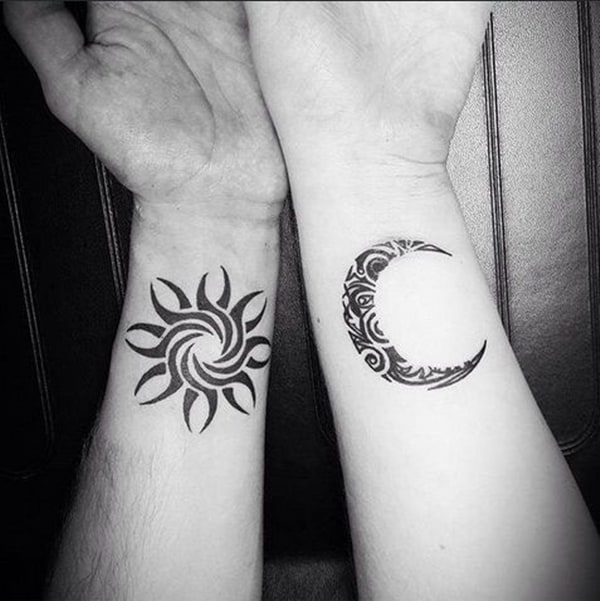 The "Promise"
Two hands with crossed fingers are tattooed on the bodies of the couple. This small symbol represents the promise of being together forever.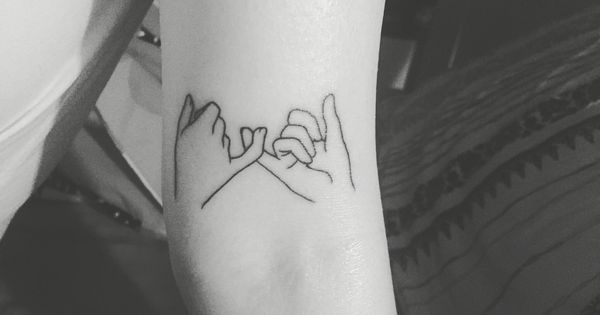 Little drawings
There are a bunch of cute, pretty, and tiny "love" indicating drawings.  These are not marvelous sketches but can name it as drawing of kid.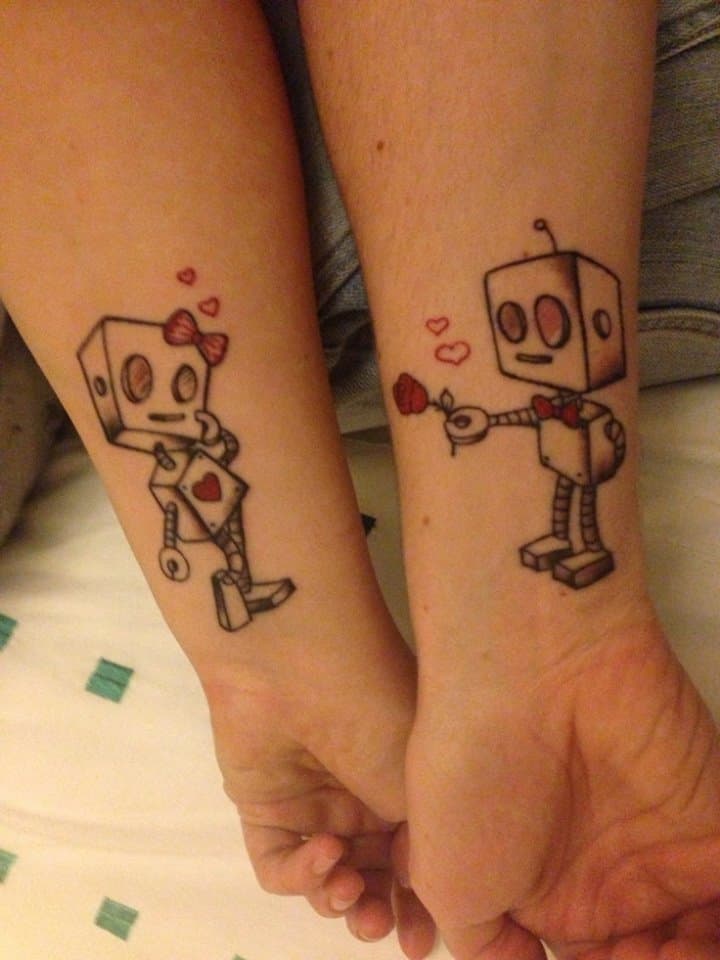 Aren't they all really cute and stunning? What do you think? I hope that you like this post. If you're planning to get a "couple tattoo" then do bookmark this post to refer it in future. Also, help us spread the word while sharing this post on social media with your friends.
And if you already have a "couple tattoo" or you have more ideas, do share in the comment box below. Till then, keep rocking n slaying!!!
p.s.
Getting inked is a very good gifting idea as well! Think about it 🙂 If your partner loves surprises, you can surprise him/her with a beautiful tattoo on a special day. How about that?
Love you all!!!!
HUGS!!!!!!!!!!!!!!!!!!