Hey Girls! Now you must be knowing that I am obsessed with Oriflame The One range. Well, I have reasons for the same. The first thing, the makeup products that they designed and launched are really quality products. Second thing, they considered skin tone of Indian beauties, weather conditions etc. So, none of the lipstick shades are non-wearable. Same with Eye-liner, Blush, Foundation, Bronzer etc. And all those great products at affordable price! So these are the reasons why I am going gaga over Oriflame the One range. So today I am sharing 3 gorgeous lipsticks from Oriflame The One Matte range.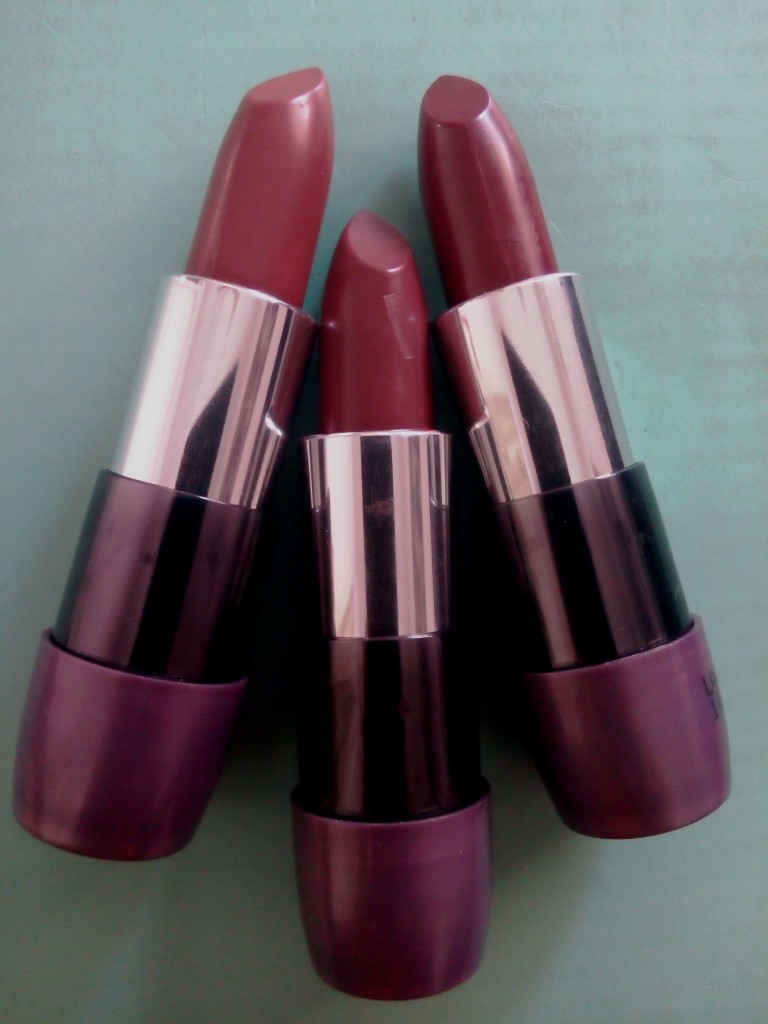 About Oriflame The One Matte Range:
A Hydrating lipstick that gives you beautiful, intense Matte Lips to Start Your Day.
Intense Shades
Non-Glossy Matte Finish
Non-Drying Lips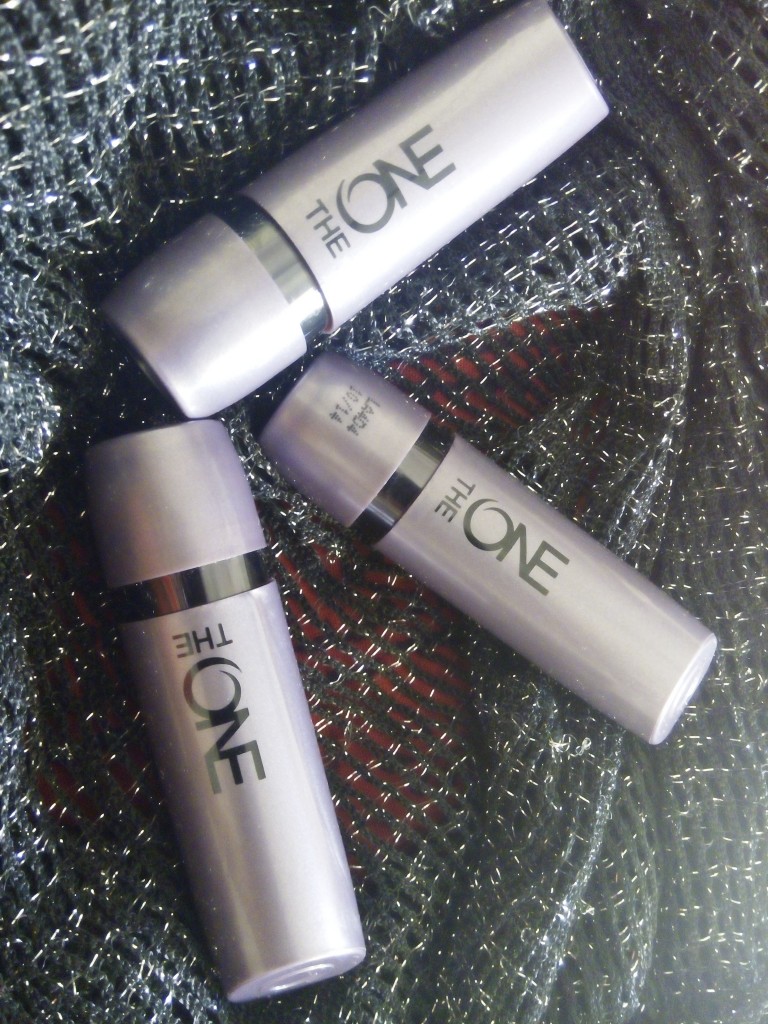 Quantity: 4g
MRP: 499
How to Buy: You can buy this lipstick through Oriflame Consultant
The lipstick comes in Pinkish plastic packaging with the shade code and name mentioned at the bottom. You can't see the shade from outside. You have to open it for the same. The packaging is same as all standard lipsticks we see.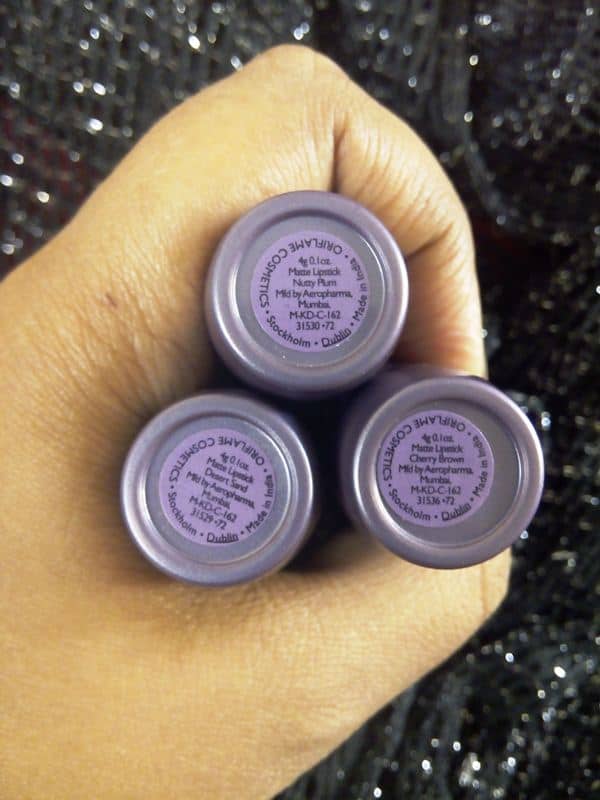 My Favorite Brown Lipsticks
I am truly Red and Pink lipstick girl. Most of the times, I like wearing bright colors. But these brown shades totally stole my heart. They look pretty. Here are the three shades I love the most.
Here are the swatches of all three brown three lipsticks:
The first on on Tip is, Cherry Brown, then Nutty Plum and last at the bottom is Desert Brown: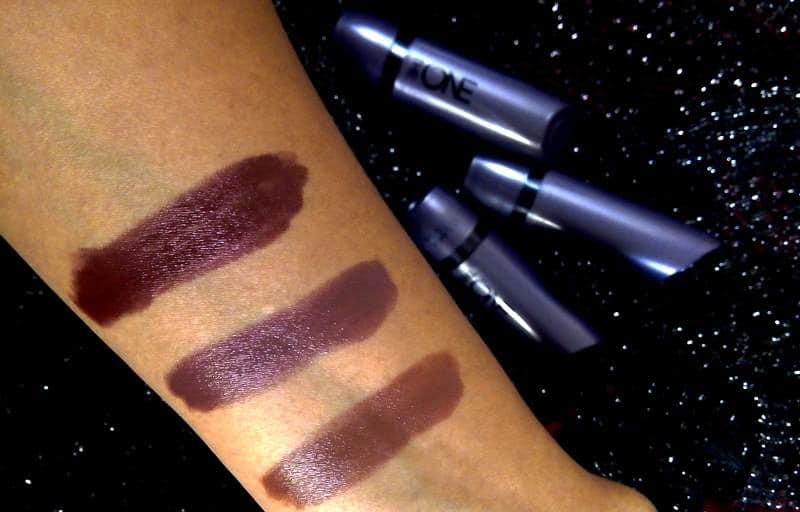 Desert Sand: It is pure brown desert sand color. If you don't like wearing dark brown lipstick, then this is the color you should try. Even for functions where can't wear bright lipsticks then this is the shade you can wear.
Nutty Plum: Now this one is my favorite one among these three. As the name says, Nutty Plum, it is not just brown shade but it has that beautiful pinkish tint. And it does not look same as it looks in picture. The shade is really tough to show in picture as the shade looks different in real. It is brighter and prettier than it looks in picture. For close look, check the swatch picture. The middle one is Nutty Plum. But I tell you, it is really really beautiful shade and not so ordinary shade that you can find in other lipsticks and brands too. I totally love this shade.
And Check How they Look on Lips: (p.s. Second one is more bright and prettier but tough to show in click)
Cherry Brown: The bright cherry brown is the color, I love wearing on functions and parties. It is really bright and will stand out easily. When I feel like not doing eye makeup then I just wear this lipstick with makeup base, eyeliner, kohl and blush. I keep other makeup minimal when I wear this lipstick as the shade itself is gorgeous to speak the beauty itself.
Like It? Then Get it Girls:)
Share Your Views in Comments 😀
xoxo 🙂
Disclaimer:
Opinions expressed are solely my own, The Company Oriflame is not liable for the same.