I am going to address this question with an experience I had recently. Few Days back I received a message on Facebook from a lady who professionally does fashion and beauty consultancy. She messaged me something which really made me think, where am I as a Fashion Blogger? What People really think when it comes to fashion? And I really questioned myself, being in to fashion industry. Here is what happened and my thoughts on Real Fashionista.
Disclaimer! Before I start writing this post, I really don't want to frame myself as Fashionista or Real Fashionista or True Fashionista here. The only reason I am writing and sharing this post because I genuinely feel, we need to redefine our understanding of being Fashionable Girl or Fashionista!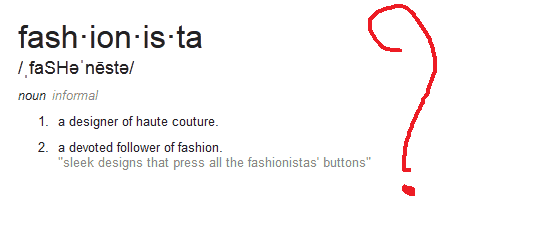 My Recent Experience Which really made me think about Fashion and Fashionista Girl?
So, here is what happened. Few days back I got one message from a reputed beauty and fashion professional saying;
"Dear Hetal, I have a suggestion if you don't mind!
Change your DP a lil fashionista style… !!
Now this message really pushed me to think, what she means by "dp a lil fashionista style"???
Here is My DP!
Did I felt bad about this comment?
Absolutely not. I know she is very experienced person and I have high regards for her, and that is the only reason I wanted to pay attention to her message, and genuinely I thought, what else can be a Fashionista Style Picture of mine?
After thinking a lot here is what I did.
When I got this message, I asked few questions to myself.
(1)    Who is a Real Fashionista or Fashionable Person according to me?
A Fashion Follower For Sure! Who adopts new fashion trends and updates herself, But I also firmly believe that a woman who adopts new fashion trends even though she is not comfortable doing it, she is not the fashionista.
For example: My personal choice for Outfits is Ethnic Indian Wear. I do a lot of experiments with that, but I also try and experiment with Western Wear, Formal Wear, Resort wear etc.  But whatever I try, I make sure I am comfortable wearing it. That is the same case with Makeup, Hair Style, and Accessorizing Look too. I don't wear anything which makes me uncomfortable, and I recommend the same.
Have you seen some girls wearing a short dress, which is not comfortable at all? But they wear it just to look stylish and fashionable!! Do you call them fashionista?

(2)    Can I be someone else so that people call me "Fashionable Girl"?
I see many girls, coping famous people blindly or adopting someone else's style even though it does not suit them. Few Examples here.
Some actress spotted wearing a see through dress on a Red Carpet, and girls try that too at the parties?? Why???
Some Pop Singer spotted wearing sharp extra large nails which are painted with neon colors and studded with some stones etc.. etc.. and Girls follow that too, because they believe that what their favorite pop singer does, that's the latest fashion trend they should follow! Why???
One girl who is thin and having a really good body profile came wearing a LBD in the party. And even short and bulky girls follow the same!! Why?
If you just wear what others wear believing that "You need to Wear what is latest in Market"; without considering your body profile, your personal style, your comfort, the place where you are going – You are not a Fashionista!
(3)    Wearing High Street Brands is Necessary to Be Fashionista?
Absolutely not according to me. True Fashionista Loves wearing brands, but he/she also likes to try and play with non branded stuff. They also like to do DIY Stuff! Yes why not? Ultimately it's about trying something new, adopting fashion trends then who else can know our own taste better than us?
I personally know many Fashionistas in Real life who stitch their dress on their own!! Who wear a stylish bag made by them from their old denim pant? Who also makes their own lip gloss at home!!
Fashionistas are Creative! It's not true that real fashionistas wear high street brands only!
Conclusion: After answering all three answers above, I finally asked myself, can I wear something which people expect me to wear? Can I style myself as per others likes and dislikes? Can I do hairstyle what is just in without bothering if it suits me or not?? And all that Just to be called a real Fashionista?? And the answer I got from me to all these questions is "NO".. Firmly No!
You can't be someone else!
You can't wear anything which is in Fashion Right Now. You have to consider your likes, your comfort, your body profile, The Place where you are going, the occasion etc. By saying "wearing" here, I mean dress, makeup, hairstyle and even Jewelry too.
Whatever you wear, you can be a True Fashionista, If you wear it with confidence. And you can only feel confident if you are comfortable! Right?
And So, I finally decided, Not to change my DP 😛  the reason is my definition of fashionista is little different. These are my personal thoughts and I don't claim that this is the only truth! I can be wrong, but that's who I am!
And if it is must for you to wear all high street brands, follow fashion trends blindly, copying celebrities, and not stepping out without make-up, having long nails and nail paints 365 days!! I will love to call myself, "I am not a Fashionista"!!! But I still do Fashion Blogging!! 😀 😀 😀 
 What You Think?? What is your genuine opinion about Fashionable Girls?
 With Lots of Love..
–  Hetal