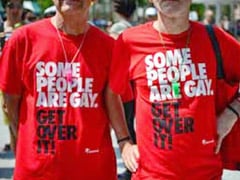 Yesterday was definitely a shameful day for many Indians, because of a shocking judgement from Supreme Court of India about Homosexuality. It was truly a disappointing verdict by Supreme Court. Many Celebrities came in front and expressed how disappointed they are!! Amitabh Bachchan also questioned that: How will the law authorities decide or apprehend those that commit this 'crime' !!?? Read How All celebrities reacted on Supreme Court's Verdict on Homosexuality.
Hollywood actress and human rights activist Mia Farrow also joined the stars in slamming the judgment, saying it was a "very dark day" for freedom and human rights in India.
"I am more disappointed with this judgement. It feels very intolerant and violative of basic human rights. It's a shame," superstar Aamir Khan said in a statement.
"True love between same gender individuals cannot be confined to courtrooms. I hope that the law will change in future," tweeted Bassam Mallick, international super-model and a human rights activist.
Actor John Abraham tweeted: "India has harbored archaic prejudices once again… The Supreme Court has criminalized homosexuality… Shame."
Filmmaker Onir, who has been vocal about gay rights, said it was a sad day for Indian democracy. "I am angry by the SC ruling on IPC 377. Very very disappointed that the bench of the Supreme Court hold us to regressive colonial 153-year-old IPC 377. A dark day for the history of judiciary and human rights in India," Onir said.
Actor-director Farhan Akhtar tweeted: "The Supreme Court got it wrong today. Sec377."
"Love comes from heart, not from the book of laws! I call it Supreme Court's misjudgment. I am angry, disappointed and hurt!," tweeted Sourendra Kumar Das, Mumbai-based fashion editor and equal rights activist.
Director Karan Johar tweeted: "Sec377 is not just a violation of human rights but also makes democracy seem like a mirage in our country. "For all those who think that this judgment gives them a right to talk about their self appointed machoism… GET A LIFE!!!," Johar added.
Celina Jaitly, another celebrity who has been vocal about her support to LGBT community, said the verdict was a betrayal of trust. "377 is in contradiction of three major fundamental rights: Article 14, 15, 21. One day you are legal the next day illegal? Naz India joins a shameful list of cases where SC has removed rights given by a lower court… This decision will ruin many lives," Jaitley said.
 'Rang De Basanti' star Siddharth tweeted: "We are calling our citizens criminals for doing something that is their fundamental birth right to do & is natural. Mera Bharat kahaan? Sad."
Riteish Deshmukh called it "Supreme Mis-judgement Section377."
Actor Rahul Bose: "So much for those believing the judiciary is 'the last bastion of common sense' in this country. Section377."
Actor Anupam Kher wrote: "We obviously don't believe in equal rights even in the times when we send Mangalyaan to Mars.:)"
Actor Kabir Bedi said the judgment failed to uphold democratic human rights. "It's a sad day when the Supreme Court of India does not uphold the democratic rights of sexual minorities. The State should stay out of the bedrooms of consenting adults. SC upholding regressive law seems bigoted."
Dia Mirza: "I am ashamed. 377 there is nothing more frightening than the revelation that the guardians of democracy have turned undemocratic."
Anushka Sharma wrote: "So disappointed with the SC verdict. Freedom is such a deceptive term. Rights are an ambiguous mystery scrap377."
Vinay Pathak tweeted, "Supreme Court – STRAIGHT? or SCARED!"
Director Nikhil Advani tweeted: "Welcome to the medieval ages!!! It was only a matter of time."
Madhur Bhandarkar wrote: "Just when we thought we are looking into the future, comes a judgment that treats us like we are in the Stone Age. The disappointment is justified."
This decision by Supreme Court made millions of People Angry and Sad. What do you think?? This Supreme Court's Verdict on Homosexuality is against basic human rights??
Share Your Views through Comment Below!