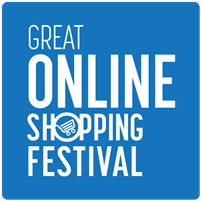 The long awaited great online shopping festival 2013 is about to start, hosted by Google in India. There are hundreds of Brands and Ecommerce Portals to participate in GOSF (Great Online Shopping Festival) this year. If you are thinking of buying anything online, just wait for one day. From tomorrow 11th December to 13th December 2013, you will see thousands of genuine shopping deals online. All Shopping Websites which are participating in shopping festival are going to offer great deals and genuine discounts for 3 days.
To help you out I have prepared a category wise list of Ecommerce Portals participating in Great Online Shopping Festival 2013.
Online Shopping Festival Date – 10th December to 13th December
Great Online Shopping Festival Website: http://www.gosf.in/
All Websites which are participating in GOSF and going to offer genuine Online Shopping Deals are Listed Below. I have divided all the brands and websites in the various categories so that if you are looking for some shopping category specifically, you get it easily from the list below.
Fashion Brands Participating in Great Online Shopping Festival 2013:
American Swan – www.americanswan.com
AND Designs Pvt. Ltd – shop.anitadongre.com
Cotton World – www.cottonworld.net
FabAlley –www.faballey.com
Koovs – www.koovs.com
StalkBuyLove – www.stalkbuylove.com
Wills Lifestyle – www.shopwillslifestyle.com
Ritu Kumar – www.ritukumar.com

Brands offering Kids and Baby Stuff
Awerganic – www.awerganic.in
Babyoye –www.babyoye.com
Mom & Me –www.momandmeshop.in
Firstcry – www.firstcry.com
Exclusive Fashion Bags, Watches and Shoes (Footwear) Online:
Bagskart – www.bagskart.com
Rhysetta Bags – www.rhysetta.com
Esbeda – www.esbeda.com
Hidesign –www.hidesign.com
Sonata – www.titan.co.in
Buy Travel Bags – www.buytravelbags.com
Bestylish.com – www.bestylish.com
Shop Beauty Products and Cosmetics Online 
BeautyKafe – www.beautykafe.com
Purplle – www.purplle.com
Lingerie and Innerwear Shopping Websites
Peri Peri – www.periperiskinwear.com
Zivame – www.zivame.com
Men's Shopping Website
Basicslife – www.basicslife.com
Shopping Portals Offering Everything You Look For
Infibeam – www.infibeam.com
ShopClues – www.shopclues.com
Yebhi – www.yebhi.com
Indiatimes Shopping – shopping.indiatimes.com
Jabong – www.jabong.com
Myntra – www.myntra.com
How to Get Best Out of Great Online Shopping Festival 2013:
If you are reading this post today, Make a Shopping List or Wish List on paper or in the excel sheet.
Now Go through each category listed above and check websites which offers stuff listed in your shopping list or wish list.
Compare things on various websites and select the one with maximum discount or excellent deal to satisfy you.
Happy Shopping Boys and Girls 🙂