It took a couple of years to find the right sunscreen for my skin! I have tried dozens of them and finally, I got a chance to try Suncros Aquagel SPF26 Sunscreen. Why so many years? Well, the reason is for all past years I have experienced my skin type changing, earlier it was dry and sunscreen was not a problem but then lately now my skin is becoming Oily & Sensitive too. And many sunscreens I tried, gave me breakouts! Do you have sensitive skin & sunscreens that usually give you a breakout, this post is for you.
So finally, I decided to take suggestions from my dermatologist and she suggested Suncros Aquagel SPF26. It's been 15-20 days now I am using it daily as part of my skincare routine. And now is the time to share a review of this sunblock. So if you are someone with sensitive skin & looking for a medicated sunblock, read the post till the end.
What is medicated sunscreen?
Medicated sunscreens are approved and suggested by Dermatologists. Thus they are safer than the other sunscreens available in the market. Also if you see the formula of medicated sunscreen, you will notice a highly concentrated formula. Mostly they are Colour Fragrance less which is why they are more suitable for sensitive skin. And the most important benefit of medicated sunscreens is, they give you protection against both UVA & UVB Rays.
So now you know, if you have sensitive skin or acne-prone skin, always go for a medicated sunscreen for sensitive skin!
Now let's talk about the ingredients, packaging, advantages, disadvantages, pricing & availability of Suncros Aquagel SPF26 Medicated Sunscreen.
Key Ingredients in Suncros Aquagel SPF26 Medicated Sunscreen
OCTINOXATE – 7.5% – Octinoxate filters UV‐B rays from the sun. This ingredient is safe & approved for use in cosmetics worldwide
Oxybenzone – 3% – often found in broad-spectrum sunscreens, helps filter both UVB and UVA rays (specifically short UVA).
Avobenzone – 2% + Processed Zinc Oxide 2% (nanosized)– Avobenzone is commonly used to block the full range of UVA rays. Usually, alone is reported unstable. To stabilize Avobenzone, it is paired with Processed Zinc Oxide here.
Phenoxyethanol IP 0.5% – It is a preservative used in cosmetics.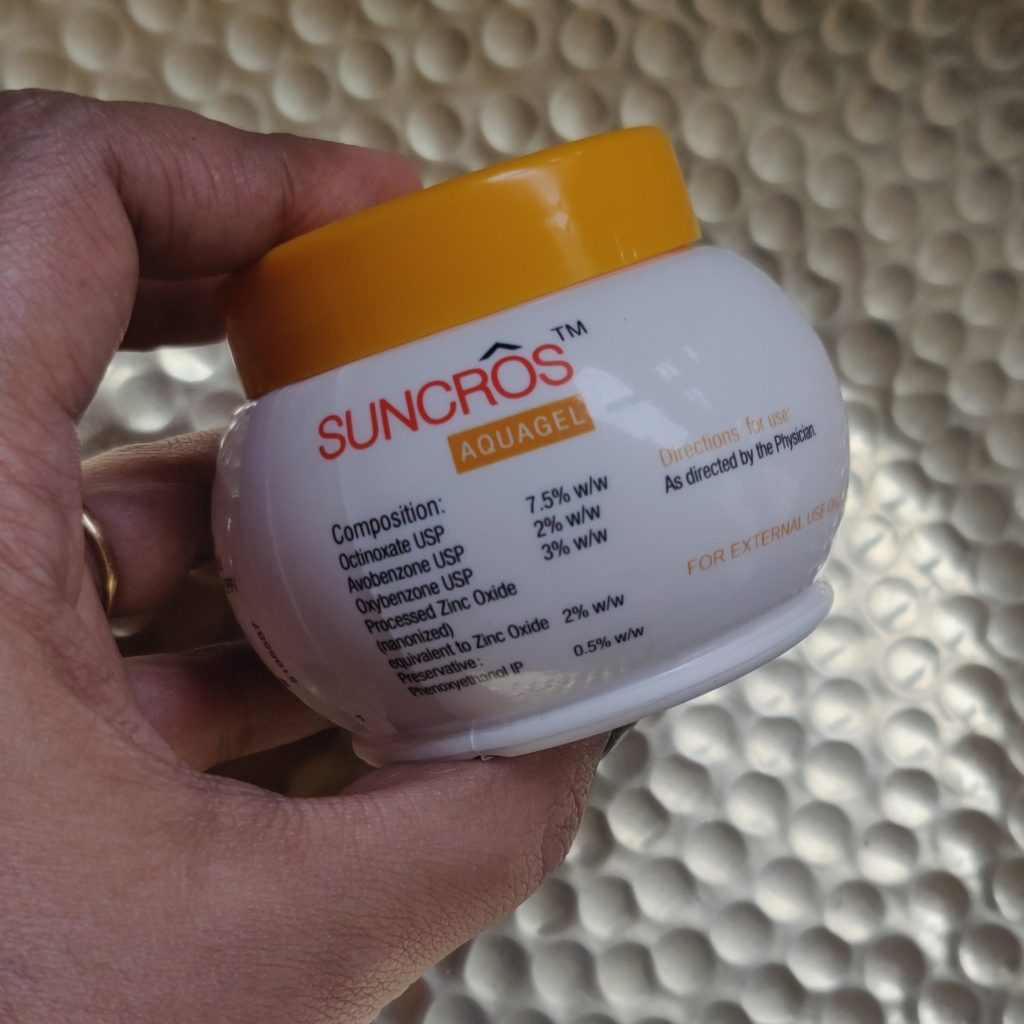 Are the ingredients safe in Suncros Aquagel SPF26 Sunblock?
Yes, they are. They have used all the approved ingredients only and that too in the quality as per the guidelines given for the cosmetics industry. Also, if you read the description of ingredients, they have chosen ingredients that give protection against UVA & UVB Rays both. Also, these ingredient makes it a Water-Resistant Formula.
Quantity: 100g
MRP: RS 433 but it is available at a discounted price if you buy online. Please check below.
Packaging and Texture
Suncros Aquagel SPF26 Medicated Sunscreen comes in a White & Yellow Cardboard packaging with all the product details mentioned in it. The product is placed in a Plastic Tub Container with an additional white insert lid apart from the top yellow-colored lid to keep it safe from the outer environment.
The texture of Suncros Aquagel is Light. Though you read 'gel' in the name. However, it is not a gel-like texture but more of a creamy texture but in runny consistency.
Review of Suncros Aquagel SPF26 Medicated Sunscreen:
Ok, so now you know ingredients, quality, price, packaging, etc. Now comes the main part that is the experience part. It's been 20 days of using Suncros Aquagel Sunblock. When I opened the tub, to be honest, I was disappointed because I thought it would be a gel-like formula as it says "aquagel" in the name itself and creams these days scares me because of their creamy texture.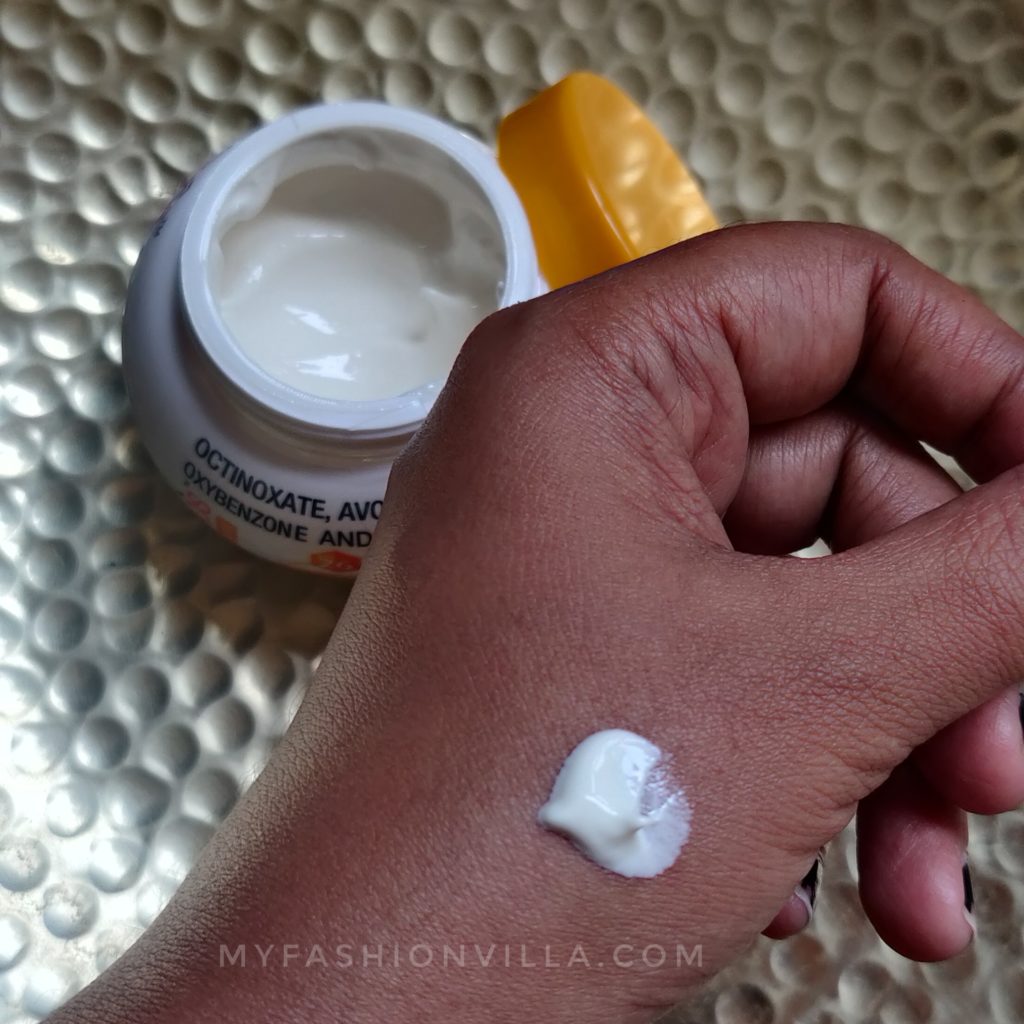 But then I decided to trust my dermatologist and start using it. What I noticed is, when I applied, it felt creamy for a minute or so, but voila! After a minute my skin just absorbed it. After a minute of application, it does not feel creamy, greasy, or oily.
Also, there are no breakouts in the last 20 Days!
Final Words: Go for it!
Advantages:
Safe Ingredients
Dermatologically Tested and Approved
Broad Spectrum SPA, Gives Protection against UVA & UVB Rays
Paraben-Free
Silicon-Free
Very mild fragrance, No Colors
Affordable for the quantity & quality both
Disadvantages:
Packaging can be better! For this type of consistency, pump dispensers work best. With this kind of tub packaging, you need to be sure, your hands are washed and clean!
Read: How to get healthy glowing skin? 7 deadly sins to avoid
Hope you find this review helpful 🙂 Let us know in the comment below. Lots of Love n Light on your way! xoxo <3