Hello Beauties.. hope you had good time during Diwali. In Gujarat, we celebrate Diwali for at least 7 days, starting with "Gyaras" to "Bhai-Beej (Bhaiduj)". It also includes Gujarati New Year which we celebrate next day of Diwali. These 7 days are fun. Usually people work till "Dhan Teras"; after that offices announce holidays till Bhai Dooj. Thus we get 5 days off from.work. Diwali Holidays means lot of fun with family & friends. starting from Gyaras; we do Rangoli at home, Diya in the evening time, Crackers, Asopalav Toran at Door and we decorate home. People make "Mathiya" (kind of crispy crunchy papad) and "Fafda" (Cholafadi) & other sweets at home.
Diwali is the day when we do "Chopda Poojan" at office. It is also called "Sharda Poojan" when we worship maa Saraswati. We put all official Account related books (Ledgers), Catalogues, Cheque Books, Diaries and even Laptop together and perform Pooja at office. After this pooja, next day from Gujarati New Year, we start using those new account books. These are the things we use in our offices to note down all financial transactions during the year, thus we perform Pooja before we start using them. During this Pooja we pray to shower prosperity everywhere.
If I talk about my Family, we do Pooja early morning 4.30 am. Yeah, you read it right. It is called 'Bramha Muhurat' and it is the best time to perform any Pooja. So every year, we wake up around 3.30 am, get ready while draping saree and reach office around 4.30am for the Pooja. This year, I decided to wear one of my favourite saree, I am sharing details with you 🙂
What I wore on Diwali
I picked one of my favourite chiffon saree this year. It is a half n half saree with Patch work. Half saree is in the color pink with honeycomb pattern all over and half saree in the Gray color has pink color flowers with sequence work. Entire saree has sequin border yet it is not chunky. I wanted to wear a light weight saree yet appropriate for the occasion. This is one of my oldest saree that I bought 7 years back, from Roopkala. It was priced Rs 2800 that time. This saree has low-back-knot blouse; which I like the most.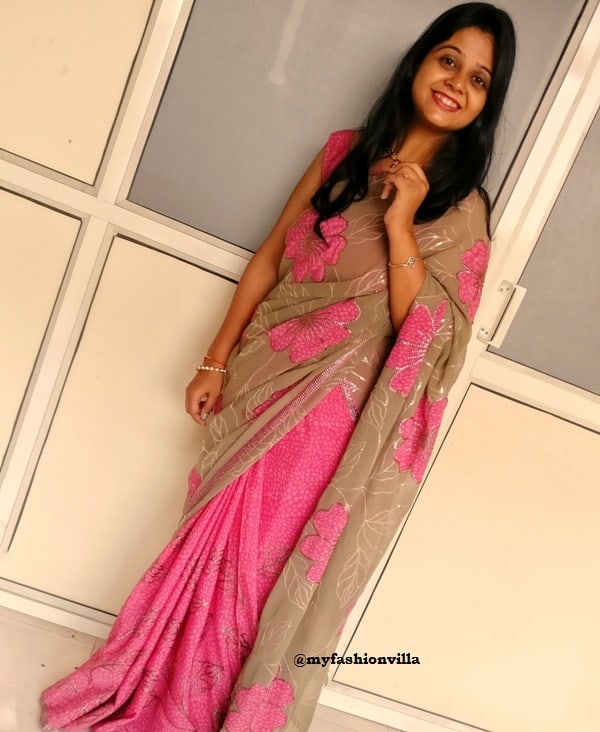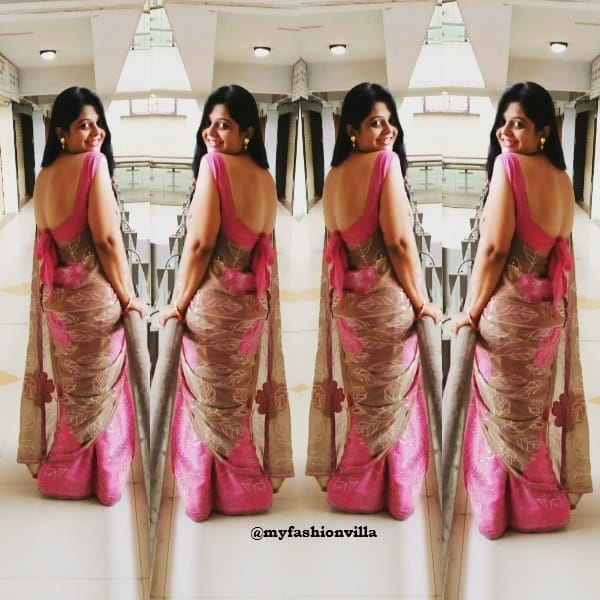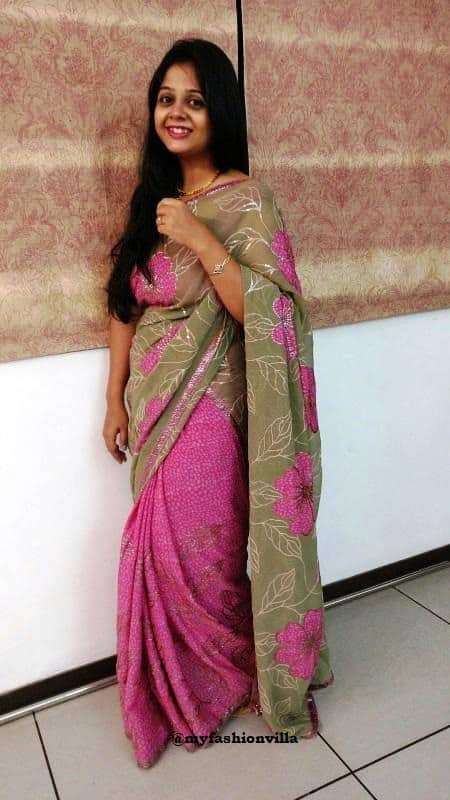 Jewellery:
Because my saree has sequin work all over; I wanted to keep my jewellery as minimal as possible. I worn a delicate Temple Coin Ginni Neck piece from "FadHut" store on Amazon along with matching earrings.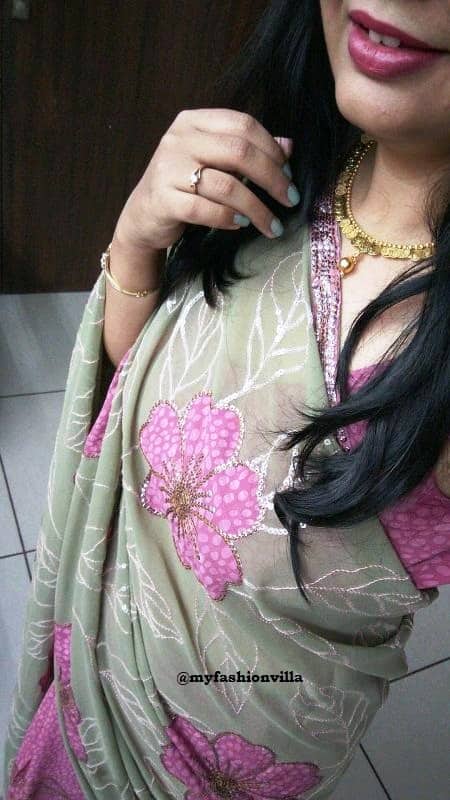 Makeup:
Well, it was 4 o'clock in the morning when I was draping my saree; so you can imagine !! ? I literally skipped makeup part this time ? But no regrets ?I just applied Maybelline Compact Power and e.l.f Lipstick in shade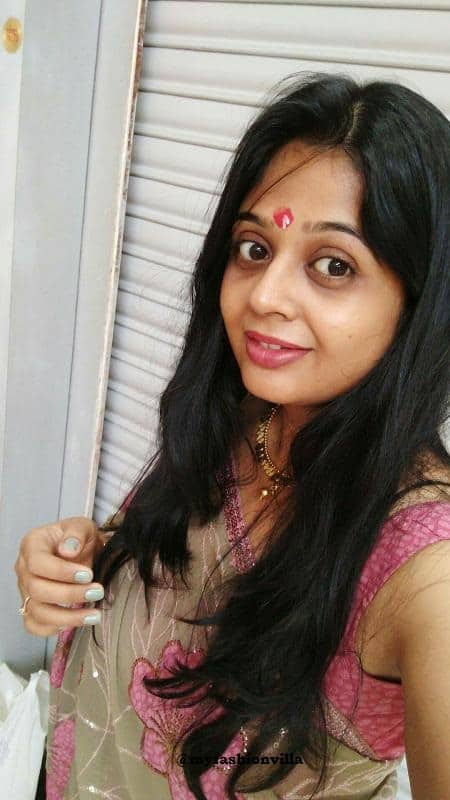 That's all ? Hope you liked my Diwali look. What you did this Diwali? How you celebrate Diwali? Share with us in comment below. Hugs ! ?