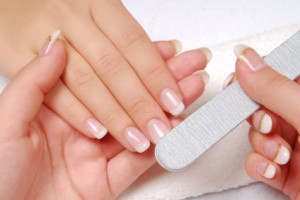 A woman has lots of choice these days in terms of manicure options. Many women are going for gel nails. However, it would be difficult for someone to apply gel nail without any professional help. When you start with gel nails make sure that you first push the cuticles with orange stick and gently buff the nails. Once you have decided the correct size of the nail, you can apply them on your nails and cut them according to your desired shape.
Use a nail brush to remove any traces of dust and spray your nails with any bacterial solution. You can even apply a coat of primer and allow it to dry. It is important for the primer to dry properly; it is the chemical base for the nail.
Once you are done with the primer, you can apply the gel. Next you need UV lamps for three minutes to dry your nails. It is not possible to dry all your fingers at the same time so make sure that you take turns while drying them up. Remember that you need professional help for these. Make sure that the gel does not get into the cuticles so make sure that you use an orange stick to remove them. Always remember that it is better to apply thin coats rather than thick coats. Acrylic nails are very much in vogue in all salons. However, since they break easily and emit a foul odor, they are not that popular with women.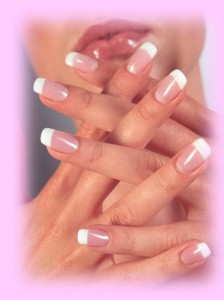 Store your brushes for plying the primer in a proper place so that it does not pick up dust. When you decide to buy manicure tools or equipments make sure that you visit a reputed supermarket or a drugstore.
Any woman can stand out in a crowd by painting their talons with a variety of designs. To get started you need to apply a base coat and let it dry for some time. After that you can paint flowers or even polka dots or any other designs in a contrasting color. To create the designs, one can use a contrasting color so that the design stands out. Create funky designs and use your imagination when it comes to nails.
One can also try out French manicure. To begin, we first need to trim and clean our nails and then we should apply a base coat in a natural color. After that we need to peel a guide strip and apply it at the bottom of the nail. Paint the tip of the nail in white polish and dry it. Last, we need to apply two coats of neutral polish. Always let the first coat dry completely before application of the second coat. Finish with a thin layer of base/top coat.
The choices are endless when it comes to manicure so make sure that you choose a manicure depending on the outfit and the occasion.
This is a Guest Post by Karien.
Karien is a blogger and a hard core follower of eco friendly existence. She is a big fan of fossil watches. From pet care to her house she makes sure that everything is environmental friendly and her latest article is on the gas tankless water heater.
My Fashion Villa Team Says Thank You to Karien for writing such an informative post for MyfashionVilla community 🙂