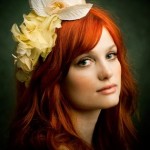 Make latest chic hair accessories with our guidance. This is the best time to go for big flowery hair bands, Plaid hair bands, vintage Hair bands, Fabric Hair Wraps, crystal Hair Clip, and many more cute hair accessories. What if you can make all such cute and unique Hair accessories by your own?? Yes…. now you can make beautiful and creative fashion Hair accessories at Home from our fashion knowledge posts. In this post we will teach you to make simple and sweet flower hair band with satin ribbon.
For this hair band you will need:
Two Meters Ribbon, Plain or old hair band, Satin flower, beads, scissor and fabric gum . Steps:
1) Take the plain hair band and roll satin ribbon of your favorite color on it as shown in the below image.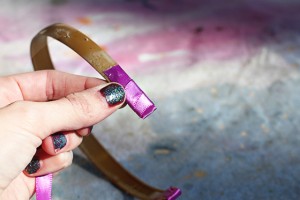 2) Now you will need a matching satin flower which you have to stick on one side of hair band. This flower can be purchased from shop or even you can make a flower from satin ribbon. With the help of fabric gum stick it on hair band.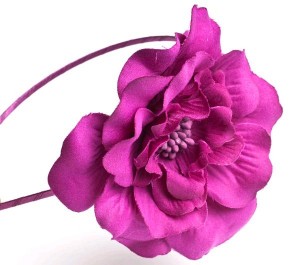 3) For making your hair band more cute and glittery you can stick shiny beads on the flower.
Wohoo here is your cute and unique hair band ready. For making more decorative hair bands you can stick cute bows and other decoractive items. Hope you readers will make this  latest Chic and unique Hair band at Home for yourself, for your baby or you can even gift it to your friends.