Konad Stamping Nail Art is something you will fall in Love, once will try it. It is Super Easy to Do and Looks So Pretty on Your Nails, You can Play with thousands of Konad Nail Art Designs and of course Creativity has no boundaries here too. Here I am going to show you Easy Nail Art Guide, which you can do it yourself (DIY) with our step by step Konad Nail Art Tutorial Below. Let's Start Then..
Things You Need to Do for Konad Stamping Nail Art:
Konad Image Plate, Konad Stamp, Konad Scraper, Two Nail Paints, A Tissue Paper, Nail Top Coat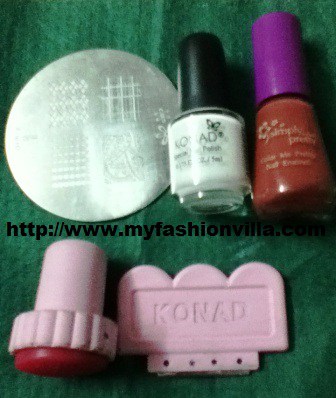 Some Tips to Get Tools For Konad Nail Art:
You can Buy Konad Image Plates and Konad Stamp+Scraper Online, I bought it from http://www.urbantouch.com You can choose any image plate from there. Konad Stamp + Scraper comes in a Set together, you will find them online too.
Choose two Nail Paints such a way, that Base Nail Paint should be contrast of other Nail Paint. i.e. Two nail Paint colors should not het merge in to each other.
You can Choose Any Nail Paints from Any Brand, but For Konad Design to look clear on my Nails I used Nail Paint From Konad brand itself or chose little thicker nailpaints for Konad design to look clear on nails. Thin NailPaints will not stick on Stamp Properly and You will not get Finish Design proper.
So let's Start Step By Step Guide For Konad Stamping Nail Art:
First I Painted By Nails with Avon Rossy Pink Nail Polish. Paint Your Nails with your favorite nailpaint and let it fry properly. See Picture Below: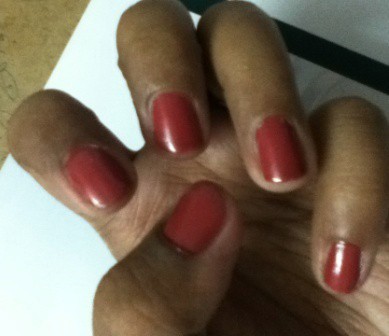 Now, Get your Konad Image Plat, Konad Stamp, Konad Scraper and Nail Paint to Place Design on your Nails with you. Get Everything Ready.
Now, Apply a Nail Paint on Image Plate genteelly (see Picture 1 Below).
Now Take Scraper and scrap off extra polish from image plate (See Picture 2 Below)
Then Take Konad Stamp, and Press it on Image Plate to get design on stamp (See Picture 3 Below)
Now Press Your Stamp with Design on it, on your Finger (See Picture 4 Below)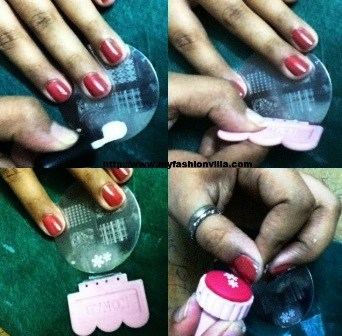 That's it! Do the same on all five fingers and you will get something like below.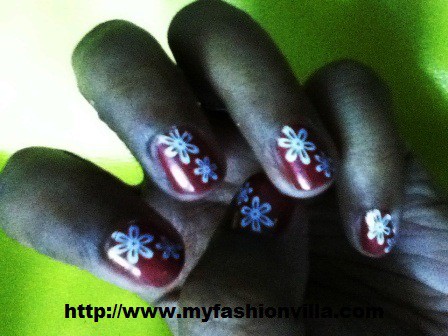 Your Konad Nail Art is Done! Isn't it pretty? Just to add something more, I added some Small Green Dots on Design.
Apply Top Coat Finally, and Your Final Konad Stamping Nail Art is Done. This is How My Konad Nail art was looking..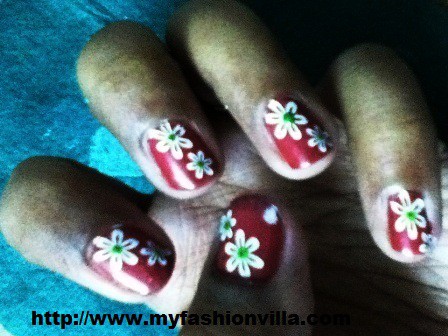 Pretty? Oww.. I love it totally. There is One special Reason why everyone loves Konad, that it : Konad Nail Art Does not require Painting and Drawing skills at All! How cool is That!
Hope You all Like Our Nail Art Tutorial Above, You can mail us your queries at [email protected] or write to us at Facebook.com/myfashionvilla
We will love to hear feedback from you, please do that and Give Konad a Try!
It is So easy, Quick and Pretty Cool..
You will love it Like we Do 🙂
Xoxo..