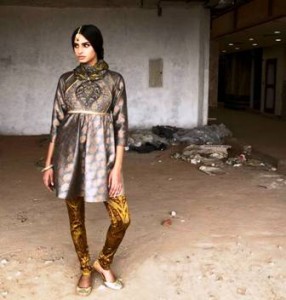 The House of Valaya is a luxury fashion and lifestyle house founded by brothers JJ Valaya and TJ Singh in the year 1992 inIndia. It is involved in design, manufacturing and retail of apparels (Couture, Diffusion and Prêt-o-Porter), home accessories and signature btapestries under a host of brand names namely JJ Valaya Muse, JJ Valaya Couture, Valaya Quantum, Valaya Base, Valaya Home and The Home of the Traveler.
For More Details Also check our Previous Post: KIMAYA presents the JJ VALAYA Vintage Tour: Celebrating 20 years of the HOUSE OF VALAYA
JJ VALAYA Vintage Tour Schedule
1)
Exhibition: 26th April – 27th April
Venue: KIMAYA
Asha Colony
Opp.Hotel Sea Princess
Juhu Tara Road
Juhu 2
Mumbai 49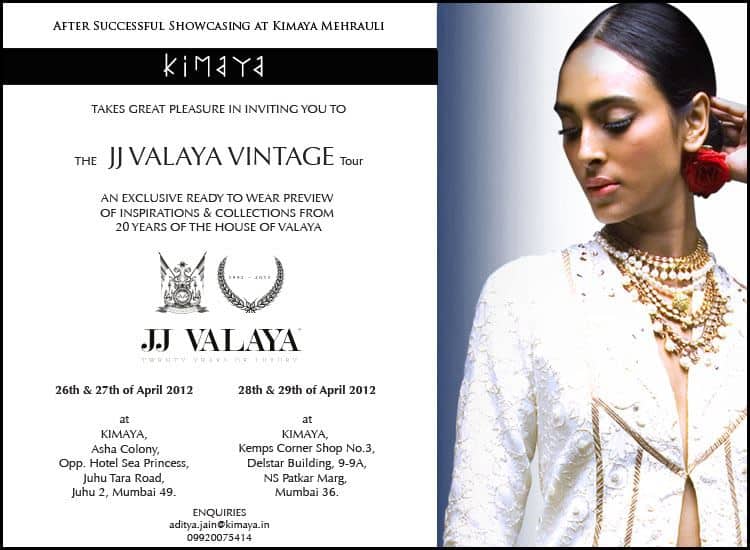 2)
Exhibition: 28th April – 29th April
Venue: KIMAYA
Kemps Corner Shop No 3
Delstar Building, 9/9A
N S Patkar Marg
Mumbai 36
About The House of Valaya

One of India's senior most and best-known designers, JJ Valaya is a founder member of the Board of Governors of the Fashion Design Council of India (FDCI) and was the First official brand ambassador for Swarovski, India.
The group has showcased its collections at various fashion weeks across the globe in cities likeDubai,Paris,London,Germany,New York,Singapore,BangkokandHong Kong. The brand continues to develop its unique positioning, maintain and grow its unyielding brand recognition while adhering to the highest quality standards in design. The House of Valaya has thus undertaken to show to the world the newIndia, resplendent with the aura of blue blooded elegance, innovative craftsmanship and modern sensibilities.
About KIMAYA
Founded in 2002, Kimaya -India's largest multi-designer luxury fashion house – is the brainchild of Mr. Pradeep Hirani, ably supported by his better half, Mrs. Neha Hirani. It houses edited collections of 183 top Indian designers and a heady mix of middle-eastern and south-east Asian luxury brands. With luxury retail space of over 50,000 sq ft. Kimaya was the firstIndiafashion house to have international presence inDubaiand at the Delhi Duty Free including flagship stores in Mumbai,Delhi, Bengaluru andSurat.
The Kimaya clientele includes a string of Bollywood ladies such as Kareena Kapoor, Sushmita Sen, Rani Mukherjee, Aishwarya Rai Bachchan, Lara Dutta, Kajol, Katrina Kaif, Shilpa Shetty, Deepika Padukone; etc.
For Media Queries, please contact;
Aditya Jain – 09920075414, [email protected]
Veta Ratra, 9891541856, [email protected], [email protected]
Hope You all like our efforts to keep you updated with Fashion Events happening around us. If you have some Fashion Events information and you want to share it with all of us, please write us at [email protected] or talk to us at facebook.com/myfashionvilla
Keep Cool and Be Stylish 🙂 Always.. 😀
xoxo…