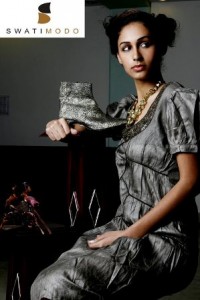 It is our pride that Myfashionvilla.com gets a chance to interview Swati Mehrotra. She is leading footwear Designer of India owning a popular Footwear Brand 'SwatiModo'. Recently she designed special footwear for Sidharth Tytler's fashion Show at Lakme Fashion Week Summer/Resort 2012. What Swati Mehrotra Says about her Brand SwatiModo: "At SWATI MODO we make dream come to reality! Not only aesthetically but comfort is at prime concern. We use best quality material to ensure utmost comfort! We also do shoes for special needs and foot problems"
Profile of Swati Modo:
SWATI MODO is a Designer Shoe Label started by a budding Shoe Designer Swati Mehrotra on January 2nd. The Label has been around for Two years now, with much credit to its name.
SWATI MODO has participated in various fashion weeks where the collection was highly appreciated. She has worked on the shoe collection for JJ Vallaya's and Zubair Khirmani's ,Koga, Ashima Leena etc to name few for  WLIFW collection and for Rimjhim Dadoo, Chaitanya Rao for their last LIFW and not to forget her contribution to various  budding designer's .
Being a complete animal lover, Swati Mehrotra also, keenly designs shoes for pets, like she did for her own dog.
The USP of the label is that each pair is treated as "a piece of art".
So here are the questions we asked her and her lovely answers..
Since how long you are in to Footwear Designing?
A lil tricky! I am into designing since the age of 12 when I started designing for my dolls and dreamt of being a designer 🙂 shoes probably happened to me like an accident (Lolz..) and I started making shoes from the age of 21 🙂 when I was in FDDI along with my course I made few special needs shoes and probably that was the seed towards this thought of customized shoes.
[flagallery gid=1 skin=default name=Gallery]
Tell us about Your Footwear Collection and Work you done so far?
At Swatimodo we try to make shoes that speak a story for themselves. Leaving a statement is our Forte. We have made shoes inspired from various forms of life, people, places, culture etc. Every collection we make; we try to add that one factor that makes it unique and very SWATIMODO;) we have even made shoes based on ones Sunsign and birth horoscope(Swatimodo's patented concept) and zapp it also solves your Astrology related issues. We make shoes for your pets launder your old pairs too.  :):)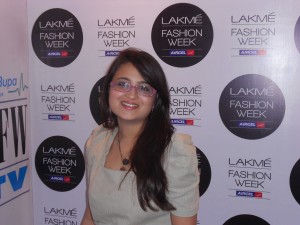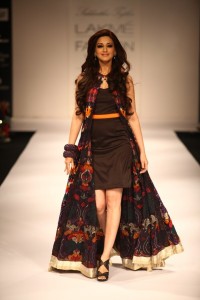 Tell us about your footwear line in Sidharth Tytler's show at Lakme Fashion Week
summer/resort 2012.
I tried to match up the perfection and fine detailing like Siddharth does to his clothing line. We experimented with stilletoes to make it basic and chic moved to color blocks in more structured and block chunky heels and finally to evergreen wedges.
Which celebrities wore and love your footwear?
My first client was Liza Verma (ex miss India) and Ila Arun:) guess they are my first and favorite. Shibani Kashyap too flaunts Swatimodo. Iris Maitey and Hasleen Kaur too. There is many other celebrities love wearing SwatiModo. We did shoes for various pageants, models, shows etc. Even Priyanka Alva wore Swatimodo pair too.
What Swati Modo did Different from others for the Society?
Swatimodo runs a shoe academy in Tihar jail to teach the inmates the art and making them self dependent and urging people to accept them back in society.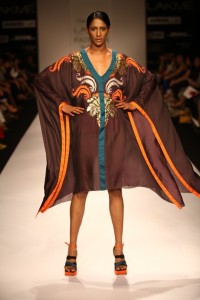 Special Footwear Collection by Swati Modo?
SWATIMODO Serendipity is a patented Zodiac and Astro shoe concept and has brought lots of credits to the brand, the first official store for serendipity launched in January 2011 in New York.          
Your Advice for Myfashionvilla.com Readers: What is Current Footwear Trend to Shop?
This season shop for lots of color stilletoes with platforms, wedges etc..
Where Can We Buy Swati Modo?
Swati Modo is available at:
Sagaa (Ahmedabad)
Soh-koh (Chandigarh)
Anonym (Hyderabad)
Nimboo closet (Bangalore)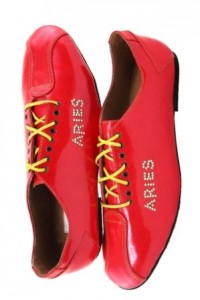 Studio saks (Chennai)
Araliya (Pune)
Zarah (Bangalore)
Aparajita (Ahmedabad)
Attic (Mumbai)
Sayaa (Japan,tokyo) and Also at New york|New Delhi|Dubai
Swati Modo is also available Online at
www.bestylish.com
www.indiologie.com
www.e-bagsfull.com
For More Updates, Follow Swati Modo on Twitter and Facebook: Follow her at @swatimehrotra on Twitter! and For Facebook like her page Fashionable shoes
Hope you Guys Love our effort to Bring Such popular Designer on Myfashionvilla.com. We heartily Thank Swati Modo for giving her exclusive Interview. We wish to see you in more n more fashion shows and Ramp Walks. Love You 🙂 xoxo 🙂
Keep us Motivating at: https://www.facebook.com/myfashionvilla
Till Then…
Keep Shining n Be Stylish 🙂
xoxo………