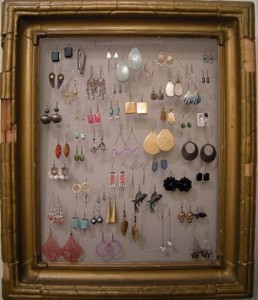 Someone said that "YOUR HOME SHOULD REFLECT YOUR IDENTITY" If you are a fashion follower.. If fashion lives inside you.. then your home must reflect it. Isn't it? Here is the most creative Way to prepare a fashionista earring frame. You can put this in your drawing room or bedroom, it will look definitely gorgeous! You can aim for some sweetest compliments by hanging this earring Frame on your home wall! And the best thing is, You can do it Yourself..
So Here is the Step by Step Tutorial to make a  Decorative Earring Frame Yourself.. 🙂

Things you need: An empty frame of any size, A Craft Form, A Scissors, A Tape Roll. Here are the steps:
Step 1: Get a Frame, An Empty Frame of any size will be fine.
Open it from Backside and take out all the things out from it. Put the frame glass separately as we are not going to use it.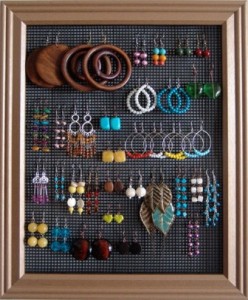 Step 2: Now take a Craft Form and cut it out of the size of frame. Insert the Craft Form inside frame from backside. Use the Tape and Stick Craft Form with Frame at backside. And Close the Frame.
Step 3: Now turn it to your front and start pinning some coolest Ear-Rings you have. Don't worry you will be able to wear those earrings too. Just take of the earring you want to wear and hang it on the frame again.
That's it. Your DIY Decorative Earring Frame is ready.
Hey! You All.. Want a Video Tutorial Too? How about a Video Tutorial of creating Decorative Earring Frame for your self? Well I have one. Check below..
How was it? Are you going to make one for yourself? Let us know at https://www.facebook.com/myfashionvilla
Hope you girls Like this Post..
Create one for you too and share your creation on our Facebook Fanpage that is https://www.facebook.com/myfashionvilla
Enjoy.. 🙂 🙂 🙂
xoxoxoxo…..