About Athena Bentila and her brand :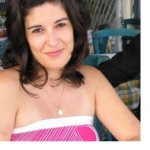 Athena is creative and innovative designer from Greece. She has years of experience of wholesale and retail business in fashion. Her creation is light, beautiful, breezy and handmade. She loves handmade clothing as it is her way to express herself. She is owner of brand MuMu organic and eco-friendly women's clothing.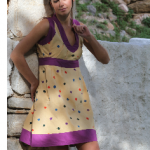 Q)Tell us something about your brand MuMu:
Ans: MuMu is the first brand from Greece which produces organic women's clothing. In year 2009 I introduced this brand in beautiful Cyclades . My brand MuMu focuses on eco-friendly handmade garments for Women which produced locally in Greece.
Q) What is the speciality of your garments?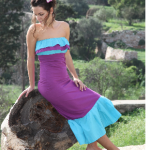 Ans: Garments designed by my brand MuMu are eco-friendly. My designs are different and loved by females. The fabric used for making garment is handmade and is of high quality.
Q) Why you brand targets eco-friendly outfits?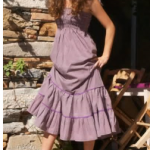 Ans: Today world is facing global warming as trees are decreasing. So I decided to use eco-friendly fabrics for MuMu garments. It is a great feeling to know that your clothes do not harm the environment.
Q) What is your inspiration for Spring/Summer 2011 collection?
Ans: The Cyclades Islands of the Aegean Sea, with their blue skies and cobalt-colored waters, provided the inspiration for MuMu's Spring/Summer 2011 collection. In it, we find solid colors, playfull patterns, and a very fine thread work pattern, all in 100% organic cotton fabrics.
For more information you can browse MuMu's designs at www.mumusyros.gr.